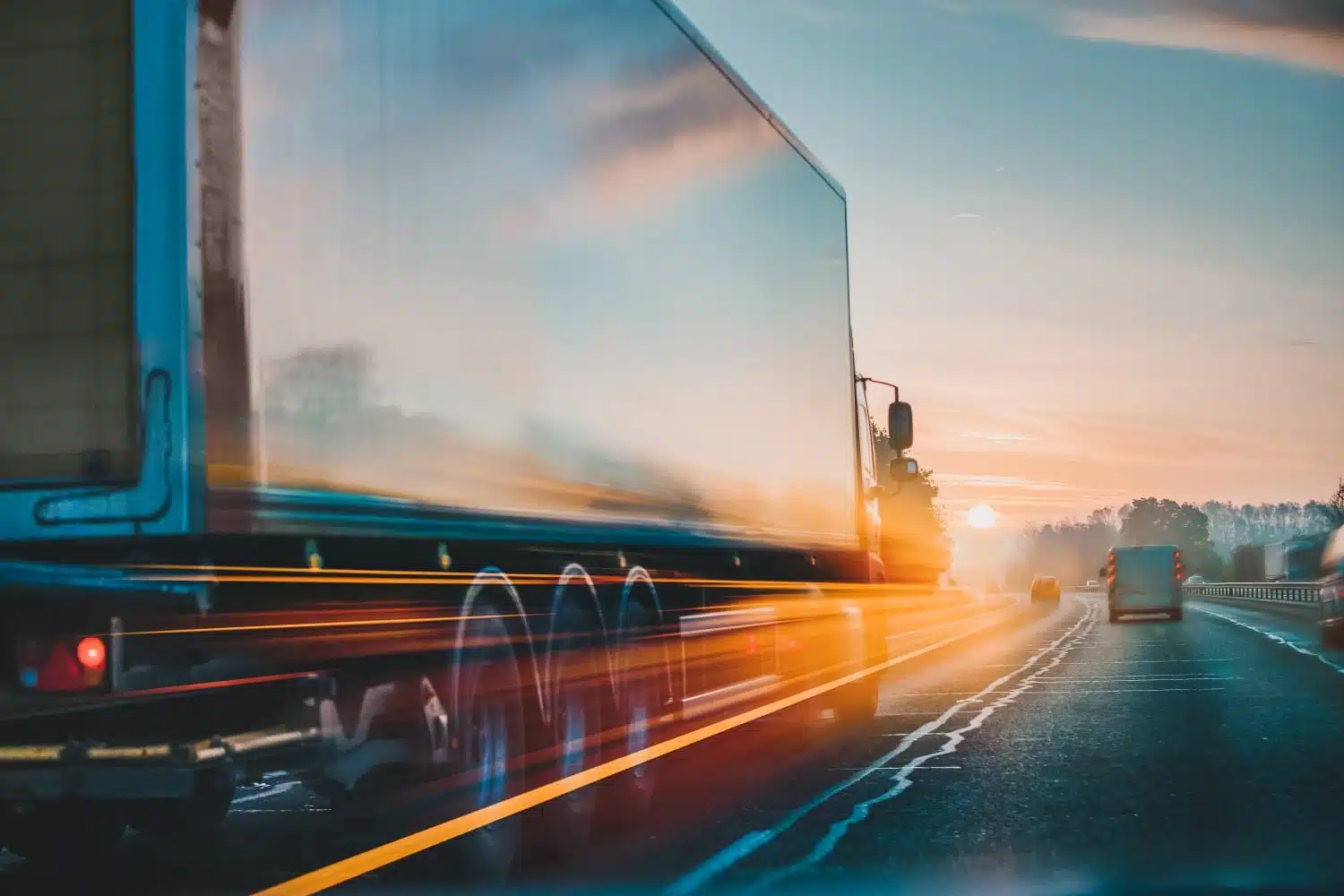 How Much Does It Cost to Move Cross-Country? Guide to Long-Distance Moving Costs
If you're thinking about moving cross-country or long-distance, one of the first things you want to know is how much it's going to cost, right? Of course. And we know that before you start spending precious time getting quotes and giving out your email address or phone number, you just want a basic idea of how much to budget for moving your stuff. Is that too much to ask? Not at all. And that's exactly what this guide for the cost to move cross-country is all about.
Our guide will give you estimated cost examples for making three types of moves: the 2,800-mile trek cross-country between coasts, relocating the 1,000 miles or so between the Northeast and Florida, and moving 100 to 500 miles to a nearby city or state. We'll cover the factors that affect long-distance and cross-country moving costs. And finally, we'll arm you with knowledge of what to expect with the three major modes of moving: traditional full-service movers, rental trucks, and moving and storage containers, like PODS.
Before we start, though, there's one major caveat: These ballpark moving estimates can't substitute for getting your own direct quotes for your specific move. Sorry, you can't skip that step. But our guide can save you time in the planning stage with valuable guidelines, so you can avoid being taken for a ride. Now let's get to it.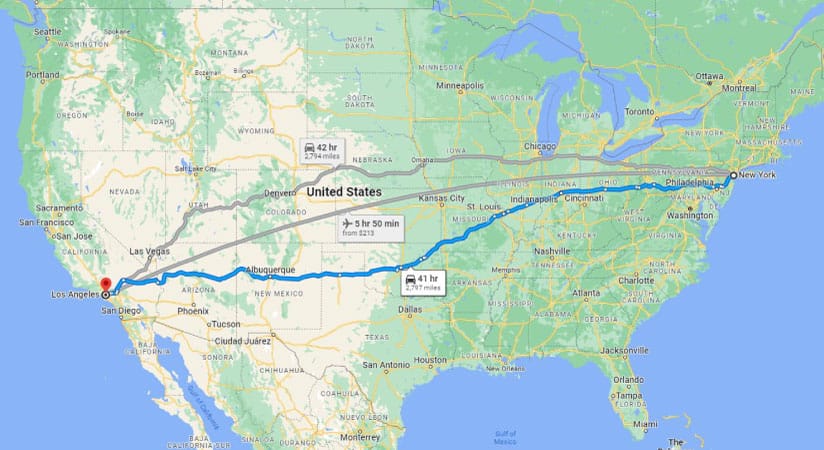 Cross-Country Moving Cost Example: NYC to Los Angeles
The cost to move cross-country with a rental truck averages around $2,500, but that depends on the truck's size and your precise location — and that doesn't include fuel costs. The same move averages around $4,500 for a portable moving container.
And for a full-service move? A moderately furnished 2- to 3-bedroom household relocating from NYC to Los Angeles (or the reverse) will average about $5,000. (These costs represent the average between the low and high range for each option. The average cost of PODS moving across country also varies.)
Here's a table for easy reference for NYC to L.A. and other popular cross-country moves between the East and West Coasts. You'll see the average moving costs to move across country are unique to each geographic area.
How Much Does it Cost to Move Cross-Country?
Moving Costs From East Coast to West Coast*:
Moving Route
Miles
PODS
(includes transport and 1-month storage)
Full-Service Movers
(includes transport and loading/unloading)
Rental Truck
(plus fuel costs)
NYC to L.A.
2,790
$3,542 – $5,756
$3,401 – $6,828
$1,630 – $3,475
NYC to San Francisco
2,900
$5,550 – $9,018
$3,569 – $7,166
$1,696 – 3,618
Miami to L.A.
2,730
$3,242 – $5,268
$3,352 –- $6,746
$1,605 – $3,418
Miami to San Francisco
3,050
$3,660 – $5,948
$3,704 – $7,437
$1,749 – $3,731
*Based on estimates from PODS and MoveBuddha for a 2-3 bedroom household (800-1,200 sf) as of November 2023. Costs don't include insurance or taxes. Prices will vary based on specific locations, dates, size of household to be moved, and available discounts. For a detailed quote, call PODS at 877-350-7637.
What About Moving Costs From NY to Florida — or Florida to NY?
Sure, it's not unheard of to move from the South to the North, whether it's for a job, to be close to family, or thanks to the allure of NYC itself. In fact, it typically costs a bit less — usually a few hundred dollars difference — because of the lower demand. (Keep this in mind if you're trying to negotiate long-distance moving costs for this type of move.) But considering the difference in weather, it's no surprise that more people generally make the move from the Northeast to Florida.
Estimates for moving a moderately furnished 2- to 3-bedroom household 1,000 to 1,300 miles from NYC to Orlando, Florida, for example, average about $4,000 for full-service movers, $1,200 with a rental truck, and $3,500 with a PODS moving and storage container. Here's a table for easy reference for moving from NYC to Florida's three top metro areas: Orlando, Miami, and Tampa.
Moving Costs From NYC to Florida*:
Moving Route
Miles
PODS
(includes transport and 1-month storage)
Full-Service Movers
(includes transport and loading/unloading)
Rental Truck
(plus fuel costs)
NYC to Orlando
1,080
$2,617 – $4,579
$2,212 – $5,278
$725 – $1,515
NYC to Miami
1,280
$3,392 – $5,512
$2,382 – $5,537
$843 – $1,771
NYC to Tampa
1,130
$2,738 – $4,792
$2,269 – $5,364
$764 – $1,601
*Based on estimates from PODS and MoveBuddha for a 2-3 bedroom household (800-1,200 sf) as of November 2023. Costs don't include insurance or taxes. Prices will vary based on specific locations, dates, size of household to be moved, and available discounts. For a detailed quote, call PODS at 877-350-7637.(Source: Google Maps)
What About Moving Costs for 100 to 500 Miles?
What if you're just moving 100 to 500 miles to another city in your state or to a city in a nearby state? While it's a much shorter distance than cross-country, 100 to 500 miles is still a lot harder to do yourself than a local move is. Long-distance moving costs require some careful budgeting in terms of time and money. Factoring in the time — and energy — it takes to load, drive, and then unload your stuff, you'll want to give yourself at least two days to make the move. Here are some popular moving route examples:*
Moving Route
Miles
PODS
(includes transport and 1-month storage)
Full-Service Movers
(includes transport and loading/unloading)
Rental Truck
(plus fuel costs)
Richmond to D.C.
110
$919 – $1,609
$997 – $2,918
$109 – $180
Austin to Dallas
200
$1,201 – $2,101
$1,315 – $3,835
$226 – $436
L.A. to Phoenix
370
$2,118 – $3,706
$1,695 – $4,658
$358 – $720
Tampa to Atlanta
460
$1,702 – $2,979
$1,675 – $4,405
$410 – $834
*Based on estimates from PODS and MoveBuddha for a 2-3 bedroom household (800-1,200 sf) as of November 2023. Costs don't include insurance or taxes. Prices will vary based on specific locations, dates, size of household to be moved, and available discounts. For a detailed quote, call PODS at 877-350-7637.
Q: What is considered a long-distance move?
A: Most moving companies generally consider anything over 400 miles to be long-distance — but some go with the much more restrictive 100-mile marker. Regardless of how far you're moving, make sure to ask your potential movers whether their rates increase at a certain distance. And read all the fine print before you sign anything.
What Factors Affect Long-Distance and Cross-Country Moving Costs?
Moving distance and household size are the two major factors that impact your moving costs, but there are other variables when you're budgeting for your move. You'll want to consider all the factors — plus how they affect both your costs and plans — when choosing between traditional movers, rental trucks, or portable containers.
Moving Distance
How many miles are you moving between your current home and your new address? Using PODS to move cross-country could be an option that balances budget and your schedule. PODS cross-country moving costs tend to be competitively priced for the value you receive.
Household Size
How much stuff are you moving? Traditional movers estimate your cost based on the weight of your belongings, which can vary from the estimate to the final bill. Portable containers and rental truck pricing is based on the container or truck size. Smaller households may be less expensive, so there is a lesser cost to move a one-bedroom apartment cross-country.
Driving
The longer the distance, the more stressful it is to drive a huge rental truck — and park it multiple times. You can skip the truck driving chore by hiring traditional movers or a portable container service. When you factor in fuel costs to fill up a big rental truck, a portable container can be very close in price, and even more affordable if you need storage or would have to pay to transport your own vehicle.
Labor
Professional movers load and unload all your furniture, boxes, and other stuff, but they'll charge extra for packing and unpacking. With rental trucks and portable containers, you have the option to hire hourly moving help. This means you only pay for the services you really need — which is helpful when you're tallying up long-distance moving costs.
Scheduling
If you need to change moving dates, traditional movers may charge hefty rescheduling fees — as high as $500 or more. Truck rentals are easier to change, but they also charge late fees. This is where you might need a cross-country move checklist. If you need flexibility, ask about this upfront, or use a portable container service like PODS, which makes scheduling changes much easier, with no extra charge when you give notice up to three days before delivery or pick-up. The built-in storage of portable containers also provides an easy buffer for postponed closings and other unexpected delays.
Storage
Will you need storage as part of your move? Besides having the need for scheduling flexibility, many people moving cross-country or long-distance prefer to stay in a temporary home while they take time getting to know a new area. That's when portable containers come in handy — especially when the first month of storage is included, as is the case with PODS. If you're using traditional movers and you think you may need storage, be sure to ask about the costs and conditions. If you're renting a truck in this scenario, you'll have to pay for self-storage and probably for another truck rental — not to mention deal with an extra round of loading and unloading.
Season and Timing
Think about your timing of cross-country move quotes. Moving estimates are highest during the busy season, which is generally May through September. If you're wondering, "What is the cheapest month to move cross-country?," wonder no more: November and December tend to be the slowest months; therefore, they're also the cheapest. Another way to save on long-distance moving costs is to move on a weekday. That way, you may get a slightly better rate from a traditional mover or rental truck company.
Moving Supplies
The cost of quality boxes, packing materials, moving blankets, and other supplies can add up, ranging from about $100 to $125 for a studio or 1 bedroom to $175 or more for a 2- to 3-bedroom home. Traditional movers will typically include moving blankets and shrink wrap to protect your furniture as part of their quote, but you'll need to purchase boxes and other supplies if you do your own packing.
Fast, Free Shipping for Moving Supplies: Get all the boxes and packing supplies you need delivered right to your door with PODSboxes.com!
Fuel
There are generally no added fuel charges with traditional movers or portable containers. However, this can be a major expense with a rental truck, especially if you're driving 2,800 miles across the country. And don't forget about the fuel surcharge penalty if you don't turn it in with a full tank.
Moving Insurance
Check if your homeowner's or renter's policy includes protection for your belongings during a move. If not, getting protection against damage or accidents along the way is highly recommended for long-distance moves, and these costs should be factored in. See our guide to moving insurance for advice on what to cover.
Hotel and Food
Besides getting your stuff moved, you and your family will need to make the trip, too. Here are some tips to help save on moving costs, including your costs on the road.
Q: How hard is it to move across the country?
A: With an unlimited budget and a flexible schedule, some people might approach a cross-country move as an exciting road-trip adventure. However, it's a fairly enormous undertaking for most people, and it requires planning and budgeting — both money and time. Still, with the right prep, a cross-country move doesn't have to be torture. Use our guides and checklists to manage all the details, and you'll make the move to your new home with minimal stress — and maybe even some great road-trip memories.
How Have Recent Events Affected the Cost to Move Cross-Country?
One more factor coming into play for people estimating the cost to move cross-country is how the coronavirus pandemic affected moving companies and related prices. Over the past few years, the cost of moving a household on short moves as well as longer ones has increased, something else homeowners and renters need to take into consideration when planning a move. Many of these changes came about because of business costs increasing due to pandemic pressures, which began in early 2020 and still continue in many U.S. regions. States that are hardest hit by these increases include New York, Washington, and California.
There are a variety of supply-and-demand issues causing cross-country moving costs to increase, including rising inflation, the cost of gasoline, and the shortage of truck drivers at some of the major moving companies. These labor shortages within the moving industry actually started before the pandemic began, and the shortages have lasted longer than many in the industry expected. Another industry issue is the new Electronic Logging Device rule for all truckers, established by the U.S. Department of Transportation, which restricts how many hours a truck driver can work.
Further cost crunches came from the rising cost of vehicles, both new and used. Car and truck prices dramatically increased from 2020 through 2022, largely because of supply issues and the scarcity of computer chips. For example, the U.S. Bureau of Labor Statistics reported that its used car index (which tracks used car prices) rose 42% between December 2019 and October 2022. Forbes also reported in a September 2022 interview with analysts at Cox Automotive that the average new-vehicle transaction price was $48,301, up 11% from a year ago — that's an increase of more than $10,000 from August 2019, the article stated.
"Everything from [the cost of] packing supplies to trucks increased. Therefore, moving costs increased," Josh Morales, CEO of International Van Lines, told Forbes Advisor Home. "We're currently seeing record numbers, and this is a national issue, not local."
Q: How Can I Save Money on Moving Costs?
A: Every little bit of savings helps during a cross-country move, right? So consider some of these money-saving tips:

1. Negotiate with the moving company for the best price and compare multiple quotes.
2. Move during the off-season, like late September through April.
3. Declutter, donate, and discard. Don't pack unwanted items.
4. Labor is expensive. Call on family and friends to help.
5. Ask for discounts, like military, first responder, or senior citizen.
So, How Much Should You Budget to Move Across Country?
Well, so far, you've seen how wide the costs to move cross-country can range, but for general planning purposes, the average cost to move cross-country sits between $2,000 and $8,000.
Now that we've covered the cost factors, here's a look at how each moving method works, including pros and cons.
Traditional Moving Companies
If money is no object and you have no worries about scheduling or storage needs, full-service movers are the most hands-free approach to moving — especially if you pay them to do all the packing and unpacking. Just don't expect it to be hassle-free. Most require a personal or virtual walk through your home before giving you an estimate on your cost to move cross-country.
On moving day, you need to be organized and well prepared when the movers arrive like a small army to collect your belongings. Be sure to work with a reputable mover and watch out for scams, where they bid extra low and then change the price once they have your stuff. Check their licensing, insurance, and references — as well as base rates and extra fees for stairs, extra-heavy furniture pieces, and other potential upcharges.
Pros and Cons of Full-Service Movers:
| | |
| --- | --- |
| Pros | Cons |
| No heavy lifting | Expensive |
| No driving a huge truck | Schedules can be rigid, with extra fees for changes |
| Less hassle if you choose a good company | Higher risk of damage and loss |
| Extra services available | Potential for added fees |
PODS Moving and Storage Containers
You can usually save a good chunk of change by using portable containers instead of full-service movers. On cross-country moves, the cost is in the ballpark of rental trucks — except you don't have to drive a truck! Container moves involve a little more work on your part than hiring movers, but they can offer a lot more flexibility and control, in addition to convenient storage. Most moderately furnished 2- to 3-bedroom households will fit in one 16-foot PODS container. Curious about the cost of moving with PODS cross-country? Getting a PODS estimate for a long-distance move is fast and easy to do. Use these online tools to decide the size and quantity of containers you need.
Here's how PODS works when you're moving cross-country or long-distance:
Your container is delivered to you.
You can take your time loading (you rent your containers by the month).
You have the option to hire hourly moving professionals to help with the heavy lifting and packing.
PODS picks it up and takes it to a secure storage center or your new place.
When you're done unloading, PODS picks up your container.
One thing to consider when you're moving with PODS: You'll want to have a driveway, parking lot, or street parking space for your container. If you're moving to or from a tight urban setting, like New York City or Los Angeles, then you'll want to double-check that there's sufficient space. If your location doesn't allow space for a container, PODS City Service, designed for urban areas, offers a solution in many areas of these cities.
Pros and Cons of Portable Containers:
| | |
| --- | --- |
| Pros | Cons |
| Less expensive than full-service movers | Usually costs slightly more than rental trucks for long-distance moves |
| No driving a huge truck | Parking spot required |
| Flexibility to set your own pace | Tight deadlines can be a motivator |
| Option to hire hourly moving help with loading and unloading | You take care of your own loading and unloading |
| Built-in storage options | |
Rental Trucks
Renting a truck and doing all the packing, loading, unloading, and unpacking is the total DIY approach, which can be especially hard when you're moving long-distance or cross-country. You must pick up the truck and deliver it to the drop-off center when you arrive.
Plus, you'll be paying for any damage to the truck. This is especially pertinent when it comes to cross-country moves — we can promise you some of those old highways have seen better days. And if you've never driven a truck that large, you might be better off letting a professional take on the roads, and doubly so if you're moving to a place with tight, narrow streets.
Pros and Cons of Rental Trucks:
| | |
| --- | --- |
| Pros | Cons |
| Can be the cheapest option for short moves | Costs run much higher for longer-distance and cross-country moves |
| Easy online pricing and reservations | Most stressful option |
| You set the schedule | Driving and parking a huge truck |
| Wide availability | No storage available |
Moving Forward
Whatever moving option you choose, we hope this guide has helped you find the services with the best value for your needs. Long-distance moves are a major undertaking. Here are three of our most popular moving resources from the PODS Blog to help you make yours a success:
---
Liz Taylor is a freelance writer and frequent contributor to the PODS Blog.
Get a Quote
Choose the service you need
Comments
Leave a Comment
Your email address will not be published. Required fields are marked *