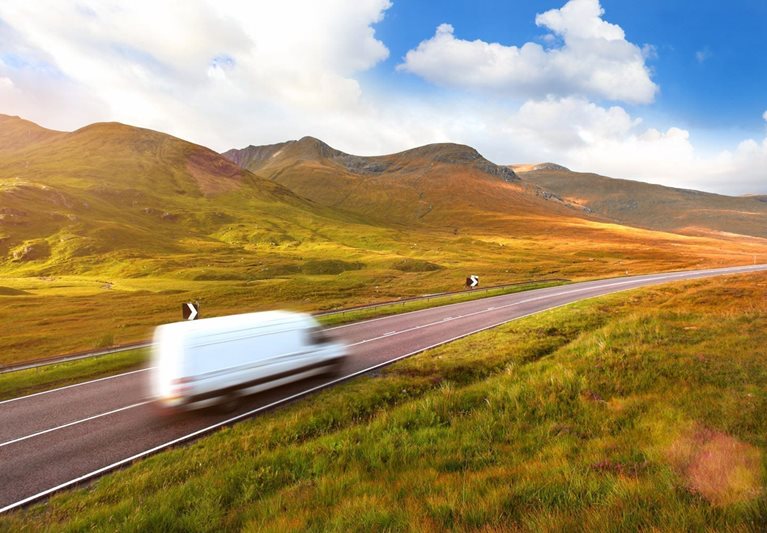 How to Move Furniture Across Country
Even well-made furniture is surprisingly fragile, and contingency plans take on a new meaning when you're moving across the country. Moving anything long-distance can feel like a gamble, but with the right mindset, equipment, plan, and a little luck, the process can go just as smoothly as moving down the street. Here are our tips for how to move furniture across country — safely and with as little stress as possible.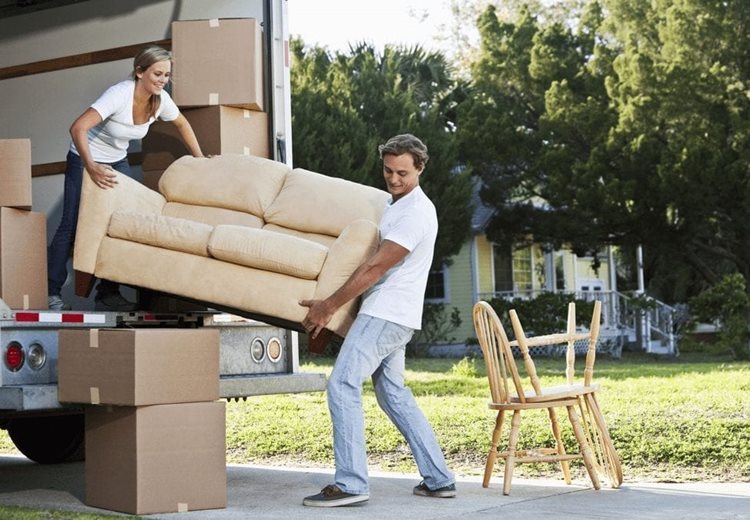 Choosing the Right Moving Strategy
As you can imagine, how you decide to move your furniture will impact how you prepare for the journey to your new home. Consider how much furniture you have to move, your budget, and how much time and effort you're willing and able to spend.
Full-Service Movers
If you have a lot of oversized furniture items (especially big-ticket items like a piano) that may be difficult to move on your own, you may elect to use a traditional moving company that's skilled in how to move furniture across country. This is effective, but it can be costly — and sometimes risky. In fact, thousands of customers file damage claims every year. That's because items are often unloaded and reloaded several times during their journey, or even shipped co-mingled with other people's belongings. If you do decide to go this route, make sure to get insurance. Your items may emerge unscathed, but it's worth being covered just in case.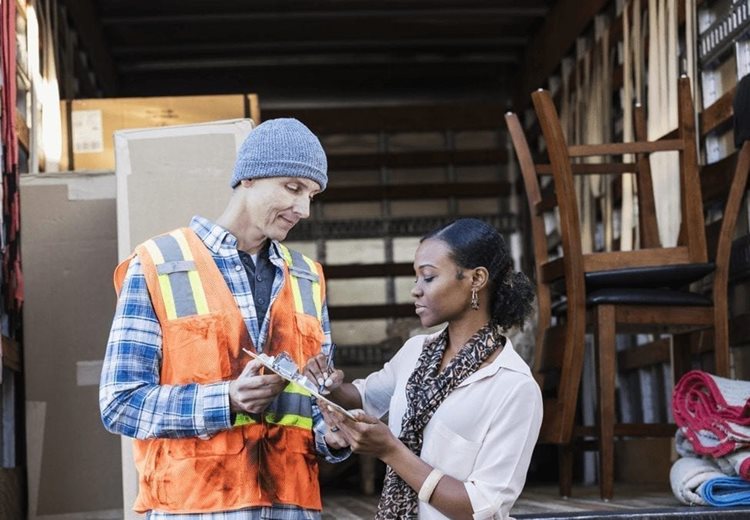 Freight Shipping Company
You can also hire a freight shipping company to ship your furniture long-distance. You'll have two shipping options to choose from: LTL (less-than-truck-load) and FTL (full-truck-load). Depending on your selection, your costs, shipping time, security, and other factors will vary, including the following:
LTL shipments may be transferred from truck to truck multiple times during transport, but FTL shipments remain on the same truck the whole time, which can significantly lower the chances of damage or loss.
If you have lots of furniture pieces that require delicate handling and you need to move long-distance fast, FTL is probably the best choice — but it will cost you more.
On the other hand, if you're only shipping a few items, and it doesn't matter when they get to their new destination, LTL should work just fine.
Also, you'll want to explore both ground freight and air freight. The better option for you will depend on what you're shipping, how much it's worth, and even whether you have any perishables. Note: We don't recommend moving any perishables packed among your furniture! But if you have sensitive things you absolutely must get to your new home, here's some guidance from the pros at FedEx.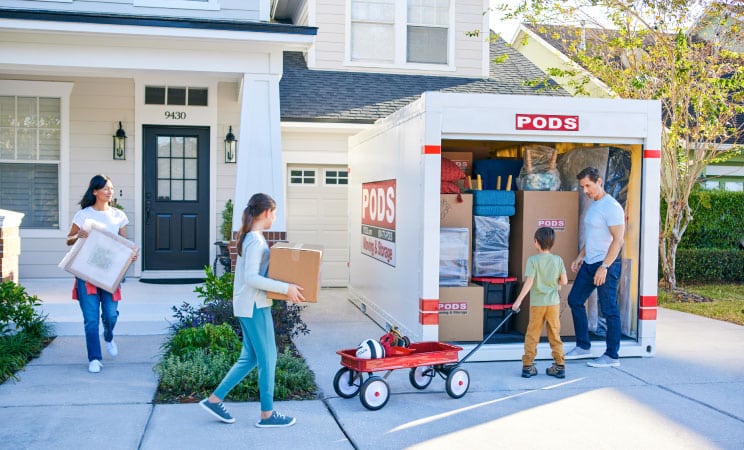 Portable Moving and Storage Containers
Using a portable moving and storage container (also called a moving container or a storage container) is a great option for long-distance moves for many reasons. First, they provide one solution for both moving and storage. You can easily store your container if needed at a secure facility or keep it in your driveway, which means you can take your time loading and unloading your furniture.
Portable containers also offer more control over how your items get loaded, because you can do the loading yourself, which — trust us — can mean the difference between your favorite side table and your favorite side table with a big chip in it. Compared to the full-service moving industry, PODS has 10 times fewer damage claims, according to the AMSA (American Moving & Storage Association). We don't know about you, but that certainly makes us feel more at ease about moving furniture across country!

Insider Tip: If you're moving just a few pieces of furniture long-distance, the PODS 8-foot container* is an ideal size!

*PODS is constantly upgrading its container fleet, and container sizes may vary slightly from one model to another. Suggested container sizes are for guidance only. Larger items and how efficiently containers are loaded can significantly impact the size and quantity of containers you'll need.
Hybrid Moving — Portable Moving Containers With Hired Packing & Loading Help
To add just a bit more on portable containers, you also have the freedom to hire professional packers and loaders to do the hard work for you — and the easy stuff, if you prefer! PODS can connect you with highly rated moving labor companies in your area who are experienced specialists when it comes to PODS containers (and they definitely know how to move furniture across country). They're very friendly, too!
Pre-Move Planning
Now that you've selected your moving method, here's a quick common-sense pro tip before we get into the nitty-gritty of packing: Maybe this goes without saying, but before you haul a piece of furniture, say, all the way across the country, make sure it fits first! This is especially true when downsizing to a smaller living space. Measure that chaise lounge before loading it (Hint: your new 600-square-foot apartment may not have quite enough space).

Q: How do I move a lot of stuff across the country?
A: Knowing how to ship furniture across the country involves one key element: planning. Moving furniture across country can be challenging and complex. But with the right preparation? Piece of cake — almost. We are advocates of list-making: Write down everything. Take an inventory of all of your belongings, for starters, and then decide what route you want to take.
DIY Furniture Packing Tips
So you've decided to put those packing skills you've spent hours carefully cultivating over the years to good use (or is that just us?). If you've opted for the DIY version of moving your furniture long-distance, we have some pointers you'll want to keep in mind.
Visualize not just the piece of furniture but what space the piece will occupy in your moving truck, container, or otherwise — and get creative.
Packing the Big Furniture
Time to put those well-earned Tetris skills to use. Before you pack anything, picture all the pieces you have to move — the couches, tables, chairs, bookcases, etc. Then look at the negative space within each of these. The key to making furniture secure for travel is to make it as compact as possible. We mean filled. Dense. What can be packed within the bookcase to fill the negative space? Visualize not just the piece of furniture but what space the piece will occupy in your moving truck, container, or otherwise — and get creative.
We also always recommend evenly distributing the weight when you pack a moving container. Oh, you'll also want blankets and plastic wrap. Lots.
Mattresses
Be sure you have a plastic mattress slipcover to keep both the mattress and box spring safe. Your mattress is also basically a big wall; use it strategically to box in other items you're moving.
Bed Frames
Another one of the big items you'll probably have to wrangle with, a bed frame can be as simple as one flat, smooth piece or as intricate as Victorian-style woodwork. Either way, a great place to put this is between your mattress and box spring. Keep it snug.
Main Tables (as opposed to side tables)
If it's an option, take the legs off your tables and wrap each one individually. Wrap the accompanying chairs together, stacking them, if possible, and use bungee cords to keep everything together and secured.
Mirrors
Grab some masking tape and make a big "X" across the face of each mirror. Avoid duct tape here — your mirrors won't like it. Actually, this is a great idea for any glass surfaces to help minimize the impact of constant vibrations in the moving process. Your mirrors and glass won't break as easily. We also recommend packing mirrors and picture frames inside moving boxes specially designed for them.
Couches
Remove the cushions and use them as packing material to secure other pieces. Remember the negative space? That exercise will come in handy here, especially when you plastic wrap the couch with softer items inside — like stuffed animals, linens, and clothes. Nothing too big or heavy — just enough to take advantage of the space. Stand it on its end if you can, picking a nice corner. Just make sure it's blocked in and won't topple over during the move.
Dressers/Chest o' Drawers
Before even trying to move these out of your house and into a moving container, know that: 1) It's a lot easier to get them to the container when the drawers are removed first, and 2) Corners can cause as much damage as they can receive. Pay special attention to the corners and finished areas, covering them completely with blankets (did we mention blankets are your best friend?).

Pro Tip: Fill the drawers with not-too-heavy items once inside the container, and you're all set.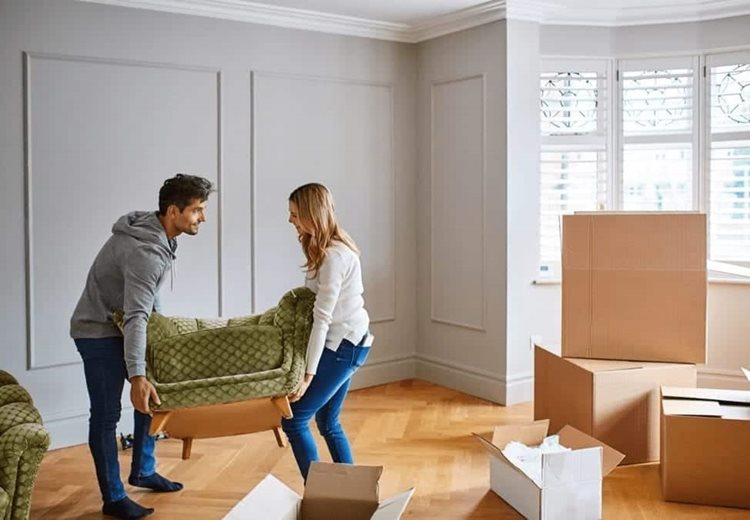 Packing the Small Furniture
Your smaller furniture pieces will help you secure bigger pieces when you move. That said, they deserve some love, too.
Chairs
Recliners can be unwieldy but generally fare well when properly secured. It's the smaller chairs that will fly around in a moving truck if you take a curb too quickly! Save yourself the headache: Stack, wrap, and bungee these down.

Side Tables
Like chairs, these usually have skinny legs and can fit in between larger items where there's space. Side tables vary in size and shape, so use your best judgment. Watch out for pointy things like drawer handles and corners in case they rub against another piece of furniture. You may be able to load a side table by yourself, depending on the size, but if it's older (and especially wooden), take care not to handle it in such a way that a piece comes off!
Coffee Tables
For glass tops, it's a good idea to put a masking tape X over it (like your mirrors). Bubble cushioning roll will be your best friend here, too. Any drawers? See the dresser strategy. Use at least two people if you can. You got this.

Q: What is the cheapest month to move cross-country?
A: Making your move from September through April is a good idea. Most people want to move during the summer, when kids are out of school and families have more time (and better weather) to settle into their new towns. Likewise, weekdays aren't as pricey as weekends, for similar reasons. And try to avoid holidays, when demand may be higher and moving crews may have less availability — which often translates to a bigger price tag.
Can movers move furniture with stuff in it?
Yes! Making the most of space is what we're all about. That giant armoire you've been carting around for a decade is a beautiful piece of furniture — and now it's even more valuable as a giant packing box. Stuff it full of blankets, pillows, towels, and other linens, and then wind some bubble cushioning roll around it to keep the door closed. The same goes for smaller dressers, end tables, and other cabinet-type pieces with drawers and doors. Stuff them full of non-fragile items for a super-efficient hack. You'll save money on boxes and you'll have extra room in your storage container.
What To Do With Old Furniture When Moving Across the Country
If you're downsizing before you move furniture across country, this answer is for you. A move is a great opportunity to offload items that you've grown out of or just don't think are worth carting across the country — because let's face it: That thrift-store couch from college that cost $50 is going to run a smidge more when you add up the price tag for movers, a truck, and insurance. It adds up.
A yard sale is a fantastic idea for getting rid of the big stuff — and the little stuff, for that matter — so you can travel light. It's also a non-stressful way to say goodbye to your neighbors before you hit the road. But if you've still got a ton of furniture and tchotchkes left over post-sale, donating your belongings is the way to go. Check out your local Goodwill, Salvation Army, or Habitat for Humanity; in many cities, they'll come to your home and pick up your things at no charge.
Making the Move
Moving furniture long distances takes planning. Finding the right solution for moving or furniture shipping for your needs is key. Make sure to visualize both how the pieces will fit together along the way and inside your new home. Tie everything down as much as you can, and frequently check to see that it's secure if you're traveling with it. When unloading, immediately place your big pieces in their new spots in your new home. It'll save you time and effort later. And don't be afraid to hire professional packers and loaders! Good luck!

Shannon Jacobs is a Tampa-based freelance writer and frequent contributor to the PODS Blog. She has lived in Atlanta, the Berkshires, and Nashville, but always returns to the warmth of Florida's Gulf Coast.
Get a Quote
Choose the service you need
Comments
Leave a Comment
Your email address will not be published. Required fields are marked *