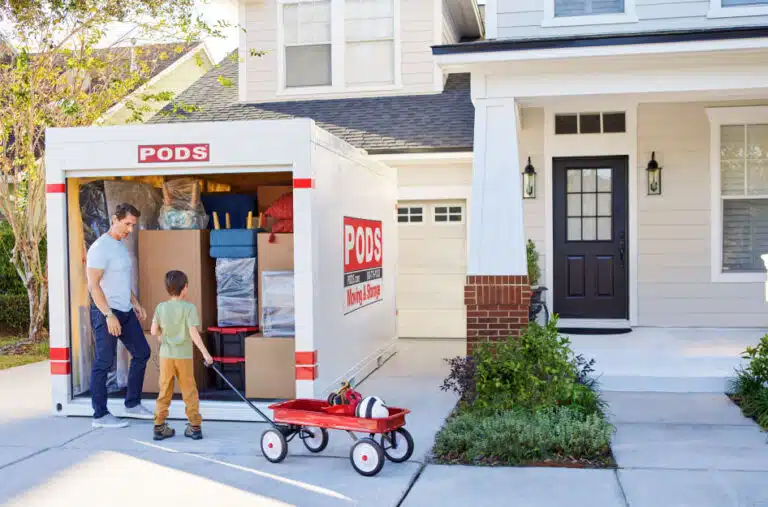 Pinching Pennies? Here Are Your Best Options for Moving Cross-Country on a Budget
With high inflation, rising mortgage interest rates, and other personal-finance calamities, people may be wondering: What are the current best options for moving cross-country? Specifically, many families are asking themselves: How can we move cross-country in a way that is safe, timely, and, most importantly of all, affordable?
If you're considering a cross-country move or are in the process of getting moving quotes, you may face sticker shock. Moving can be expensive — especially if you go with a full-service moving company. Thankfully, there are many ways to cut costs, whether it's getting help from family and friends, driving a rental truck, or using containerized moving and storage to keep costs affordable.
This cost-cutting advice comes with a caveat, though. Cheap might seem to be the best option if you look at things on a spreadsheet, but taking the less-expensive route usually isn't all it appears to be.
For example, if you choose to pay for a rental truck, you might face difficulties when driving it. You might also find that gas prices along your cross-country route are higher than you budgeted. Just because something is cheap doesn't always mean it affords you a quality experience. Plus, taking the least-expensive route can actually result in a lot of hidden fees if you don't read the paperwork carefully. It's essential to understand any potential add-on costs before you embark on your cross-country journey.
With cost and quality in mind, here are some ways that you can make a cross-country move on a budget while also avoiding the pitfalls of cheap moving options for cross-country moves.
Best Cross-Country Moving Tips — Your Questions Answered
Q: How much money should I have before moving cross-country?
A: Costs vary widely, depending on the size of your household and how many items you need to move. Moving options for cross-country trips tend to run in the thousands of dollars, so you'll need to consider that when planning your budget. For example, a DIY truck rental can range from about $2,000 to $3,500, while a full-service moving company can range anywhere from $4,500 to $10,500 if you have help packing and loading. It may be wise to set aside at least $100 to $500 each month as you start to plan your move, if you want to have a debt-free experience.
Q: What are the best items for moving across the country?
A: You'll need to gather packing materials like newspaper, packing paper, bubble wrap, blankets, and boxes to prep your items for moving day. You also should think about your family's comfort when the move occurs — this means having each box labeled for easy unloading as well as putting together a box filled with your basic needs, including things like toiletries and household goods. Basically, if you're a planner and like to have everything prepared in advance, this is your time to shine.
Q: What is the cheapest way to ship belongings across the country?
A: Believe it or not, you can inexpensively ship some of your belongings with the U.S. Postal Service's Parcel Select option, which lets you ship boxes up to 70 pounds. For small moves, you also can consider using well-known companies like FedEx and UPS, or you can get creative with options from Amtrak and Greyhound. The average cost of moving cross-country is typically in the thousands, so it may be worth looking into shipping your items instead.
Q: What is the cheapest month to move cross-country?
A: The best way to move cross-country is to wait for the slow months: November and December. These months are slower because families aren't traditionally moving during the holidays and when their kids are in school. Summer tends to be the most expensive, as families with children are looking to settle into their new locations before the back-to-school rush begins in August or September.
Before we explore your different long-distance moving options, let's take a peek at some estimated moving costs for each.
Estimated Long-Distance Moving Costs From East Coast to West Coast:
Moving Route
Miles
PODS
(includes transport & 1-month storage)
Full-Service Movers
(includes transport, loading, & unloading)
Rental Truck
(plus fuel costs)
NYC to L.A.
2,800
$4,893-$6,524
$4,677-$9,390
$2,182-$3,155
NYC to San Francisco
2,900
$5,600-$7,910
$5,145-$10,329
$2,308-$3,337
Miami to L.A.
2,730
$3,369-$4,954
$4,677-$9,390
$2,182-$3,155
Miami to San Francisco
3,110
$3,717-$5,248
$5,145-$10,329
$2,308-$3,337
*Based on estimates from PODS and MoveBuddha for a 2-3 bedroom household (800-1,200 sf), costs don't include insurance or taxes. Prices will vary based on specific locations, dates, size of household to be moved, and available discounts. For a detailed quote, call PODS at 877-350-7637.
Ready to move? Here are five options you may want to consider as you pack up your home or apartment in preparation for your cross-country trek.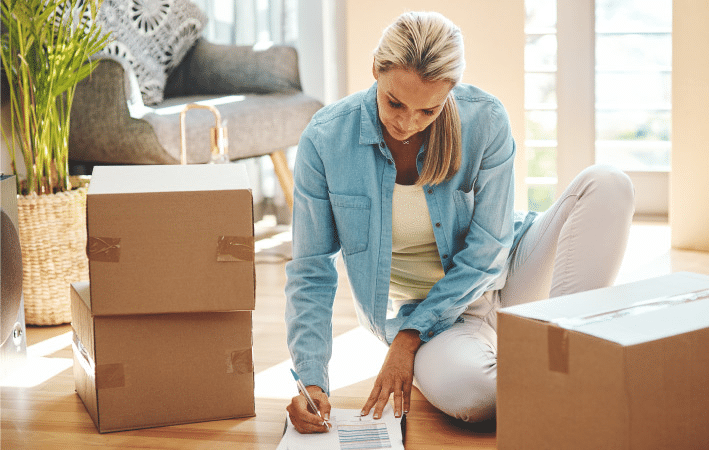 DIY Move
Doing the job of a professional mover is no easy feat, and you're definitely going to realize why movers stay in business at the end of the experience. As the old adage goes, however, if you want something done right (and on budget), you can always do it yourself. Packing, loading, and moving your own items by car is an easy way to save money with your own muscle and time.
Renting a truck for a cross-country move is less expensive than using a full-service moving company, but it will likely take more time to actually complete the move. If you're willing to exchange your time for lower costs, then DIY is probably a good solution for your cross-country venture.
Another DIY way to lower costs? Finding free or inexpensive boxes and supplies. This is where websites like Facebook or Freecycle come in handy. You can keep an eye on Facebook Marketplace for people who are giving away their moving supplies, and you can snag everything from wardrobe boxes to storage totes to banker's boxes through these generous donations. If you need to buy packing materials, some options of where to shop include online retailers like PODSBoxes.com, as well as home-improvement stores and truck-rental companies.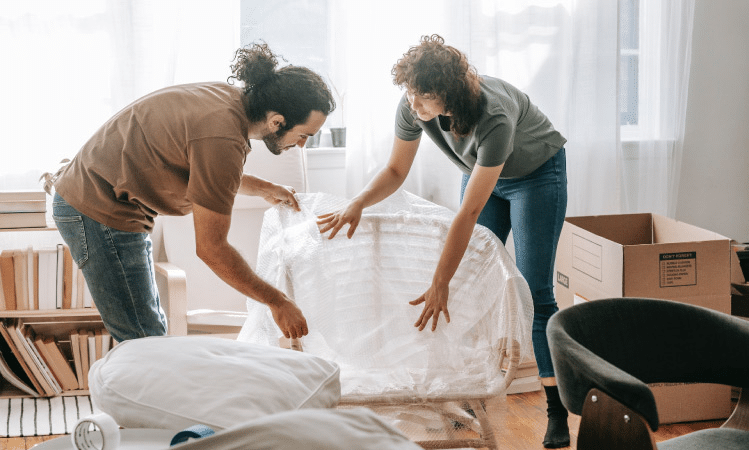 Friends-and-Family Move
Whether it was a college dorm or your first apartment, you probably understand how this kind of move works. You rally all of your friends or family with promises of a pizza dinner as payment, and they help you prep your boxes, move them into their vehicles, and drive as far as their patience or time allows. You can only make that promise so many times, though. Over time, you're going to accumulate things that make this process harder and longer.Add in the fact that this move will be a cross-country one versus a down-the-street one, and you might need to seek out other options.
Before a friends-and-family move or any major life change, it may be wise to downsize your items to make things more manageable. If you're watching expenses, you could sell larger items, like couches, chairs, or dining tables on Facebook Marketplace to offset some of the costs. You could also put clothing you're ready to part with on websites such as The Real Real or Poshmark to make a few bucks to cover your gas and supply costs.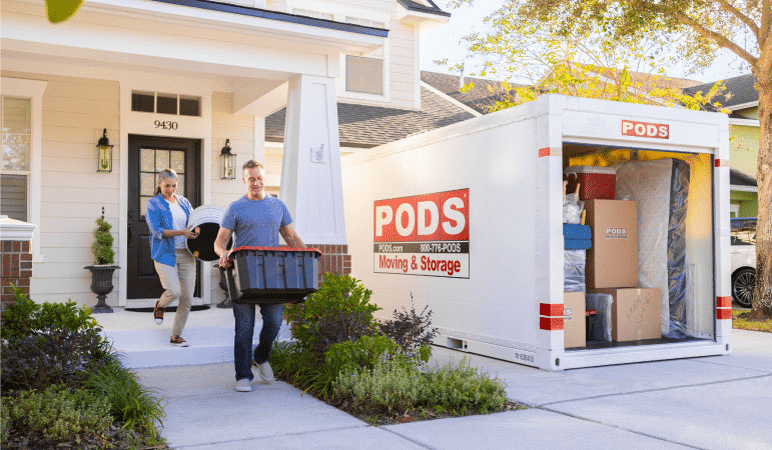 Portable Storage Container Move
Portable moving and storage containers are a popular option for good reason. You can control the costs and the timing throughout the process (yep, you only pay for what you need). And the best part? You can do all of it seamlessly with the help of professionals from PODS. The most important step is deciding what size container you need. And if you need multiple? No worries! You can choose when to have them delivered and set a time frame based on how long you may need for the packing process. You then simply load each container on your own timeframe. (Bonus: PODS can help with the loading or unloading, as well!) Then, a PODS professional picks up each container when you're ready and takes it to its next location, whether that's straight to your new cross-country home or to a pit stop at a PODS Storage Center. Once the container is delivered to its final destination, you can choose when to unload it.
Did You Know? A container move can be much less expensive than a professional full-service move, so it can be a great option if you have the right budget and want to make the move go as smoothly as possible.
Hybrid Move
This option may be best for people with a bigger budget who don't feel like taking the DIY route. Taking a hybrid approach to your move is the perfect way to get the best of as many worlds as you need.
For example, you could ship a portion of your items ahead of time and pack the rest of them in your car. Another, perhaps surprising, option is using airplane transport to move your items to their new home.
You can also opt for local moving help to pack and then load your items onto a rental truck. This way, you'll be able to transport and unload on your own time. An even better option? Using portable moving containers with hired packing and loading assistance.
Thinking ahead and planning every step of your move will be key in making a hybrid move work for you and your family. This is where setting up a detailed calendar of dates, establishing a smart checklist of things to do, and prepping a road trip to-do sheet will be essential. If you're utilizing different moving methods, you'll also want to have a folder to keep track of your receipts or paperwork along the way. Losing an item during a move or having something delayed because you weren't properly prepared can make one of life's most stressful events even more challenging, so it pays to be prepared.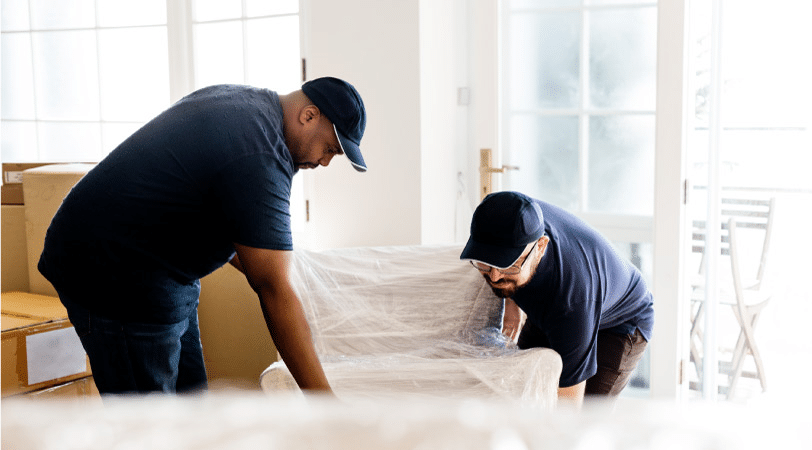 Full-Service Moving Company Move
If you have time on your side and a good-sized budget, hiring a full-service moving company is an easy and convenient option. Sure, this option may not seem very budget-friendly — since a full-service move can include packing, loading, transporting, unloading, and unpacking, for a cost, of course — but it is something to consider if your company is covering your moving costs. Think about how you want to feel when you arrive at your destination. Are you stressed and upset over the process? Or do you want to feel like you've landed softly at your new home? That's the difference that a full-service move can make. And, for some, that's pretty priceless.
You will need to contact these moving companies well in advance, though, especially if you want to move during the popular months of May through October. You should get several quotes from a variety of companies so you know the price well in advance. And you also may want to get their quote for packing and loading help during the process, but some companies may include this cost in the overall estimate. It's good practice to gather this information at least one to three months in advance of your move, as many full-service moving companies are booked that far in advance.
Prepare for a Less Stressful Cross-Country Move
Moving across the country takes time and effort, but it can be done in a cost-effective way that brings your budget to reality when you plan ahead. Thinking about the end result can help you decide what steps you need to take now — whether it's saving a few more dollars to get a container move or setting up a system to organize your paperwork. It will take a lot of effort no matter what, so you may as well channel your inner organizer now and make it the best, most budget-friendly, cross-country move it can be.
Insider Tip: If you're ready for a stress-free, cross-country move, you can start with a conversation with your local PODS consultant or look at more moving advice on the PODS Blog. A PODS container move allows you to move on your own time, at your own pace. Plus, every move comes with one month of free storage, allowing you to easily (and affordably) combine moving and storage.
---
Karen Dybis is a freelance journalist and a frequent contributor to the PODS Blog. Her work has appeared in Time magazine, U.S. News & World Report, The Detroit News, and more.
Get a Quote
Choose the service you need
Comments
Leave a Comment
Your email address will not be published. Required fields are marked *