Local moving solutions built around you
Skip the rental truck and traditional local movers. PODS portable containers are the flexible, convenient solution for your unique move.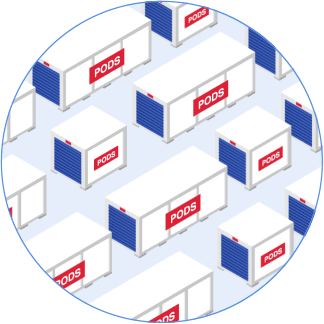 This may take up to 30 seconds.
This may take up to 30 seconds.
We're searching over 200,000 containers to find you the best price.
We're searching over 200,000 containers to find you the best price.
Portable storage containers make moving simple
All the flexibility and time you need
Unlike other local moving companies, we can move you in a week,
a month, or whenever you're ready – you're in control of your
moving schedule. Reschedule anytime if you need a few more
days — or months.
Built-in storage Options
Our portable containers include storage with every move, so you don't
have to stress about finding storage if you need it. Keep your container at
home or at a PODS secure, indoor storage facility near you.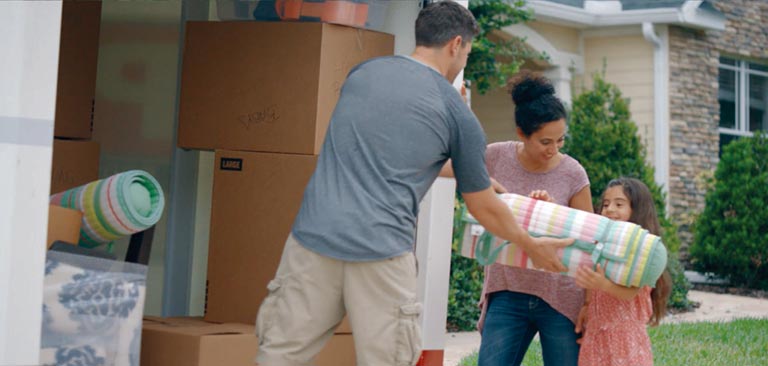 Fewer hassles and a lot less work
There's no need to rent a truck and load and unload your stuff over and
over again. We bring your portable container to you, and you only have
to load and unload it one time – no matter how many times you move
your stuff in or out of storage. Once your container is loaded, we'll drive
it where it needs to go,
whether it's your next home or one of our PODS Storage Centers.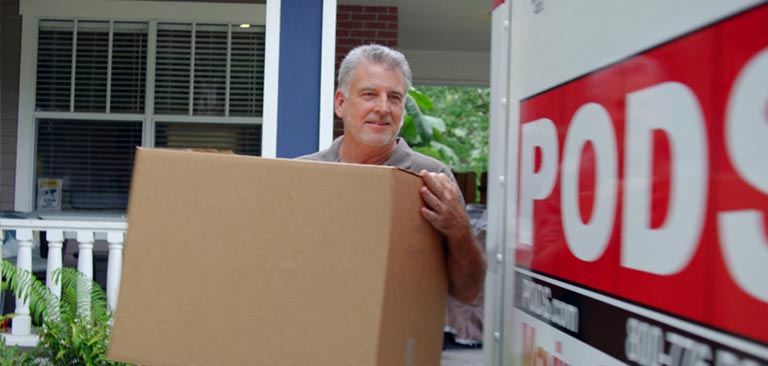 As DIY or full-service as you need
You can do it all on your own (go, you!) or get help with
packing and

loading
. Whether you want your whole house packed up and loaded into
your container or you just want help with some heavy lifting, you can get
the amount of moving help you need.
Unlike other local movers, we can handle any situation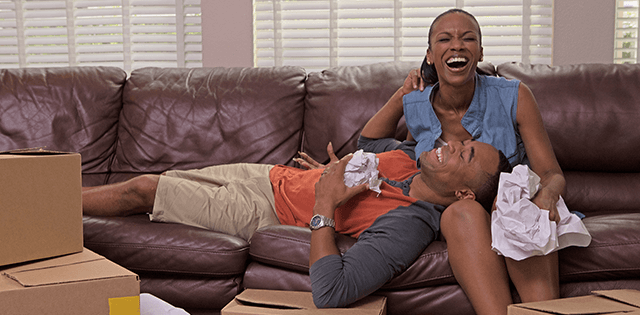 Buy yourself some extra time
Who says you have to move everything in one day? If you're
remodeling before you move in or just want to take your time,
built-in storage and flexible scheduling are just what you need.
Keep your container in your driveway and take your time loading
and unloading – or let us store your stuff in one of our secure
indoor storage facilities until you're ready.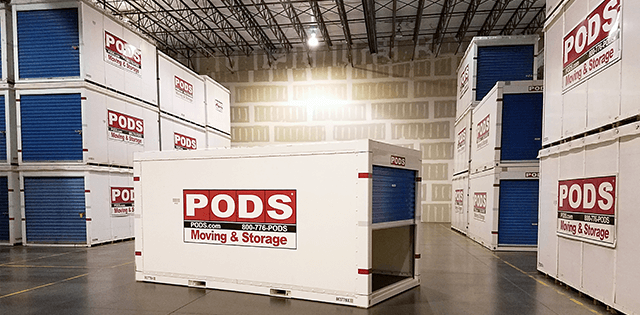 Between homes?
In a perfect world, your closing date and move-in date would line up
perfectly. But in reality, moving is rarely that simple. We can deliver a
container with your essentials to a temporary home and store the rest of
your stuff at a secure PODS Storage Center nearby, or we can store
everything for you while you get cozy with the in-laws for a bit. Once
you've found a new place, let us know and we'll deliver your containers to
your next home.
Stage your home for sale
Make your place its ready-to-sell best with portable storage
containers. Clear your home of clutter and load it into a PODS portable
storage unit in your driveway. We'll move it to one of our secure indoor
Storage Centers until your home sells. When it's time to move, your PODS
container will be pre-packed and ready, or we can bring it to you to load
the rest of your stuff and then deliver everything to your new home.
Learn more about home staging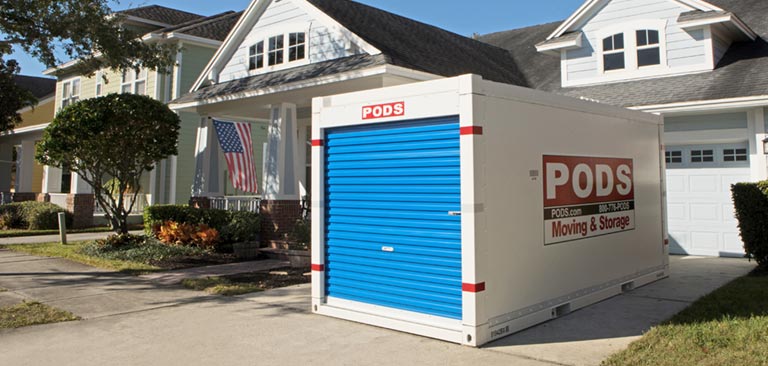 Downsize or split up a household
Holding an estate sale or moving into a smaller home? PODS offers unlimited time and space, so you can keep a container in your driveway while you decide what to get rid of. Then, we can pick it up and bring it to a secure Storage Center, ship it to your kids, or both.
The right move if you need storage too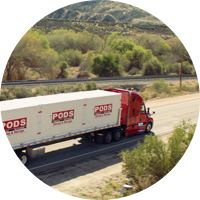 We bring the storage to you
Moving is stressful enough without having to drive a big truck or pay for its gas. No need to rent a truck. We deliver the storage units to you.
Secure storage containers
Our sturdy, steel-frame, weather-resistant containers and secure indoor storage facilities are designed to keep your stuff protected so you can relax and focus on all the other stuff you've got going on.
Storage rental options at your place or ours
Each storage rental comes with thirty days of storage. Keep your container in your driveway for 24/7 access, or we can keep your storage units indoors at a PODS Storage Center and re-deliver it when and where you need it.
Free, easy access to your stuff in storage
Need to grab a few things out of your container at a Storage Center? No problem. Access your stuff as often as you'd like, for free. Schedule an appointment and we'll have your container ready for you.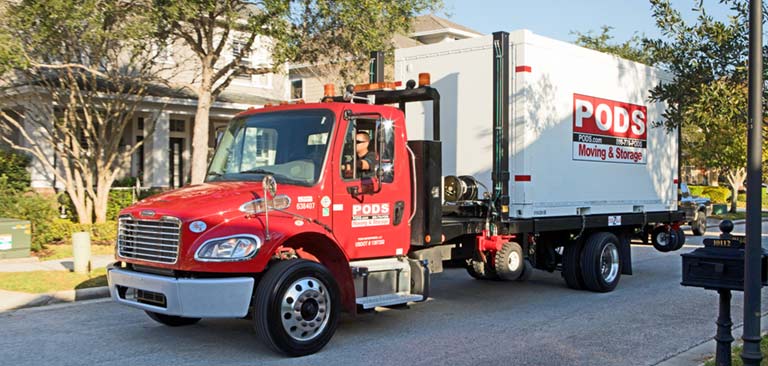 PODS portable storage containers vs. local moving with a rental truck
We do all the driving.


You only have to load and unload your belongings one time, no

matter how many times you need to move your stuff.



Need storage as part of your move? You don't have to rent a

truck multiple times to schlep your stuff back and forth. Keep your

container at your place for as long as you need, or we'll drive it to

one of our indoor storage facilities.
Compare PODS to moving trucks
TAKE THEIR WORD FOR IT: MOVING AND STORAGE REVIEWS
The Right move
"Everything you said you would do, when you said you'd do it, at the price you quoted, was absolutely done as promised! After reading one nightmare after another from full service moving companies, I am so glad I went with Pods!"
"I priced out traditional moving companies and they were all so expensive. I also needed a place to store things ... A traditional storage unit could have worked, but then I would have had to drive all of my things over there and my car just isn't big enough to get all of that done well. Having the [PODS container] right outside of the house was critical … so it was the perfect all-in-one for me."
"We've used moving companies in the past and we weren't happy with the experience. We needed a service that would allow us to move our belongings long distance, but that is more cost-effective and gives us the option of storing our belongings without having to unload and move the boxes numerous times."
Let's Get Started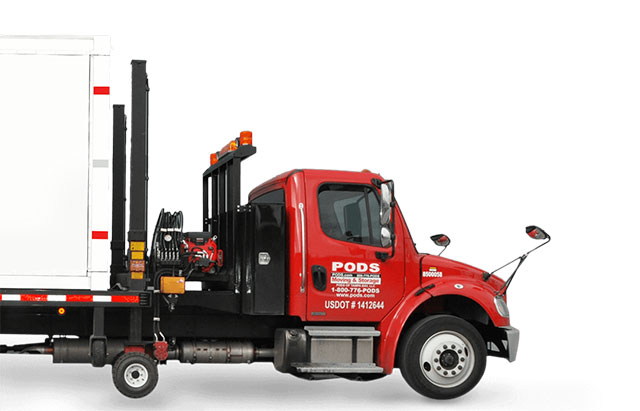 Choose the service you need.