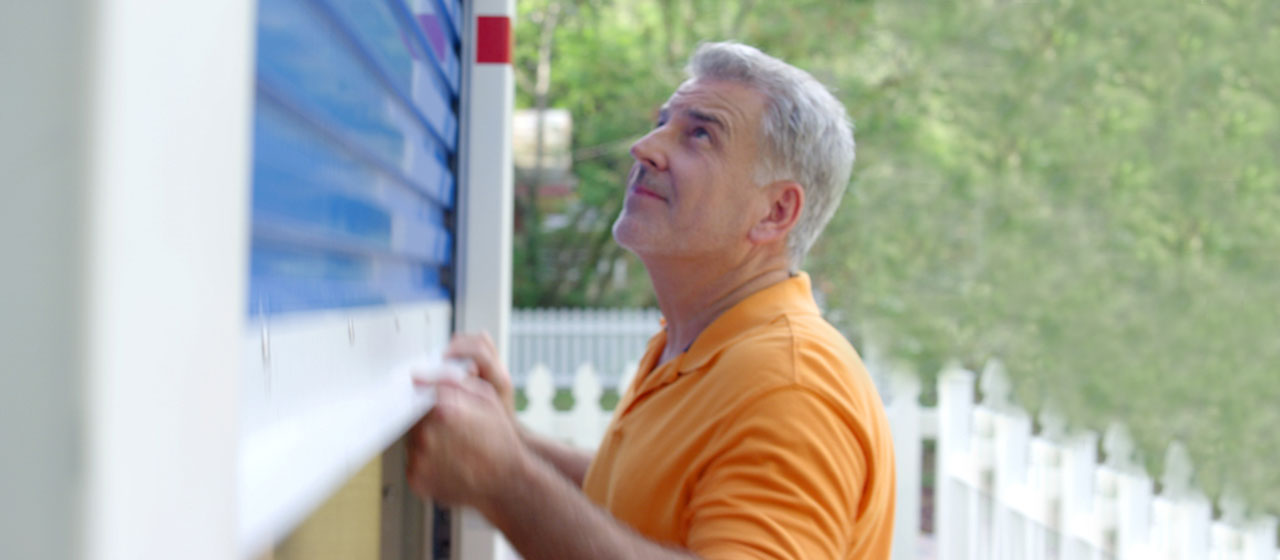 PODS vs. Self-Storage
In 1998, we revolutionized the industry by delivering storage to our customers. Decades later, self-storage facilities still can't compete.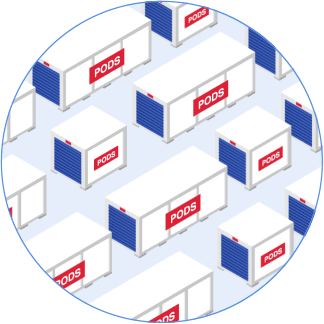 This may take up to 30 seconds.
We're searching over 200,000 containers to find you the best price.
Compare PODS to Self-Storage Units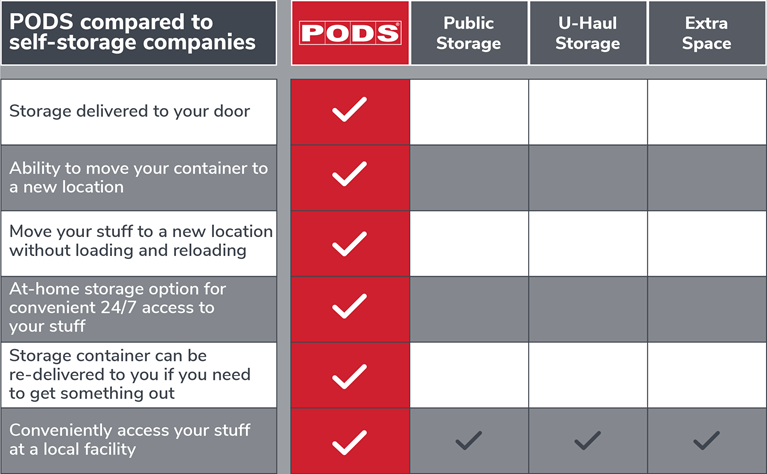 Public storage, U-Haul Storage, and extra space just don't compare.
Moving stuff into storage shouldn't take an entire weekend.
The great news is that now it doesn't have to. PODS
eliminates the need for driving by delivering a sturdy, steel-framed,
weather-resistant container to your door. We give
you all the time you need to load it, then we pick it up and
drive it to one of our secure storage facilities where we keep
it until you need it again. Then we drive it back to you. Does
your local self-storage facility do that?

We didn't think so.
Storage That Fits Your Needs@Model.Title.HeadingType>
PODS brings the storage to you with contactless delivery
Don't worry about renting a truck and hauling your stuff across town. There's no need to meet the driver or be present when we deliver or pick up your container.
Load your stuff just one time
Save yourself the trouble of loading, unloading, re-loading, and re-unloading.
We do moving, too
PODS can transport your container from your local Storage Center to one in your new city, or we can deliver it to your new home.
Store at your place or ours
Keep your things close in your driveway, or we'll store your container in our secure indoor facilities.
Easy access to your stuff
Keep your things just steps away 24/7 in your driveway or get free unlimited access to your items at a PODS Storage Center.
Protect your stuff
Our sturdy, steel-frame, weather-resistant containers and secure indoor storage facilities are designed to give you peace of mind.
Packing and loading help available
Need a helping hand? We'll connect you with highly rated pros in your area.
Clear, up-front pricing
Watch out for sweet, first-month bait-and-switch deals that are so popular with self-storage businesses. Once you're locked in, many of them will automatically increase your monthly rent.
Let's Get Started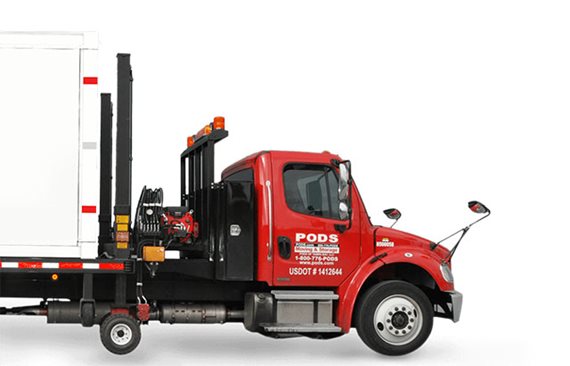 Choose the service you need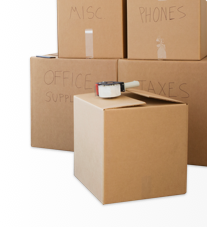 *Limited service areas may apply. Please call PODS for service availability. PODS arranges for independent third-party motor carriers to transport containers long-distance between PODS' service locations.