If you're a current customer, you can visit
MyPODS.com
to schedule or update services and view your driver's estimated arrival. You can also easily update payment information, change an address, and view invoices 24/7.
PODS is open and committed to your safety.
Learn more
about our COVID-19 response.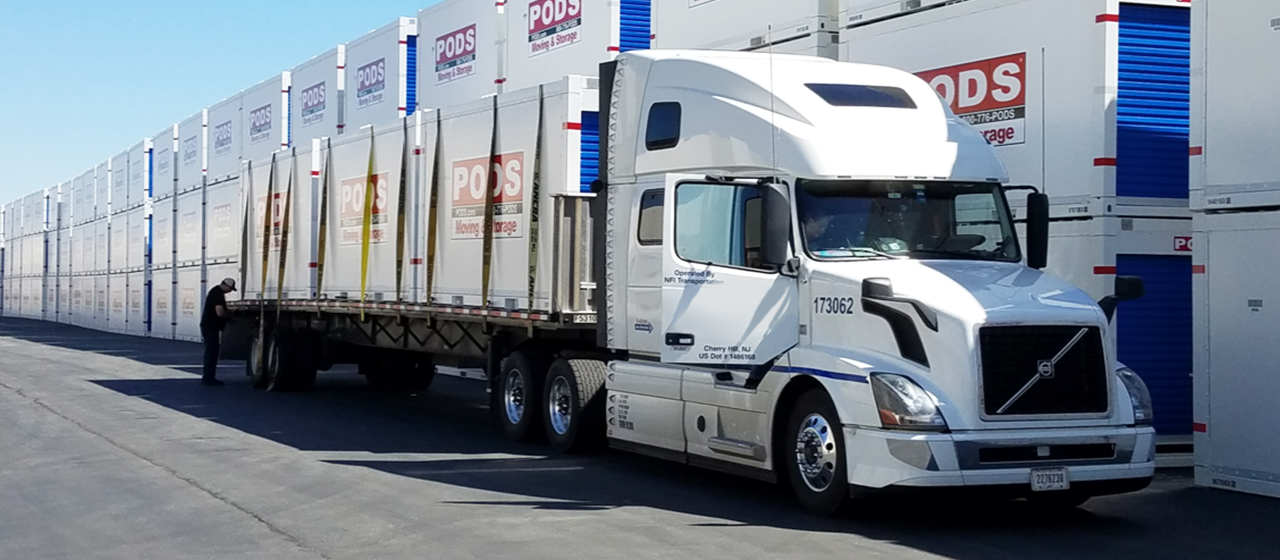 PODS Transport Logistics Solutions
Here's how moving and shipping transportation logistics solutions from PODS can help your business grow.
Our Storage and Transport Logistics Fit Your Needs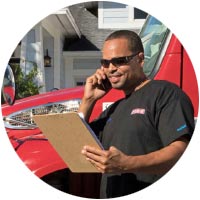 Local Expertise Comes Included
When drivers don't know an area, transport inefficiencies can prove costly to your business. Our experienced, dedicated drivers know how to move your inventory safely, securely, and efficiently. PODS works to ensure local moves stay on schedule and minimize business disruption.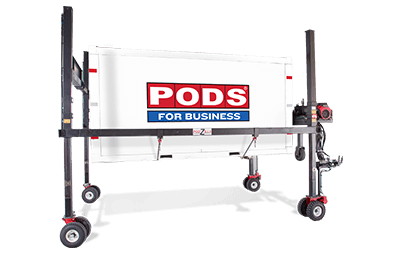 On-Site Moving with PODS Logistics
Some moves don't even leave the property, but that doesn't mean logistics can take a backseat. We offer container transportation services around your site, whether between buildings, to different entrances, or from a warehouse.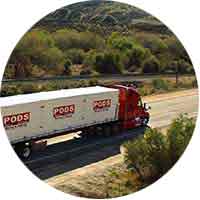 PODS Makes Long-Distance Moves Easy
The longer the move, the more variables there are for your business — but not with PODS. Whether you're moving an employee or your entire business, we have the storage and shipping transportation expertise to make your move low on stress.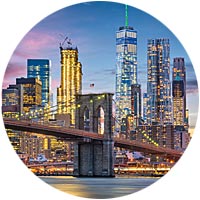 PODS Offers City Service
Moves in urban areas come with unique challenges. In select cities,
PODS City Service
includes a driver who stays with your container to reduce the risk of parking tickets, theft, and more. Our heavy-duty, hydraulic lift-gate system means you don't have to struggle with a ramp in the city.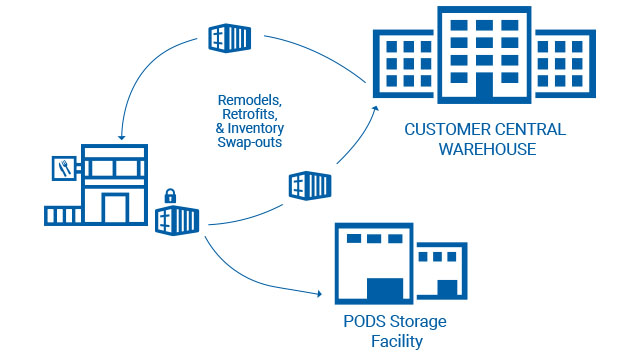 Remodels and Retrofits
Being efficient with time and staying organized during a remodel is always a challenge. Whether it is for one store or for hundreds, PODS has the storage and
moving solutions
to make the remodel process as smooth as possible. Temporarily keep inventory and project materials on-site in one of our portable containers, or use our moving services to have items transported back and forth from your warehouse or to a PODS storage facility.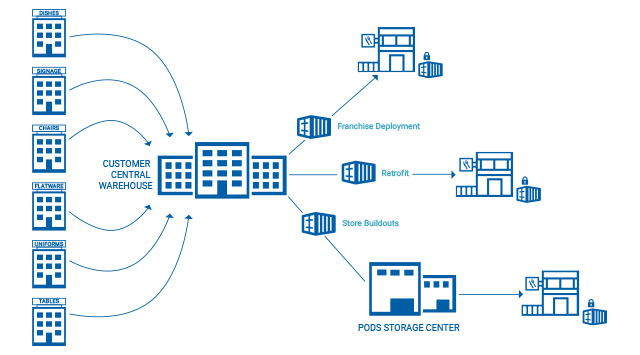 Distribution and Shipping Transportation
Leave the details of distribution to our team of experts. PODS will support your delivery efforts to any degree you need. Whether it's across town or cross-country, our specialists will work closely with your business to ensure your goals are met. With our trained drivers,
durable shipping containers
, and our PODZILLA hydraulic lift system for loading cargo, you can rest assured that your items will be transported without damage.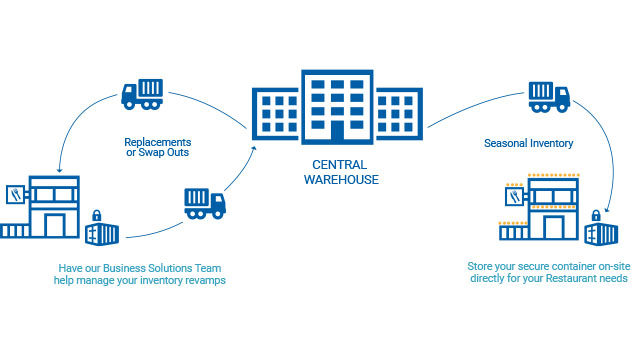 Logistics Coordination
Managing the logistics of distribution, storage, and transportation of merchandise and equipment for your business can be overwhelming. PODS is always ready to manage the complexities involved in coordinating the logistics of moving inventory and other valuable items.

Our team of Business Solutions Specialists are trained to have a deep understanding of your unique industry, and the logistical demands you face. You can have confidence that your goods will always be in the right place at the right time thanks to the accuracy our nationwide network provides.
Get Your Free Quote
You Can Trust Transport Logistics with PODS
PODS Has a Low Damage Claims Rate

The PODS commercial moving and storage network has made over 4 million deliveries and PODS damage claims average less than 2% of overall annual transactions, a rate other warehousing and logistics companies don't come close to matching.

PODZILLA Level Loading

Our patented PODZILLA loading system keeps container contents level when being loaded on and off PODS trucks for a smooth, low-stress move. PODZILLA also only requires 38 feet of maximum maneuverability to place your container at your location.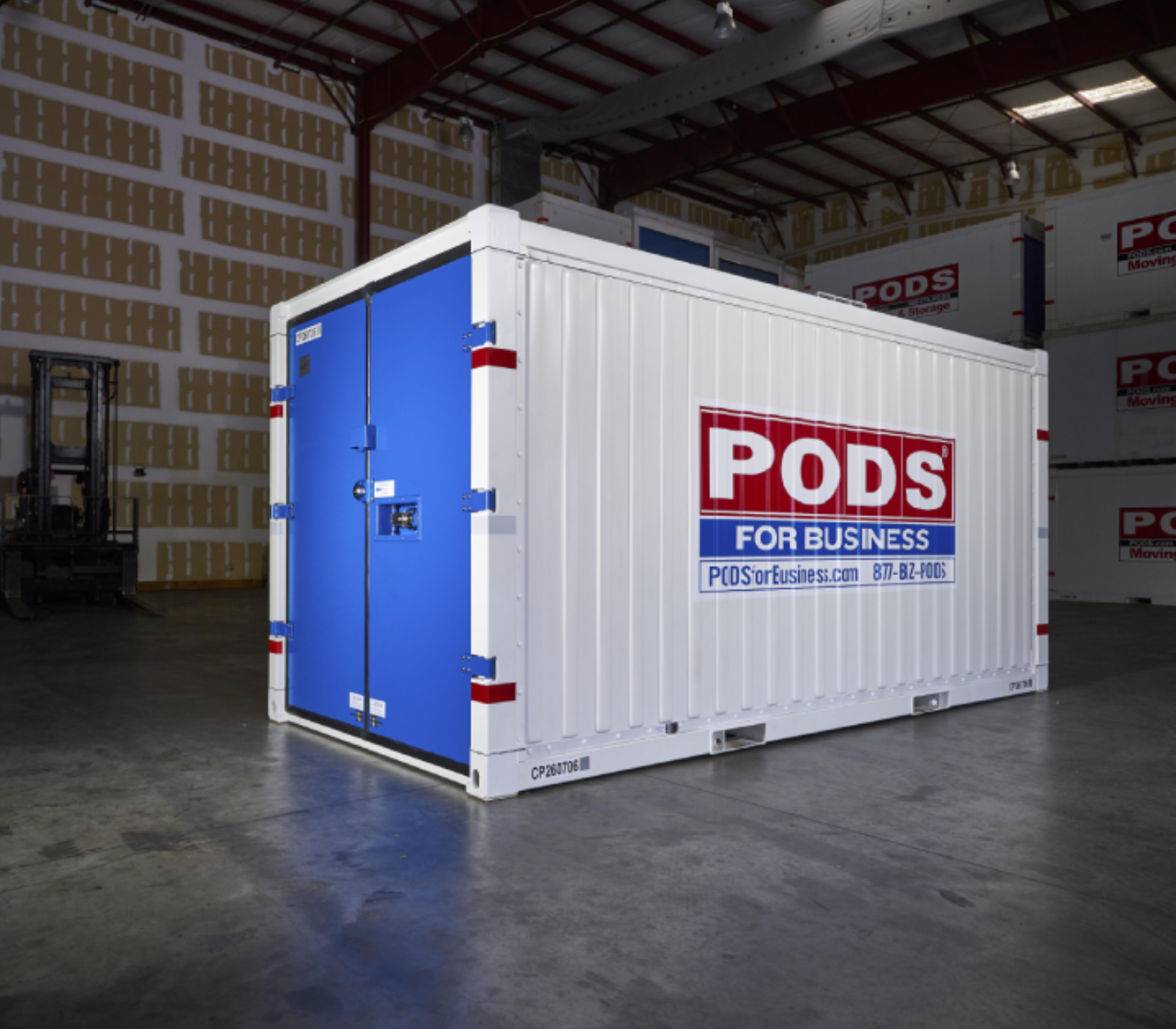 PODS Logistics Solutions
Our Containers Fit Every Storage Need
Our fleet of storage containers in various sizes means you'll never pay for too much or too little space for your move or storage period.* Our 8', 12', and 16' business containers offer storage space from 500 to 1,200 square feet, and our 16', all-steel commercial containers has a capacity of up to 10,000 pounds and high-security doors.**
When Your Plan Changes, So Does Ours
Changes happen during moves — but facilitating them shouldn't have to result in delays. No matter where your container is when your plans change, we can reschedule deliveries at any time and arrange to store your container in one of our
indoor storage facilities
until you need it.
Comprehensive and Convenient Service
We offer solutions for every step of your moving or storage project. There's no need for multiple vendors, as our highly-trained experts provide a level service that exceeds other warehousing and logistics companies — from scheduling your first PODS container, transit and storage, to security and drop-off.
PODS Packing & Loading Assistance
If you'd like
assistance packing and loading
your PODS container, we can connect you with a service provider who knows how to maximize your container space. We'll create and execute a plan tailored to your moving needs to minimize your effort.
* Suggested container sizes are for guidance only. Larger items and how efficiently containers are loaded can significantly impact the size and quantity of containers you'll need.

** Dimensions are based on exterior measurements. Container sizes may vary slightly. Some earlier 8 ft models in PODS fleet are 7'2" x 7'3" x 8'4"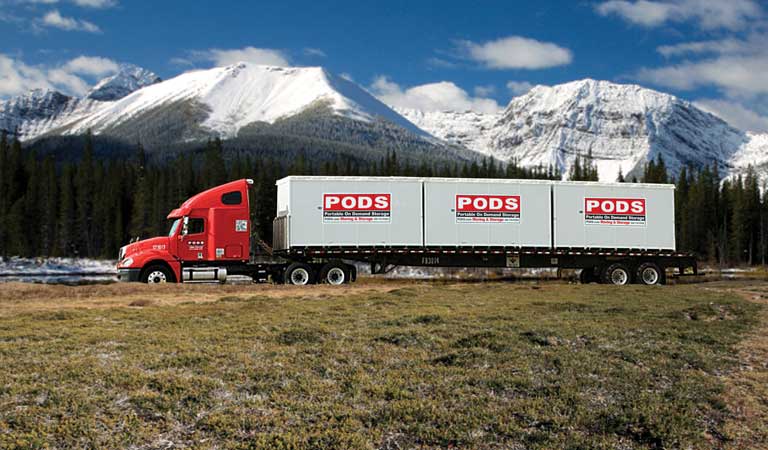 PODS Offers Nationwide Coverage
Maybe you're moving inventory at the start and end of each sales season. Or maybe you're relocating your entire business from one coast to the other. With a nationwide capacity of 220,000 PODS containers, 230 indoor storage facilities, 10 hub locations across the country, and 14,000 cities served, we've got your storage and shipping transportation needs covered nationwide.
PODS Logistics Makes Business Moves Easy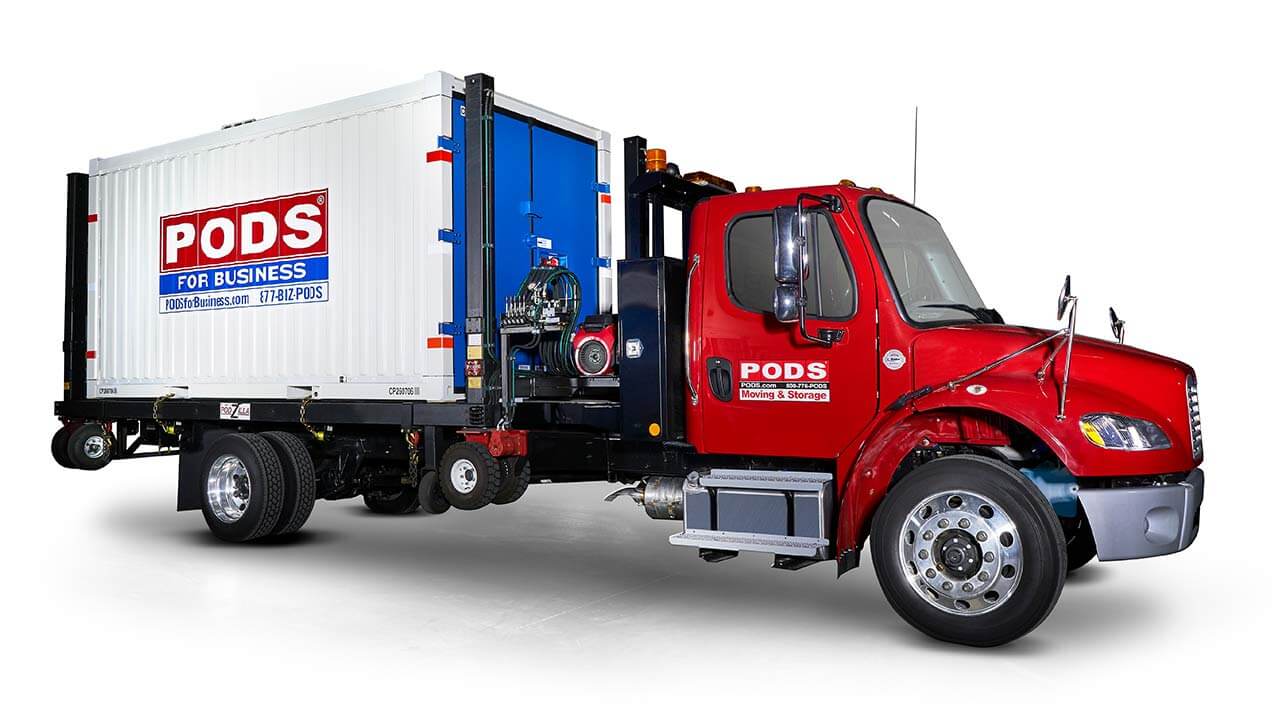 An Extension of Your Business
PODS for Business offers transport logistics solutions to help businesses across the country move and store their inventory. Our
Business Solution Team
quickly connects business with the support they need for cost-saving, efficient moving and storage.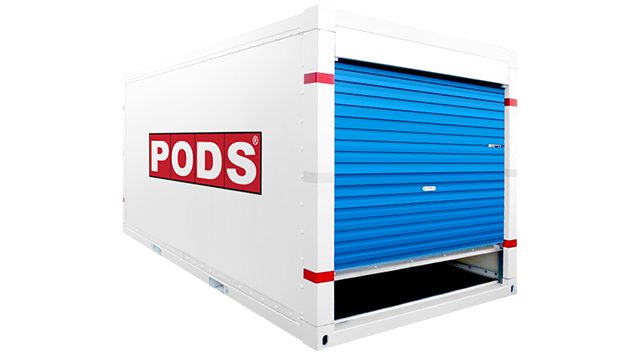 Ready to Make Your Move?
Our PODS Business Solution Specialists are ready to work with you to solve your storage and transport logistics challenges.
Complete our quote form
for a fast, no-obligation estimate from our team. Or contact us to speak directly to Business Solution Specialist today.
Contact PODS Today
Get a Quote for PODS Business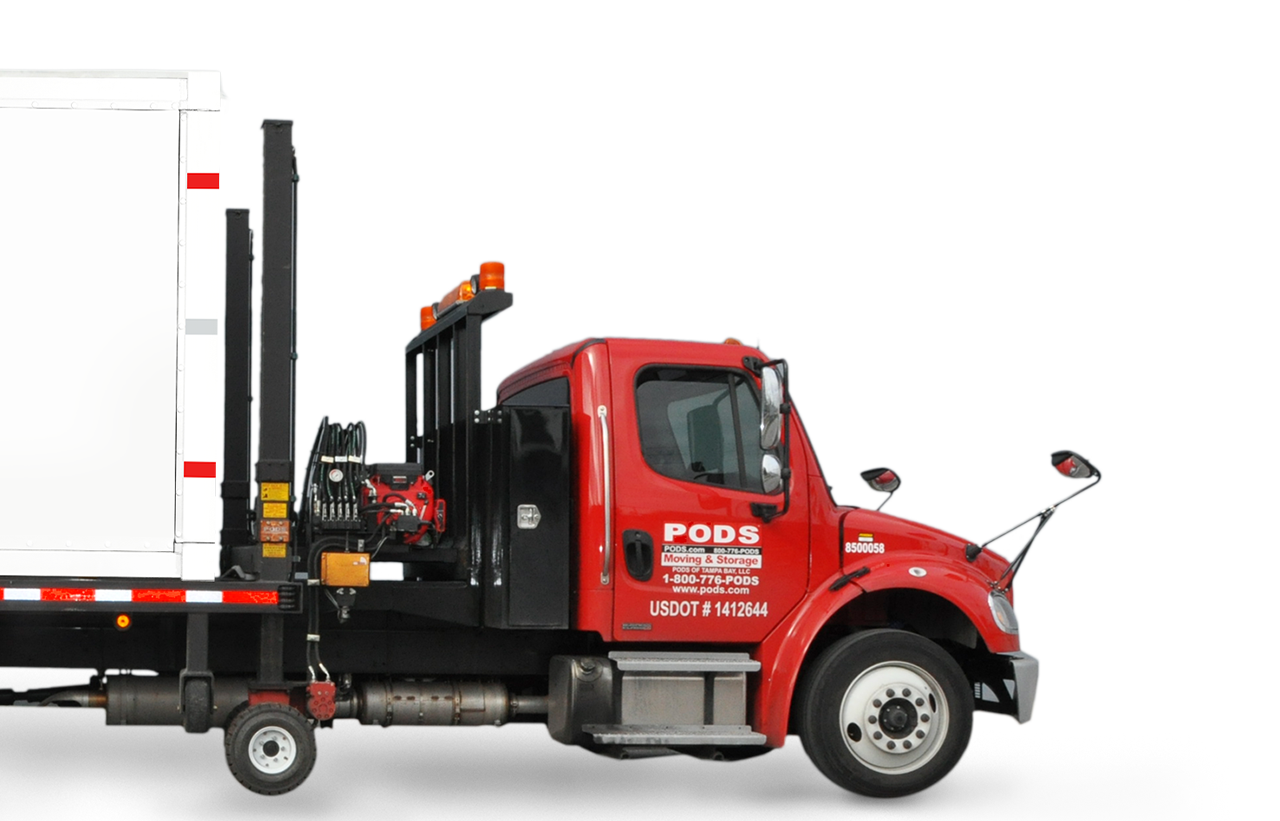 Choose the service you need.