PODS is open and operating across the U.S. and Canada. We're fully staffed with our moving and storage experts standing by to assist you from their home offices, and our drivers are doing contactless deliveries and pick-ups in our local communities. For more information about how we're supporting our customers and our COVID-19 response,
click here
.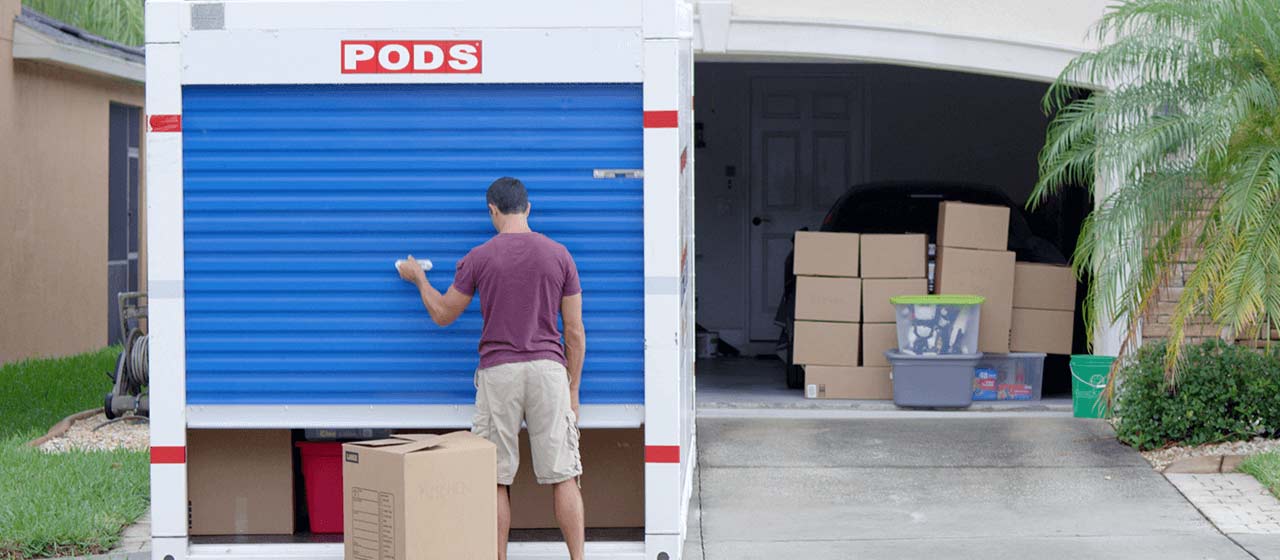 ON-SITE STORAGE CONTAINERS MEAN NO EXTRA STEPS
Maintain easy access to your stuff and reduce clutter when you rent an on-site mobile storage unit.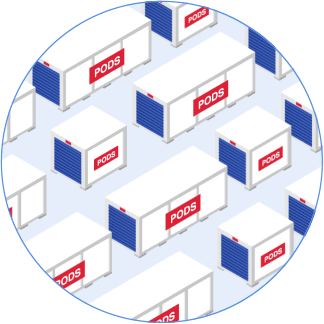 This may take up to 30 seconds.
We're searching over 200,000 containers to find you the best price.
Secure, convenient storage containers for rent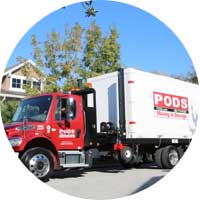 Skip the driving
We deliver your container to you so you don't have to worry about renting a truck or making Saturday cross-town treks schlepping your stuff to a self-storage facility. How convenient is that?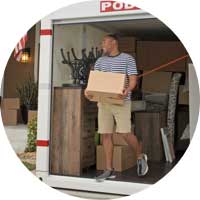 Get anytime access
Having a PODS outdoor storage unit in your driveway or on your property means you get 24/7 access to your stuff so it's always just steps away whenever you need it.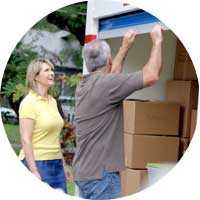 Keep your stuff secure
Your container is sturdy, steel-framed, and weather-resistant to protect your belongings from the elements. Besides keeping the storage unit on your own property, you own the lock and key, so you control any access.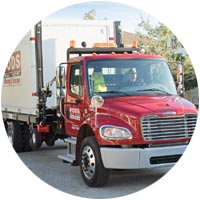 Stay flexible
Need to keep your storage unit longer than you'd planned? No problem! Want to move your container to a secure PODS facility? We'll pick it up when it's convenient for you.
Watch ED and Anne Marie's Story@Model.Title.HeadingType>
For their remodeling project, they needed a solution to clear the way and keep their stuff secure but also easily accessible. See how we helped Ed and Anne Marie.
How PODS On-Site Storage Works
Find your fit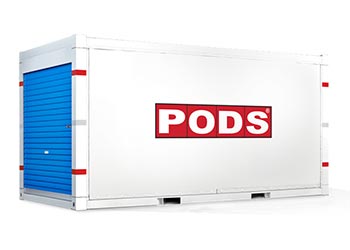 16-Foot Container
Our 16-foot container is our largest and most popular to rent. It's ideal for storing items from a 1,200 sq. ft. space or smaller and fits in the space of a standard parking spot.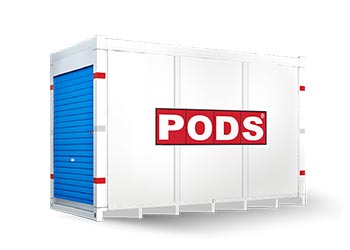 12-Foot Container
Our 12-foot container is recommended for storing items from a 500-1,000 sq. ft. space. It's about the size of a garden shed and can fit approximately 2 or 3 rooms' worth of stuff.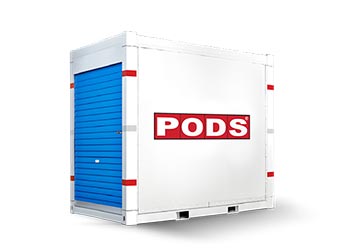 7-Foot Container
Our 7-foot container offers enough space to pack up a small room about 500 sq. ft. or less. It takes up the area of a walk-in closet and is popular choice for college students.
When to store With PODS Vs. a Self-Storage Unit@Model.Title.HeadingType>
REMODELING AND RENOVATIONS
When you're ready to remodel your home, a PODS on-site unit is perfect for keeping things out of the way while keeping them close.
DURING YOUR MOVE
Our ground-level portable containers mean no hiking up and down a ramp while loading and unloading. And because there's no time limit, there's no need to rush. You can take all the time you want.
EXTEND YOUR GARAGE
Make room for that side project with extra storage. Our containers are convenient, whether you're having a really, really big garage sale, or just need extra workshop space to build a new porch swing, and a new porch for it.
DECLUTTER AND STAY ORGANIZED
On-site storage units can help you create the space you need to keep your stuff organized during times of transitions – whether you're making room for a new family member, helping Mom get ready for her estate sale, or gearing up for a move – so you can stress less.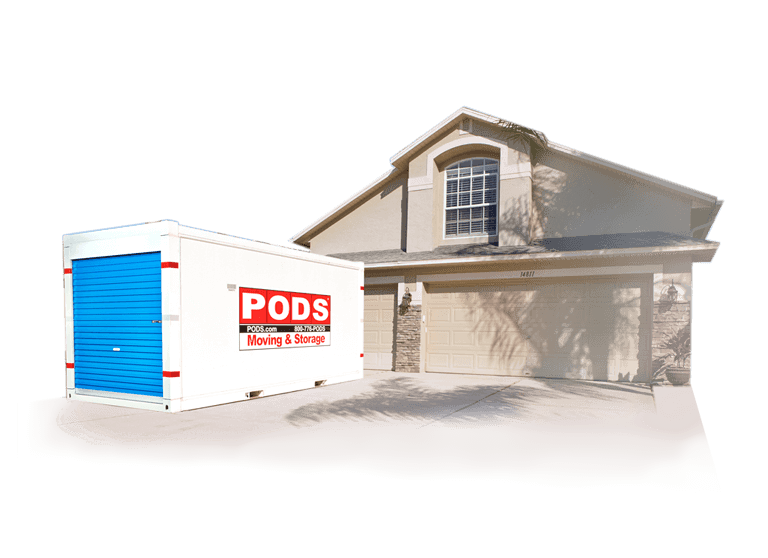 WHAT TO EXPECT WHEN YOU'RE STORING ON-SITE
Want to take a closer look at PODS home storage? Our guide takes you through the entire process:
Planning space for the container

Getting an online quote and reserving

How delivery and pick-up work

Smart loading strategies

Convenient Storage Center options
See Step-by-Step On-Site Storage Guide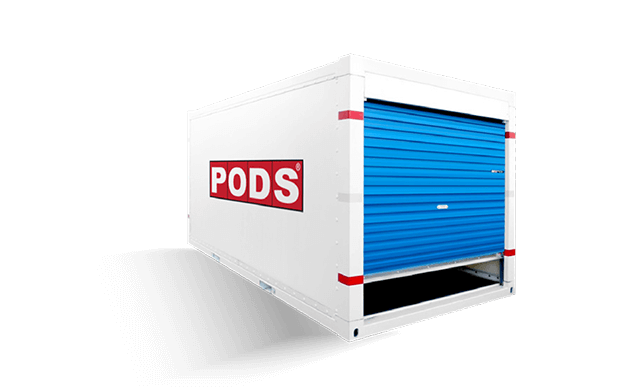 Storage Solutions for your Business
Look to PODS to support your business with flexible storage solutions. Explore our container sizes to find the right combination for your project.
Commercial Storage Solutions
Customer Testimonials
"The convenience was amazing. It provided us onsite storage for staging our house for sale as well as storage and transportation to our new home."
"PODS' on-site storage was a life saver. I would recommend it and use them again."
"What I liked best is the flexibility and the kind personalities of the men who did the deliveries and pickups. They were fabulous and I love portable storage."
GOT QUESTIONS ABOUT on-site STORAGE? WE'VE GOT ANSWERS.@Model.Title.HeadingType>
Let's Get Started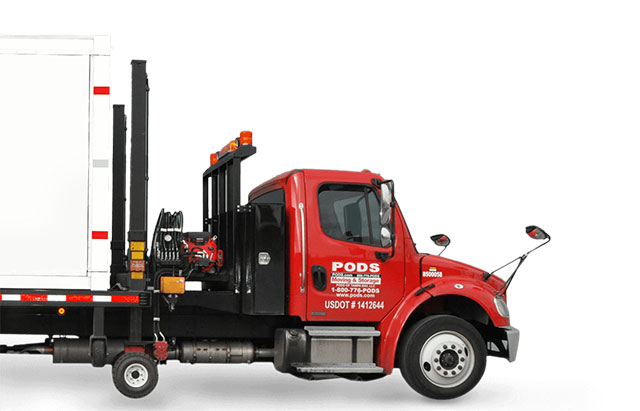 Choose the service you need.