PODS Moving & Storage Detroit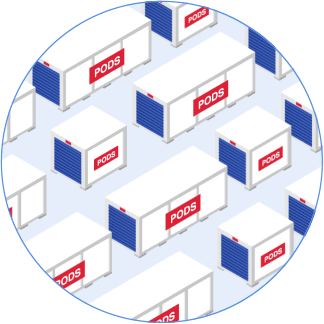 This may take up to 30 seconds.
We're searching over 200,000 containers to find you the best price.
Detroit Moving Solutions
PODS has the moving solutions that are the right move for your new move in or to Detroit. Choose the portable container you need, and PODS will deliver it. You can load and unload the container at your own pace. If you wish, you can keep the portable container at a nearby PODS secure Storage Center. Whether you're
moving across town
or across the country, PODS offers flexible moving solutions that reduce stress throughout the process.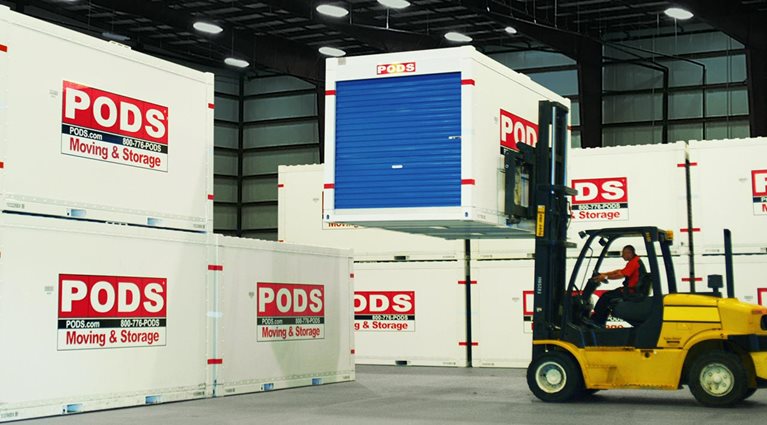 Detroit Storage Solutions
If you are remodeling your home or need
extra storage space
in Detroit, PODS can provide portable storage containers for as long as you need. Simply
choose your container size
, and PODS will bring it right to your home. The weather-resistant design makes on-site storage possible, as PODS storage containers are built to reduce the risk of moisture-related damage. Off-site storage at one of our secure
PODS Storage Centers
is also an option.
Known as the birthplace of Motown Records, many famous musicians began their careers in Detroit, Michigan, including the late and inspirational singer Aretha Franklin. Known affectionately by locals as "The D," Detroit has weathered through some rough years but is now finding a resurgence. If you're moving to Detroit and looking for moving and storage solutions, look to PODS to get the job done right.
More about Detroit@Model.Title.HeadingType>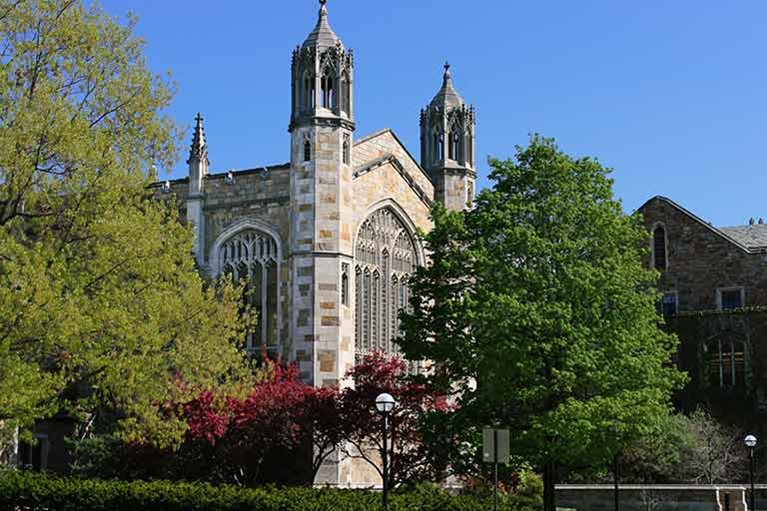 Moving to Detroit
Detroit is the largest city in the state of Michigan and has a population of over 670,000 people. The city is a major port and sits on the banks of the Detroit River, one of the four straits that connect the Great Lakes system to the shipping lanes of the St. Lawrence River.
There are many lovely neighborhoods in the Detroit area to move to. The Brush Park neighborhood is seeing old Victorian houses being restored and the selling prices are climbing. Located close to downtown Detroit, it is a great neighborhood for working professionals, artists, and musicians.
The Grosse Pointe neighborhood in the eastern part of the city is home to old money and lovely stately homes with shady streets and sidewalks. You will find upper-middle-class families as well as wealthy retirees living in this quiet neighborhood.
If you would like to move to a neighborhood where the kids can fish along the river, then the Wyandotte neighborhood is a perfect choice. It is in an area on the south side of Detroit known as Downriver.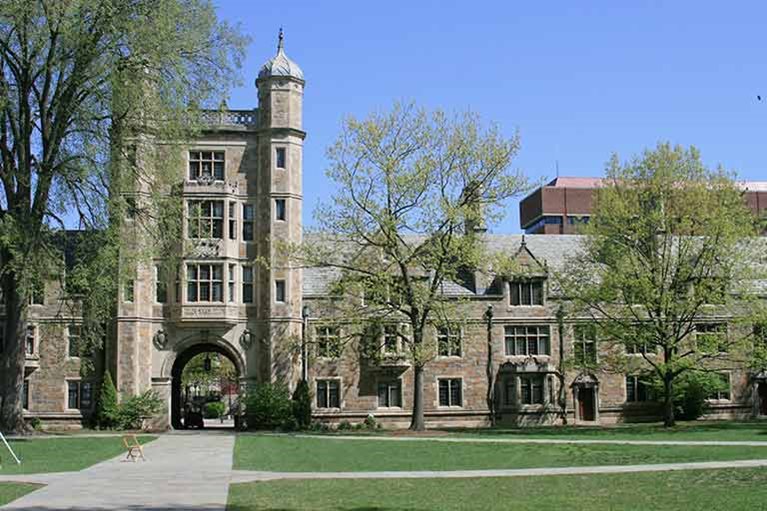 Things to Do and See in Detroit
Now that you have moved into your new home, get out and see the many sights that Detroit has to offer! As Detroit is the birthplace of Motown Records, plan to visit the Motown Museum. Stand in Studio A where so many famous musicians recorded the much-loved music that you can still hear played on the radio today.
If you are a car buff, visit the Ford Piquette Avenue Plant. Book a tour and see beautiful Model A and Model T Ford cars. Purchase tickets to see a live show at the gorgeous and historic Fox Theater. Branch out for an afternoon to visit the African Bead Museum.
The Belle Isle Park is a 928-acre park that sits in the middle of the Detroit River and is home to the Belle Isle Aquarium, Conservatory, and informative Nature Center. The park has three lakes and 150 acres of woods and forest. There are plenty of places to sit quietly in nature.
Restaurants, bars, and music venues abound in Detroit. The mix of old and new is fascinating, and with the revitalization of the area comes a new economy and fresh ideas on the arts and culture. Wherever you choose to live in this iconic city, know that PODS has the moving and storage solutions for your every need.
Serving the greater Southeastern Michigan area
| Addison Township | Ann Arbor | Armada | Armada Township | Auburn Hills | Bancroft | Barton Hills | Bath | Belleville | Bellevue | Berkley | Beverly Hills | Bingham Farms | Birmingham | Bloomfield | Bloomfield Hills | Bloomfield Township | Bloomfield Village | Brandon | Brighton | Brownstown | Brownstown Township | Bruce | Bruce Township | Byron | Canton | Carleton | Center Line | Charlotte | Chelsea | Chesterfield | Clarkston | Clawson | Clinton Township | Commerce | Commerce Township | Cone | Dansville | Davisburg | Dearborn | Dearborn Heights | Delhi | Dewitt | Dexter | Dimondale | Dixboro | Dover | Durand | Eagle | East China | East Detroit | East Lansing | Eastpointe | Eaton Rapids | Ecorse | Elsie | Eureka | Farmington | Farmington Hills | Fenton | Ferndale | Flat Rock | Fowler | Fowlerville | Franklin | Fraser | Garden City | Gibraltar | Goodison | Goodrich | Grand Blanc | Grand Ledge | Grass Lake* | Grosse Pointe | Grosse Pointe Farms | Grosse Pointe Park | Grosse Pointe Shores | Grosse Pointe Woods | Hamburg | Hamburg Twp | Harper Woods | Harrison Township | Hartland | Hartland Township | Haslett | Hazel Park | Hickory Isle | Highland | Holly | Holt | Howell | Hudson Mills | Huntington Woods | Independence | Inkster | Keego Harbor | Laingsburg | Lake Angelus | Lake Orion | Lakeland | Lakeville | Lansing | Lathrup | Lathrup Village | Lenox | Leonard | Leslie | Lincoln Park | Linden | Livonia | Loch Alpine | Lodi Township | Macomb | Madison Heights | Manchester | Maple Rapids | Mason | Maybee | Melvindale | Milan | Milford | Mooreville | Morrice | Mount Clemens | Mulliken | New Baltimore | New Boston | New Haven | New Hudson | Newport | Northville | Northville Township | Novi | Oak Park | Oakland | Oakland Township | Oakville | Okemos | Olivet | Onondaga | Orchard Lake | Orion | Orion Township | Ortonville | Ovid | Owosso | Oxford | Perry | Pinckney | Pleasant Ridge | Plymouth | Podunk | Pontiac | Potterville | Rawsonville | Ray | Redford | Richmond | Riverview | Rives Junction | Rochester | Rochester Hills | Rockwood | Romeo | Romulus | Roseville | Roulo | Royal Oak | Saint Johns | Salem | Saline | Sang | Scio | Scio Township | Selfridge | Sharon | Sharon Hollow | Shelby Township | South Lyon | South Rockwood | Southfield | Southfield Township | Southgate | Springfield Township | Sterling Heights | Stockbridge | Stony Creek | Sumpter Township | Sunfield | Superior Township | Sylvan Lake | Taylor | Trenton | Troy | Unadilla | Union Lake | Utica | Van Buren Township | Van Buren Twp | Vermontville | Walled Lake | Waltz | Warren | Washington | Washington Township | Waterford | Waterford Township | Wayne | Webberville | Webster | West Bloomfield | Westland | Westphalia | White Lake | Whitmore Lake | Williamston | Williamsville | Willis | Willow | Willow Run | Wixom | Wolverine Lake | Woodhaven | Wyandotte | Ypsilanti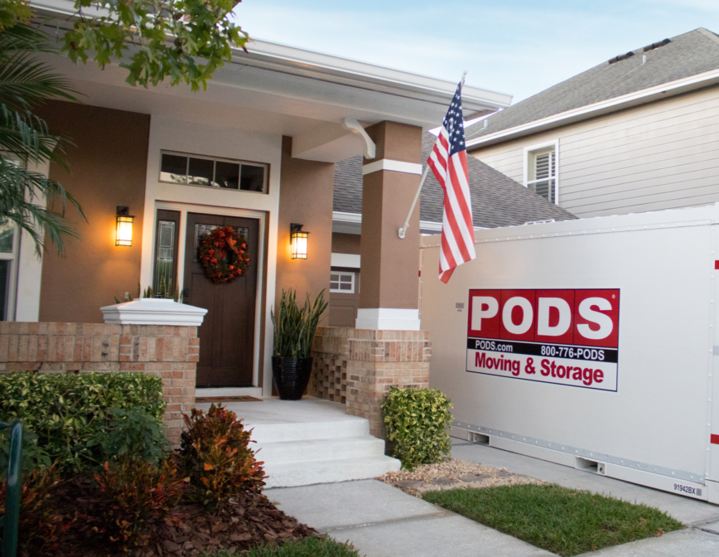 Detroit Moving & Storage
Storage Facilities Near Me
Lansing, MI Storage Center
1709 Thompson St.
Lansing, MI 48906
Romulus, MI
36501 Van Born Rd.
Romulus, MI 48174
Warren Storage Center
6700 East 14 Mile Road
Warren, MI 48092
*Limited service areas may apply. Please call PODS for service availability.