ESTIMATE YOUr MOVING COSTS with pods
Find out why PODS is the smart solution, offering greater flexibility and control over your moving process – and budget.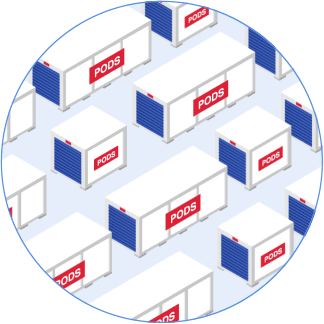 This may take up to 30 seconds.
This may take up to 30 seconds.
We're searching over 200,000 containers to find you the best price.
We're searching over 200,000 containers to find you the best price.
Looking for PODS moving prices?@Model.Title.HeadingType>
PODS pricing gives you flexibility & peace of mind@Model.Title.HeadingType>
With over 20 years' experience and 3.7 million deliveries, we know that long-distance moves aren't a cookie-cutter situation. That's why we encourage customers to call us for long-distance moving costs.

When you call PODS, we ask and answer questions, walking you through each step before quoting a custom, detailed estimate based on your unique moving and storage needs. You get a free quote on the spot, plus in writing via email.
No deposits, no obligations: Like most hotel reservations, you can book your PODS move with a credit card – no payments due until 7 days before your container delivery.
Easy cancellation: Get a full refund when you cancel up to 24 hours before your first container delivery.
Pay-as-you-go pricing: Unlike other movers, with PODS you don't need to pay for your entire move upfront. You only pay for each stage at a time, making it easier on your budget.
No surprise costs: PODS pricing isn't based on the weight of your belongings. Many full-service moving companies charge by weight, so customers risk a big difference between their estimate and final cost.
Avoid late fees: PODS rents containers by the month, so you can take your time loading and unloading – without worrying about extra fees on a truck rental.
Flexible scheduling: With PODS there are no rigid schedules. Change of plans? Just let us know.
How much does moving with pods cost@Model.Title.HeadingType>
Cross-country or long-distance moves with PODS average between $1,499 to $2,999*.
Local moves with PODS average between $299 to $499*.
PODS moving prices depend on factors including:
Geographic location and distance moved
Timeframe and season
Size and number of PODS containers needed
*Averages based on PODS' rates published May 2019.
WHAT'S INCLUDED IN YOUR PODS MOVING QUOTE? MORE VALUE. LESS STRESS.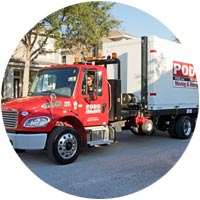 We do all the driving
You won't have to drive a big truck. No worries about accidents, parking, or breakdowns. No added fees or gas charges either.
Flexible, built-in storage
Keep your container handy at home or store it at a PODS storage center.
Roomy timeline that you control
PODS containers are rented by the month, so you can take your time and move on your schedule.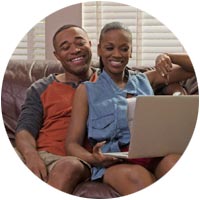 High-quality, reliable service
PODS damage claims rate is 10X LESS than full-service movers – under 2% vs. 20%. We're also #1 in customer service for moving services, according to Newsweek.
Factors that affect your moving costs@Model.Title.HeadingType>
It's good to know a few details about your move when you call, but don't worry if you don't have it all nailed down. We'll suggest cost-saving strategies to get the most value and flexibility to fit your unique moving needs.
How far are you moving?
Your current and future ZIP codes.
How much stuff are you moving?
We'll help you figure out what size and how many containers you'll likely need.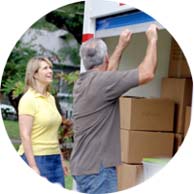 What's your timeframe?
Moving rates can change with the season, but with PODS you lock in your rate at the time you book. As long as your locations and containers stay the same, your rates don't change even if your dates change.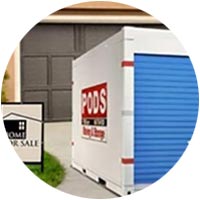 Does your move have unique features and challenges?
Starting a new job ASAP and need storage while you relocate? Need maximum date flexibility? Tell us about your moving challenges so we can help. PODS solutions are ideal for uncertain and complex moves.
Customer reviews
"No hidden charges, what I was quoted was what I was charged. Also, everything was on time. The pick-up, the delivery, the drivers were always between the window of time I was given. Great experience and much more affordable than hiring movers."
"We sold our house so our closing was the 13th and bought our next house in the same month and closed on the 30th. The cost to rent a truck for the two different days and a storage unit at that size would have been well over what I paid not to mention refilling the truck with gas. [Not having] to run back and forth to a storage unit was also a fantastic perk. Once we delivered the [PODS storage unit] to our new home we had the flexibility to leave it in our driveway and move things in at our leisure."
Patricia W., Sarasota, FL
"Very efficient and cost-effective way to move at our own pace! We were moving out of state to a rental property that was furnished and house hunting once we moved. We were able to store our belongings in a secure environment and waited to ship the [PODS portable container] after hurricane season to our new home! Your services and products were effortless on our part, thank you!"
"From start to finish our experience using PODS was fantastic. If we ever move again PODS will be the first company I call. It was easy and affordable! I would definitely recommend it to anyone moving."
more moving costs resources