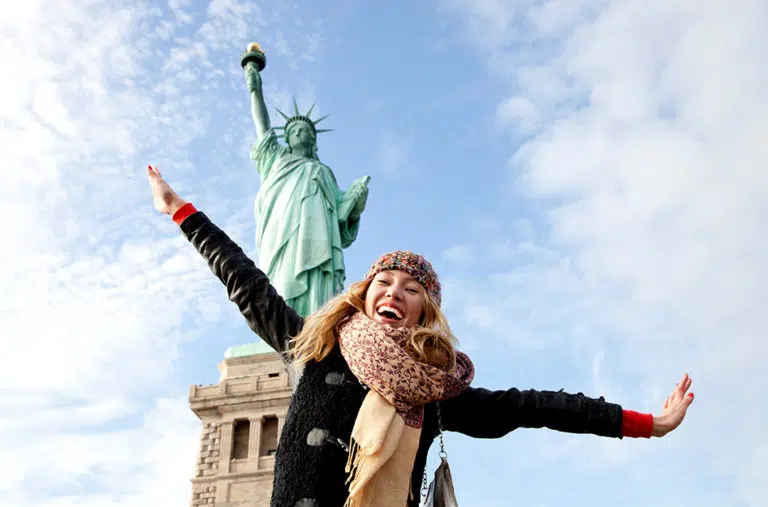 Long-Distance Moving to New York City: How to Prepare Yourself For Your Next Adventure
Packing up your life and moving a long distance to a new location — whether it's for a job, to be closer to family, or whatever the case may be — is an experience that you'll never forget. Make that long-distance destination one of the busiest, most populated cities in the entire nation, and you're really up for an adventure.
The lights of Times Square may have you mesmerized, and the sounds of Broadway may be singing your song, but if you're not prepared for the long-distance trek to The City That Never Sleeps, you may find yourself stuck tying up loose ends instead of letting loose when you get there.
Your best bet? Make a to-do list of essential tasks that need to be completed before the move, knock 'em out before you hit the road, get to know as much as you can about your new 'hood along the way, and — most importantly — remind yourself of all the things you love about NYC when stress tries to creep in.
And don't worry. We're here to help you navigate this life-changing experience. Follow these tips for long-distance moving to New York City, and you'll be chowing down on that authentic, NY-style pizza in your new place in no time.
Essential Tips for Moving Long Distance to New York
Moving long distances can be hard on anybody. Just think about everything involved: finding a new place in a new city, figuring out how to get your belongings to the new place (and making sure scheduling lines up perfectly), physically getting your things ready to move, and then actually preparing for the long trip. That's a lot of responsibility, not to mention a hefty load to take on emotionally. To keep yourself from becoming too overwhelmed, try out our top tips and tricks for a simple and (almost) stress-free cross-country move.
1. Choose Your Moving Partner
This type of move isn't a throw-it-in-the-trunk-and-go kind of move (unless you only own a few possessions, of course). Instead, you'll need to rent a moving truck, hire a full-service moving company, or take advantage of a portable moving container. Each option comes with its own qualities: full-service movers can do it all (for a price, that is), a rental truck is typically the cheapest (and most labor-intensive) option, and portable moving containers allow for a flexible moving schedule (with storage built right in!). Before committing to a moving partner, do your due diligence by comparing PODS moving containers to full-service movers and moving truck rentals.

To learn more about your moving service options, jump ahead to the next section.
Insider Tip: Have you ever driven through the streets of New York? How about with a giant moving truck? That's an experience, to say the least. Instead of putting yourself through that turmoil, check out PODS City Service — designed especially for urban moves. Besides saving you from the nail-biting experience navigating the streets of NYC, the service is an ideal solution if you need both moving and storage.
2. Declutter and Downsize Before You Depart
Why would you want to pack up box after box of things you don't really use, need, or want? You'll just end up wasting time unpacking those things or — worse — throwing the boxes in a corner somewhere to be ignored. To avoid this, simply give yourself some time to declutter before you start packing. Wondering how to declutter before a move? It's simple. Just go bit by bit, whether that's room by room or category by category. Touch every item you own and determine if it "sparks joy." If not, there's no reason to spend the time (and money) moving it to your new digs.
Wondering what to do with the clutter?

• Sell items in good shape at a garage sale or online (Marketplace, OfferUp, Craigslist)
• Pass down sentimental items to relatives or friends who might appreciate them more
• Donate items in decent shape to a charity (Goodwill, Salvation Army, local shelter)
• Repurpose or recycle applicable items that are left over
• Trash any items that are unusable or you couldn't sell, donate, or recycle
3. Pack It All Up
One of the big differences between a local and long-distance move is the way everything is packed and loaded. If you're only moving across town, it's just fine to throw things in open boxes and bags and stuff them in your car. But when you're transporting everything you own thousands of miles across bumpy roads, hilly highways, and twisty turns? Things will shift around. If your boxes aren't securely packed and loaded, that could result in damaged items. And after all that hard work getting everything ready? Who wants that? Fortunately, you can avoid this costly issue by simply using the proper packing materials and implementing these tips for packing and loading for a long-distance move.
Pro Tip: What do you spend the most time doing during a move? Packing and unpacking. So why not give yourself plenty of time to get it done by using a PODS portable container for your long-distance move? You can have it delivered straight to your driveway weeks before your big day. Then pack and load it at your leisure and, when you're ready, PODS will pick it up and deliver it to your new home. The best part? You can keep your container on site as long as you need to get things unloaded and unpacked at your own pace.
4. Gas and Electricity and Wi-Fi — Oh My!
The last thing you want is to arrive at your new home only to find there's no electricity, running water, or (gasp!) Wi-Fi. And you certainly don't want to continue to pay for those services at your last house. Be sure to contact your service providers at both places at least a month before your move-in date to let them know you'll be moving and when to discontinue and begin service. This goes for gas, cable, electricity, water, newspaper delivery, Wi-Fi, recycling, garbage, and any other recurring services. And, of course, you don't want to forget to fill out a change-of-address form with the USPSⓇ and update your billing address where necessary.
How to Get to New York
So you know it's important to choose the right moving partner, but what if you're torn between options? Full-service movers and rental trucks have been the norm in the past, but since PODS introduced portable moving and storage containers, the game has totally changed. Of course, the option that's best for you depends on factors such as what you want from your moving team, your budget, and how much time you have on your hands. Let's get into the nitty-gritty of each.
Full-Service Movers
When you use a full-service moving company, you can be as hands-off as you'd like to be. They'll pack, load, transport, unload, and unpack everything for you. And in some cases, they may even disassemble and reassemble your furniture, too. For a cost, that is. Full-service moving is a big job that comes with an equally big price tag. And if your household doesn't fill an entire truck, it may be transported with other households' belongings, which can increase the chances of some of your things getting mixed up with another family's or delayed in transit.
Moving Truck Rental
Tight budget? Or just feeling thrifty? If you have the time (and energy) to do the work yourself, renting a moving truck may be the way to go. This is definitely the most labor-intensive route, though, as it includes packing, loading, driving, unpacking, and unloading everything yourself. Yes, it may save you some money. But in addition to the cost of the rental, you'll have to pay for other options, like insurance. And all the gas you'll be paying for? Oh boy.
PODS Portable Moving Containers
Prefer a hybrid moving option? Then you'll want to try PODS Moving and Storage. PODS containers come in different sizes, so you can choose just the right size for your household — no mixing and matching with anyone else's belongings. And PODS will deliver the container to your driveway, where you can take your time packing and loading. Don't want to do all that by yourself? No problem. PODS can refer you to local packing and loading help to "lighten your load." The best part? When you're ready, PODS will pick up your container and transport it to your new home in NYC, where you can (once again) take your time unloading and unpacking at your own pace.
Get to Know Your Neighbor(hood)s
Have you pinned down exactly where you want your stomping grounds to be in NYC? Maybe you have a pretty good idea, but you'd still like to hear about nearby areas before making it official? Regardless, before you make your long-distance move to New York, you want to be as confident as possible that your new neighborhood is the perfect fit. The good news? Whether you're into the arts, need a family-friendly area, or are looking to stay in the middle of all the action, there are a ton of different NYC neighborhoods to choose from — all with their very own unique cultural aspects, amazing restaurants, and so much more.
Here's a taste of some of our top picks for best New York City neighborhoods:
Inwood — nature-lover's paradise, quiet, residential
Inwood is located in the uppermost part of Manhattan, and it's paradise for city dwellers who want a little peace and quiet with a beautiful mix of surrounding nature. Only one subway line away from entertainment located in other neighborhoods, this is a place where affordability meets accessibility. And did we mention the delicious food? Local spots like Bocaditos Bistro and Garden Cafe draw patrons from all around.
East Village — lively neighborhood, vibrant dining, active nightlife
Another incredible neighborhood located in Manhattan is East Village, which is known for being at the center of all of the action in New York. Full of picture-perfect opportunities, this neighborhood is located halfway between Central Park and the Statue of Liberty, so beware: It is one of the most touristy areas. If you're looking for quiet and privacy, East Village may not be exactly what you're looking for. If you're looking for plenty of arts and entertainment, you've found the right place.
Park Slope — family friendly, socially conscious, supportive of local businesses
If you're looking to live somewhere other than Manhattan, look no further than Park Slope, located in Brooklyn. It has multiple subway connections to get you in and out of the neighborhood easily, and it's known for its incredibly beautiful brownstone buildings. You will also adore the parks that surround the area — perfect for stretching your legs and getting some fresh air, no matter what time of the year.
Astoria — heavy Greek and Egyptian presence, popular food scene, scenic parks
Living in Queens is something that a lot of people enjoy doing because of the many different opportunities and the culture that thrives there. And if you're looking for beauty, Astoria's right up your alley. A multicultural neighborhood with a lot to see, eat, and do, you'll never run out of exciting experiences, no matter what part of the neighborhood you're in. The best part? Astoria was voted one of the 10 coolest neighborhoods in the world by Time Out.
Lower East Side — rich history, vibrant dining, active nightlife
Have the opposite of the Park Slope mentality and just can't get enough of Manhattan? Then you need to consider living in the Lower East Side. We're talking about famous restaurants, bars, music venues, and more — located right outside your door.
Remember Your "Why"
Making a long-distance move is quite the undertaking. And along the way, you may find yourself wondering why you even thought it was a good idea to begin with. That's when you need a little refresher of just how amazing your new life will be as a New Yorker.
When the going gets tough, remind yourself of these reasons to adore America's City:
The Breathtaking Landmarks Are a Sight to See
From the Statue of Liberty to the Empire State Building. Central Park to Rockefeller Center. There's no doubt you can spend countless hours exploring all of the beautiful landmarks around the city. And the best part? When you're an NYC resident, you get to experience all of the different exhibits and seasonal events — no flight and hotel required!
New York Is Known for Its Diversity
If you want to live in an area that is known for its diversity and cultural environment, it doesn't get any better than New York. More than 36% of its citizens were born in other countries, and nearly 50% of residents speak a language other than English at home. Talk about a cultural experience!
Conveniences Are Right at Your Fingertips
Another amazing thing about New York is just how convenient it is to live there, and it's certainly something you'll appreciate from day one. Not only do you have plenty of businesses nearby, but many of them are also open at all hours of the day and night. Looking to get a meal in the middle of the night? Or get your nails done bright and early in the morning? That's easy-peasy in The City That Never Sleeps!
Opportunity Awaits You
Whether it's for your career, to meet new people or places, or just to "find yourself," opportunity's a-knocking in NYC — in any and all interests you can imagine. It's a city with a population of nearly 8.5 million people, after all. Surely there's at least one opportunity with your name written all over it.
Entertainment's All Around
Hands down, the most amazing thing about New York? There's no shortage of entertainment, no matter where you go. From street performances to Broadway shows. Museums to music concerts — there's talent and passion around every corner. Like the song says, "If I can make it there, I'll make it anywhere."

Ready to get this show on the road? Use this moving checklist to stay organized and visit the PODS Blog for some tried-and-true packing tips.
Get a Quote
Choose the service you need
Comments
Leave a Comment
Your email address will not be published. Required fields are marked *