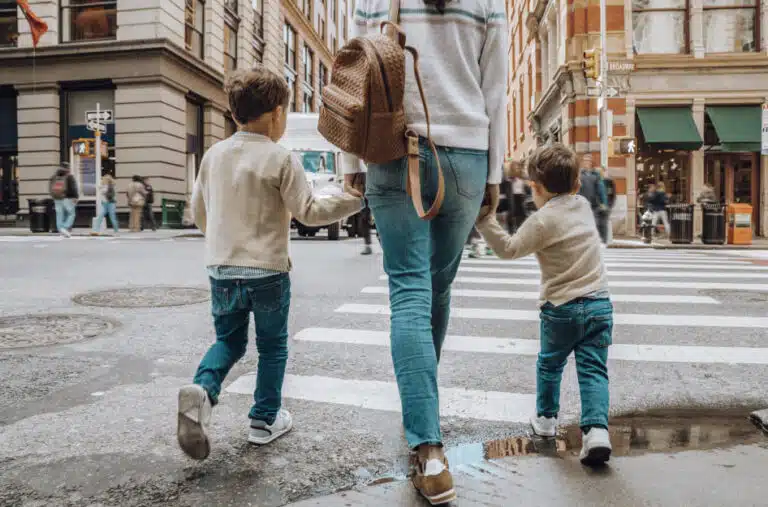 8 of the Safest Neighborhoods in NYC
New York City is filled with all the greatest things life has to offer — including great culture, food, nightlife, employment opportunities, and history. Dubbed "The Big Apple" and "The City That Never Sleeps," NYC lives up to its nicknames with tall skyscrapers that tower over its residents and blaring lights at all hours of the day. You may be surprised, but some of the safest neighborhoods in NYC don't include all of the tourist attractions and appeal New York is known for.

From The MET and the MoMa to Central Park and the Empire State Building, NYC is a tourist's paradise and an ever-changing landscape for locals. And by the way it's been glamorized in multiple iconic movies — including New York Minute, Breakfast at Tiffany's, When Harry Met Sally, and Big, just to name a few — you'd think that NYC is the perfect place to live. It's no wonder why so many people want to live there.

But just like all big cities, it's not all glitz and glam all the time. Unfortunately, we'd be remiss if we didn't mention an unglamorous side of the city: the crime. Sure, NYC has some crime, and it may seem unsafe to people who live outside the area (the news has a way of magnifying crime!). But the people who live in NYC will generally tell you otherwise. Still, the statistics paint a more accurate picture: According to the city's 2022 crime index, New York City has seen reductions from the prior year in several index-crime categories. For example, murders were down 11.3 percent and shooting incidents were down 17.2 percent.
Statistics and hearsay aside, NYC is certainly one of the best places to live in the U.S. Ahead, learn more about the safest neighborhoods in NYC and crime rates for various popular neighborhoods, so you can feel comfortable in your decision to move there — and get back to focusing on everything that made you fall in love with America's City in the first place!

Ready to make your move to NYC? Make your move a flexible one with a portable moving container from PODS.
General Safety and Crime Rates in NYC
According to Neighborhood Scout, the crime index is 15 for NYC (100 is safest). That means it's safer than 15 percent of other U.S. cities. Sounds a little rough, huh? Well, for comparison, the Los Angeles crime index is 9, Austin is 5, and Miami is 8.
To add more perspective, however, New York State has a crime rate — that is, the rate of crimes per 1,000 residents, including violent and property crimes — of 16.65, while New York City has a crime rate of 24.83.

Q: Which neighborhoods in Manhattan are safe?
A: Some of the safest neighborhoods in NYC include Battery Park City, Tribeca, Chelsea, and Murray Hill. Those aren't the only ones, though! Read on to explore our other top picks.
The Safest Neighborhoods in New York City, New York
If you're planning on moving to New York City, the hottest food spots and best schools aren't the only things you'll be taking into account when searching for a neighborhood. Whether you're moving alone or with a family, safety is probably at the top of your list.
Here are eight of the safest neighborhoods in NYC.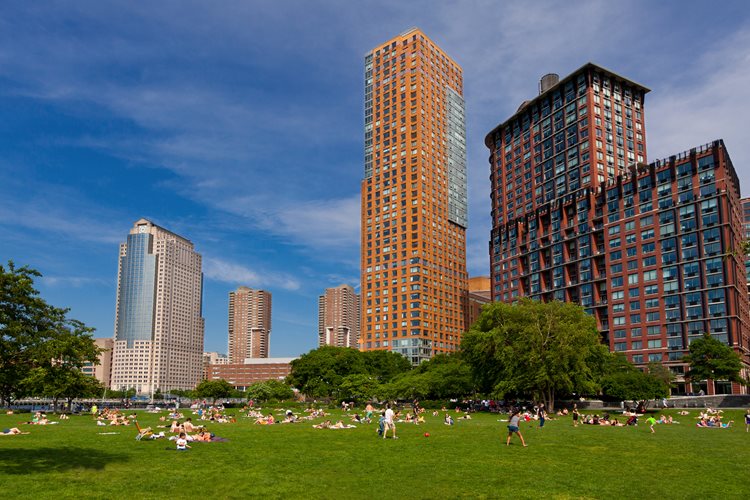 Battery Park City
1. Battery Park City — Safety Score B+
Battery Park City is the #1 neighborhood to raise a family in NYC, especially because of its low crime rate relative to other neighborhoods in Manhattan. This cozy neighborhood is known for its Brookfield Place mall and pier, Museum of Jewish Heritage, and Rockefeller Park, as well as its ferry rides to the Statue of Liberty and Ellis Island. There are also plenty of public schools in the neighborhood. As one of the best neighborhoods to live in NYC for families, you'll fall in love with its homey feel.
People who live in the neighborhood have reported feeling very safe, with no crime to speak of. "The police are visible and very responsive," someone commented on Niche.com. And with a B+ safety score, Battery Park City is certainly considered to be one of the safest neighborhoods in NYC.
Walkability: With a walk score of 97, Battery Park City is a walker's paradise.
Accessible/safe transportation: This area is very accessible. Common subway lines in the area are the 4, 5, R, and 1 trains. There are multiple bus lines and the New York City ferry service nearby.

Q: What is the safest area in Manhattan, New York?
A: The safest neighborhood in NYC is Battery Park City, which has a crime score of B+. It's the only area in Manhattan with a crime score above a B, according to Niche.com.
2. Chelsea — Safety Score B-
Voted the #1 Best Neighborhood to live in NYC by Niche.com, Chelsea is known for the High Line, a walking path above the streets of Manhattan's west side, spanning from Gansevoort St. to 34th St. There are plenty of art galleries, famously including the Whitney. From the Vessel in Hudson Yards and Chelsea Market to Chelsea Piers and the Rubin Museum of Art, there is plenty to do in this thriving NYC neighborhood.
Walkability: Chelsea is one of the best areas to live in NYC because it's listed among the top 20 most walkable neighborhoods in NYC with a Walk Score of 99. It's close to many subway lines, offices, gyms, lunch spots, and more. And the High Line makes it even easier to get around with its serene pathway above the city streets.
Accessible/safe transportation: Commuters can easily pass through Penn Station. They can take the A, C, and E trains on Eighth Avenue and 1, 2, and 3 trains along Seventh Avenue. There are also multiple bus lines and the 7 train right outside Hudson Yards.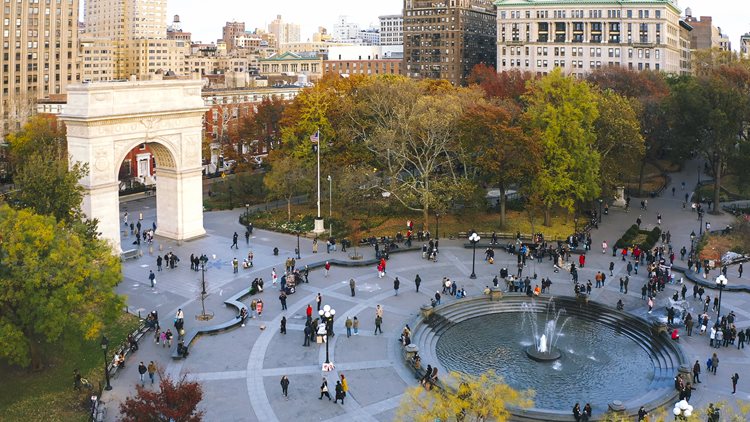 Washington Square Park in Greenwich Village
3. Greenwich Village — Safety Score B-
Known for its young population, since this is where NYU's campus is located, many college students dorm or rent nearby. Washington Square Park is probably the second best park (after Central Park, of course) in all of NYC. With its big fountain and towering arch, people from all walks of life come to skateboard, eat lunch, and schmooze in between class or work. And as you could imagine, nightlife abounds in this neighborhood, since many of its residents are young students or professionals.
Walkability: Greenwich Village has a walk score of 100, making it the 9th most walkable neighborhood in New York. In fact, there are many walking tours in the area because of its historic and vibrant neighborhood.
Accessible/safe transportation: The main subway stations are 14th Street and West 4th. There are elevators in both stations.

Q: Which borough in NYC is the safest?
A: Of the five boroughs in New York City, Staten Island is considered the safest, with a crime index of 47 (meaning it's safer than 47 percent of other cities in the U.S.).
4. Financial District — Safety Score B-
Believe it or not, the financial district (FiDi) isn't just an area where people work on Wall Street and the banking industry. People live there, eat there, and frequent the famous Oculus in the World Trade Center and the Seaport. The 9/11 memorial and museum adds to the neighborhood's rich history and impact on NYC at large. With low violent crime, it's considered one of the safest neighborhoods in NYC.
Walkability: This area has a walk score of 100. Some of the streets are filled with cobblestones, and you can easily access subway stations, lunch spots, gyms, and more.
Accessible/safe transportation: 1, 2, 3, 5, C, E, R, W, and the PATH Station are all inside the Oculus and on different streets of FiDi.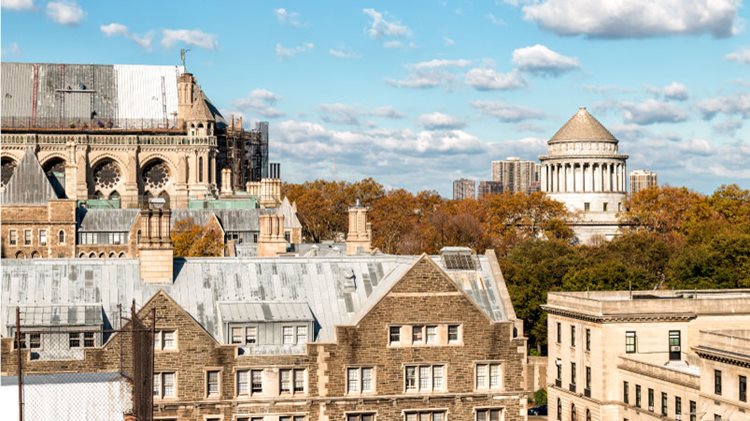 Morningside Heights
5. Morningside Heights — Safety Score B-
Situated between Harlem and the Upper West Side, from West 110th Street and West 126th Street and from the Hudson River to Morningside Avenue, is the Morningside Heights neighborhood in NYC. Most of this area is made up of Columbia University and its student housing. There is also Riverside Park and Riverside Church for inhabitants nearby.
Walkability: With a walk score of 96, it's easy to walk around Columbia's campus, and subway lines are close by.
Accessible/safe transportation: The main subway line is the 1 train. There are also multiple bus lines.

Q: Where is the safest place to live in NYC?
A: Battery Park City is considered the safest neighborhood in NYC to live with a B+ crime rate, according to Niche.com.
6. Murray Hill — Safety Score B-
Just take one step into this neighborhood and you'll see tons of residential apartment buildings filled with post-college and young professionals. There are also lots of bars (happy hour, anyone?) and dining options — they're especially known for their array of Indian restaurants.
Walkability: Murray Hill has a walk score of 99. Whether you're looking for a bar, gym, restaurant, or subway, everything is within walking distance.
Accessible/safe transportation: Take the 4, 5, or 6 train in the 33rd Street subway station. It doesn't appear to be an accessible station with an elevator; however, Grand Central is about a 10-minute walk away for more train line options.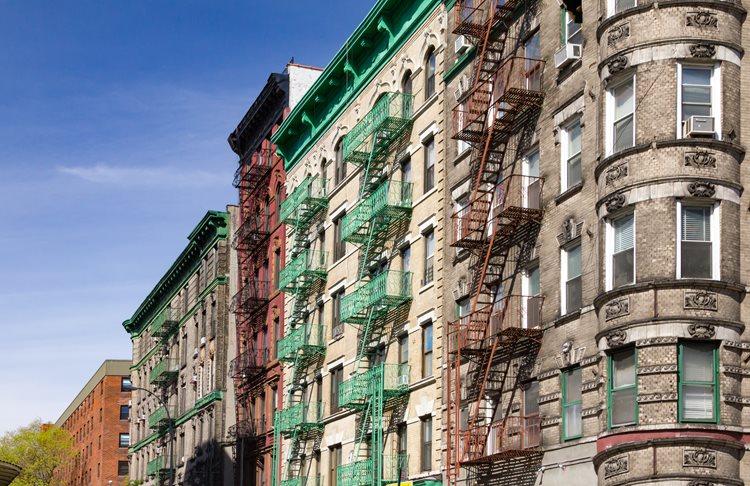 NoLita
7. NoLita — Safety Score B-
NoLita, which is short for "North of Little Italy," resides in downtown Manhattan right next to SoHo. Best known for its trendy neighborhood decked with clothing stores and boutiques, there is no shortage of cool storefronts and pop-ups on any given day.
As far as safety is concerned, there are police forces, surveillance cameras, and other precautions always in place, making this neighborhood one of the safest in NYC.
Walkability: With a walk score of 100, NoLita is the 2nd most walkable neighborhood in New York. And with so many pretty stores to look at, you won't even mind the walk from your apartment to the train and nightlife.
Accessible/safe transportation: Easily ride your bike or skateboard in the area, with car traffic at a minimum. The Delancey-Street Essex subway station in NoLita is where you can take the F, J, and M train. However, it is not wheelchair accessible.

Q: What is the nicest neighborhood in NYC?
A: That's debatable! But the nicest neighborhoods are probably Tribeca, the Upper West Side, and the Upper East Side. Many celebrities and A-listers live near Central Park and the more hip parts of town, including Tribeca, West Village, and NoHo.
8. Tribeca — Safety Score B-
Tribeca is a hip neighborhood near Canal Street that is home to many celebrity residents. Gaze up at the mesmerizing skyscrapers and pop into an art gallery or two. Pier 25 - Hudson River Park has a landscape view of the city and is perfect for families looking for water sports and activities.
Walkability: With a walk score of 99, you can run your daily errands by foot or bike and comfortably access your favorite spots all over Manhattan with public transportation.
Accessible/safe transportation: Chambers Street and Canal Street are the closest subway stations. Only the 6 train is accessible at Canal. The 1, 2, and 3 at Chambers is also accessible with elevators going uptown and downtown.

Q: What is NYC's richest neighborhood?
A: Some of the neighborhoods with the wealthiest residents include the Upper East Side, Upper West Side, Chelsea, and Tribeca.
Making the Move to NYC
Once you've found your safe haven in NYC, let PODS help you get there with PODS City Service — containerized moving designed specifically for big-city moves. Spare yourself the trouble of trying to navigate busy NYC streets with a moving truck. A PODS certified driver will take care of the driving and handle parking. They'll even work with you to secure proper permits and follow any HOA requirements. Furthermore, as you unload everything, your driver will stay with the truck and your container, defending against parking tickets and theft.
Want to learn more about making a big move? Check out the "Moving" section of the PODS Blog.

Editor's note: For ease of reading, monthly rental prices were rounded to the nearest $25 and home values were rounded to the nearest $100.

Bonnie Azoulay Elmann is an NYC-based freelance writer and frequent contributor to the PODS Blog. Her work has appeared in Glamour, Health, and Parents, among others. She is an extremely driven digital storyteller who may or may not have a slight obsession with fanny packs.
Get a Quote
Choose the service you need
Comments
Leave a Comment
Your email address will not be published. Required fields are marked *