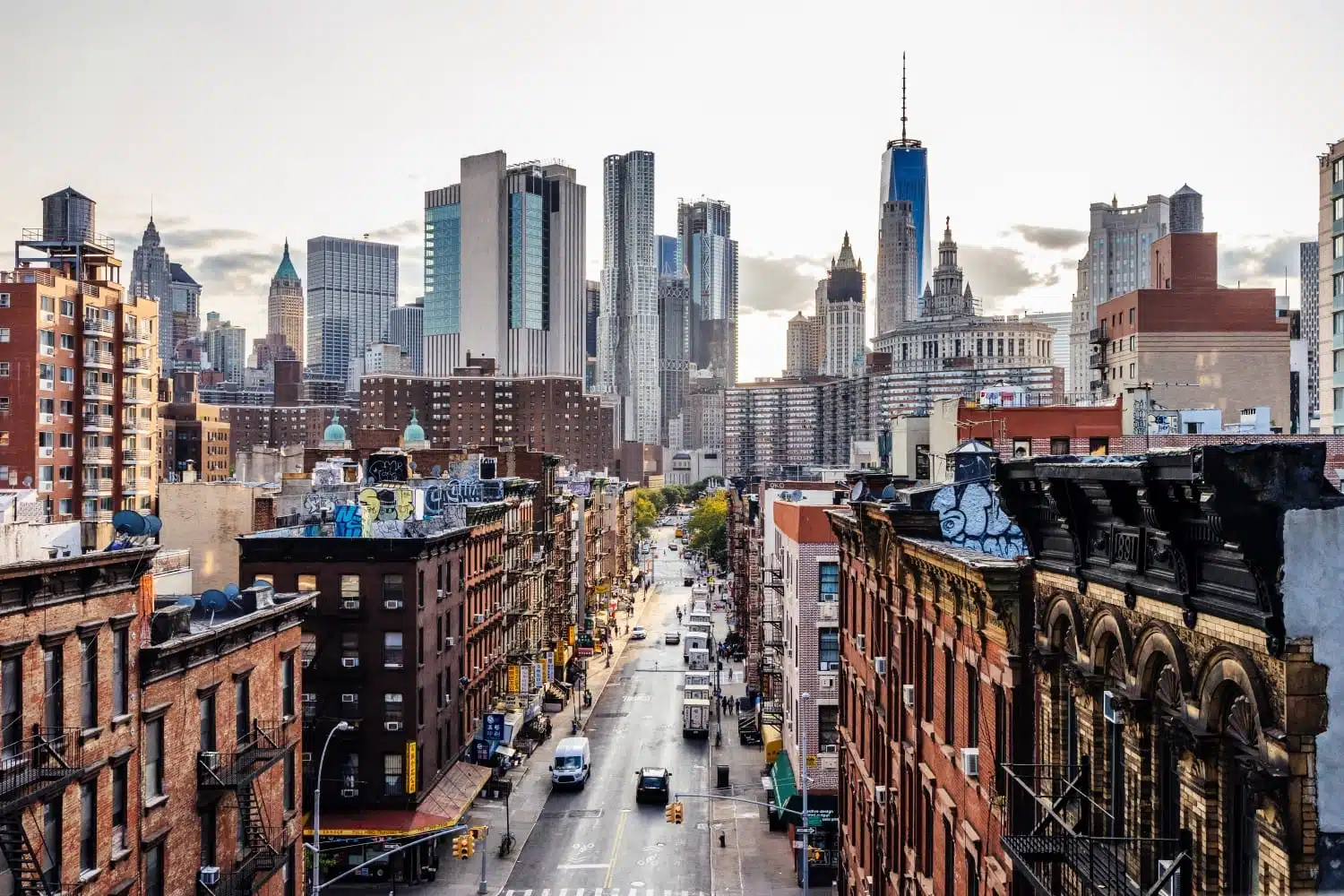 Guide to Best New York City Neighborhoods -- Borough by Borough
After years of escalating rent prices in New York City, average rents in many areas are seeing record-breaking declines after thousands left in the wake of the pandemic. But lower rent isn't the only factor making this the best time to be looking for a new NYC apartment in over a decade. It's now much easier for renters to find a NYC apartment without having to pay a hefty broker's fee, an expense that typically adds thousands to the cost of moving.
By the summer of 2020, the percentage of no-fee apartment listings in Manhattan and Brooklyn was 75% to 85%, compared to only about 50% of rentals before the pandemic, according to the New York Times. In addition, some landlords are offering concessions such as free months. (Eventually, landlords may lose the ability to pass along the dreaded broker's fee to new tenants entirely, depending on the outcome of a court challenge against a 2019 state law intended to end the practice.)
Like many New Yorkers, you might be thinking this could be your golden opportunity to finally move to a better area, get more space for less money, upgrade to find a larger apartment -- or maybe all of the above. But maybe you're not sure where to begin looking. After all, the Big Apple is a massive place that's hard to know whether you already live here or are thinking about moving to the big city from another part of the country. Relax. Grab your favorite beverage, sit back, and save some time with our NYC neighborhood guides, including videos and moving tips.
Get to know the five boroughs of New York City
What we think of as NYC is actually divided into five boroughs, each representing a county. (For some reason, New York's leaders adopted the British term "borough," even though the Brits lost the war.) With each borough containing dozens of unique neighborhoods and millions of people, it helps to get a quick overview of NYC's five boroughs.
Want to take a closer look? We thought you might. Read on or click below to jump to the section that interests you most:
---
Manhattan Neighborhoods -- New York County
Though it's the smallest borough in land area, Manhattan is the place most of us see in our mind's eye when we picture NYC. Think Empire State Building, Central Park, Broadway. This narrow slice of real estate is the most densely populated of the five boroughs, as well as the most densely populated county in the U.S., with 1.6 million residents in about 34 square miles.
The average rent for an apartment in Manhattan is $3,670, a 13% decrease compared to the previous year, according to RentCafe. But with 53 distinct neighborhoods in Manhattan, there's a wide range. Here are three favorites, starting with one of the most affordable neighborhoods:
Washington Heights: Average rent - $2,217/month
Located in the northern portion of Manhattan stretching from 155th Street to 193rd Street, Washington Heights contains over 600 acres of parkland and magnificent views of the Hudson and the steep cliffs of The Palisades. A walkable distance from Columbia University and the City College of New York, Washington Heights is popular with students and also has a thriving population of immigrants from the Dominican Republic. Major landmarks here include the Met Cloisters, known for its medieval tapestries and lush gardens, and the highest natural point in Manhattan, which is marked by a plaque in Bennett Park. You'll find good deals on fresh produce here, along with cheap, but flavorful Dominican food.
Harlem: Average rent - $2,700/month
Often underrated, Harlem is one of the most historic, affordable, and convenient neighborhoods in Manhattan. Bound by 5th Avenue on the east, Morningside Park on the west, and Central Park on the south, it's just a quick subway commute for those who work in Midtown or the Financial District. You're probably not surprised that Niche.com gives Harlem an A+ rating for its happening nightlife. After all, it's home to famous Apollo Theater, Minton's, the birthplace of bebop, and countless restaurants offering everything from soul food to sushi. But you might not have predicted that Harlem gets an A- rating for its family-friendly qualities, from above-average schools to plentiful parks.
Upper West Side: Average rent - $4,249/month
One of the greenest parts of Manhattan, the Upper West Side is surrounded by two major parks: Central Park and Riverside Park. If you've watched Seinfeld or 30 Rock, chances are you've seen this quintessential but pricey Manhattan neighborhood. If you can afford it, UWS is considered one of NYC's most family-friendly neighborhoods. It's also home to Columbia University, Lincoln Center, and the American Museum of Natural History.
Brooklyn Neighborhoods -- Kings County
Just a quick mile across the East River and Brooklyn Bridge from Manhattan, Brooklyn is the next most densely populated county in the U.S. (after Manhattan) with about 2.6 million residents in about 97 square miles. Geographically, Brooklyn is really part of Long Island, but the hipsters who live there would rather not think of it that way.
Average rent for an apartment in Brooklyn is about $2,600, a 12% decrease compared to the previous year. With 66 neighborhoods in Brooklyn, check out our guide to the best neighborhoods in Brooklyn. Here are three favorites:
Park Slope and Prospect Heights: Average rent - $2,800/month
With a high concentration of late-19th-century homes, Park Slope is now the largest historic district in all of NYC. Known for being so family-friendly that strollers sometimes clog the sidewalks, Park Slope and Prospect Heights also offer plenty to do for young professionals. The rolling meadows and winding paths of Prospect Park are also a major draw.
Bedford-Stuyvesant: Average rent - $3,020/month
Neighborly and family-friendly, Bed-Stuy is known for the Victorian brownstones lining leafy streets. One of the largest neighborhoods in Brooklyn, it also has one of the highest concentrations of minority-owned businesses in NYC.
Greenpoint: Average rent - $3,600/month
With rent on the high end of Brooklyn apartment listings, Greenpoint is notable for its ferry, which offers a 12-minute ride to Manhattan. Otherwise, the neighborhood, located on Brooklyn's northernmost point, doesn't offer much public transportation. With its Polish roots, you can still find delectable treats at places like the Old Poland Bakery. The neighborhood is also known for its activists and a strong community vibe.
Queens Neighborhoods - Queens County
With 178 square miles, Queens is the largest NYC borough in land mass, covering more than five times the area of Manhattan (not counting the vertical real estate, of course). About 2.2 million people call Queens County home, making it the second most populous borough, after Brooklyn. Queens is the easternmost of the boroughs, situated across the East River from Manhattan and northeast of Brooklyn.

The average rent for an apartment in Queens is $2,411, a 6% decrease compared to the previous year. With 91 neighborhoods, there's a lot of ground to cover, so you may want to look at this tour of the best neighborhoods in Queens. Here are three of our favorites:
Jackson Heights: Average rent - $2,300/month
You can experience the world by walking just a few blocks in Jackson Heights, where about 60% of the residents were born outside the U.S., mostly from South America and Asia. If you love languages, global cuisine, and diverse cultures, this neighborhood in North Central Queens may be the place for you.
Astoria: Average rent - $2,600
Directly east of Midtown Manhattan, Astoria offers easy access to the city via an elevated "subway" track across the East River, providing great views along the way. Teeming with variety, Astoria is known as NYC's traditional Greek neighborhood, but you'll find strong Italian, Brazilian, Baltic, Irish, and Egyptian influences here, too. Explore Astoria's collection of "mini-neighborhoods," along each of five major streets: 36th and 30th Avenues; Broadway; Ditmars Boulevard; and Steinway Street.
Long Island City: Average Rent - $3,200/month
One of the most expensive neighborhoods in Queens, Long Island City is a former manufacturing center that's been transformed in the last decade or so by an influx of new high-rise residential developments. What LIC lacks in character compared to other Queens neighborhoods, it makes up for with convenience -- it takes less than 10 minutes via subway to get to Midtown Manhattan.
The Bronx Neighborhoods - Bronx County
Geographically, the Bronx is located north of Manhattan across the Harlem River, and it's the only one of NYC's five boroughs located completely on the mainland. While the Bronx is the third most densely populated county in the U.S., with about 1.4 million people living within 57 square miles, about a quarter of its area is open space.

Much of that open land is covered by Pelham Bay Park, the largest park in NYC, which at 2,772 acres is three times the size of Central Park. Other large open areas in the Bronx include the New York Botanical Garden, the Bronx Zoo, Woodlawn Cemetery, and Van Cortlandt Park. Yankee Stadium is the other major landmark in the Bronx.

The average rent for an apartment in the Bronx is $1,658, which represents no change compared to the year before. With 50 or so neighborhoods in the Bronx, see our guide to the best neighborhoods in the Bronx. Here are three favorites:
Kingsbridge: Average rent - $1,650/month
Affordability and access are two attributes that attract people to Kingsbridge. Just north of Manhattan, Kingsbridge is only about 30 minutes from Midtown. Besides reasonable rent prices, buying a home is more attainable here, with a typical home price of about $226,000, according to Zillow. Its steep hills add character and physical challenge, while nearby Van Cortlandt Park offers plenty of recreation and exercise opportunities too.
Mott Haven in South Bronx: Average rent - $2,000/month
According to Forbes, Mott Haven is leading a revival in the South Bronx, with lots of new development including some new apartment towers. The neighborhoods are considered very walkable, with dozens of restaurants, bars, and shops. Accessibility is another plus here, with Midtown less than 30 minutes away via subway. However, you will pay more than in other parts of the Bronx, with rent prices ranging from around $1,800 to $3,600.
Fordham: Average rent - $1,620/month
In the West Bronx, Fordham is home to the 93-acre campus of Fordham University, in addition to being close to Little Italy, New York Botanical Garden and the Bronx Zoo. It takes about 30 minutes to get from Fordham to Midtown via subway. While the rent is affordable at about $1,600, there isn't much availability. Still, if you're able to snag a place, you'll love shopping and strolling along Fordham Road, lined with hundreds of specialty shops, boutiques, and regular chains.
Staten Island Neighborhoods - Richmond County
With 59 square miles and about 476,000 people, Staten Island is the least dense and least populated NYC borough, and many count that as one of its charms. If you don't need to commute regularly off the island, Staten Island can be one of the best housing deals in New York City, whether you want to rent or buy. But if you do need to commute from Staten Island to work in Manhattan, count on 1 to 1½ hours either via ferry or the Verrazzano Bridge, which connects to Brooklyn.
Rentals range from $1,400 to about $2,400 for apartments, and you can even rent some townhomes and single-family homes here, from about $2,500 a month. The typical home value is about $660,000, according to Zillow, which represents an increase from 2020. Check out our Staten Island Moving Guide for a good overview of the borough and its neighborhoods. Here are three favorites (note: average rent and home prices are unavailable for individual neighborhoods):
Great Kills
Located on the southeast side of Staten Island and named for the Dutch word for body of water, Great Kills offers access to a harbor, marina, and several beaches. In addition to loads of recreation opportunities, this is considered a very family-friendly community with good schools. Home prices range from the $300,000s for condos to the $450,000 range for small homes, and up to about $1 million for large homes. There are also a small selection of homes for rent. It takes about 40 minutes by rail or car to get to the St. George Ferry Terminal and the Staten Island Ferry.
West Brighton
On the North Shore of Staten Island and close to the ferry terminal, West Brighton and New Brighton are two more neighborhoods considered to be great for families. With good schools and a low crime rate, it also offers space for recreation and play, with Silver Lake, Cloves Lake Park, Snug Harbor Cultural Center, and Staten Island Zoo. The area also has many historic homes, including Victorian, Empire State, and other classic styles, giving the neighborhood more character than other parts of the island.

Home prices here start around $300,000 for townhomes and range up to about $1 million for large homes. The few available rentals range from $1,400 to $2,400.
St. George
Another neighborhood that's close to the ferry, St. George is a good location for those who need to commute to Manhattan. It also appeals to young professionals, as it's a more densely populated, walkable area with lots of places to eat and go out. Apartments are more plentiful here, but rental prices tend higher, ranging from around $1,700 to $2,600 and up. You'll also find a good selection of condos for sale, ranging from about $200,000 for 1 bedroom to $500,000 for 2 bedrooms. Single-family homes range mostly from the $400,000s to $600,000s.
If you don't find what you're looking for in Staten Island, you may want to take a look at Hoboken, New Jersey, which offers a better commute to Manhattan. Willing to venture further in your home search? Check out our guide to NYC suburbs.
New York City Moving Tips
It's a good idea to start planning early since NYC can be a challenging place to move, especially if you're going DIY. Here are some key tips to help you make a smoother move:
When moving during times of change and uncertainty, people need more flexibility than is usually allowed by typical moving services, which tend to be rigid on dates and timing. Moving and storage container services like PODS can reduce stress and offer peace of mind with flexible scheduling and easy, built-in storage options.
If you want to avoid the high cost of full-service movers, but you'd rather not deal with navigating a huge rental truck on NYC streets, you can check out PODS City Service, which is designed especially for urban moves. Besides saving you from the nail-biting experience of driving a truck, the service is an ideal solution if you need both moving and storage.
While you're getting rid of stuff, check the New York Sanitation Department website for their list of items they'll haul away at the curb. Use their handy "How to get rid of…" search tool to learn how to dispose of things like mattresses and TVs.
Be sure you know the NYC parking rules for moving trucks and get any necessary permits ahead of time so you can avoid headaches and tickets.
For more NYC moving tips, see our NYC Moving Survival Guide.
---
Liz Taylor is a freelance writer who keeps up with moving and storage trends while managing the PODS Containing the Chaos blog.
Get a Quote
Choose the service you need
Comments
Leave a Comment
Your email address will not be published. Required fields are marked *