We've got answers to your pods storage questions@Model.Title.HeadingType>
Portable Storage Containers
Are PODS storage units waterproof?
PODS sturdy, steel-frame containers are designed to be weather-resistant to keep your items protected from the elements when stored outside on your property. Although PODS on-site storage containers can offer excellent protection for your belongings on your property, if you need to store for more than a few weeks, we recommend keeping your container at a secure indoor PODS Storage Center. When you keep your storage unit at a PODS Storage Center, you get a "double layer" of protection – the container plus our facilities – further reducing the risk of water damage. For expert guidance on preparing and packing items for storage, see our Packing and Loading Tips.
What are storage units made of?
Whether you're looking for a self-storage facility or portable storage units that you keep on your own property, it's important to know your belongings will be inside a space that's constructed for durability and weather resistance. The most common storage facility materials are steel and concrete masonry. Portable storage containers may be made of steel, wood, aluminum, or high impact-resistant polymers. PODS portable storage units are made using a combination of steel, wood, and high-impact-resistant polymers for superior durability, security, and protection from the elements.
How long can I rent a PODS container for?
With PODS, all storage rentals are on a month-to-month basis -- whether you're keeping the container on your property or at a PODS Storage Center. Unlike other storage and moving companies, there are no rigid schedules with PODS. Plans change. Just call us.
What are PODS' container sizes?
PODS containers come in three different sizes. Our 16-foot container measures 16'x8'x8'* and is perfect for a 1,200 sq. ft. space or smaller. Our 12-foot container measures 12'x8'x8' and is great for a 500-800 sq. ft. space. Our 8-foot container measures 8'x7'x8' and is ideal for a 500 sq. ft. space or smaller. Please keep in mind that suggested container sizes are for guidance only. How efficiently you pack and load your items can significantly impact the size and quantity of containers you'll need. Check out our moving and storage calculator for help finding the right fit for your stuff.
*Dimensions are based on exterior measurements. All moving and storage container dimensions are approximate.
How does a PODS portable storage unit lock?
Most portable storage units are designed with a locking mechanism that will fit a lock that you purchase yourself.
How much does it cost to rent a storage unit with PODS?
Renting a PODS container for on-site storage on your property can cost as low as $149/month or more. Delivery and pick-up fees average $74.99, which in many cases can be waived depending on the duration of your container rental.
The cost to rent a PODS storage container varies, depending on:
Geographic location
Time-frame and season
Size and number of storage units or portable containers needed
Whether you're storing your container in your driveway or at an indoor storage facility
Can PODS containers be delivered to apartments?
PODS frequently delivers on-site storage containers to apartments, but it's important to check with your building management about their requirements and for approval ahead of time. Many condo and apartment buildings have special requirements about where the container can be placed and for how long.
How far away can my storage container be delivered?
With PODS locations across 46 U.S. states including Hawaii, as well as in Canada chances are we can deliver your storage container where you need it, whether it's in your current town or across the country. Check our locations here, or call us at (855) 706-4758 to find out if we deliver containers where yours needs to go.
On-site storage
Will a PODS storage unit fit in my driveway?
PODS containers fit easily in most driveways and apartment or condo parking lots, but you should review our container delivery requirements to ensure you have enough space for your container and PODZILLA®, our revolutionary level-lift machine, which is used to precisely place PODS containers.
How much room do I need for a PODS on-site storage unit?
The space needed for the largest size PODS container (8' wide X 15' high X 16' long) is comparable to a standard-size parking space, which is 9' wide X 18' long. To make the delivery and maneuver, our PODS drivers require a flat surface with no steep inclines or obstructions, with clearances of 12' wide X 15' high X 40' long, which is a little bit longer than two standard parking spots. If your driveway isn't 40 feet long, the maneuvering area can include the street. If there's anything in the way, the PODS driver will use their discretion to determine where the container can be safely placed. See our container delivery tips for more details. And if you have any questions, please call PODS Customer Care at (855) 706-4758.
PODS Storage Facilities
Can you access a PODS unit while in storage?
It's easy to access your PODS storage unit while it's in a secure PODS Storage Center. Just call us at (877) 770-PODS to schedule a time that's convenient for you and we'll have your storage container waiting for you. You may access your PODS container as often as needed – no additional charge. Or if you prefer, you can have your container delivered when and where you need it, and then picked up and taken back to the Storage Center when you're ready.
Where are PODS units stored?
PODS storage rentals can be kept on your property or at a secure PODS Storage Center. With our huge nationwide network of over 230 Storage Centers in 46 U.S. states, you're likely to find storage near you.
When should I keep my storage unit at a PODS storage facility?
The decision to keep your portable storage container at a secure PODS Storage Center versus on your property should be based on your specific needs. Keep in mind that with PODS you can combine on-site and off-site storage, even in the same month.
Situations when you should consider using an indoor storage facility include when:
You'll be storing items for more than a few weeks
You're moving, but you haven't decided on your permanent home
You're staging your home for sale and you want to increase curb appeal
Your property has limited space for portable storage on site
You're renting multiple containers and you want to keep one or more off-site
Your building management or homeowner's association deed restrictions allow only limited time for storing containers on-site.
For more details on PODS secure indoor storage, read more about our Storage Centers.
Will PODS store my portable container?
With PODS, you always have the option of keeping your portable container in a secure PODS Storage Center. You decide what's best based on your needs. Just call Customer Care at (855) 706-4758 to schedule a day to pick up your container.
Scheduling
How fast can I get a PODS storage unit delivered?
Because delivery dates are subject to availability, you should schedule your storage container's delivery as soon as you can plan a date. Keep in mind that Saturdays and the summer months are usually in highest demand. Once you've placed your order and scheduled a date, if you need to change it, just call us. Your new delivery date will be based on availability.
Do I have to commit to storage for a specific length of time?
With PODS, the minimum storage rental time is only one month, whether you're keeping your container on your property or at a PODS Storage Center. A PODS storage rental begins the day the container is delivered to you and continues for the next 30 days.
How do I schedule my PODS delivery?
You schedule dates for delivery and pick-up for your portable container at the time you book your PODS order. While we do our best to accommodate your needs, delivery dates are subject to availability. To help get the dates you need, we recommend scheduling your storage container's delivery and pick-up as far in advance as possible. Keep in mind that Saturdays and the summer months are usually in highest demand, and deliveries are generally not made on Sundays. If you need to change your delivery or pick-up date, just call us. Your new date will be based on availability.
Remember that you don't have to be present for us to deliver or pick up the container. However, if you have questions about container placement, you should be there to discuss the options with your driver.
Packing and Loading
Can I get help loading and unloading my PODS storage unit?
Depending on your location, you're likely to have lots of options when it comes to getting professional help loading and unloading your storage unit. See our packing and loading provider recommendations for help finding highly rated companies with a proven track record in the area you need.
How do I pack and load a PODS storage unit?
If you'll be keeping your storage unit on your property, that simplifies loading because you don't need to prepare your items for transport. If we'll be transporting your container to a PODS Storage Center, your new home, or both, then check out our expert packing and loading tips and watch our video. You'll learn how to maximize your storage space and secure your belongings to minimize the risk of damage along the way.
Check out our most popular resources below:
How much time do I have to load, and unload my PODS storage unit?
PODS storage includes a 30-day container rental, so you can take all the time you need to load and unload your portable storage container. Need to keep your container longer? No problem. There's no need to do anything. You'll continued to be charged on the same date each month for as long as you need your container.
Does PODS have packing and moving supplies?
You bet. Find packing and moving supplies that are compatible with PODS storage units at PODSboxes.com.
Let's Get Started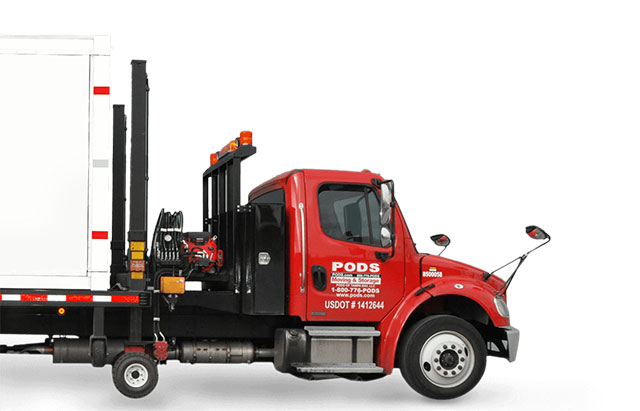 Choose the service you need.