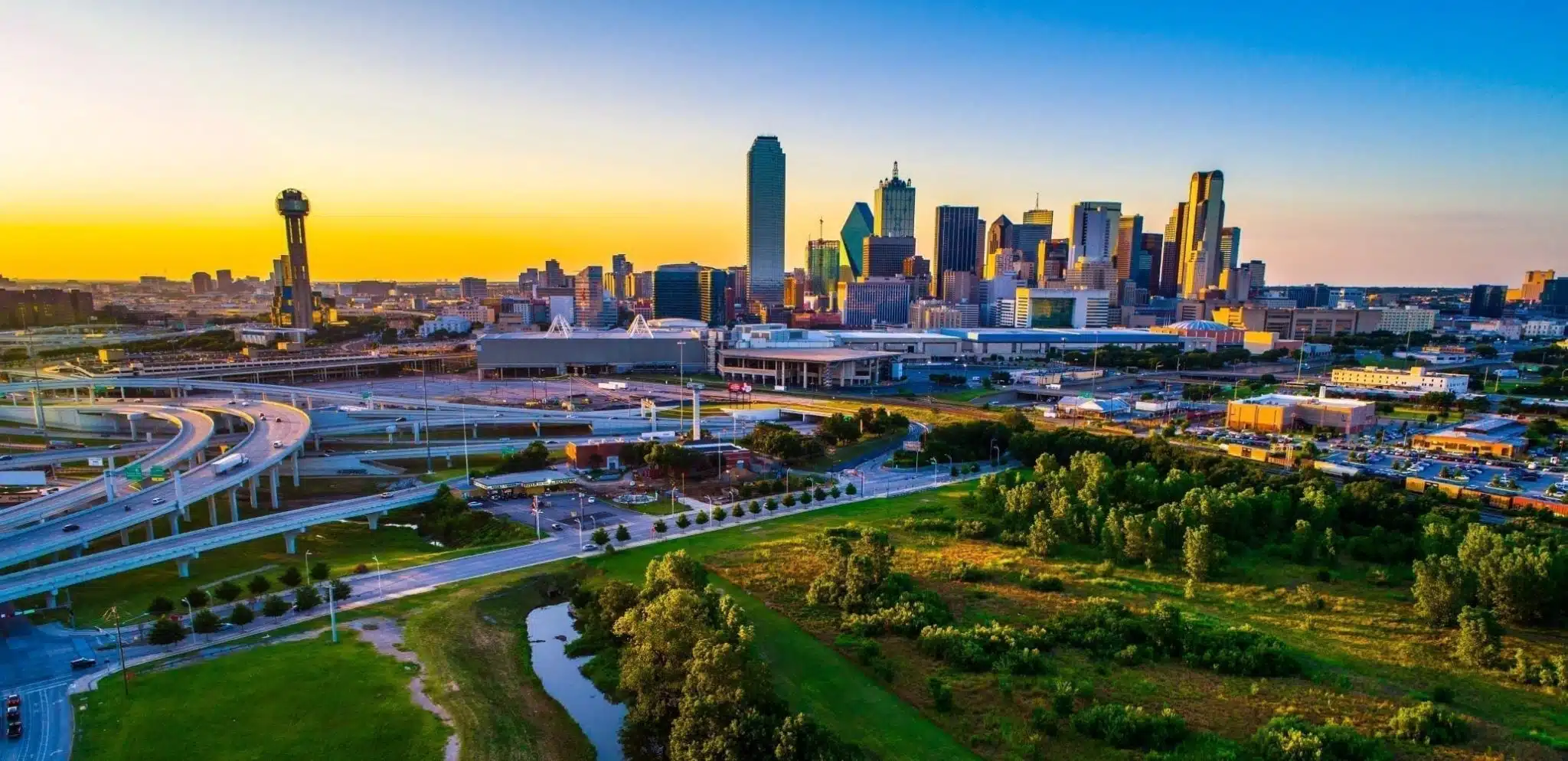 Moving in Dallas: Looking for the Best Dallas Suburbs?
So the warm weather, friendly folks, and beautiful homes of Dallas are calling to you. You've made a great choice. But the city is big -- even by Texas standards -- and it can be hard to know where to start your home search when you're moving to Dallas. Don't worry, we've got some ideas.
Here's the definitive roundup of the best Dallas neighborhoods (and some of the best Fort Worth neighborhoods, too). There's a great home for you, whether you're relocating for a job from another city or moving locally. But before we dive into the nitty-gritty, let's zoom out and take a look at Dallas as a whole.
Cost of living in Dallas
The cost of living in Dallas is almost exactly at the nationwide average. But when you compare it to other major cities like Seattle, San Francisco, and even Denver, it's significantly cheaper. Here's a look at the numbers.
Dallas Cost of Living Chart
| | |
| --- | --- |
| 1-bedroom apartment average rent | $1,057 |
| 2-bedroom apartment average rent | $1,430 |
| Median sale price for homes | $321,700 |
| Median salary | $42,259 |
Sources: Rent Jungle, Zillow, and NerdWallet
Of course, if you're asking, "what is the wealthiest suburb in Dallas?" you're going to find some neighborhoods that are among the most expensive in the country, like University Park next to Southern Methodist University (SMU). But there are still lots of options for those looking for budget-friendly neighborhoods, and that's a feature we focused on when putting together this list.
Things to consider when comparing Dallas neighborhoods
There are plenty of charming details about each part of Dallas, but who cares about the architectural curiosities if it's a two-hour commute to work? Be sure you've thought about the basics, like transportation and schools, before you make a decision.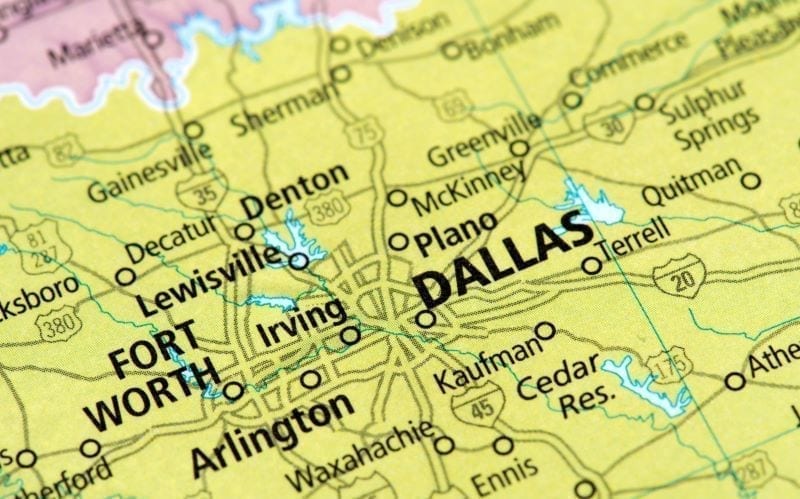 Transportation in Dallas
The predominant mode of transportation in Dallas is -- you guessed it -- the automobile. The city sits at the intersection of several major highways, the I-20, I-30, and I-35. There are dozens of smaller highways, business loops, and other expressways that criss-cross through the enormous metro area.
There are also many bus lines and a rail system run by Dallas Area Rapid Transit (DART) that can get you throughout most of the city.
Schools in Dallas
The Dallas Independent School District (DISD) serves most of the inner Dallas area. It's an enormous school system with plenty of high-quality institutions, including dual-immersion programs. But it does struggle with funding and poor amenities.
Many of the outer Dallas suburbs draw families with their own districts that perform better than DISD. There are also many private schools and academies.
Finding the best Dallas suburbs for you
While Dallas is known for the famous Cowboys and State Fair of Texas, there's so much more to this city than cows and Cowboys. Like handsome, tree-lined streets and rambling farmhouses.
Here's the definitive guide to all the best places to live in this vibrant city, and what you can do in those places once you move in.
The best Dallas suburbs by the numbers
Neighborhood
Population
Median home value*/
Typical home value
Average
rent
Rush hour commute to downtown
Casa Linda
1,379
$234,502*
N/A
10-15 minutes
Lake Highlands
87,860
$266,181*
~$1,300
20-30 minutes
Old East Dallas
37,899
$288,801*
$1,237
5-15 minutes
Midway Hollow
6,292
$275,966*
~$1,500
15-20 minutes
Oak Lawn
50,805
$321,582
~$2,000
10 minutes
Allen
103,383
$333,835
$1,183
30-45 minutes
Grapevine
53,976
$372,534
N/A
25-35 minutes
Celina
12,775
$379,916
$937
45-60 minutes
Flower Mound
77,329
$401,819
N/A
30-45 minutes
Frisco
188,170
$416,158
$1,297
30-40 minutes
Now let's explore each neighborhood...
Casa Linda
Median Home Value: $234,502*
Average Rent: Not many rentals available.
Commuting: 10-15 rush hour drive to downtown Dallas. Close to many bus lines.
Casa Linda literally means "beautiful house" in Spanish, and the neighborhood lives up to its name. This part of Dallas includes some of the most splendid and original architecture in the area, including the Casa Linda Estates, a prime development of colonial revival-style homes.
The Spanish influence in Casa Linda goes beyond the name and architecture. This neighborhood is zoned for the Alex Sanger Elementary School, one of the few schools in Dallas, TX with a dual-language, English/Spanish immersion program.
For those who want to raise a family in a more diverse setting: ¡Bienvenido a casa linda! But your kids can do more than just learn Spanish in this Dallas suburb. They'll be close to White Rock Lake and Casa Linda Park. Meanwhile, the adults will have easy access to Goodfriend Beer Garden & Burger House and the world-class Dallas Arboretum.
Casa Linda comes in at the top of our list of the best Dallas suburbs because it's so affordable. You can pick up a cute, three-bedroom cottage in the heart of the neighborhood for around $250,000.
Lake Highlands
Median Home Value: $266,181*
Average Rent: $1,300
Commuting: 20-30 minute rush hour drive to downtown Dallas. Easy access to the DART blue line.
If you want to avoid the hustle and bustle of downtown areas, but you prefer not to be boxed into the more cookie-cutter Dallas suburbs on the outskirts of town, then Lake Highlands might be the perfect in-between.
This neighborhood stocks beautiful mid-century bungalows that are perfect for those who get excited by remodeling projects. The numerous hiking trails and winding, tree-lined streets give Lake Highlands a peaceful, forest-like appeal.
The neighborhood's coffee shops and restaurants are great, and so is the Richardson Independent School District (which earns a B+ from Niche.com).
As you might expect from a place named Lake Highlands, the neighborhood borders a lake (White Rock Lake) and sits at a higher elevation than much of surrounding Dallas. This means outdoor activities galore.
You can wake up at your home in Lake Highlands, strap on your hiking boots, and in a matter of minutes be exploring a trail along the White Rock Creek greenbelt.
Old East Dallas
Median Home Value: 288,801*
Average Rent: $1,237 (for all Dallas)
Commuting: 5-15 minute commute to downtown during rush hour. Close to many bus lines and very walkable.
Once upon a time there was a Dallas and an East Dallas. The two cities grew fast with help from the newly built railroads, until they finally joined together in 1890 (making the unified Dallas the largest city in Texas). But Old East Dallas hasn't lost its special character.
This mixed-use neighborhood is actually made up of several smaller neighborhoods, like the Swiss Avenue Historic District, Munger Place, and Junius Heights. Each of these areas has a story to tell in its unique architecture, from historic mansions to gorgeous craftsman-style homes.
You can easily walk between these different sections of Old East Dallas, or stroll over to the nearby Dallas Arts District and Deep Ellum neighborhoods for hip restaurants and events. There are always things to do in Dallas's old eastern neighborhood. And the proximity to downtown makes it a convenient choice for professionals who don't want to commute to a faraway Dallas suburb.
Renters will find plenty to love along Gaston Avenue, with its magnificently restored apartment buildings. Old East Dallas offers more variety of housing options than most other Dallas suburbs.
Midway Hollow
Median Home Value: $275,966*
Average Rent: $1,500
Commuting: 15-20 minutes to downtown Dallas during rush hour. Some public transit options available (but be prepared to transfer). Very close to Love Field airport.
If your dream of living in Dallas includes a ranch house like the one the Ewing family lives in on the 80s primetime soap, Dallas, then Midway Hollow is the first place to look.
This Dallas suburb's mixture of large lots with adorable cottages and ranch homes makes it ideal for those who want to be near the city but still have enough space for a growing family.
Peaceful, tree-lined streets cut through this low-crime neighborhood, making Midway Hollow idyllic for family living. The Dallas Independent School District has had its struggles, but it's showing signs of improvement, and there are several nearby private academies for those who want to send their kids elsewhere.
Midway Hollow's central location makes it easy to get pretty much anywhere. It's right next to Love Field airport, just 15 minutes from DFW international airport, a few minutes from downtown Dallas, and only a half-hour drive to downtown Fort Worth. Taking a spontaneous vacation just got a whole lot easier!
Oak Lawn
Typical Home Value: $321,582
Average Rent: $1,500-$3,000
Commuting: 10-minute rush hour drive to downtown. Close to many bus lines and the blue/orange/red DART lines.
Oak Lawn may sound like a posh country club, but it's actually one of Dallas's most hip neighborhoods. The streets are chock-full of incredible restaurants, lively bars, and vibrant night clubs. It's a great place for renters and small families that are moving to Dallas for a more urban setting.
Affectionately known to some as the gayborhood of Dallas, Oak Lawn has been the center of Dallas's LGBTQ community since the 1970s. The annual Pride Parade draws thousands every year and transforms the neighborhood into a colorful celebration that feels more like San Francisco than Texas.
But Oak Lawn isn't always a giant party. The scenic Turtle Creek runs through the heart of this Dallas neighborhood and down into Reverchon Park. You can grab some comfort food at Lucky's Cafe. And everything else in Dallas is a short drive, or even walk, away from this downtown neighborhood.
Surprisingly, you can still find a two-bedroom house in Oak Lawn for around $350,000 (it might need a little love).
Allen
Typical Home Value: $333,835
Average Rent: $1,183
Commuting: 30-45 minute rush hour commute to downtown Dallas, depending on the traffic. Public transit is limited.
Welcome to Allen, the location of the very first train robbery in Texas history! Since that fateful day in 1878, when Sam Bass and his associates took about $1,500 from train #4, Allen has grown from a sleepy old western town to a bustling community.
There are fewer (as in zero) train robberies in Allen these days, but that doesn't mean it's boring. This Dallas suburb is home to an ice rink, a wake park, the Connemara Meadow Nature Preserve, and tons of great restaurants. The town just held its first annual Craft Beer and Spirits Festival.
If you were looking at a Dallas suburbs map, you'd see that Allen is on the northern edge of the metropolitan area. But US-75 cuts right through the heart of Allen and will take you straight to downtown Dallas in a matter of minutes.
Allen's renowned beauty and famously good schools (The Allen Independent School District has an A+ rating from Niche.com) make it a destination for all kinds of folks, whether they're moving from across the country or moving in Dallas from another neighborhood. 
Grapevine
Typical Home Value: $372,534
Average Rent: Few rentals available.
Commuting: 25-35 minute rush hour drive to downtown. You can catch the orange DART line at DFW International Airport.
When early settlers arrived in this part of what's now Texas, they discovered wild grapes growing everywhere. So, they named the area Grapevine. Today there are fewer wild grapes, but there are plenty of wineries to take their place.
Grapevine is, in many ways, one of the quintessential Dallas suburbs: it has a bunch of older bungalows, ranch houses, and cottages mixed in with a smattering of new subdivisions and apartment complexes. But there's more to Grapevine when you scratch beneath the surface.
Grapevine's quaint and historic Main Street is more alive than ever, with a bunch of locally owned restaurants, high-end shopping, and art galleries (not to mention those wineries). You can grab farm-fresh produce from the farmers and artisan market. And as soon as you step off the pavement and asphalt, you'll find yourself in a maze of hiking trails, picnic spots, and parks.
Grapevine is located in the Mid-Cities suburban region, making it not just one of the best Dallas suburbs, but one of the best Fort Worth neighborhoods, too. Homes are much cheaper in this centrally located area than in some neighboring areas, like Southlake.
Celina
Typical Home Value: $379,916
Average Rent: $937
Commuting: 45-60 minute rush hour commute to downtown Dallas. Public transit is limited.
If you're the pioneering type who wants to move to a Dallas neighborhood before it's well established, then Celina is the place for you. It's a relatively new community that's becoming popular for its access to great schools and hospitals, among other things.
This up-and-coming town has already created a few unique traditions, like CajunFest, an annual event that features a crawfish boil, live music, and an alligator show. Yes, an alligator show.
You can also enjoy the town's Friday night farmer's market, outdoor movies, and plenty of other local events. Not to mention the abundant trails and outdoor activities that are accessible to Celina residents.
Of all the Dallas suburbs, Celina is pretty much the furthest north. If you went much further you'd be in Oklahoma. This does make commute times a bit long, but it also gives you a climate that's regularly 5+ degrees cooler than downtown Dallas.
Celina is relatively affordable. You can get a single story, four-bedroom house with an open floor plan for less than $350,000. But the real selling point for many people is Celina's great schools (Niche.com gives the district an A- grade) and its proximity to quality hospitals. Celina, it takes care of its people (that's not a bad tagline, eh?).
Flower Mound
Typical Home Value: $401,819
Average Rent: Few rentals available.
Commuting: 30-45 minute rush hour commute to downtown. Few public transit options available.
Just to the north of Grapevine Lake lies one of the most desirable Dallas suburbs: Flower Mound. This big, established neighborhood contains great schools, shopping, housing stock, and, yes, a 12.5-acre "mound" in the center of town known for its wildflowers.
You can nab a colonial style four-bedroom home in Flower Mound for under $300,000. If you're looking to spend more than that, there are plenty of stellar homes on big lots, complete with koi ponds, gardens, and pools. The neighborhood is overflowing with beautiful scenery, making it ideal for a rambling porch and other outdoor spaces.
As you'd expect from a relatively affluent suburb, Flower Mound feeds some great schools (the district has an A grade from Niche.com), including one of the best high schools in Dallas, TX. When your kids aren't busy studying they can play in the area's many parks or trails.
In fact, Flower Mound is an outdoor enthusiast's paradise. There's great fishing in Grapevine Lake, beautiful running and biking paths along Stone Creek, and close proximity to the Cross Timbers Region.
Frisco
Typical Home Value: $416,158
Average Rent: $1,297
Commuting: 30-40 minute rush hour drive to downtown Dallas. Limited public transit options.
Of all the Dallas suburbs we've discussed, Frisco probably has the most going on. It's really a city of its own, with a significant population base and culture. You're close enough to commute to Dallas or pop in for the occasional theatre performance, but you don't ever have to leave Frisco if you don't want to.
If a small (or large) part of your decision to move to the Dallas area was to be closer to the Cowboys, then you should probably move into one of Frisco's affordable subdivisions near the team's corporate headquarters and practice facility, The Star.
If you're more into European football than American football, then Frisco is still the place for you. The city is home to Toyota Stadium, where FC Dallas plays soccer. Baseball fan? Don't worry, Frisco isn't leaving you out. You can cheer on your favorite team and eat some peanuts at Dr. Pepper Ballpark.
While you watch the games, your less sports-inclined family members can enjoy over 9 million square feet of retail space throughout the city, from local boutiques to national chains. Or they can walk along the Public Art Trail, which includes famous bronze sculptures.
All that, and you can get a four-bedroom, three-bath house, which gives you plenty of room for your home office setup, for under $400,000. Not bad, Frisco. Not bad at all.
Choosing the Best Dallas neighborhoods for you
Choosing your next residence is one of the most important decisions you'll make in your life. We hope we've helped you get closer to finding the perfect home in the perfect neighborhood, whether you're moving to Dallas from far away or just relocating from another part of the Dallas-Fort Worth area.
---
Easton Smith works as a freelance writer and researcher, reviewing technology trends and the moving industry.
Get a Quote
Choose the service you need
Comments
Leave a Comment
Your email address will not be published. Required fields are marked *