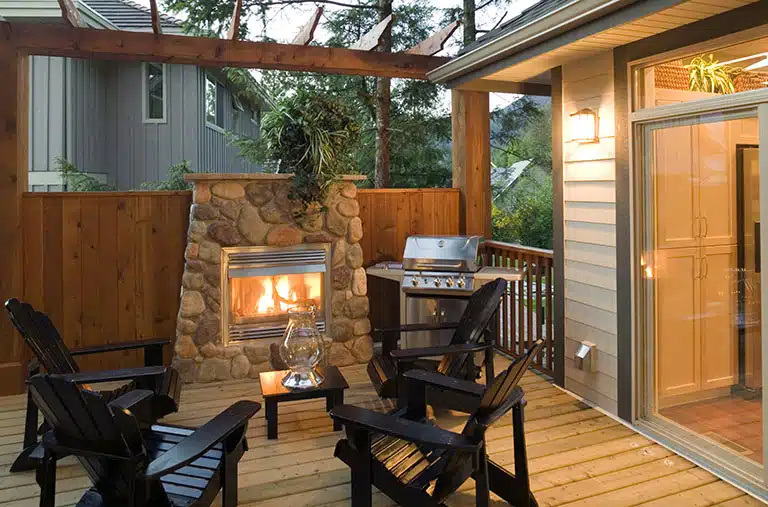 Deck Remodeling Ideas to Spruce Up Your Outdoor Living Space
by
PODS
Posted on May 31, 2023
Are you looking to update your backyard living space? One of the most beneficial ways to do so is by remodeling your deck. With the right design, your decking can become a multi-functional oasis for you and your guests. Whether you have a large or small backyard space, there are several ways to style and spruce up your deck this spring. Follow along as we explore potential deck remodeling ideas that'll create a relaxing and entertaining space while enjoying the outdoors.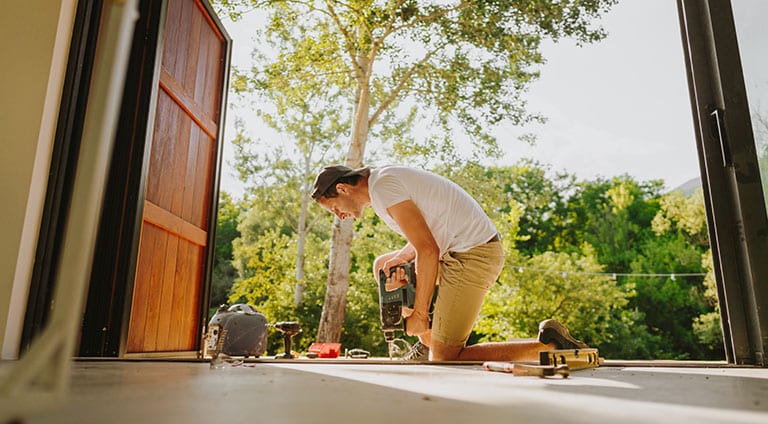 How Much Does Building a Deck Cost?
Remodeling or building a deck can cost an average of $7,500, depending on the size of the renovation. Material and labor account for most of the cost of remodeling, along with any additional features you wish to add. Essentially, the more you add, the higher the cost. Before remodeling your deck, set a budget and do your research so you know what you can afford. As a homeowner, you may consider leveraging your home's equity to fund your remodeling project. If you decide to use a home equity loan (HEL) for home improvement, you can deduct the interest from the loan, saving you money.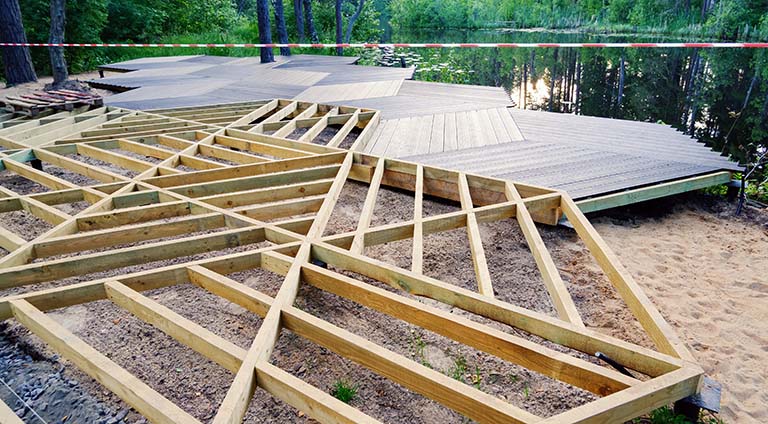 1. Replace Old Materials
Start your deck remodeling ideas with replacing the deck boards. Wood wears down over time, and if you notice cracks and rots in the material, it's time to update. PVC decking, made from polyvinyl chloride, can be a great replacement that's much more durable than wood. PVC is a more expensive option, but it's low-maintenance and is meant to last longer than wood. However, if you want to stick with a wood deck, many builders use cedar or redwood for its reliability.
You may also need to replace your railing if it's become rusty and unsteady. Or you may just want to update the look of your deck's railing to something more modern and chic. Composite decking has also become a popular trend amongst homeowners. Some benefits of this type of decking are, the durability, its low maintenance, and especially the slip-resistant safety of this material. Either way, you'll need to make sure that you choose the right material for your deck based on your budget and needs.
2. Extend Your Deck
If you have the space, consider extending your deck further into your yard, or turn it into a wraparound. Before adding onto your deck, make sure it meets permits and building codes. You may need to have the property inspected before making any additions. Once approved, you should hire a professional contractor for the deck building process. Extending a deck isn't as simple as you may think, it requires a lot of planning and inspection to make sure that the foundation is solid enough for an addition.
There are many benefits to extending the size of your deck. Expanding allows room for extra furniture that you can kick back and relax on. With the extra space, adding on to your deck can make entertaining easier as well. Whether you choose to add another level or widen your deck, it can make relaxation and entertaining more accessible and enjoyable.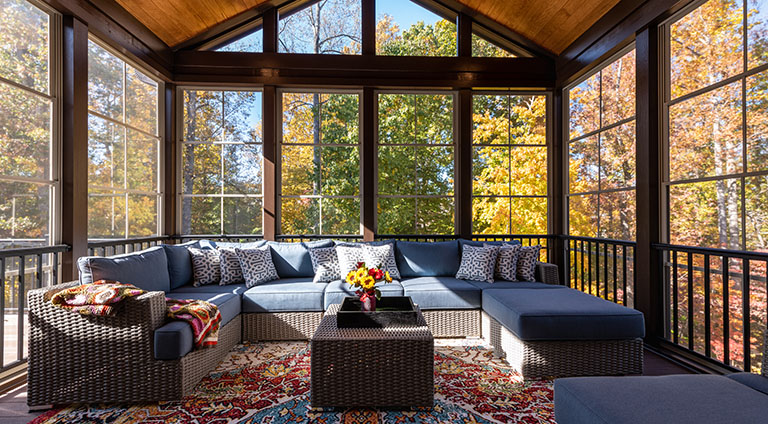 3. Create a year-round Space
There is a feeling of serenity that spending time outside on the deck in the summertime brings. But, if you live in a colder climate, you don't get to make use of your deck during most of the year. If you want to enjoy your deck more often, you should think about making it an enclosed space. Adding a roof and screen walls surrounding the deck can create a cozy indoor-outdoor space for you to enjoy the whole year.
You can also install a pergola or retractable canopy to cover the space for rainy days during the spring and summer. If you don't want to add structure around the deck, then consider adding some luxuries to make it more enjoyable in cooler temperatures. Installing a fire pit or purchasing outdoor propane heaters can help you stay warm in the fall. It's important to consider proper storage when transitioning from season to season, especially long term storage. Having some sort of storage plan or shed is beneficial to store your items during the colder months. This will help your items last longer while maintaining their quality.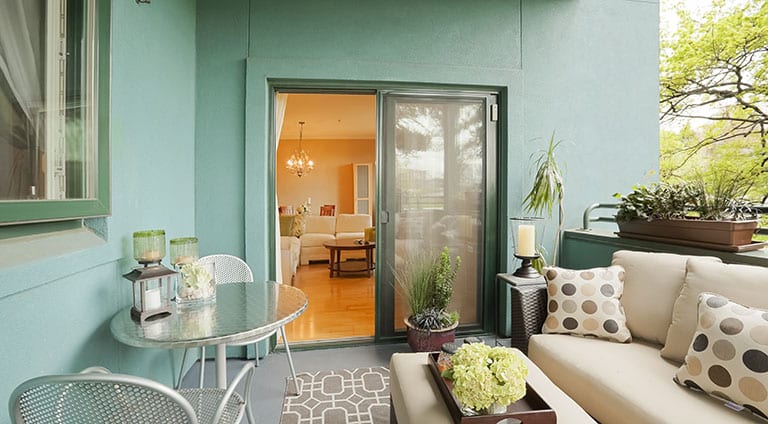 4. Include Bold Colors and Patterns
Your backyard doesn't have to be boring. Give your deck a makeover by incorporating a bold color palette. Go big with a colorful accent wall to add some vibrance, and extra privacy, to your outdoor space. Replace old, beige-toned furniture pieces with tropical shades and patterns to make your deck stand out. If you don't want to break the bank, simple additions such as bright throw pillows or an accent rug can add some great pops of color to your outdoor space.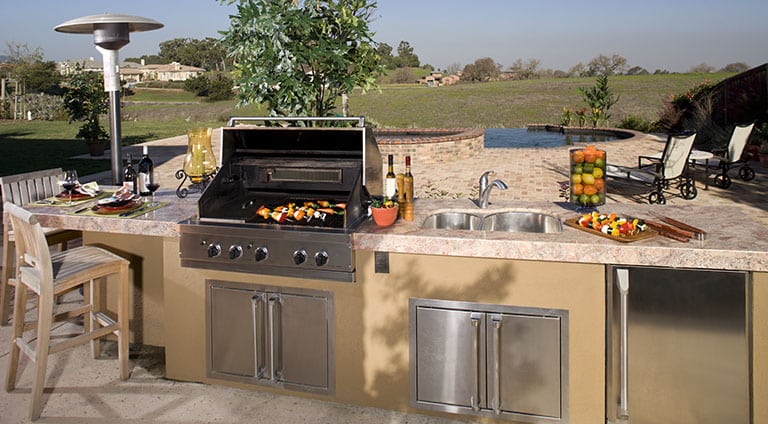 5. Build an Outdoor Kitchen
If you live in an area that has warm weather year-round, you probably spend a lot of time outdoors. Many people like to fire up the grill out on the deck when they have company over, but have you ever considered turning that space into an entire kitchen? If you entertain often, adding an outdoor kitchen may be the right choice for you. Not only is it impressive, but it's also convenient.
Adding extra counter space around your grill along with extra storage for your cooking utensils can make cooking much easier. Plus, you don't have to hide away in the kitchen while your guests enjoy the outdoors, you'll get to cook right alongside them. Although building an outdoor kitchen is a large project that takes time, the perks of cooking outdoors makes it worthwhile.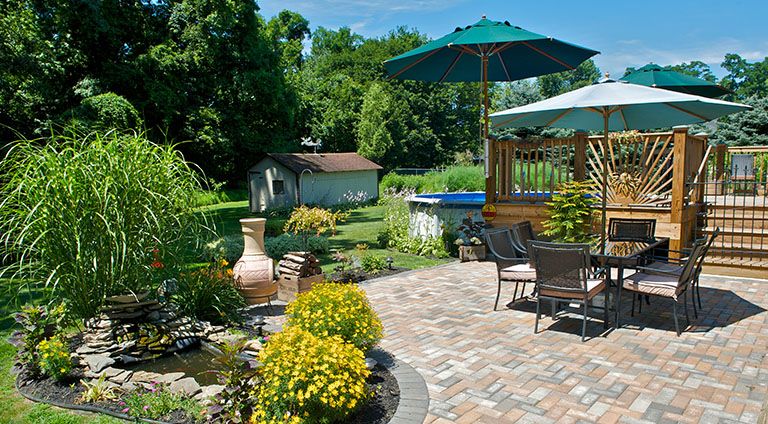 6. Upgrade Your Landscaping
Go beyond the planks and board for your deck remodeling ideas. Add some life to your backyard by planting flowers that will bloom around your deck. Landscaping adds value to your property and its overall appearance. Along with the added aesthetics of florals and plants, landscaping is good for the environment. In addition to providing the oxygen that we breathe and need to survive, plants also prevent soil erosion and attract pollinators. Landscaping can provide all these environmental benefits and add to the life of your home.
Final Thoughts
Now that you've got enough deck remodeling ideas to get started, it's time to get brass tacks. By considering a variety of material options, you can create a space that is suitable for your needs. From extending your deck to building an outdoor kitchen, there are a lot of ways to transform your outdoor living space. When combining functionality with aesthetics, you can create the deck of your dreams.
Keep in mind that a PODS container makes the whole process easier. By opting to store your tools, extra lumber, and paints right in your driveway, you can make the whole process easier and less intrusive. A PODS container is the perfect solution to keeping your deck remodel organized and out of the way — all while keeping it in arm's reach. Learn more about PODS containers for remodeling here.
Get a Quote
Choose the service you need
Comments
Leave a Comment
Your email address will not be published. Required fields are marked *