Take advantage of our limited time offer. Enter promo code HOLIDAY25 to save up to 25%.
See offer details
.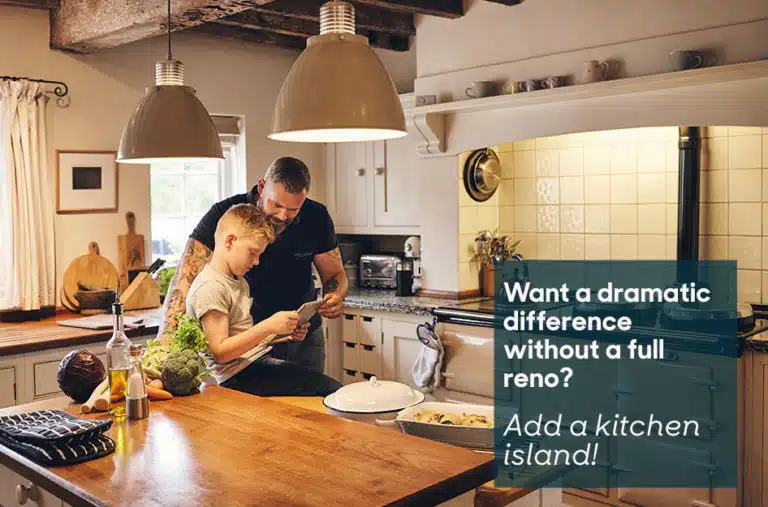 Cook Up These Kitchen Island Ideas for a Fresh New Look
Need a bit more cabinet space in your kitchen? Extra seating for entertaining? How about a bigger counter area for slicing, dicing, and dishing up your favorite recipes? A kitchen island can make a dramatic difference in the design and user-friendliness of your kitchen, particularly if you don't want to take on a full-scale renovation.
As you're considering your playbook for this home remodeling adventure, here are some points to ponder pertaining to kitchen island ideas, from selecting the right size and shape to considering new design options. After all, the kitchen is the heart of your home, right? It's only appropriate that we show a little TLC to the heart of the kitchen.
Are kitchen islands out of style?
Let's clear this up right out of the gate: Not only are kitchen islands in style, but they're also downright hot these days, ranking in the top 10 kitchen trends for 2022 among design experts.
The reasons for the resurgence of the kitchen island are varied. For starters, we've spent a lot of time at home during the past two years. Kids are using the kitchen as a virtual classroom and homework hub. More parents are working remotely. And increasingly, the island is where things get done. In fact, according to a recent survey, 20% of homeowners said work is a top activity at their island — up four percentage points from 2021. And islands are growing: Almost 40% of new islands now measure more than seven feet long, up five percentage points from last year.
We're also dining at home more frequently — and some of us are even expanding our cooking repertoire. Remember the sourdough phase of 2020? How about the baked feta pasta trend? Budding chefs require more room to conjure up culinary magic, and — voilà — the kitchen island does the trick.
What can I use for a kitchen island?
Many, if not most, contemporary home floor plans are designed with a kitchen island. But if your home is older or a fixer-upper, you have options for adding an island, like buying a freestanding one (either new or from a resale site) or upcycling an existing piece of furniture.

Buy a new kitchen island: Freestanding islands are available at most home-improvement stores, and you can likely find islands on resale sites from other folks in the middle of a kitchen remodel. Before you shop, though, think about what functions you want your island to provide and the amenities you'll need for that purpose. If you're planning to up your cooking game, for example, consider an island with outlets to power your mixer, blender, and other gadgets for your culinary adventures. Built-in cookbook shelving is a nice touch, too.

For homes with minimal square footage, an island can practically double your counter space for kitchen activities like food prepping and cocktail mixing. The design options are endless; you can choose an island with as much — or as little — adornment as you wish. How about a detailed granite design with cabinets that have pull-out drawers for maximum storage? Or a simple butcher-block top with a towel rack on the side and room for extra seating? Your kitchen island can reflect your style, from elegant, classic lines to super-fancy fixtures and add-ons.
Upcycle a piece of furniture: If a non-traditional vibe is more your style, repurpose a statement piece like an antique dresser to use in place of the standard kitchen island setup. There are pros and cons to this approach, of course. A dresser has built-in drawers, but seating might be cramped — unless you add a bar extension for a place to tuck knees. With the right creative touches, though, like a marble top or antique-style fixtures, your dresser-turned-island is an economical way to add panache to your kitchen remodeling project. Other DIY kitchen island ideas include converting a desk, console table, metal rack, or a low-slung bookshelf — all easily adaptable with a serving of imagination.
Is it cheaper to build a kitchen island?
If you have the woodworking skills to build your own kitchen island, or if you enjoy DIY furniture refurbishment, you can definitely realize your kitchen island ideas on a budget. A custom-built island starts at about $3,000 and can go upwards of $10,000 or more — due to the cost of outfitting your island with electrical power, flooring, plumbing (if necessary), and other features. However, there are plenty of pre-assembled options out there and, while those prices run the gamut, it's possible to find really affordable options, as well. So is it cheaper to build a kitchen island? Yes and no.
Pro Tip: Whether handmade or store-bought, a kitchen island will recoup about 78% of the cost when you sell your home — a significantly higher return on your investment than other home projects deliver.
What is the best size for a kitchen island?
Practicality should be your guide when it comes to the size of your island. A crowded kitchen would completely defeat the purpose of an island (and likely be against local building codes), so make sure you have plenty of breathing room for moving around and for opening your appliance doors. A good rule of thumb is to keep a 42-inch space between the island and your cabinets, fridge, or other appliances. As for the height, 36 inches is standard — about midway between a typical kitchen table and bar stools.
What's the best design for a new kitchen island?
If your home decor leans toward traditional, mid-century modern, country chic, or another distinctive style, the pizzazz of the latest "in" thing might not be for you. But certain classics will never go out of style. Here are a few touches to consider for your kitchen island:
Look Up
More than 90% of homeowners who've added a kitchen island have also installed new light fixtures above the island — and chances are they've chosen pendant lighting, a hot trend in kitchen island lighting ideas. From teardrop-style bulbs to open-air bell pendants, these fixtures are available in a variety of shapes and sizes to fit your decor or make a statement of their own. Recessed lights are another option for task-oriented lighting. After all, chopping onions — chopping anything, for that matter — requires a clear line of sight.
Pro Tip: If you opt for pendant lighting, install an odd number of fixtures. Designers say groupings of 3, 5, or 7 are more visually arresting than even-numbered collections.
Go Mobile
Looking for small kitchen island ideas? An island on wheels is perfect for modest spaces. Store it in the garage or basement, roll it in as needed for party-prep space, and roll it out of the way when you're finished to reclaim the extra breathing room. Talk about "a moveable feast"!
Wine Down
Tuck a wine fridge and rack into your island for a built-in space-saver that pleases the oenophiles in the household. Some kitchen islands are even built purely as wine racks — no other amenities needed.
Open Up
Instead of closed-door cabinetry, open shelving in your island shows off your favorite dishware, cookbook library, or vintage cocktail set. And with bold color accents among your curated collection, the shelving display adds flair to function.
Claim Your Colors
Ever-classic neutrals continue to reign in kitchen coloring, with white as the No. 1 choice in 2022 for cabinets, backsplashes, and walls. Going gray is big this year, too, contrasted with pops of color throughout the kitchen.
Throw a Curve
Who says your kitchen island has to have 90-degree angles? Rounded edges or even a full-circle island adds creative spice to your space. They're more expensive, naturally. But when you mix out-of-the-box kitchen island ideas with seating options that are equally creative and fun, it's a good bet your guests — and you — won't want to leave the kitchen.
How can I finish renovations and still function in my kitchen?
While you're planning your perfect kitchen island, we bet there's a good chance you won't want to stop there. You've got the bug now, so ideas from reorganizing to remodeling the entire kitchen are probably racing through your mind. But don't let thoughts of dusty rooms, cabinets scattered across the floor, and even a rogue screwdriver or three rolling off the countertop put a bad taste in your mouth. Sure, that clutter can add up fast and make for a stressful home — but it doesn't have to. With a PODS portable storage container placed conveniently in your driveway, you can store remodeling tools, equipment, materials, or anything else you want to keep off the couch and out of the guest room. And who knows? The kitchen may just be the beginning.
Check out the PODS Blog for more home ideas and info, including remodeling your kitchen, maximizing your renovation ROI, and making your home more energy efficient.
---
Shannon Jacobs is a Tampa-based freelance writer and frequent contributor to the PODS Blog. She has lived in Atlanta, the Berkshires, and Nashville, but always returns to the warmth of Florida's Gulf Coast.
Sources:
Get a Quote
Choose the service you need
Comments
Leave a Comment
Your email address will not be published. Required fields are marked *