Take advantage of our limited time offer. Enter promo code HOLIDAY25 to save up to 25%.
See offer details
.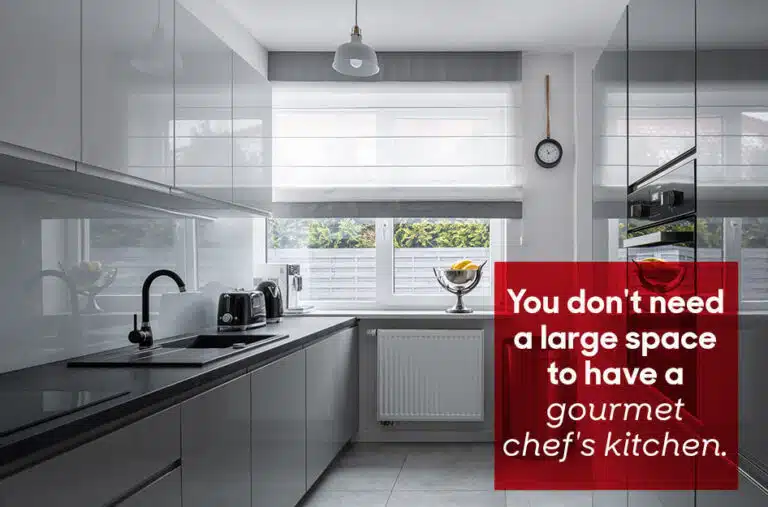 Turn Your Galley Kitchen Into a Chef's Dream With These Tips
When you think of a galley kitchen, do you think of a crew of sailors toiling in the crowded, narrow hull of a ship? Bruised elbows and spilled dishes? Actually, come to think of it, some landlocked galley kitchens may also have that vibe… homes with teenagers, perhaps?
If you have a galley kitchen in your home, don't fret — and don't think that you're destined for disaster. With a little imagination, your kitchen remodeling project can make the room feel as large and luxurious as you'd like — with all the functionality of a gourmet chef's kitchen but without the larger footprint.
Read on for ideas on how to turn what may seem like a battle for the broiler now into a breathable, welcoming space where culinary dreams come true.
What are the pros and cons of a galley kitchen?
Galley kitchens, like everything, have pros and cons, depending on the specific needs of your family and lifestyle. Here are a few to think about if you're considering remodeling a galley kitchen:
Pros
Extra space for other living areas: A galley kitchen takes up fewer square feet than a full-size kitchen. If space is at a premium, a compact kitchen can create extra real estate for other rooms — maybe a home office (more common than ever these days!) or a bigger family room. And if you don't have a big family, a sprawling open-plan kitchen might not be on your list of must-haves. A smaller space for cooking means a bigger space for focusing on your other priorities.
Energy efficiency: Today's important focus on resource conservation makes a good case in favor of galley kitchens. With a smaller footprint and potentially smaller appliances, they use less energy — particularly if you choose smart appliances, good insulation, and other green options for your home.
Storage options galore: Since galley kitchens generally have a hallway-like feel, with walls on two and sometimes three sides, they offer a bevy of cabinetry possibilities. Add a narrow island to your kitchen and you have even more options for storing your things.
Con
Space constraints: On the flip side of extra space for other rooms is less space for this room. The hallway vibe that affords lots of cabinets in a galley kitchen can also spark some claustrophobia, depending on just how narrow the space is.
And that's it! Anything you can do in a full-size kitchen you can pretty much do in a galley kitchen — at a minimized scale.
Need some small, narrow galley kitchen ideas? Keep reading.
How can I make my galley kitchen better?
Finding new designs for galley kitchens starts with the basics: Once you get the functional pieces in place — appliances connected, outlets installed — it's time to get creative. A few galley kitchen ideas to consider:
In a small space, cabinetry with clean lines is the best option for visually opening up the room, as opposed to paneled or ornately patterned doors. Similarly, adding simple, classic handles to drawers and cabinets adds to the illusion of extra space. If there's room between your cabinets and the ceiling, place a few colorful vases or perhaps copper cookware up top to draw the eyes upward, again creating a spacious vibe in the room.
Open shelving is another option that helps to expand a potentially crowded room. Spaced appropriately throughout the galley kitchen and populated with pretty glassware, dishes, and objets d'art, shelves make a design statement while serving their functional purpose: to hold your stuff. Glass-doored cabinets are equally effective at creating the visual effect of open space.
Add a window – either to the outside or connected to another room in your house. Fair warning: This is a lot of work, and it involves a contractor, permit applications, and a significant financial investment. (After all, we're talking about cutting a hole in a wall.) So if you're looking for small galley kitchen ideas on a budget, this might not be the best idea. The end result is definitely worthwhile, though. Letting in a little natural light is transformative, even with just a small window. If your window looks into another room, you've got the added benefit of connecting the cook with other members of the household, because it's always more fun to chat while you prep snacks or a meal, right?
A collage of mirrors — or even one well-placed mirror — adds an illusion of space and airiness. And the only construction it requires is a few nails hammered into the wall. Try different mirror shapes for a modern galley kitchen statement that'll make the room shimmer with movement.
What can I do with a galley kitchen?
You can do anything in a galley kitchen that you can do in an open-plan gourmet kitchen — just without as much walking around! Some chefs might even prefer the smaller space, because all your cuisine needs and accouterments are within easy reach. No more dashing across the room for that skillet or spice — they're just an arm's length away in your galley kitchen.

To keep the convenience without sacrificing design, consider innovative space-saver tools like a peg board or magnetic knife strip mounted on the wall to store instruments and products you use often. Instead of using precious counter space, hang a small open shelf just above your sink for soaps and sponges. And the more you can arrange your mixers and blenders and such to be up-and-away from your precious counter space, the easier it'll be to whip up delicious feasts. 
How do you brighten a galley kitchen?
The creative options are endless when it comes to lighting for galley kitchens. Here are a few ways to help brighten things up:
Paint
It seems so simple, but a light, neutral color on the walls can make an enormous difference in a galley kitchen. Darker, primary colors are cozy and warm but best left to a bedroom or family room. In a small space, they create a crowded atmosphere you likely want to avoid. Keep the walls a nice calming neutral, and add splashes of color with items like your dishware, towels, backsplash, and throw rugs.
Flooring
Just like the walls, your floor should be light and minimally patterned (if at all), for a less cluttered feeling in the room. A warm terra cotta may be the only exception to this suggestion: The natural texture and earthy tone are another way to bring the spacious outdoors inside.
Pendant Lighting
Light up your kitchen with hanging pendant lights, which you can mix and match as you wish to fit your aesthetic. A bright pendant light over the sink provides great light for doing dishes, while a softer wattage over a small kitchen island gives the room a pleasant ambient glow for entertaining.
Chandelier
Designers love the notion of one signature piece in an unexpected place. In a cozy galley kitchen, provided you have the ceiling height, a chandelier can create that dramatic statement. And it doesn't have to be ornate; an elegantly simple model with just a few tastefully designed bulbs can do triple-duty — adding an artsy element, brightening your space, and enlarging the room by drawing the guest's eyes upward.
Where should a refrigerator go in a galley kitchen?
There are only two rules for placing a refrigerator in a galley kitchen layout:
The refrigerator door, when opened, should not knock into another appliance, wall, countertop, or human. Give it enough space to open with a comfortable buffer zone.
Try not to put the refrigerator next to the oven or stovetop. While it's not necessarily a safety hazard, the competing functions — heating and cooling — may make both appliances work harder than they would in separate sections of the room.
How can I keep my kitchen functioning while the remodel is underway?
Renovations can get cluttered fast. You can keep things orderly and your kitchen operational with a portable storage container placed conveniently in your driveway. Store tools, materials, and anything else you need to keep out of the way (but close at hand) while you fix up your galley kitchen.
And while you're at it, the PODS Blog offers a wealth of information about remodeling and home renovation. If you're in the market for a move in that direction, take a look at guidance for finding a home improvement loan, hiring the right contractor, navigating supply chain issues, and more.
---
Shannon Jacobs is a Tampa-based freelance writer and frequent contributor to the PODS Blog. She has lived in Atlanta, the Berkshires, and Nashville, but always returns to the warmth of Florida's Gulf Coast.
Get a Quote
Choose the service you need
Comments
Leave a Comment
Your email address will not be published. Required fields are marked *