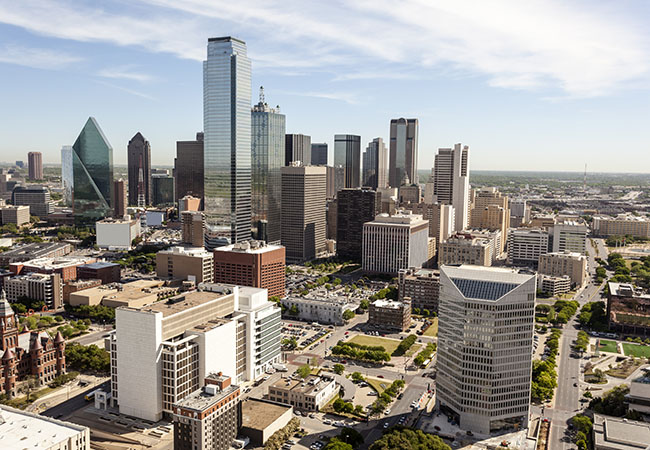 Top 15 Things to Know about Living in Dallas Before Making the Move
Are the mild winters and booming economy of Dallas calling your name? You're not the only one. People are moving to Dallas from all over the country for its good jobs, vibrant culture, and affordable homes.
But before you decide to relocate, you might want to learn more about what life in Dallas is really like. Don't worry, we've got you covered. These are the 15 things you need to know before you arrive.
Dallas living at a Glance
Located in the northeastern part of the state, Dallas is the third largest city in Texas and the ninth largest city in the U.S, with 1.3 million residents.
Dallas is often lumped together with nearby Fort Worth. Together, the Dallas-Fort Worth metroplex (DFW) is the most populous metropolitan area in the entire Southern U.S.
The Dallas-Fort Worth area is home to 10 Fortune 500 companies, including ExxonMobil, AT&T, and American Airlines.
DFW is growing rapidly. According to CultureMap Dallas, the area gained 1,349,378 residents between 2010-2019!
1. The cost of living in Dallas is cheaper than other places
You don't have to be a millionaire to live well in Dallas. The city's median income is $42,259, according to NerdWallet. Meanwhile, groceries, healthcare, and housing in Dallas all cost less than the national average. Rent Jungle lists the average rent in the city at $1,228 a month.
The median home value in Dallas is $237,200, according to Zillow. Compare that to Miami ($379,460), Denver ($484,264), or San Francisco ($1,385,625), and you can see why people are flocking to Texas.
2. Home ownership is attainable in DFW
If you're moving to Dallas from another major city you'll likely be pleasantly surprised by the housing options. You can easily find a beautiful and historic 3-bedroom home in Dallas for under $300,000. Newer developments tend to run a bit pricier.
This affordable housing is one of the reasons the Dallas-Fort Worth area has a home ownership rate of 64.7%, which is slightly higher than the national average. Meanwhile, other cities like Atlanta hover at around 45%.
3. Renting in Dallas is easy and affordable
As we said before, the average rent in Dallas is $1,228 a month. But it's even cheaper ($1,050) if you're looking at just 1-bedroom units. Of course, how much you pay will depend on what Dallas neighborhoods and what kinds of apartments you're looking at.
You could end up paying a lot more than a grand if you want to shack up in one of the city's luxury apartment buildings, like The Modrian. Still, for many folks the views, in-house amenities, and, of course, the swimming pools will make higher-end apartments in Dallas worth the price.
4. The best Dallas neighborhoods include Uptown, Oak Lawn, and Frisco
Speaking of places to live, there are dozens of great neighborhoods in Dallas, but here are three that really stand out:
Uptown: This beautiful Dallas neighborhood is located just north of downtown and is home to plenty of young professionals, small families, and wealthy retirees. It's known for having stately, tree-lined streets, amazing restaurants, and classy nightlife.
Oak Lawn: One of the cultural centers of Dallas, Oak Lawn is home to tons of great stores and venues. It's also much more affordable than some other neighborhoods, like Uptown, making it ideal for renters and first-time home buyers.
Frisco: Frisco is one of Dallas's largest and most established suburbs. In fact, it's basically a town of its own, offering everything that a family could need. It's the location of the Dallas Cowboys corporate headquarters and the Toyota Stadium, making it a perfect home for sports lovers.
To learn more about the best Dallas suburbs, check out our Dallas neighborhood guide, which gives you a detailed look at Uptown, Oak Lawn, and Frisco, plus these popular neighborhoods:
Casa Linda
Lake Highlands
Old East Dallas
Midway Hollow
Allen
Grapevine
Celina
Flower Mound
5. Fort Worth is a city, not a Dallas suburb
Before you make up your mind about where to live in Dallas, you really should consider Fort Worth. While we don't recommend commuting between the two cities, if you have flexibility, Fort Worth (or Funky Town, as locals call it), is a distinct city in its own right.
You may get more for your money in Fort Worth, with typical home prices about $10,000 lower than in Dallas. While you're looking, be sure to check out our Insider's Guide to Fort Worth Neighborhoods.
6. Dallas is a lot greener than you might think, including the largest urban forest in the country!
Dallas has plenty of trees and open space, with a whopping 42 square miles of green space! While there are hundreds of parks, greenways, and other ways to enjoy Dallas life in the outdoors, we highlighted a few of our favorites:
Great Trinity Forest: Recognized as the largest urban forest in the entire U.S., the forest extends off the north shore of the gorgeous Trinity River in the southern section of the city. It's full of trails, picnic spots, wetlands, and the Trinity Forest Adventure Park.
White Rock Lake Park: This 1,015 acre body of water sits just a few miles northeast of downtown Dallas, and it's an outdoor oasis for young and old. You can use the park's 9 miles of hiking and biking trails, check out the museum, take your four-legged buddy to the dog park, use the picnic areas, or float a boat across the scenic lake.
Dallas Zoo: It's no surprise that visiting the zoo is one of the most popular things to do in Dallas. This huge facility is home to more than 2,000 animals and 406 different species, including many endangered ones.
Klyde Warren Park: This 5-acre park may not be as large as some of the city's other outdoor spaces, but it has so much to offer. The park is home to a butterfly garden, yoga classes, movie screenings, a dog park, and plenty of other events.
7. There are great schools in Dallas, TX
According to Niche.com, eight of the Texas's top 20 schools are located in the Dallas-Fort Worth area, including the #2 and #3 spots, which are both in the Dallas Independent school district. Let's highlight just a few of the best high schools in Dallas, TX.
School for the Talented & Gifted: This Dallas school is the #2 ranked in the entire state.
School of Science and Engineering: This #3 ranked school is also in Dallas.
Carroll Senior High School: This school is ranked #6 statewide and is located in Southlake, a suburb of Dallas.
Jasper High School: This is the 11th best school in the state and is located in Plano, one of the best Dallas suburbs.
8. Dallas is a very international city
Forget New York City. Living in Dallas is the real American "melting pot". While it was historically a very white cowboy town, in recent years the city has diversified dramatically. Now, about 40% of the city is Hispanic and 25% of the city is African-American. It's an awesome place for those who want to raise their family in a diverse setting.
Plus, about 25% of the population of Dallas is foreign-born, meaning that the city has a rich international feel. So whether you're in the mood for Mexican, Mediterranean, Columbian, Taiwanese, or Ethiopian cuisine, there's always a local restaurant around to satisfy your cravings.
9. Summers get (very) hot, but the winters are mild
If you think it gets hot where you live, you better check out the Dallas weather. During June, July, and August the average high is above 90 degrees. And the thermometer will regularly peak above 100. Yikes.
But it wouldn't be Dallas living without a little bit of heat. You can always cool off in a pool or in the shade of a large elm tree. Plus, there's a tradeoff: the winters are very mild.
Dallas almost never sees snow, and winter days often hover in the high 50s and low 60s! That's like a beautiful summer day in Maine or Montana.
10. Crime rates are higher than average, but there are plenty of safe Dallas neighborhoods to live in
We'll be honest, Neighborhood Scout gives the Big D a score of just 6 (out of 100), meaning that it's only safer than 6% of American cities. But it's best to take these types of ratings with a grain of salt, as they certainly don't mean that living in Dallas is dangerous. If you take reasonable safety precautions, you can be just as secure as anywhere else.
Here are some of the best Dallas suburbs and neighborhoods when it comes to safety:
Preston Heights
Frisco
North Dallas
Oakdale
Lakewood
11. DFW has jobs. Tons of jobs.
An economic hotspot, Dallas is perfect for folks looking to start a new career. Yes, even in the era of COVID-19. According to the U.S. Bureau of Labor Statistics, "Dallas had the second-slowest rate of loss among the 12 largest metropolitan areas" in the months after the start of the pandemic in 2020.
While losing fewer jobs than other cities may not sound like a huge accomplishment, it's worth noting that this is part of a larger trend of job growth in the city. In 2020, Dallas led the country in terms of office job growth with a 5.7% year-over-year increase.
12. Dallas culture goes way beyond cowboys
It's not just the awesome food in Dallas that makes it a cultural hub. After you eat out you can go to one of the city's many museums or galleries. Or you can catch a performance.
It doesn't matter whether you like music, opera, or comedy, Dallas has something for you. Pretty much every major band that tours through the U.S. South will hit Dallas.
If you're moving to Dallas be sure to check out the listings at these performance venues to find the best culture Dallas has to offer.
Winspear Opera House: Part of the AT&T Performing Arts Center, this venue is home to the Dallas Opera and hosts many touring shows.
Moody Performance Hall: This is another venue in the Performing Arts Center that is home to amazing ballets, symphonies, and more.
Sammons Center for the Arts: This smaller venue acts as an "arts incubator" for small troupes, new projects, and the local artist community in general.
Annette Strauss Artist Square: This 128,000 square-foot outdoor performance space is part of the AT&T Performing Arts Center and is perfect for large concerts.
The Lakewood Theatre: This 10-acre art center houses ten separate arts organizations that cater to people of all ages.
Map of Dallas:
13. No surprise: You will need a car here
Okay, maybe not everyone needs a car in Dallas, but it will make your life a lot easier. The city is huge on its own, but when you include the Fort Worth area, it's enormous. It can take hours just to drive from one end to the other.
If you're moving to Dallas you should probably take a look at the map and learn a few of the major freeways that criss-cross and circle around the Big D, like the I-820, I-30, and I-635. These will be your lifeline when you're commuting in the area.
For those who don't have a car (or are just trying to be more green), there are some public transit options. The Dallas Area Rapid Transit System (which everyone calls DART) is a huge train and bus system that will get you pretty much anywhere. There is also a downtown trolly system and plenty of airport shuttles.
14. You can pick up a degree in Dallas
If you (or one of your kids) is interested in pursuing higher education, then Dallas is a great place to be. The city is home to the University of Texas at Dallas and University of Northern Texas, and is just a few miles from Texas A&M. In fact, there are over 30 universities and colleges in the DFW metro area.
15. The 10 best things to do in Dallas are . . .
Looking for something to keep the whole family occupied on a weekend? Or maybe you're looking for a clever place to take your date? Either way, there's no shortage of fun stuff to do in Dallas.
Here's a list of our 10 favorite ways to experience a slice of Dallas living (in no particular order).
Visit the Dallas World Aquarium.
Go to the African American Museum.
Check out the Dallas Museum of Art.
Visit the animals at the famous Dallas Zoo.
Learn about JFK at The Sixth Floor Museum at Dealey Plaza.
Hang with the plants at the Dallas Arboretum & Botanical Garden.
Go root for the Dallas Cowboys at AT&T Stadium.
Stroll through Nasher Sculpture Park.
Get a drink and see a show in Deep Ellum.
Check out a Bonnie and Clyde Tour.
That's it for our facts about Dallas. We hope you're starting to feel like a local already! Now it's time to plan your move. Check out our detailed moving checklist to avoid stress and make sure you don't forget anything.
---
Easton Smith works as a freelance writer and researcher, reviewing technology trends and the moving industry.
Get a Quote
Choose the service you need
Comments
Leave a Comment
Your email address will not be published. Required fields are marked *