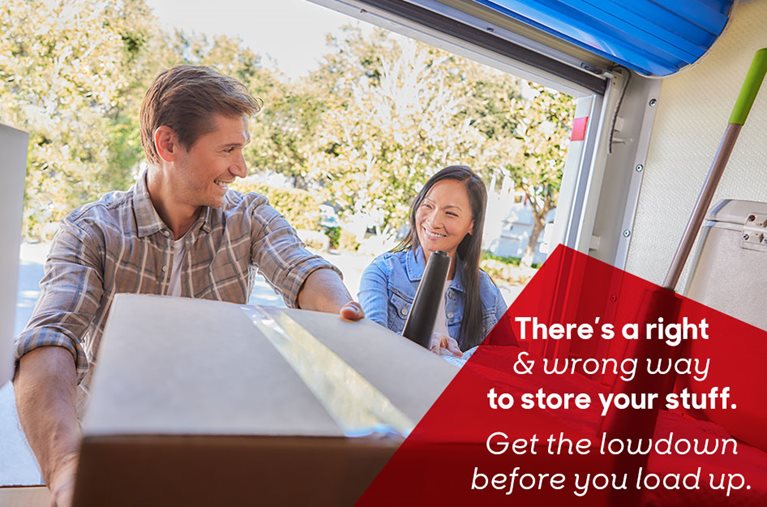 16 Dos and Don'ts for Packing Portable Storage Containers
Every spring when I do a big declutter and each time I move apartments, I'm reminded just how much stuff I have. Accumulating furnishings, clothing, and various odds and ends that somehow simultaneously have no place and I can't part with is one of the great conundrums of the human experience. But gloriously, that's why portable storage containers exist, right?
Whether you're moving and need a temporary or long-term place to stash your things, PODS offers a variety of storage options to fit any situation. Want to store things close by for easy access? Keep your container right in your driveway. Need things out of the way for a while? Keep your container in a secure PODS Storage Center. Looking for storage that moves with you? We can do that, too! Whatever your storage needs, PODS has you covered.
All you need to know are a few basics about what the PODS prohibited items are, what can go in the containers, and how to get the most out of them. So without further ado, here are 16 dos and don'ts for using portable storage containers.
1. Do Get an Appropriately Sized Container
Choosing a storage unit is a real Goldilocks situation: Pick the one that is
just the right size
. While it may be tempting to save some money, using a container that's too small will ultimately lead to frustration — either trying to squeeze your belongings in or having to size up in the end. Similarly, going for one that's unnecessarily spacious is money you don't need to spend, and extra space can actually make it harder to keep your breakables safe and secure in a portable storage container.
2. Don't Have Your Container Delivered Just Anywhere
When having a
PODS container delivered to you
, be sure to speak with the driver before or upon arrival, so you know where they can place it (newly paved driveways or uneven surfaces are a no-go) and can decide which direction you'd like the door facing. Communicating with them ensures the container isn't left blocking your car from the garage or inconveniently stationed too far from the door you'll be bringing items out of — or any other unfortunate scenario.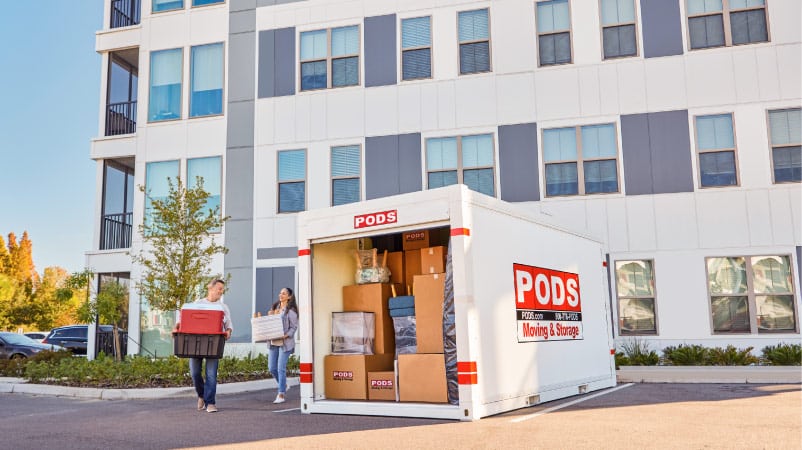 3. Do Communicate With Your Building Management
If you live in an apartment complex, save yourself a headache by giving your landlord or management company a heads up that you'll be using a storage unit. Whether someone has to let the driver onto the premises or you need permission to leave a container in a particular place, you'll want to make sure both you and your building management have the discussion before the container arrives.
4. Don't Load Items While It's Raining
No one wants to move in the rain, but when it comes to packing things away to store for weeks or months on end, you really don't want to. Moisture that collects on the outside of your packages can seep through boxes and lead to mildew or rot — the last thing you want to find when you eventually pull things out of storage.
5. Do Put the Heaviest Boxes on the Bottom
This is
packing 101
but still important to remember! Think of packing a PODS container like bagging groceries: You don't want bread or eggs on the bottom of the bag, the same way you don't want fragile goods or breakables below heavy book boxes or pieces of furniture. Not only does packing a unit from most to least dense save your teacups from turning into powder, but it also helps you to take the best advantage of the space. Also, when deciding where to put what in portable storage containers, try to strategically place the items you need the least access to at the rear. That way, if you need to grab something from storage but don't want to dig through everything, the things you're most likely to need are easily found.
6. Don't Put All the Heavy Things on One Side
Along the same weight distribution lines, you want to stack heavy items in layers, not sections, meaning the weight is spread relatively evenly throughout the container. That way, when the container is picked up and relocated to your new home or a storage facility, all the heavy boxes at the back are unable to shift and smoosh all the lightweight boxes at the front.
7. Do Secure Your Belongings
Another well-known but important tip: Secure your belongings! Wrap your breakables in bubble cushioning roll before loading them into boxes, and employ loading straps, bungee cords, and furniture pads to keep the larger items protected and firmly in place when the portable storage container is on the move.
Did you know? All PODS moving and storage containers are equipped with hooks to help you secure your belongings. The best part? They're located throughout the container, so you can decide the best way to strap everything down.
8. Don't Store Perishables
Don't forget your lunch in your storage container! I kid, I kid. But seriously. Can you think of anything less pleasing than opening the door to the smell of rotten food? Even for canned goods or other shelf-stable products that last for a long time, you're better off using or donating them than storing them. Also, don't leave any plants or other living things in the container — they're not known to do well without sunlight or water.
9. Do Keep Important Papers and Irreplaceable Heirlooms With You at Home
While papers and family heirlooms you're not quite sure what to do with may seem like the perfect items to store away, you're better off keeping them with you. Some pieces, like vintage works of art, don't fare well in certain conditions. The same goes for highly valuable and irreplaceable keepsakes — keeping them in a place where they may be vulnerable to damage just isn't worth the risk. Instead, find a place to display them at home or pass them on to another family member who will have more use for them.
Looking for more pro tips from the storage experts? We were lucky to participate in a Q&A panel of storage experts over on MovingWaldo.com. You'll find answers to questions on securing your things in storage, the minimum time to rent a container, and more.
10. Don't Use Storage as Your Trash Bin
At the tail end of a decluttering effort, I always lose steam and want to just bag everything up and throw it in my closet. But what good would that really do? Though portable storage containers are incredibly useful for both short-term storage and long-term storage, be wary of using them as a catchall closet where you stash things that you could actually just toss, gift, or donate.
11. Do Get a Climate-Controlled Storage Unit for Certain Items
If you're storing your rare book collection or beloved comic books, you'll want to opt for temperature-controlled storage. These facilities ensure the unit never gets too hot or too cold, regardless of the weather outside. If you're stashing vinyl records, musical instruments, wooden or upholstered furnishings, photographs, artwork (like mentioned earlier), antique goods, or any other items that would respond adversely to extreme temperatures or humidity, climate-controlled storage is the move.

12. Don't Get a Climate-Controlled Storage Unit if You Don't Need One
Likewise, if you're not storing anything that is susceptible to warping, mildew, or other reactions to extreme temperatures, there's no need to spring for climate-controlled storage. Similar to choosing the right-sized unit, only pay for what you need. If you're wondering, "Are PODS weatherproof?," the answer is no, but even without climate control, the steel-framed containers are designed to be weather-resistant.
13. Do Get Storage Insurance
Access to PODS storage facilities is only available by appointment, and they are locked overnight. However, it's always wise to ensure your valuables are insured, especially when they're not on your person. If you have home insurance, check with your provider to see what may already be included in the off-premises personal belongings coverage. If those particular valuables aren't included, find out if self-storage insurance makes sense for you.
14. Don't Store Hazardous or Dangerous Items
As mentioned earlier, perishables, important documents, and heirlooms are some examples of what to not put in a storage container. But it's also important to avoid anything that may cause harm to your other belongings, people handling the storage container, or the container itself. PODS prohibited items include any hazardous materials, such as toxic chemicals, lawn mowers, or illicit goods. If you're not sure if something belongs in storage, consult the PODS website or your storage rental agreement. You can also reach out to PODS directly.
15. Do Make a Record of What You're Storing
Clearly label any boxes and containers and keep a concise list of what you're storing as you load it into your container. This will help you avoid pointless trips to the storage center when that winter coat or Halloween costume was in the back of the guest closet all along. This is especially important if you plan to use multiple portable storage containers.
16. Don't Forget to Lock Your Storage Container
Whether you're keeping your container on site in your driveway or at a PODS Storage Center, you want to make sure it's secured and locked with a good disc lock. Don't give anyone the key (or a copy of the key), and be sure to put it somewhere you can find it later. No matter how safe your neighborhood is — don't risk it, disc it (disc lock it, that is).
FAQ - Storage Units and Storage Containers
Now that you know the dos and don'ts of storage, you're officially ready to free up some space in your home. Still have some questions? Check out these answers to frequently asked storage questions:
Q: What shouldn't you put in a storage unit?
A: Wondering what not to store in shipping containers? Don't put perishable, living, or hazardous materials in a storage unit, such as food, plants, toxic chemicals, lawn mowers, or illegal items. You should also avoid storing extremely rare or valuable items in a unit. If you do, be sure to opt for a climate-controlled storage facility and obtain storage insurance.

Q: What can you not put in a shipping container?
A: You cannot put hazardous materials in a shipping container. You should also avoid putting items such as food, plants, or other perishables, as well as extremely important documents — such as birth certificates or house deeds — or antiques or family heirlooms that may be vulnerable to damage.

Q: Will my stuff get ruined in storage?
A: If packaged correctly, your belongings will not get ruined in storage. Be sure not to load your storage unit in the rain or otherwise let moisture accumulate on your belongings before stashing them, though — which could make them mildew, rot, or warp. If you are storing items sensitive to extreme temperatures, such as wood furnishings, vinyl records, or a rare book collection, use a temperature-controlled storage facility.

Q: Can you put electronics in a PODS container?
A: You can put your electronics in a PODS portable storage container. If you're using it for long-term storage, though, you may want to opt for climate-controlled storage, as some electronics are affected by extreme heat or cold. Be sure to take out any batteries and unplug any cords (and snap a photo of the connections to save yourself a headache down the line). And, whether you're using the PODS container for short- or long-term storage, the best way to pack up your electronics is by placing them back in their original boxes.

Q: Can you pack cleaning products in a PODS container?
A: While you can pack most household goods in your PODS container, stashing cleaning products may not be the best idea. PODS prohibited items include hazardous or toxic chemicals, so though you should not pack bleach or ammonia in your storage container, you can absolutely stash your brooms or mops in there.

Q: How long does portable storage last?
A: In other words, how long can you keep a PODS container in your driveway? If the driveway is part of your property, you can take as much time as you need. If you live in an apartment, though, or the driveway is shared, you'll need to check with your neighbors or management company. Once you do, you can rent a PODS storage container for as few as 30 days. From there, you can continue to rent it on a monthly basis for as long as you need.


Happy storing!
---
Sofia Rivera is a Boston-based lifestyle editor and frequent contributor to the PODS Blog. Her work has appeared in Boston magazine, Apartment Therapy, and more. You can most often find her redecorating her apartment, trying out a new recipe, or trekking all over the city.
Get a Quote
Choose the service you need
Comments
Leave a Comment
Your email address will not be published. Required fields are marked *