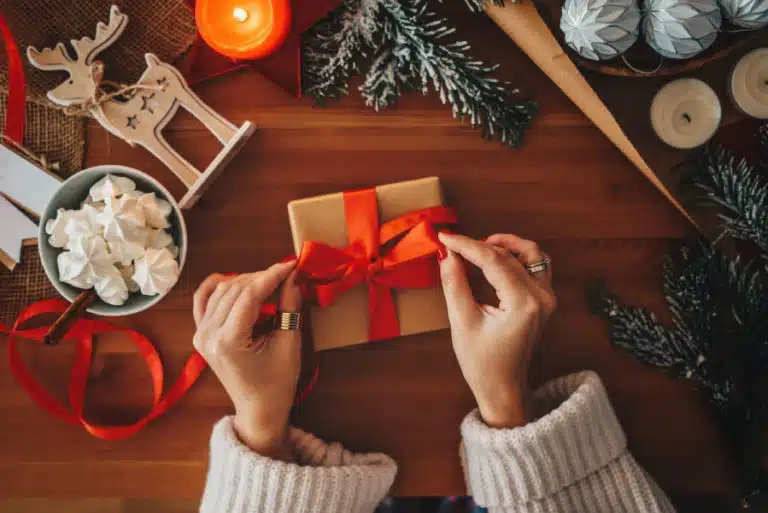 White Elephant Gift Ideas That Won't End Up In Storage in 2024
by
PODS
Posted on November 13, 2023
When the holiday season rolls around, you're almost guaranteed to have at least one White Elephant gift exchange (also called Dirty Santa or Yankee Swap) on your calendar. Not familiar? Essentially, White Elephant is a time-honored tradition where each participant brings a wrapped present of approximately equal value to the party. Participants pull numbers to decide who will pick the first present, then take turns opening and having the chance to "steal" each other's gifts. That's why each year, people take to the internet to search for White Elephant gift ideas that will catch partygoers' eyes.
Given the nature of a white elephant — something useless that's a waste of money,
by definition
— these exchanges can often result in a big pile of knick knacks that will inevitably be donated, regifted, or squirreled away into storage. Rather than spend your hard-earned money on something someone is bound to toss, though, we suggest checking out these White Elephant gift ideas for presents that are fun and functional. From White Elephant gift ideas under $25 to spendier options over $100 to picks that are just flat-out funny, check out these ideas for your next White Elephant exchange, Dirty Santa, or Yankee Swap.
We've decided to give these gift ideas a twist, sprinkling iin a few items meant to help you move, store, or organize your home. There are plenty gifts that will help get that
closet organized
, give home a touch of greenery, and gifts perfect for a soon-to-be mover, like card games for the first night and brand-new duffel bags. Ready?
Q: What do you bring as a White Elephant gift?
A: Though these gifts are typically campy and useless, you can get creative with White Elephant gift ideas that are fun and functional. For instance, a fun card game, a set of cute fridge magnets, a throw blanket shaped like a tortilla, or a candle that smells like the opposite of FOMO. Check out this complete roundup of gifts at every price point for more ideas.

White Elephant Gift Ideas — $25 or Less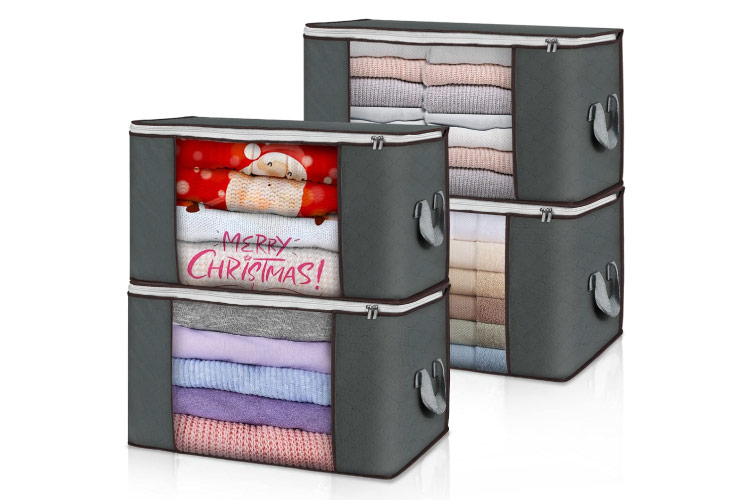 1. Large Zip-Up Storage Bags
4-pack for $24.99 from Amazon
What better present is there than the gift of time saved? Whoever scores this White Elephant surprise will be thrilled for the chance to organize their closet with this set of four sizable zip-up storage bags. Use them to stow away your winter blankets or summer wardrobe in the off-seasons — and breathe a sigh of relief when it comes time to pack up your closet and move apartments, knowing you have just the right tool to keep all your clothes and linens organized and easy to move.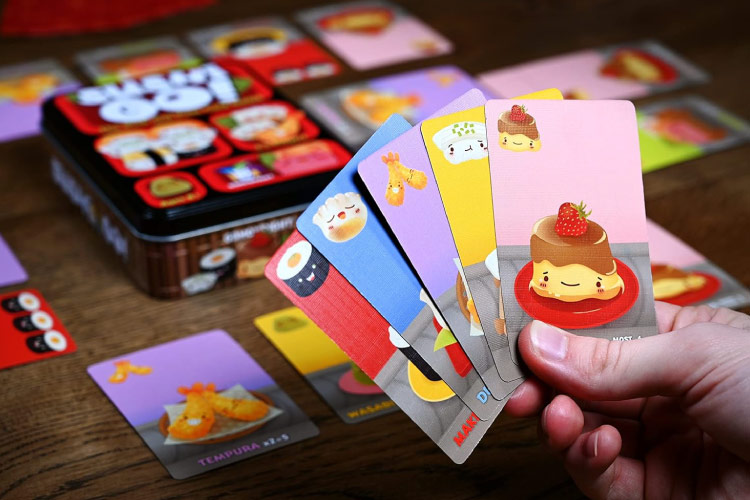 2. Sushi Go! Card Game
Who doesn't love a good game? This one is perfect for an unknown recipient because it takes almost no time to learn how to play. Think "Go Fish" but with adorable illustrations of nigiri, sashimi, maki, and wasabi. Find one to four people to play with, and you're ready to go! It's like sitting at the sushi counter with your friends.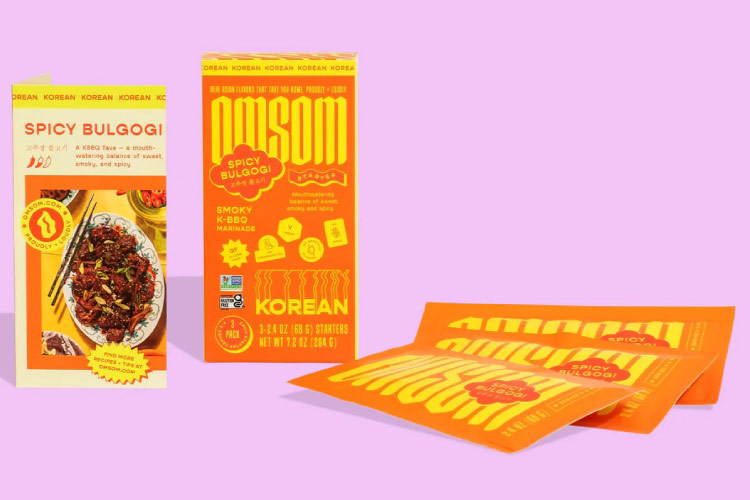 3. Spicy Bulgogi Sauce Packets
One box of three for $13 from Omsom
A few sauce packets may seem like a weird gift to bring to an exchange, but these are liquid gold. Packed with flavors like ginger, gochujang, and sesame, each of these bulgogi sauce packets promises "all the ingredients you need to make a restaurant-quality Asian meal in <15 minutes," according to Omsom. Simply mix it up with your meat or veg of choice. This one is great for an unknown recipient because it's not very spicy, but the Asian-owned brand offers a slew of other sauces, from yuzu miso glaze to spicy mala sauce.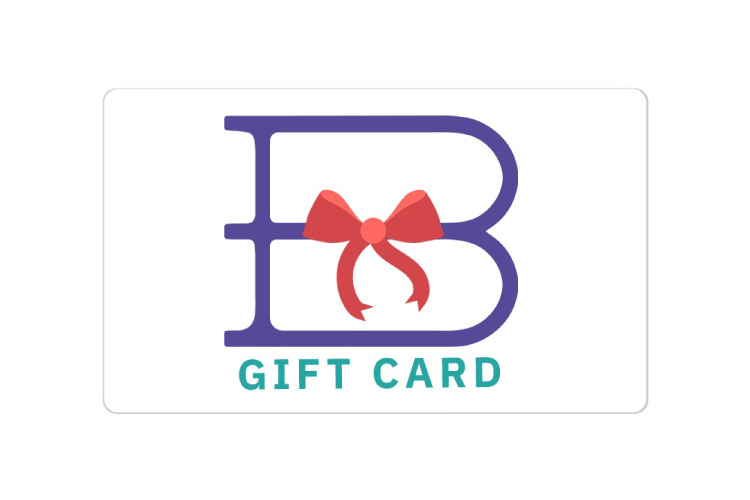 4. Bookshop.org Gift Card
Books can be so personal, it's tough to pick one without knowing who'll be reading it. Instead, opt for a gift card to Bookshop.org, where you can buy whatever book you want while also choosing an independently-owned bookstore to get a cut of the profit — pretty sweet all around. You can buy gift cards in any denomination, from $10 to $1,000, but $25 is a great price point to gift someone the hardcover that's been lingering on their to-be-read list.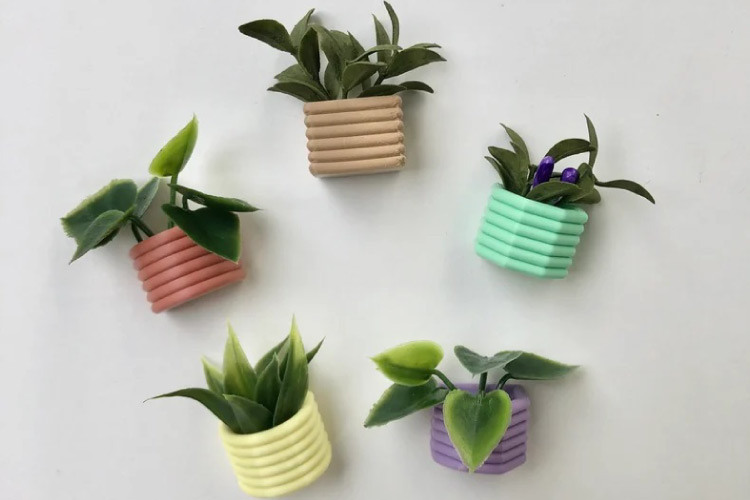 5. Mini Succulent Fridge Magnets
Five for $18.10 from Etsy
No need to know that your gift recipient has a green thumb to know they'll love these little succulents, because there's no watering required. They're simply a fun way to spruce up your fridge. Plus, reviews confirm the magnets are strong, so these cute miniatures aren't just for show.
White Elephant Gift Ideas — $50 or Less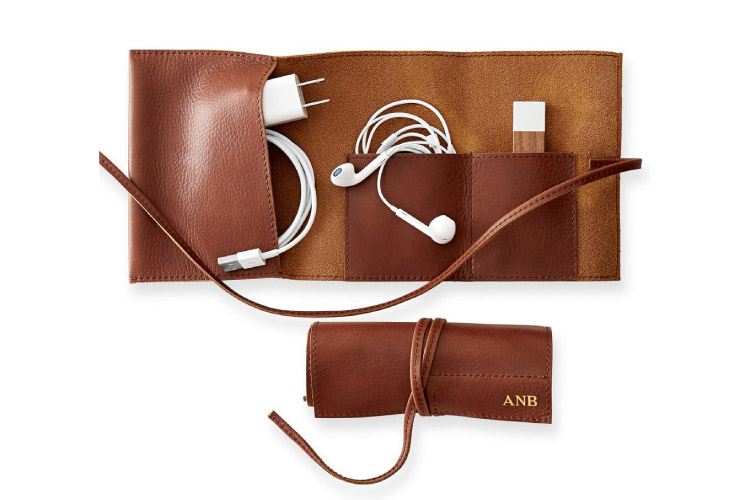 1. Leather Charger Roll Up
One of the most annoying mundanities is digging through your bag only to find a tangled wad of earbuds and phone charger cords. Enter: This incredibly chic solution. This leather pouch has pockets for all of your wiry necessities and rolls up into a tidy little bundle. It's a highly useful gift for anyone with a commute, who travels, or who's moving homes and needs a simple way to transport all of their cords. So, pretty much everyone.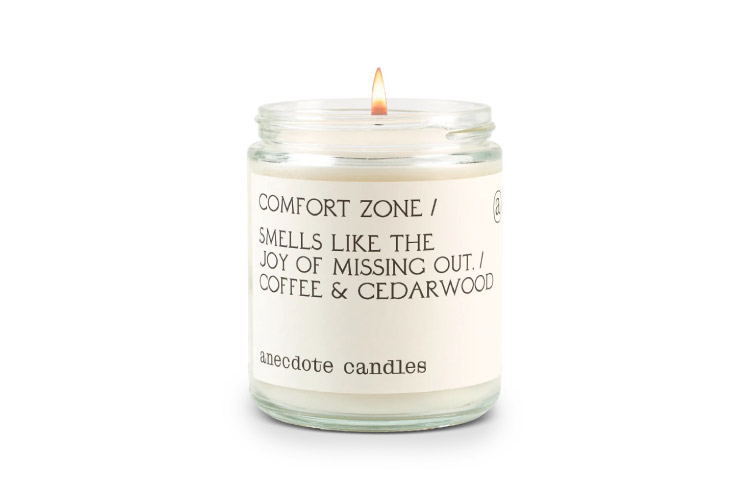 2. Anecdote Comfort Zone Candle
What better way to celebrate the cold weather than donning your comfiest outfit and lighting a candle? This one promises a blend of warm notes of orange blossom, coffee, jasmine, vanilla, patchouli, and cedarwood. Giving this candle is like gifting a cozy night in.
Q: Is a White Elephant gift wrapped or unwrapped?
A: Since the initial surprise of a White Elephant gift exchange is guessing what each present is, it's crucial to show up with a wrapped present.

3. Graza Olive Oil Gift Set
White Elephanters will be scrambling to swap for this covetable duo of olive oil: one bottle "Sizzle" EVOO meant for cooking and one bottle of "Drizzle" meant for finishing off a dish with a delicious kick. It's a perfect gift for anyone, whether they love to cook, entertain, or simply have a pair of cute green bottles perching on their kitchen counter. Plus, it comes pre-wrapped, in a way, in an adorably designed box.
4. Aesop Aromatique Hand Wash
This luxe hand soap is a cult classic for a reason. While bath products can be a little personal for a White Elephant exchange (who knows if they take baths or even like lavender?), a hand soap that's a little too pricey to buy for yourself is the perfect gift. They'll feel like they're in a hotel every time they use the sink.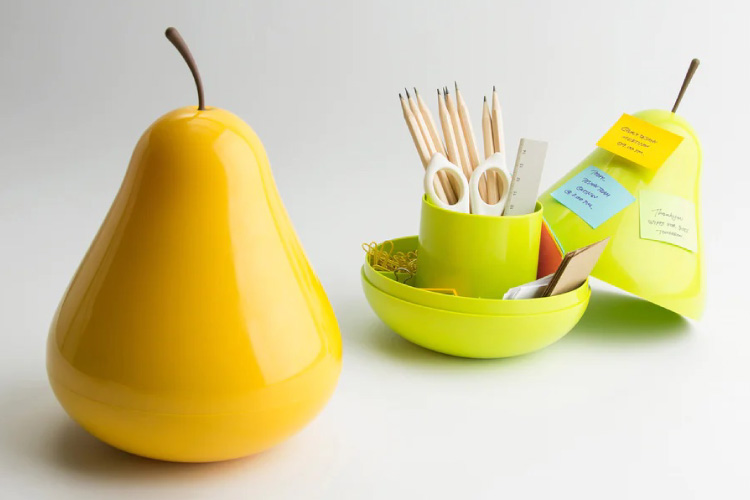 5. Pear Pod Multifunctional Desktop Organizer
This whimsical and design-forward gift is also highly functional. A triple threat! Wow fellow gift exchangers with this clever pod that disguises itself as a plastic pear but actually holds all of your desktop clutter, from pencils to paper clips. It's ideal for that friend who has yet to organize their work-from-home setup or who wants a little desktop eye candy at the office.
White Elephant Gift Ideas — $75 or Less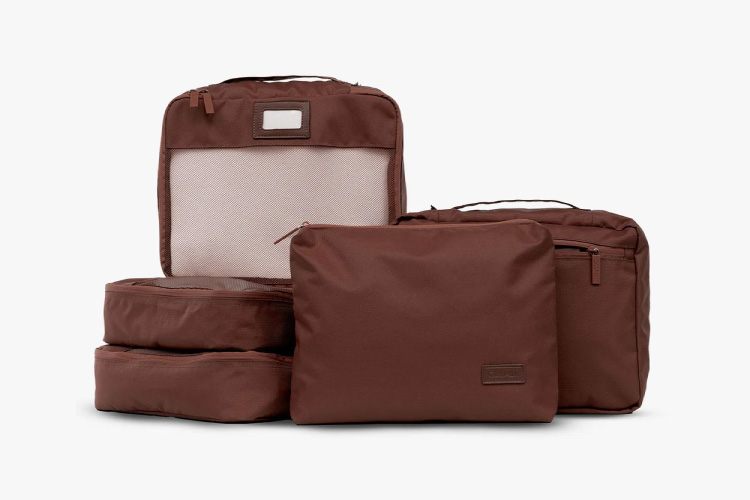 1. Packing Cubes
5-Piece Set for $68 from CALPAK
Packing cubes are one of those things that seem overhyped until you try them. Then, you wonder how you've gone so long without them. Whether going somewhere on vacation or moving homes, this five-piece set of pouches is guaranteed to save its recipient some serious packing stress.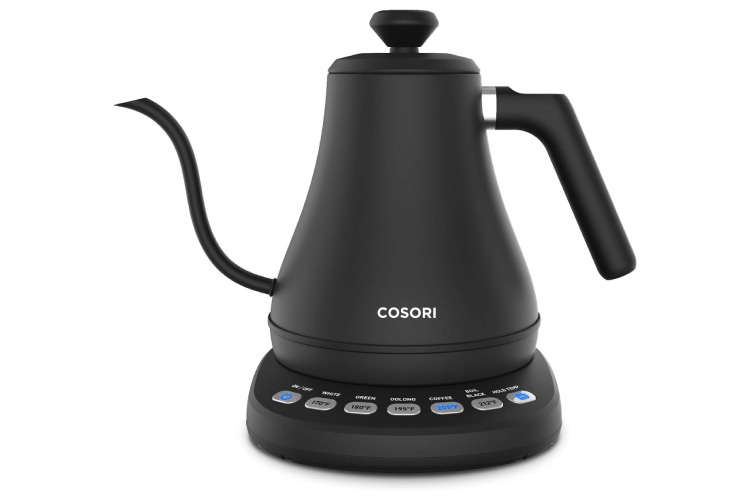 2. Electric Kettle
You know what they say about watched pots never boiling. Take the patience out of the equation with this stylish electric kettle, which has nearly 16,000 reviews on Amazon and an average of 4.7 stars. Not only does the water boil in a matter of minutes, but the "hold temp" function allows you to keep the water inside hot for up to an hour. Any coffee or tea sippers will be boiling with excitement to open this present.
3. Whiskey-Making Kit
Winter is the perfect season for a little DIY, and what's more fun than this kit for homemade whiskey? Simply start with some vodka, add your own mix of wood chips and botanicals (like cinnamon and coffee beans), wait a few weeks, and enjoy your homemade spirits.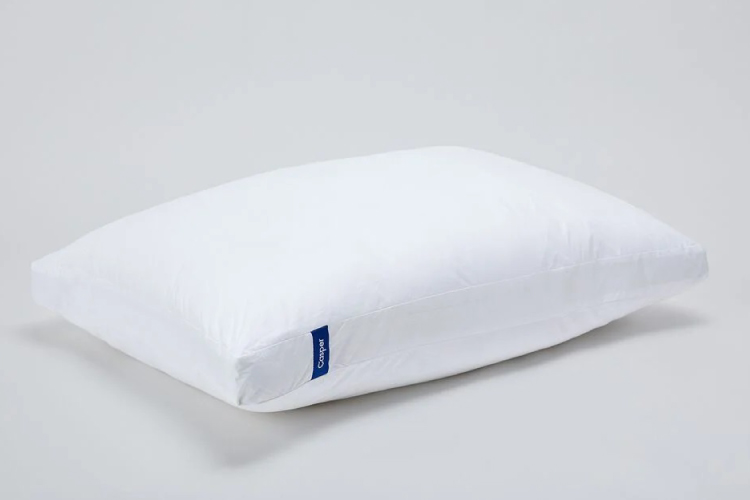 4. Original Casper Pillow
When it comes to White Elephant gift ideas, a pillow may seem like an unusual choice. But who couldn't use a better night of sleep? Reviews show that people who use this Casper love it, and whoever gets this gift will think of you fondly before they doze off peacefully each night.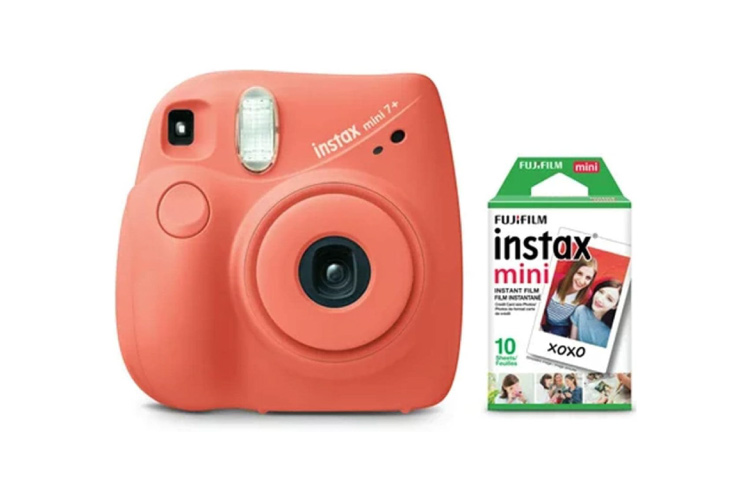 5. Instax Mini Camera and 10-Pack of Film
Given that most people have smartphones that let you take photos with just a tap, an instant camera is one of those unexpected luxuries. Snap a photo and watch a mini print slide right out, so you can capture special memories and give the prints away or display them in your home. As White Elephant gift ideas go, this one is sure to be something the giftee will use and cherish for years to come.
Q: How much should I spend on a White Elephant gift?
A: Most White Elephant gift exchanges or Yankee Swaps have a set price range to make sure everyone is gifting items of equal value, so check in with the person organizing the swap first. If you're still unsure, a good default range for a group of friends or coworkers is $10 to $25.

White Elephant Gift Ideas — $100 or Less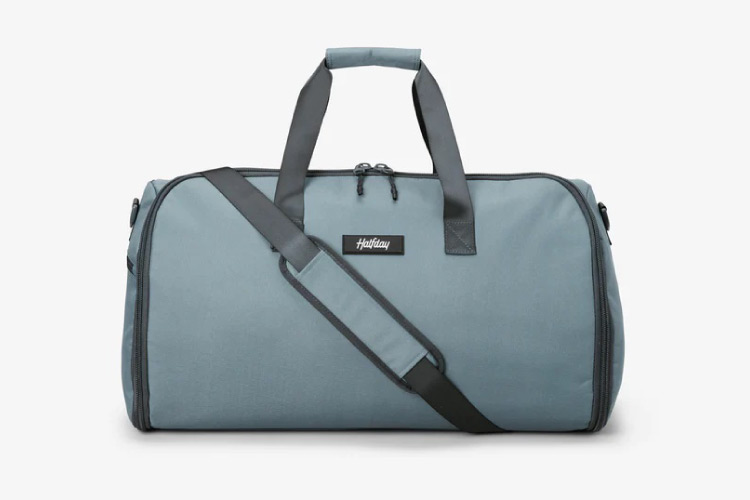 1. Garment Duffel
This garment duffel is ideal for that friend who's always got a wedding to attend, is often away on a long weekend, or is prepping for a move. It comes with a hanging compartment where you can pack a suit or dress, two shoe pockets, and a main compartment that's designed to fit three-plus days of clothes. Best of all? When not in use, the whole thing folds flat, making it perfect for apartment dwellers with limited storage space. If you're looking for moving gift ideas or gift ideas for someone moving out of state — on top of an all-around great White Elephant gift — you may want to add two of these to your cart.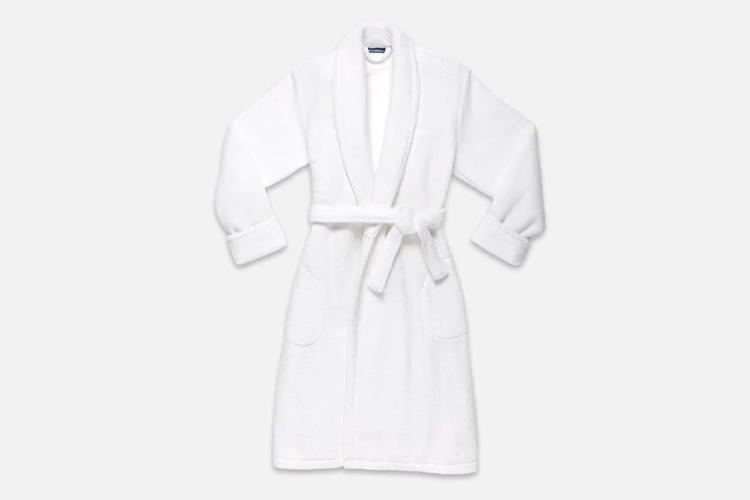 2. Super-Plush Robe
Everyone knows Brooklinen for its signature sheets, but buying sheets for a White Elephant exchange is tricky. Who knows whether they have a full or king, and what if they hate navy sheets? Instead, bring this plush bathrobe made of combed Turkish cotton to the party. You can get it in a range of hues, from a soothing eucalyptus to a lovely ocean color, but you can't go wrong with a hotel-worthy plush, white robe.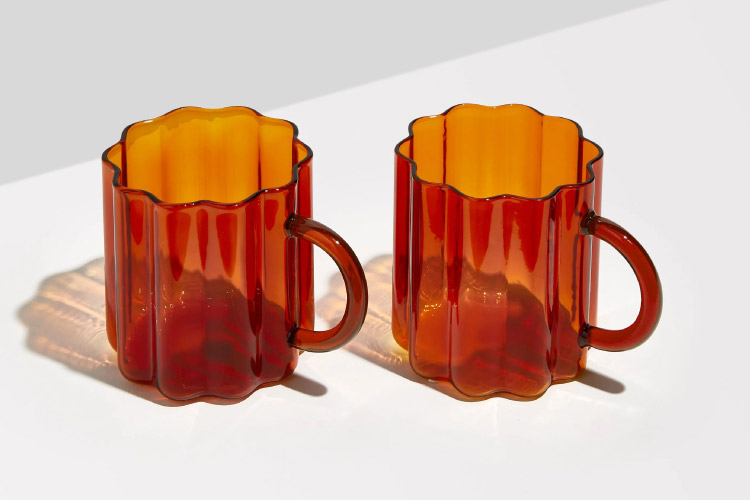 3. Wave Mugs
Set of two for $89 from Fazeek
White Elephant exchanges are often joined by some chillier weather, making a mug set a fitting gift. While everyone at the party likely already has their favorite ceramic mug, these stunning hand-blown mugs from Australian homeware brand Fazeek are sure to be unlike anything they have on their shelf. Plus, the glass they're made of is built to withstand any hot tea, coffee, or cocoa — and will make the recipient feel 100 times fancier sipping it.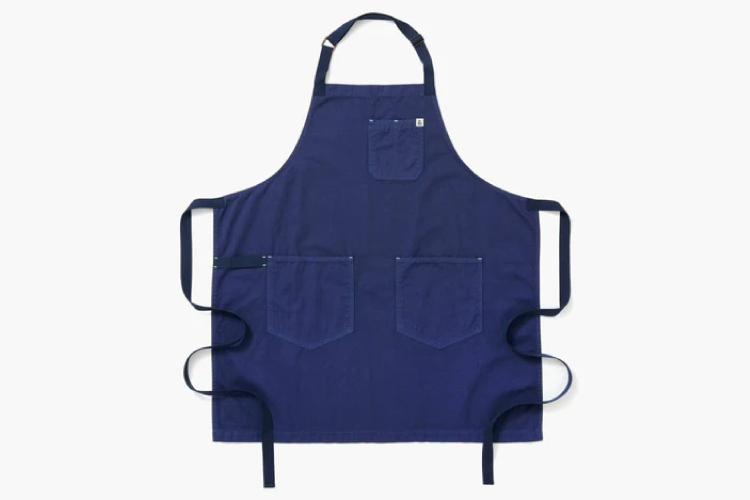 4. Essential Apron
Make anyone feel like the chef from "The Bear" with one of the highly rated aprons from Hedley & Bennett. They have pretty much every color you can imagine, so you can go for a classic French Blue or something more seasonal, like this gorgeous mistletoe print by Rifle Paper Co.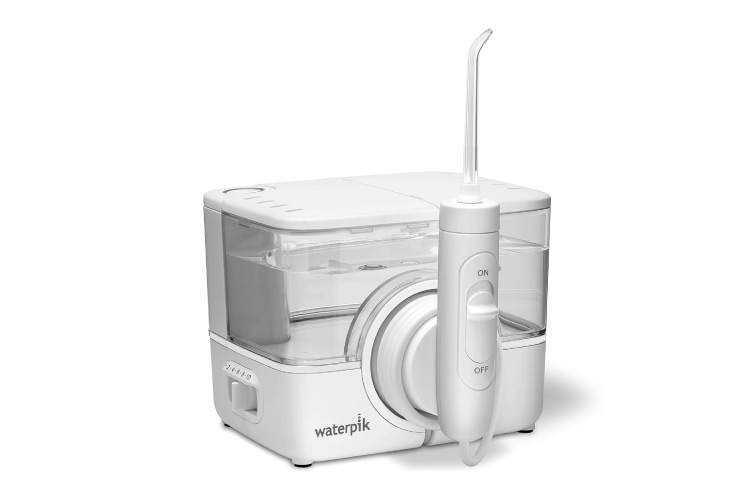 5. Waterpik Flosser
Most people don't love the dentist and want a nice, healthy smile. So a Waterpik, which lets you reach all the plaque-prone nooks and crannies between your teeth painlessly? It's a perfect present. Its price tag is a little high, but for White Elephant gift ideas under $100, it's something the lucky recipient will likely use every day, making it pretty priceless.
White Elephant Gift Ideas — Over $100
1. Bloomscape Gift Card (House Plant Delivery)
The inherently tricky (and fun!) part of a White Elephant exchange is that you don't get to pick who gets your gift. With that in mind, a gift card can be an excellent option. A gift card to Bloomscape lets the recipient pick out the house plants that suit their home, from a Peace Lily to a Bird of Paradise. It's a particularly great gift for when you're keeping in mind gift ideas for someone moving out of state, since Bloomscape lets them pick their plants and then have them delivered to their new address.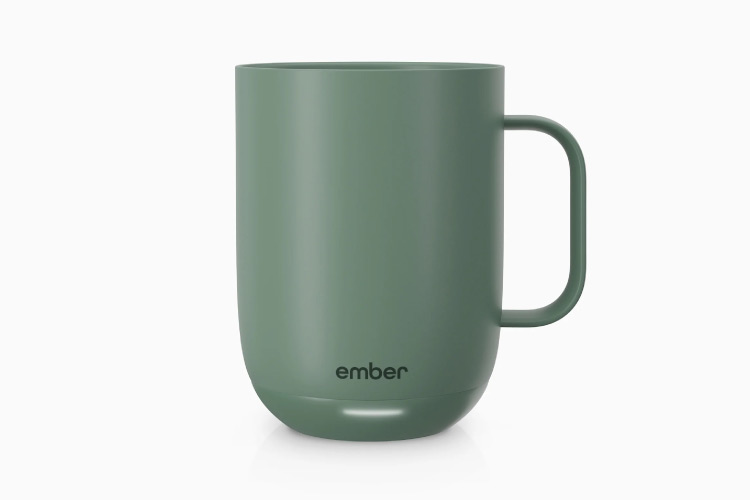 2. Ember Mug 2
This smart mug is guaranteed to be a hot ticket at any White Elephant exchange. Better than a regular old mug warmer, this sleek vessel has the heating tech built in and lets you pick the exact temperature you prefer — then keeps your drink at that ideal drinking temp for an hour and a half.
3. Sunrise Alarm Clock
This smart mug is guaranteed to be a hot ticket at any White Elephant exchange. Better than a regular old mug warmer, this sleek vessel has the heating tech built in and lets you pick the exact temperature you prefer — then keeps your drink at that ideal drinking temp for an hour and a half.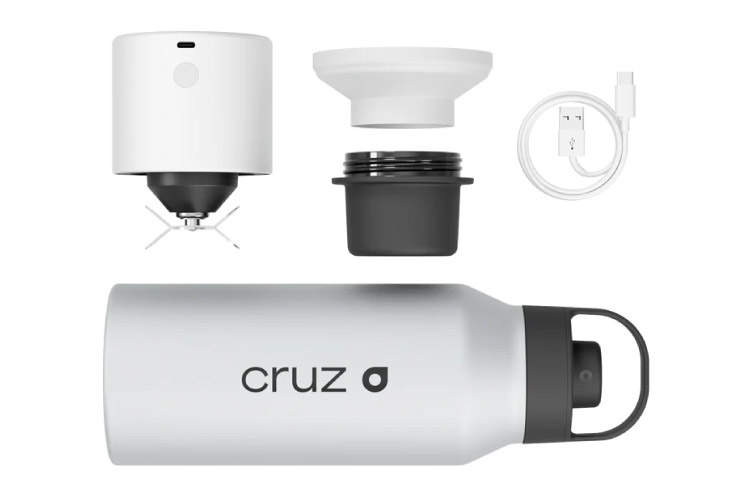 4. BlenderCap Portable Blender
The perfect White Elephant gift is one that no one has and anyone can use. Enter: This highly portable bottle with a cap that converts it to a blender on the go. Your gym-loving friend can use it for protein shakes, your friend who never misses happy hour can make frozen margaritas, and your friend who's always running late can use it for fast smoothie breakfasts. Designed by ex-Apple engineers, the motor is strong, and the battery lasts for a week, so blend away!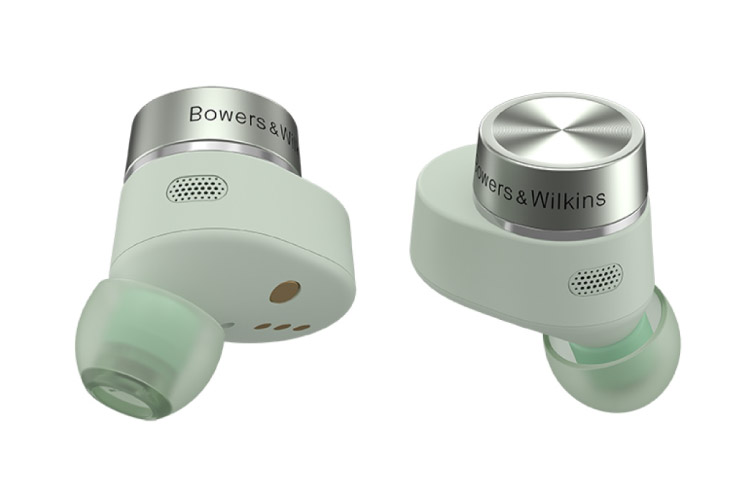 5. Pi5 S2 Wireless Earbuds
Feeling spendy? Spring for these in-ear, noise-canceling earbuds from renowned audio brand Bowers & Wilkins, which make for a luxe and useful gift for anyone who listens to music, podcasts, or audiobooks. They charge up quickly — the site says just 15 minutes of charging will keep your earbuds going for two full hours — so you can listen to music throughout a busy day without having to set aside hours for charging.
Funny White Elephant Gift Ideas
While useful and indulgent White Elephant gift ideas are all well and good, sometimes you want to bring a present to the party that's sure to score some giggles when it's unwrapped. If that's the case, check out these funny White Elephant gift ideas that are just so much fun.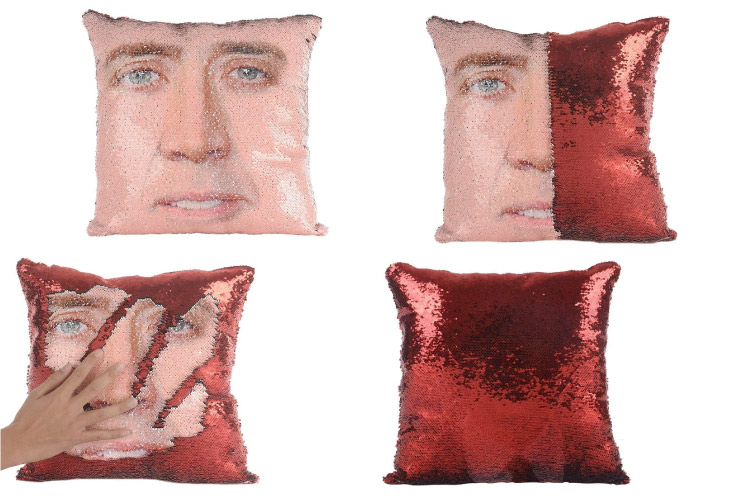 1. Nicolas Cage Reversible Sequin Pillow
One pillow for $14.99 from Amazon
Oh, okay, it's just a random throw pillow covered in red sequins. Guess again! Move your hand across the pillow to flip the direction of the sequins and reveal a haunting, hilarious close-up image of Nicolas Cage's face. Fans of "National Treasure" will be obsessed with this gift, and everyone else will get a good laugh at the big reveal of his bedazzled visage.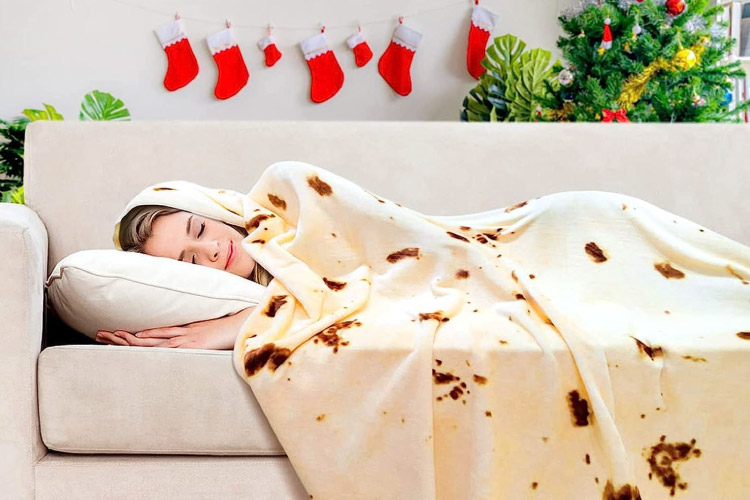 2. Tortilla Blanket
Ever want to be wrapped up like a human burrito? Boy, do we have the blanket for you! This fuzzy throw blanket is a circle of flannel fabric designed to look like a giant tortilla. If you're looking for White Elephant gift ideas under $25, this is a funny and cozy pick.
3. Lightsaber Chopsticks
If your exchange has a price limit and you're frantically Googling "White elephant gift ideas $20," try these clever chopsticks that light up like miniature lightsabers. You're not just gifting a kitchen utensil — you're giving the recipient an opportunity to embrace their inner child (and the Force) and play with their food again.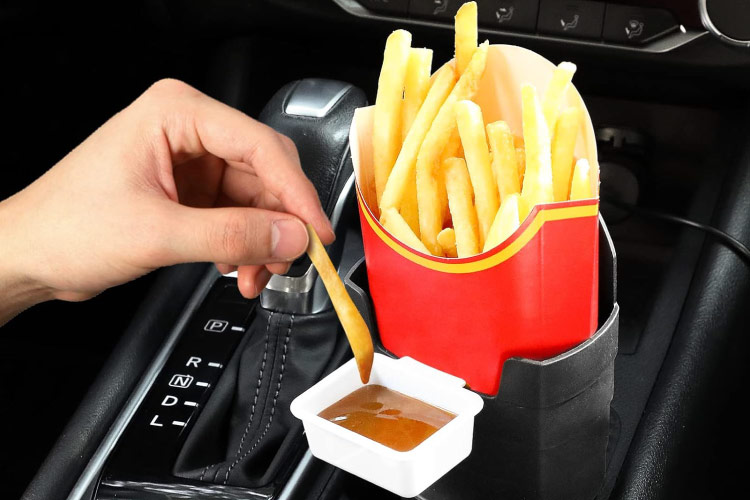 4. French Fry and Sauce Cup Holder Attachment
Sure, this may be filed under "funny white elephant gift ideas"... but isn't it kind of ingenious? Slip this bad boy into your cup holder and instantly transform it into a compartment for your French fries and dipping sauce. And lest you worry that it'll go unused by a recipient who's not buying fast food every day, the holder is also great for stashing your phone when it's not doing what it was designed to.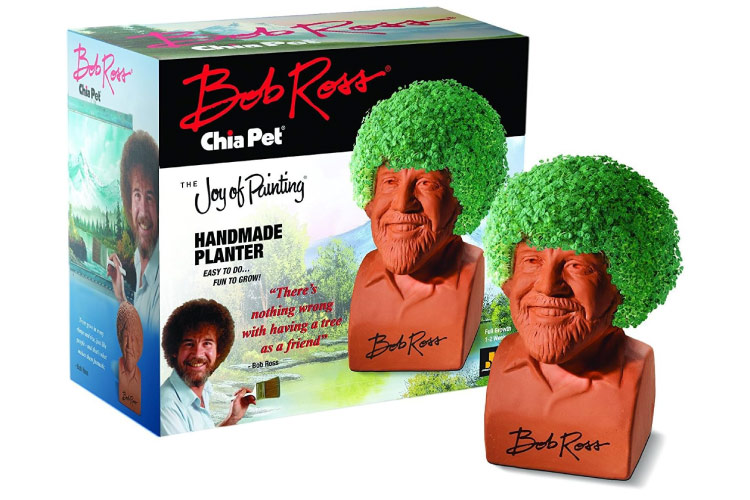 5. Bob Ross Chia Pet Kit
If you're searching for "White Elephant gift ideas $30," this plant honoring the late and great Bob Ross is an admirable pick. The gift comes with a terracotta planter shaped like the painter, so all you have to do to mimic his signature hairdo is soak the chia, spread the seeds across the surface, and watch them grow in just a handful of weeks!

And there you have it. These White Elephant gift ideas prove that you don't have to bring something completely gimmicky to still have your present be the talk of the party. And best of all, these items are all highly portable, useful, or easy to use up, meaning that they're sure to survive any holiday decluttering purge. And, even when your recipient has to pack up their home and move, they won't be a nuisance.

Planning your own move? Consider PODS storage units for a convenient way to stash your belongings in between places, or for handling your local or long-distance move.
Sofia Rivera is a Brooklyn-based lifestyle editor and frequent contributor to the PODS Blog. Her work has appeared in Boston magazine, Apartment Therapy, and more. You can most often find her redecorating her apartment, trying out a new recipe, or trekking all over the city.
Get a Quote
Choose the service you need
Comments
Leave a Comment
Your email address will not be published. Required fields are marked *