Take advantage of our limited time offer. Enter promo code GET30 to save up to 30%.
See offer details
.
Take advantage of our promotion PLUS your added benefit of 10% off transportation with your promo code.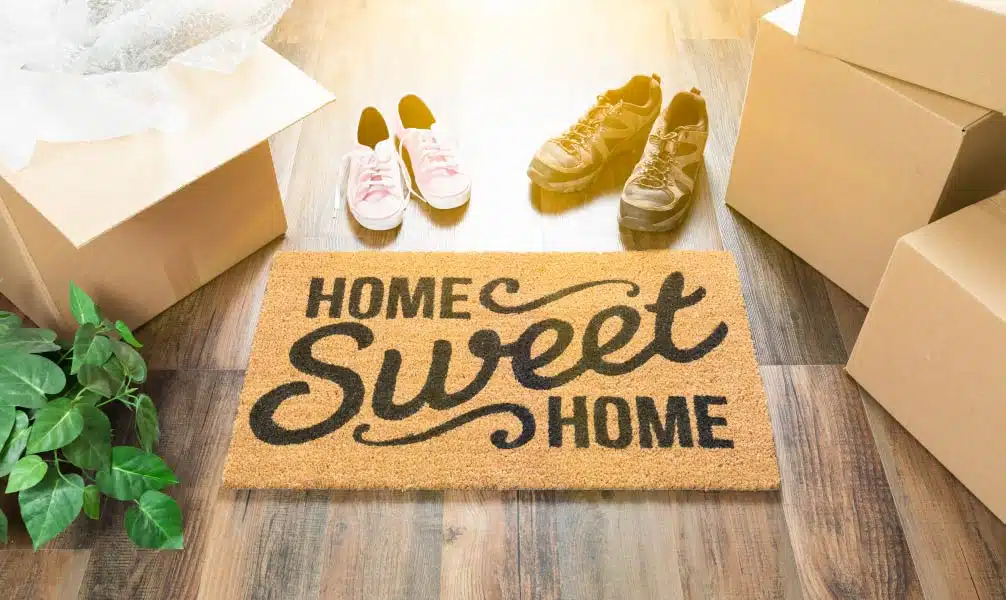 This New Home Essentials Checklist Is Made For First-Time Homebuyers
Congratulations, new homeowner! You've signed the proverbial dotted line and have officially achieved the exciting milestone of purchasing your first home. But now that the paperwork is done and the actual move awaits, your exhilaration may be morphing into anxiousness. What are specific new home essentials that I should have? Since this is my first home, should I be following a "moving into a new house checklist"? Do I need to buy all-new things?
We get it. It's natural to feel a bit overwhelmed. Setting up your first home is a lot to handle. But luckily, you've got a trusted partner ready to lend a hand (Spoiler alert: It's us, the PODS team). This first home essentials checklist breaks down necessary items room by room, so you can tick off the tasks as you go — and avoid having to ask to borrow your new neighbors' plunger. Um, no thank you.
Haven't purchased a home yet? Or still need to finalize moving details? Start here.
If you're not quite to escrow but interested in finding and preparing for your first house, you've still come to the right place. This article from the PODS blog for first-time homebuyers has 12 must-know tips on lending, location, listings, and more.
If you have the home but haven't lined up moving services yet, we've got advice for that, too. You may be weighing the pros and cons of renting your own moving truck, especially if you don't have a lot of home goods and furniture to transport.
While it's all well and good to load everything up in a truck and schlep it yourself, consider using a flexible moving option like PODS portable moving containers. You can pack and load on your own schedule with the container right in your driveway. And when you're ready, PODS will pick it up and deliver it straight to your next place, or you can keep it in a secure PODS Storage Center facility until you're ready for it. You already have enough to worry about with your first home — let PODS take this part off your plate.
What are basic house necessities?
We'll go through each major room of the home and list some essentials, but there are a few basic needs that aren't as easily categorizable, including:
___ Cleaning supplies and products
___ Smoke alarms and carbon monoxide detectors
___ Home security system
___ New door locks
___ Fire extinguisher
___ Light bulbs and batteries
___ Hammer, screwdriver, drill, and measuring tape
___ Pens, paper, and scissors
___ Flashlight
___ Blinds and/or drapes
___ Router
___ Phone chargers
___ Vacuum
___ Mop
___ Broom
Having these things on hand and completing these five new homeowner tasks will make your move-in process flow much more smoothly.
So, what essentials do you need for a new home, room by room?
Who's going to provide the toilet paper and paper towels? You are. What about a bed to sleep on and a table to eat on? Yep, everything falls on you now, homeowner. Every room in the house has its own requirements, though. Let's take a tour.
Kitchen essentials
The kitchen is often called the heart of the home. And, much like a heart, it has more than one job to do. Meal prep, congregation spot, dining area — it's the true definition of form following function. Before you give the room a modern makeover, however, start by stocking up on the basics. Unless you're the ultimate takeout enthusiast, here are everyday items you need to start cooking.
___ Silverware, dishes, cups, and mugs
___ Paper towels
___ Cooking spoons, spatulas, and whisks
___ Measuring cups and spoons
___ Mixing bowls
___ Cutting boards
___ Chef's knives
___ Metal baking sheet
___ Colander
___ Can opener
___ Tongs
___ Oven mitts and dish towels
___ Nonstick skillet
___ Frying pan
___ A set of three pots in stackable sizes
___ Spices and pantry staples
___ Garbage can and bags
Don't forget that you'll probably need some plates, silverware, cups, and paper towels the first night you're in your new home. Consider packing a small box with these types of items, so you can get through the first few days without having to sift through piles of stuff.
Bathroom essentials
Small but mighty, the bathroom needs more than just some towels and toilet paper. Be prepared for any hygiene need or minor emergency with the following items.
___ First aid kit
___ Medicine
___ Bath mats
___ Toiletries
___ Hamper
___ Shower curtain and liner
___ Toilet scrub brush
___ Trash can
___ Towel bars or racks
___ Plunger
___ Drain snake
Like the kitchen, some of these items may be needed soon after you move in (looking at you, toilet paper). We recommend setting some toiletries aside in a clear box so you can easily grab it on moving day.
Bedroom essentials
The spot for rest and relaxation, your bedroom doesn't need much to get started, but it does need a few comfort staples. After all, moving is tiring work. You'll want a cozy place to lay your head when the day is done.
___ Box frame
___ Mattress
___ Sheets and pillowcases
___ Blankets and a comforter
___ Pillows
___ Nightstands and lamps
___ Hamper
___ Clothing hangers
Living room essentials
While this room will probably get the most use, it's not imperative that you set it up immediately. After you get your kitchen, bedroom, and bathroom established, you can start thinking about your entertainment area.
___ Television
___ Sound system
___ Lamps
___ Coffee table
___ Sofa
___ Additional seating
___ End tables
___ Area rug
Dining room essentials
Now it's time to start stocking the other rooms of your new home. If your house has a formal dining room or breakfast area, you may want to include the following pieces.
___ Dining room table
___ Chairs
___ China cabinet
___ Table linens
Home office essentials
With many of us working from home these days, it's more important than ever to have the remote office ready to handle basic business functions.
___ Desk
___ Chair
___ Bookcase
___ Laptop or computer
___ Printer, ink, and paper
___ Notebooks
___ Pens
___ Reading lamp
___ Extension cords and chargers
If you don't have a room free for your home office, you can still set up an area in your home to get the job done — literally. The PODS blog has some tips for creating an efficient space (no matter your home's size) that's not only functional but aesthetically pleasing.
Guest bedroom essentials
One of the best parts about buying a new home? Using it to host others. Make your guests feel extra welcome by having some of the comforts of home on hand.
___ Bed and mattress
___ Pillows and blankets
___ Bedside table and lamp
___ Dresser
___ Television
___ Hangers
___ Chair
___ Robe
___ Slippers
___ Travel-sized toiletries
When it's all said and done and almost all of your rooms are in order, it's time to experience that pure joy we referenced earlier in the article. While there may be more real estate moves in your future, there will never be another first home. Take some time to soak in the memories and enjoy the moments to the fullest.
---
LB Gabriel is a freelance writer who lives with her husband, daughter, and Golden Retriever in Memphis, TN. A frequent PODS blog contributor, she's a sucker for any tip she can find on downsizing, cutting clutter, or minimalist living. When she's not on a deadline, you can find her on a tennis court or golf course.
Get a Quote
Choose the service you need
Comments
Leave a Comment
Your email address will not be published. Required fields are marked *