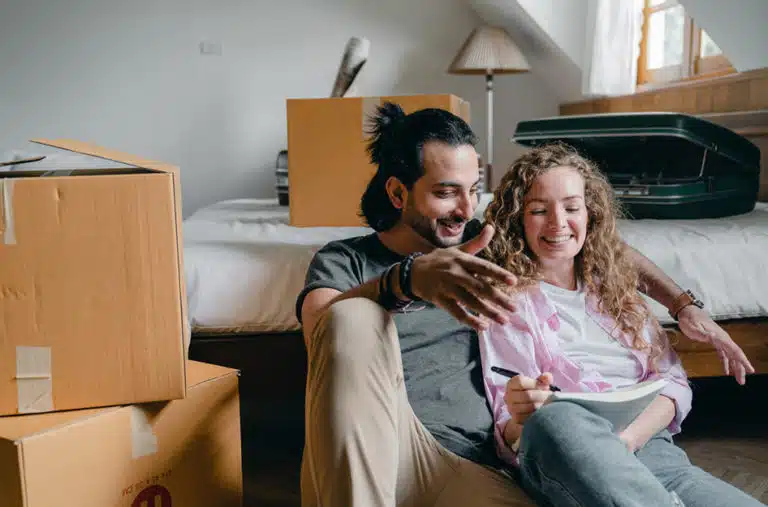 Moving Across State Lines? You Need This Moving-Out-of-State Checklist
Moving out of state and experiencing mover's block? You know, like writer's block? You may be suffering from productivity paralysis. That's when you have an incredibly long to-do list and your brain is moving at warp speed, but your body isn't springing into action. This usually happens when there's so much to be done, you don't know where to start. It's totally understandable — moving is overwhelming under the best of circumstances. Add some distance to the move and you're adding even more stress. And that's where a moving-out-of-state checklist (which does double duty as a cross-country moving checklist, if you're going from one coast to another) comes in handy. Forget frantically disassembling furniture and wondering what you forgot to coordinate, and check off these boxes (not cardboard ones, blissfully) as you go.
Want to know how to move out of state, manage to keep your cool, and keep things moving (in more ways than one) at the same time? Take advantage of this moving-out-of-state checklist.
1. Make a Moving Budget
Let's address the hard truth head-on: Moving out of state is going to cost some money. But it doesn't have to break the bank. If you're moving because of a job opportunity, ask if your new employer offers relocation assistance. If that's not an option, there are still plenty of ways to save. One of the best is deciding on a budget and keeping track of expenses.
How much should you budget to move out of state? That depends on several factors, such as how far you're actually moving and how large your household is. Start by making your own smaller checklist for moving out of state by listing everything you'll personally need to make the move — a moving company, packing supplies, car shipping, transportation, house cleaning services — you get the point. Then write down estimated costs for each.
Need help finding those figures? The PODS Blog has some sample costs you can use. Once you see the expected move price, decide on a comfortable monetary range for your long-distance move. Reference this range any time you receive a quote, but keep in mind what time of year you're planning to move and the current state of the housing market. Those factors can certainly cause prices to fluctuate.
Q: How much money should you save to move to another state?
A: The costs of an out-of-state move can vary greatly, depending on the distance of your new home and whether you choose to DIY your move or hire professional movers. Prices also depend on time of year, the company you hire, and extra costs, like shipping your car or investing in packing supplies. If you're looking for a ballpark, though, PODS estimates that for a move from New York to Los Angeles, full-service movers will cost between $4,000-$8,000, while moving with PODS will cost around $5,600-$6,600, and renting a truck yourself would land you in the range of $2,200-$3,200.
2. Get to Know Your New Community
We're going to assume you've already found your new residence, but you may not know the lay of the land quite yet. And though your new home may be too far for a pre-move exploration trip, there are plenty of ways to start getting acquainted from afar using Google, maps, online forums, and your personal network. Whether you're looking for new schools or just a great new coffee spot, here are some ways to get to know your new city:
Join a neighborhood social media group.
Use an online educational resource like Niche to research school options.
Check out the average temps. You may find that you need snow tires, hurricane glass for your windows, a professional mosquito service, etc.
See what stores and shops are located in your close vicinity. Getting to an empty house and having an empty stomach can be tough. Find a place where you can get a quick meal and some groceries.
Find new medical providers in your area. One day, you'll need that doctor, dentist, pediatrician, or vet. Have some names ready when the time comes.
Note typical traffic patterns. If you're commuting to a new job, find out how long it will take to get there or if there's public transit available.
3. Research the Best Out-of-State Moving Companies
When you're trying to stick to a moving budget, it can be tempting to explore DIY options, not only because they save time but because they add flexibility, since you're in control of the schedule. While this may end up being the cheapest way to move out of state, if you're not an experienced rental truck driver, if you're unable to lift heavy objects, or if you're simply not comfortable personally transporting your things safely across state lines, the money you save on the front end may be spent on the back end making up for damaged goods, car issues, etc. Sometimes spending money on professional moving help can actually save you money in the long run.
Plus, not all professional movers have strict timeline requirements. Choosing a flexible moving company like PODS can make all the difference. You can have your container delivered right to your driveway weeks before you make your move, allowing you to pack and load at your own pace — and avoid the stress of a rushed move. And you won't have to worry about driving an unwieldy moving truck through unfamiliar highways either. PODS will pick up the container and deliver it to your new home, whether that's two states away or across the Pacific in Hawaii. Wherever your move takes you, PODS has you covered.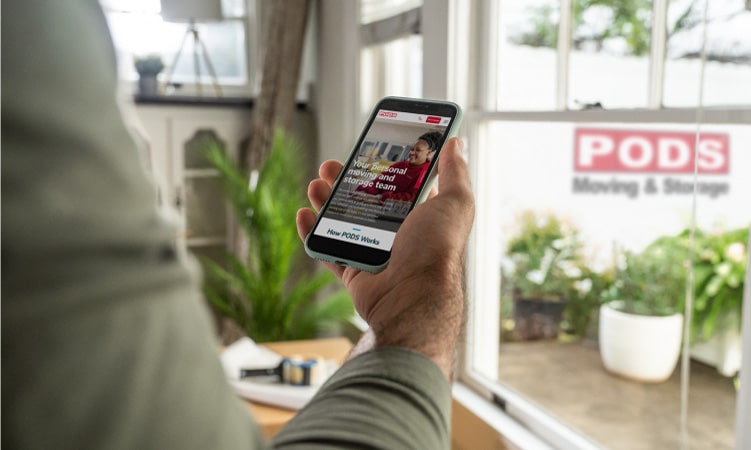 4. Order Moving Supplies
Ok, it's almost time to start packing. But first: packing supplies. You're going to need boxes — lots and lots of boxes — plus tape, markers, blankets, and bubble cushioning rolls. Check your local neighborhood social media groups to see if anyone has recently made a move and can spare some extra supplies. You'll probably still have to order some of your own, though. Save yourself a trip to the store and the convoluted calculation of how many boxes you actually need by taking advantage of PODS Boxes. Simply pick the kit that suits the size of your move and have the right amount of boxes (a mix of small, medium, and large), plus a marker and roll of tape, delivered to your doorstep. Shipping is fast and free, making "get boxes" an easy item on your to-do list to check off.
5. Cut the Clutter
Packing isn't the most enjoyable activity. We get it. But what makes it worse is loading something up only to get it to your new home and never use it — or maybe to never even unpack it. Right now, before you start putting things in boxes, is the perfect time to do a major home cleanout.
Uh oh! Is productivity paralysis kicking in again? Use this simple decluttering guide to snap out of it. Avoid overwhelm by starting small — instead of going through your entire office at once, focus on just the desk drawer. If you're dreading the mountain of clothes in your bedroom or pots and pans in your kitchen, the bathroom can be a satisfying place to start your decluttering process, as it's typically smaller and filled with less sentimental clutter than other spaces. Once you polish off the bathroom, you can keep that inertia going throughout your home. 
Q: Want to know what to get rid of when moving states?
A: There's no golden ratio for how much donating and decluttering to do before a big move, but chances are, you don't need to pack up every single thing you currently own. Whether you're moving to a new climate or smaller home, or simply have accumulated a lot of stuff while living in your current place, you likely have some decluttering to do. Carefully comb through all of your drawers and closets and toss anything you no longer need: clothes that don't fit anymore, knickknacks that don't spark joy, excess plastic food containers, bulky single-purpose furniture, expired medicine — the list goes on.
6. Pack Early and Often
It's tough to know where to begin when it comes to packing. While it's tempting to start with the easy items, like clothing or books, that may not be the best strategy. It helps to have a plan so you can fight packing fatigue and burnout. The PODS Blog has some packing recommendations for turning this burdensome chore into a task you can easily (ok, somewhat easily) tackle. Make a packing checklist (lists are hugely helpful in staying organized during an out-of-state move, if you couldn't tell) where you detail all the rooms and categories that need boxing up, and work your way through methodically. Pro tip: Keep your clothing on the hangers and in the dresser drawers — you'll arrive with mostly unwrinkled garb and save yourself the job of refolding on the other end of the move!
Q: What items are not worth moving?
A: Besides getting rid of broken, unused, or unwanted items, it's a good rule of thumb not to pack perishable goods, papers that don't contain important information, used toiletries, expired medications, outdated electronics, and old cleaning supplies. 
7. Set Up Utilities, Mail Delivery, and Other Key Services
Not only will you need to schedule a disconnection date for your current utilities, internet, cable, and other services, but you'll need to set them up at your new home, as well. You'll also want to file a change of address with the U.S. Postal Service.
Other paperwork that will need to be addressed or updated includes:
Insurance
Car titles
Driver's license
Credit cards and other non-electronic billing
8. Confirm Details With Your Moving Company
As you get closer to your move date, check in with your moving company to finalize dates and other important information. Make sure you have everything prepared for the actual move day, including making space for the truck and pathways for moving large pieces of furniture. The more prep you can do beforehand, the less frantic things will feel on moving day.
9. Make Travel Plans
If you're moving a considerable distance, you may want to consider flying to your destination and having your car professionally shipped versus making a long road trip yourself. Professional car shipping not only saves time, it cuts stress. Calculate whether you may need to make plans for temporary accommodations if your home won't be ready for you to move in when you arrive (particularly for renters — getting leases to match up exactly can be tricky). Make a reservation for a hotel or longer-term homestay as far in advance as possible to avoid last-minute price surges, or, better yet, tap your network to see if you have a friend or family member you can stay with for a short time.
10. Practice Self-Care
Once that productivity paralysis is gone and you're flying through your to-do list, it can be tough to slow things back down and take a break, but working non-stop eventually leads to an energy crash and mental fatigue.
Don't forget to take some time for yourself through this out-of-state moving process. Whether it's putting a pause on the packing for a long walk or making dinner dates with friends, find ways to take care of yourself along the way. Remember: It's a journey. Make yours one to remember in the best way possible.
11. Say Your Farewells
While it may seem low on the list of priorities alongside all of the packing and scheduling you have to do, you'll thank yourself for putting goodbyes on your moving-out-of-state checklist. Think about the things you've loved about living in the state, in this neighborhood, and in this home. Is it the local park, coffee shop, the public library, or the window seat in your living room? Take a trip to those places specifically to say your goodbyes, whether that means sitting on a park bench and really appreciating the view one last time or tipping your barista extra well and letting them know you're moving. Though you're likely to see friends or family close to your move date (they may even be the ones helping you pack up), as it gets down to the wire, you'll want to make sure to have some quality time with the people in your life. If you'd rather say all your goodbyes at once and with some flair, you can even throw a final dinner party — with pizza and paper plates to avoid undoing any packing, of course.
---
LB Gabriel is a freelance writer who lives with her husband, daughter, and Golden Retriever in Memphis, TN. A frequent PODS Blog contributor, she's a sucker for any tip she can find on downsizing, cutting clutter, or minimalist living. When she's not on a deadline, you can find her on a tennis court or golf course.
Get a Quote
Choose the service you need
Comments
Leave a Comment
Your email address will not be published. Required fields are marked *