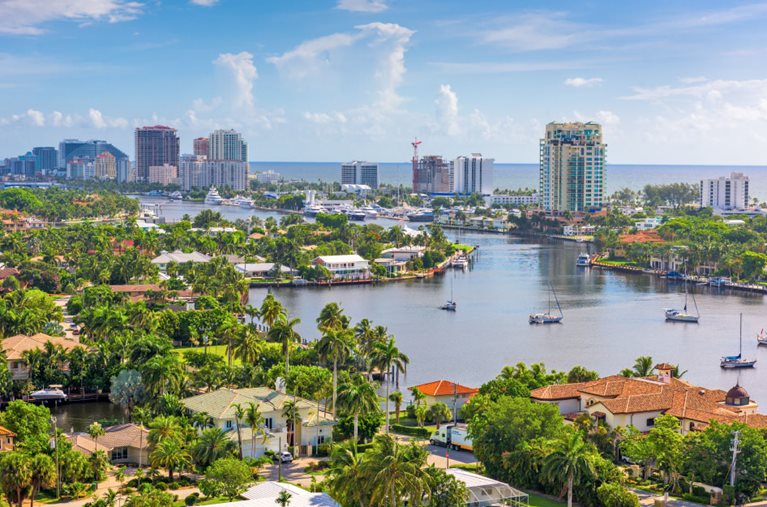 Find Your Piece of Paradise in One of the 12 Best Fort Lauderdale Neighborhoods of 2023
Living in a coastal city comes with its fair share of perks, and you can certainly expect to take advantage of them while living in Fort Lauderdale! With everything from world-class beaches, a diverse economy, and a wide variety of entertainment/dining options to easy access to other parts of the South Florida area, it's no wonder residents enjoy living in the best Fort Lauderdale neighborhoods.
Another factor that makes Fort Lauderdale such a desirable place? The real estate market. You will find everything from luxurious waterfront homes to more affordable single-family houses and condos.
Fort Lauderdale's average home value is $525,900, which is high compared to the national average of around $348,900. Many factors play into this more expensive value, however, such as the abundance of waterfront homes in the area and access to tourist attractions. The average monthly rent for a one-bedroom apartment in Fort Lauderdale is $2,700, while the national average is $1,700.
Q: Is it better to live in Miami or Fort Lauderdale?
A: Both Miami and Fort Lauderdale are gorgeous waterfront cities with great dining scenes, diverse communities, and endless fun activities. However, you will find more affordable housing options in Fort Lauderdale, along with less congestion and a more relaxed lifestyle.
Best Fort Lauderdale Neighborhoods
No matter your age or demographic, there's a Fort Lauderdale neighborhood to suit your lifestyle. From quieter beach areas to neighborhoods with vibrant nightlife and party scenes, we've laid out 12 of the best you can find.
Q: What is the nicest part of Fort Lauderdale?
A: With all of its luxurious amenities, Harbor Beach is considered one of the nicest parts of Fort Lauderdale.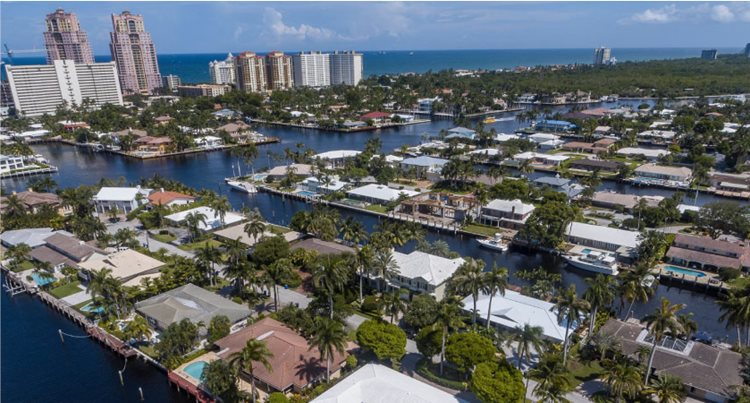 1. Coral Ridge
Like most of the east neighborhoods in Fort Lauderdale, Coral Ridge features a variety of different homes, ranging from townhomes and condos to more upscale waterfront properties. Coral Ridge, Fort Lauderdale, is considered a great place to live for families, as the local schools are some of the top-rated in the South Florida area.

The neighborhood features a gorgeous community park and great lanes to bike along Bayview Drive. Not only is this neighborhood a short distance from Fort Lauderdale Beach, but it's also in close proximity to other attractions, like the Broward Center for the Performing Arts.
2. Colee Hammock
Colee Hammock, Fort Lauderdale, is a waterfront community filled with luxury homes — perfect for an upscale lifestyle. It's close to Fort Lauderdale Beach and is just minutes away from restaurants and shopping on Las Olas Boulevard. The area is also a short drive to Fort Lauderdale Airport.
Homes for sale in Colee Hammock are categorized into three types: single-family homes, luxury condominiums, and townhomes. This area is known for its Old Florida charm and has plenty of oak tree-lined streets, and the historic New River is also nearby, giving you easy access to different water activities.
3. Lauderdale Isles
Each isle in this south Fort Lauderdale neighborhood leads right to the historic New River, meaning residents always have easy access to the water. It's a close-knit area full of people who enjoy a casual waterfront lifestyle. It's also close to the local airport, Fort Lauderdale's downtown area, and the cruise ship hub at Port Everglades.

A quick stroll away is the popular Secret Woods Nature Center, which features a variety of nature trails. Children and adults can enjoy a variety of educational programs that the center hosts year-round.
4. Victoria Park
Old Florida charm is evident in Victoria Park, Fort Lauderdale, which features a mix of modern and traditional single-family houses and townhouses. This area is known to be quite LGBTQ-friendly, and you can learn about the community's history at the Stonewall National Museum, Archives, & Library.
There are a variety of fun things to do in this area, as well, like catching a show at The Parker Playhouse; playing with your pets at the dog park or paying a visit to the dog beach; and even getting involved with the art scene by visiting ArtServe.
5. Rio Vista
Situated south of Downtown, Rio Vista, Fort Lauderdale, is an ideal location for those who love to boat. In fact, its name even translates to "river view" in Spanish! Its eastern section is filled with waterfront homes that provide families with easy access to the river, and it's one of the safest neighborhoods in Fort Lauderdale.

Rio Vista's dining scene also has many great options. Whether you're craving Korean BBQ, pizza, tapas, or pasta, you'll be able to easily find it (and more!).
6. Tarpon River
Tarpon River is recognized for its affordable housing options that include a variety of waterfront single-family homes, condos, townhomes, and apartments. This neighborhood has quite the urban feel, too, with lots of restaurants and coffee shops — Wells Coffee Co. is a local favorite!
Despite the bustling atmosphere, Tarpon River also maintains several relaxing green spaces for parents, kids, and dogs to enjoy. This neighborhood also provides easy access to both Downtown Fort Lauderdale and the beach.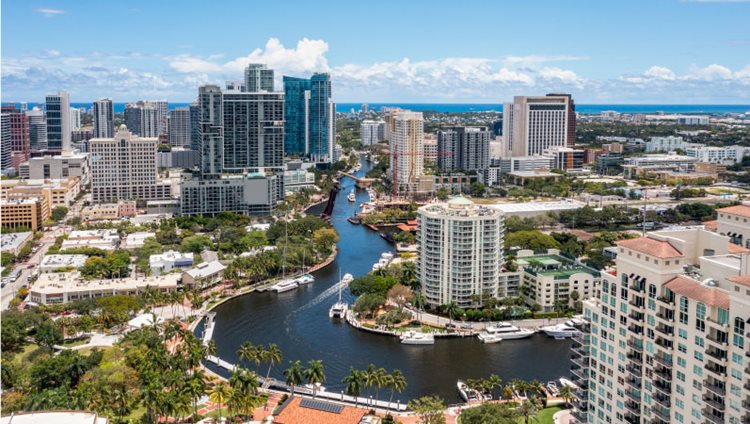 7. Sailboat Bend
Sailboat Bend is quite the interesting area, as it's one of the oldest in the city. Its easy access to the city's parks, museums, and concert venues make it a great place for anyone to settle down. The Wharf Fort Lauderdale is also nearby and hosts plenty of events throughout the year.
New River also runs through the area, meaning water activities are always nearby. The central business district of Fort Lauderdale on Las Olas Boulevard is also easily accessible.
8. Imperial Point
Located in Fort Lauderdale's northeastern section, Imperial Point is a community filled with active residents and great schools. The neighborhood was first developed in the 1960s, and over the years, it's continued to grow and attract people of all ages.
In addition to regular events, such as car shows and festivals, the Imperial Point Association also hosts other annual activities, like the Uptown 5K on the Runway. Its members work to maintain the area's public spaces and promote safe and clean streets.
One of the area's most popular parks is Dottie Mancini Park, which is situated near the Imperial Point Hospital. The park features various activities for children and adults, such as a basketball court, a playground, and picnic tables.
9. Flagler Village
Situated along US Route 1 and Sunrise Boulevard, Flagler Village (previously known as Flagler Heights) is a walkable community full of bars, restaurants, and art galleries — perfect for young professionals. This area used to be a warehouse district, and it has since become a vibrant community with a variety of exciting restaurants and nightlife. Residents can enjoy authentic Cuban food at 925 Nuevos Cubanos, then head to the Glitch Bar afterward to play some old-school arcade games and enjoy the nightlife scene.
Even though it's located in Fort Lauderdale's urban core, Flagler Village still has easy access to Holiday Park, which features green spaces and facilities like a dog park, picnic areas, and sports fields.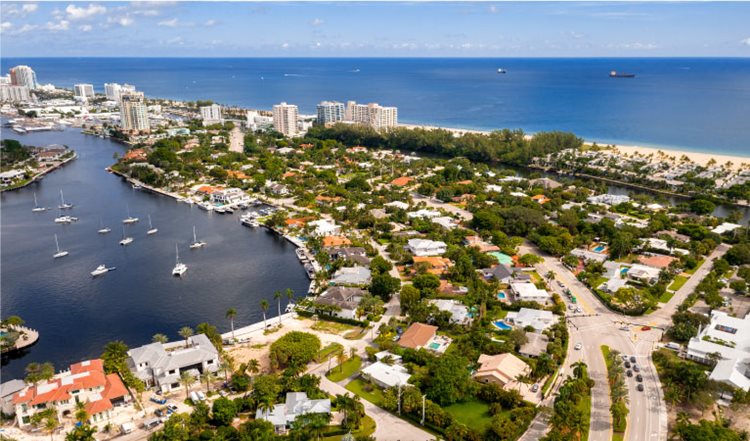 10. Harbor Beach
Harbor Beach is a well-established community capable of giving its residents the best of both worlds with its private beach and resort-style living. It's also safe for residents of any age, as it's protected by a guarded gate 24/7.
There's also easy access to Lake Sylvia and Fort Lauderdale's beaches. The Club at Harbor Beach — a part of Harbor Beach MarriottⓇ Resort & Spa — is an upscale gathering place that provides its residents with a private beach and various other services. Some of these amenities include a high-end fitness center, tennis courts, and kids' activities. The club also hosts various social events throughout the year.
11. Central Beach
Central Beach is a great location for people looking for a neighborhood that's both convenient to get around and has a beautiful oceanfront — right on the Atlantic.
Central Beach has more than that to offer, though. Some amenities include the International Swimming Hall Of Fame and the historic Bonnet House Museum & Gardens. There is also a flourishing dining scene. We recommend checking out Casablanca Cafe — a local favorite!
12. Lauderdale Beach
Located between Central Beach and Lauderdale-by-the-Sea, Lauderdale Beach is a popular neighborhood with plenty of amenities. Residents are situated near a variety of shops and restaurants mere steps from the Atlantic Ocean. If you're looking for great bites, we recommend Smoke BBQ or La Dolce Vita's Italian fare.
And while most of the housing available in Lauderdale Beach is made up of high-rise condominiums, single-family homes are still available.
Q: Is Fort Lauderdale a good area to live in?
A: From tight-knit and friendly communities to endless restaurants, beaches, shops, and fun things to do, Fort Lauderdale is a fabulous place to live.
Plan Your Fort Lauderdale Move With PODS
If you're looking for someone to help with your move to Fort Lauderdale, look no further than PODS. They can provide you with a portable storage container where you can pack your belongings on your own time, and they'll pick it up and deliver it to your new residence once you are ready. And the best part? One month of storage is included in every move!
Editor's note: For ease of reading, monthly rental prices were rounded to the nearest $25 and home values were rounded to the nearest $100.
Get a Quote
Choose the service you need
Comments
Leave a Comment
Your email address will not be published. Required fields are marked *