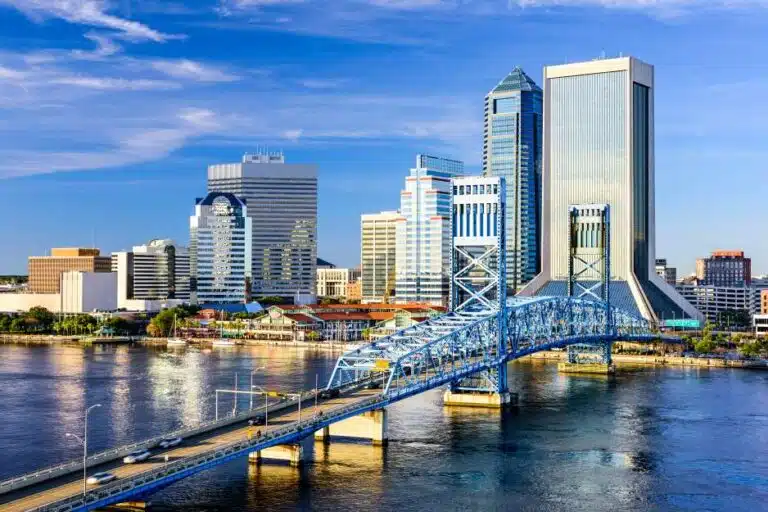 15 Things to Know About Moving to and Living in Jacksonville, Florida
So you're thinking about moving to Jacksonville? Whether you're relocating for a job or looking for better weather, you're probably wondering what to expect from living in Jacksonville, Florida. Its reputation for hot summers, picturesque shores, and sprawling geography might precede it, but there's so much more to this beach-blessed city than meets the eye.
Living in Jacksonville at a Glance:
For a high-level look at the city you may soon call home, take a virtual tour through this aerial video.
As lovely as all that sunshine may be, moving to the geographically largest city in the contiguous U.S. can sound a little overwhelming. How is one supposed to figure out where to go for dinner, what there is to do for fun, which beach to visit on the weekend, how long their commute will be on Monday, and what the pros and cons of living in Jacksonville are? Luckily, we've done some of the groundwork for you by breaking down the top 15 things to know about living in Jacksonville.
1. Jacksonville Has a Low Cost of Living for a Big City
The average home value for a Jacksonville home is around $295,200, while the average home value for a home in Miami is $549,450, according to Zillow
The average monthly rent in Jacksonville is $1,550, and the average size is 975 square feet. In Miami, that goes up to $2,450 for 891 square feet, according to RentCafe. Less money for more space, anyone?
The cost of living in Jacksonville is 6% below both the state and national average
2. The Price is Right
When it comes to buying real estate in Jacksonville, if you're moving from another major city, you're likely to be pleasantly surprised by the affordability. The cost of housing is a solid 6% below the national average, and as a result, more than half of residents own homes. Even though it's one of the state's most bustling metro areas, you can score three bedrooms and a yard within shouting distance of a beach.
3. Jacksonville Rentals Are Easy to Come By
About 44% of city dwellers opt to rent apartments in Jacksonville, so the inventory is there for newcomers looking to rent. With an average monthly rent just over $1,500, that cost is just over $200 below the national average of just over $1,700. Like any city, prices vary from neighborhood to neighborhood. For affordable apartments, look in areas like College Gardens or Grand Park. For more luxurious accommodations, focus your search in enclaves such as Isle of Palms or Beach Haven. And as a general rule of thumb, keep in mind that you'll have to fork over more to live near the beach than on the outskirts.
Moving to Jacksonville from Miami? Compare moving costs for rental trucks, full-service movers, and portable containers. To get a personalized moving quote on local moves visit PODS.com, or call 855-706-4758 for long-distance moving.
4. Jacksonville Beach is Just One of Many Jewels Along the Atlantic Shore
Did you know Jacksonville has the most shoreline of any other city in the U.S.? And, on top of claiming 80,000 acres of green space and one of the largest urban park systems in the country, it's also home to 22 glorious miles of sandy beach, according to Visit Jacksonville, the official source on area travel. Here are five of its best:
Jacksonville Beach
Paddle out to "the Poles" for adrenaline-pumping surfing, stroll along the nearly quarter-mile-long Jacksonville Beach Fishing Pier, or enjoy the salty air while dining at the waterside cafes.
Neptune Beach
This suburban stretch speaks to the beach bum who wants to relax with a summer read all day and catch an epic sunset at night.
Ponte Vedra
Calling all beachcombers and golfers! Located just outside Jacksonville in St. Johns County, this coastal locale is known for its massive dunes and coveted golf courses.
Atlantic Beach
Just north of Neptune Beach, visitors from near and far flock to this shore to bike, surf, swim, and simply soak up the sun.
Little Talbot Island State Park
Get away from all of the touristy hubbub at this idyllic barrier island, where explorers can birdwatch, sunbathe on the white sand beach, marvel at the driftwood sculptures of Boneyard Beach, hike, and even camp overnight.
5. The Best Places to Live in Jacksonville include Orange Park, San Marco, and Southside
Orange Park
Forty minutes south of downtown, you'll find a rural retreat from the city center. Home to the Naval Air Station and properties with spacious yards abutting large swaths of woods, this neighborhood is ideal for families.
San Marco
Modeled after the Venetian locale of the same name, San Marco exudes Italian charm. Embrace the culture by popping into one of the artsy boutiques and charming bistros. And don't forget to snap a photo with the iconic Three Lions fountain.
Southside
Head to this residential area to settle into a starter home and take advantage of the good schools nearby. More recent development has brought plenty of entertainment and dining options, not to mention two shopping malls.
Of course, with more than 500 neighborhoods to consider, those moving to Jacksonville, Florida, have more than enough options. Here are 10 other areas to check out:
Northside
Riverside
Ortega Forest
Sandalwood
Oceanway
Deercreek
Isle of Palms
Cobblestone
Secret Cove
The Beaches: Atlantic Beach, Jacksonville Beach, Neptune Beach
Read more: Our guide to the 10 best neighborhoods in Jacksonville, Florida
Q: Is it expensive to live in Jacksonville, Florida?
A: The cost of living in Jacksonville, Florida, is actually 6% below the national average! So if you're moving from another major city, you'll likely notice you're saving some cash on rent and basic expenses. If you're moving from elsewhere in Florida, chances are you'll still pocket some savings — the cost of living in Jax is also 7% lower than the state average.
6. You'll Find Four of the State's Top High Schools Here
Per U.S. News & World Report's ranking of the nation's best schools, Jacksonville is home to several of the state's top institutions — six Jacksonville schools scored within the top 50 Florida institutions. The highest-ranking Jax school, Stanton College Preparatory School, even ranked #76 nationally.
7. Jacksonville Feels More Southern Than Most Florida Cities That Are Further South
Even though Jax is northeast of Orlando, Tampa, and Miami, it feels much more southern when it comes to accents and attitudes. In fact, many Floridians say living in Jacksonville, FL, feels more like living in Georgia, which makes sense, considering it's only 25 miles from the Georgia state line.
8. It's Nearly Always Sunny in the Sunshine State
Jacksonville, Florida, weather is the daydream of any northerner: Long, hot summers and short, relatively warm winters. In fact, Jacksonville hasn't seen snowfall since 1989. Winter temps typically range from 40 to 60 degrees Fahrenheit, while spring and fall temps average in the 70s to 80s. You'll want to make sure your air conditioner is in working order for the summertime, though. The thermometer frequently hits 90 degrees, and the thick humidity makes it feel even hotter. Still, its northeastern location keeps it cooler than Florida's other major cities.
9. Jacksonville Crime Rates Are Above Average, But There Are Plenty of Safe Places to Live
Let's cut to the chase: Crime rates here are above the Florida average and are relatively high on the national scale, too. Neighborhood Scout gives Jax a crime index of 8, meaning it's considered to be safer than only 8% of other U.S. cities.
A closer look at the numbers shows that crime is much more heavily focused on property than on violent crime, but it's still worth keeping in mind, staying aware of your surroundings, and taking appropriate safety precautions. As mentioned, Jacksonville is huge, and many areas are perfectly safe. A few of the safest, based on crime rates, per Neighborhood Scout are:
East Mandarin
Eagle Bend
Dinsmore
Chimney Lakes
Del Rio
Jacksonville Naval Air Station
Deerwood Club
Holly Oaks
10. The Job Market Is Full of Opportunity
If you're moving to Jacksonville for a new job, then you already know that opportunity is abundant, with the job market that has grown remarkably over the past decade. The average annual salary is $51,910, which is lower than the national number, but then again, the cost of living is well below the U.S. average. Some major employers include financial giants like Deutsche Bank and JPMorgan Chase, a growing hospitality industry, and, of course, the Naval Air Station, which provides tons of jobs on the massive military base and brings in diversity, too.
Q: Is Jacksonville, Florida, a good place to live?
A: Jacksonville, Florida, is a great place to live if you're looking for a reasonable cost of living, plenty of beach access, a southern feel, and a new home in the Sunshine State. Jacksonville also boasts an up-and-coming restaurant scene, several colleges, and a solid job market.
11. The Jax Restaurant Scene May Surprise You
You probably haven't heard Jacksonville touted as the dining capital of America, and that's just the way locals like it. The dining scene has begun to blossom in recent years, and these days, you'll find eateries headed by James Beard-nominated chefs and others that can rival some of Miami's finest cuisine. Looking for recommendations? Head over to natedoesfood, the mouth-watering Instagram of a Jacksonville-based foodie who posts local finds like fresh sashimi, roasted cauliflower tacos, and gooey cinnamon buns.
Here are a few of the top places to dine out in Jax, according to The Culture Trip's guide to where to eat in Jacksonville.
12. You'll Need a Car to Get Around
You tend to hear the term "sprawl" associated with Jacksonville because of how the metropolis spreads out over so many square miles. As you'd expect, having a car is nearly a necessity. The average household has two cars, and a typical commute time is about 25 minutes, though that can vary based on traffic and proximity to downtown. As for public transit, you have a couple of options: There's an extensive network of buses, but the Jacksonville Skyway, a free monorail system, spans a mere 2.5 miles. Not much help there!
13. The Top 10 Things To Do in Jax
Looking for something to do on a weekend day? From beach hopping and art gazing to catching a show or shopping for local goods, head to these sites to entertain yourself and fall in love with the city along the way.
14. You Can Get Schooled in Jacksonville
If you're looking for higher education opportunities, you'll have plenty of options in Jax. It's home to several state and private four-year universities and community colleges, including Florida State College at Jacksonville, University of North Florida, St. Johns River State College, Jacksonville University, and First Coast Technical College.
Q: What are downsides to living in Jacksonville, Florida?
A: If you're someone who loves city living for its walkability, you may find that hard to do in Jacksonville. Given its massive size, you really need a car to get around the entire city. And when considering safety, Jacksonville also has a relatively high crime index. Neighborhood Scout gives Jax a crime index of 8, meaning it's considered to be safer than only 8% of other U.S. cities, so you'll want to be vigilant, as in most cities.
15. Jacksonville is the Birthplace of Southern Rock
Lynyrd Skynyrd, The Allman Brothers Band, Limp Bizkit, Shinedown, .38 Special, and The Red Jumpsuit Apparatus have one very special thing in common: They were all formed in Jacksonville, Florida. Jacksonville is known as the Birthplace of Southern Rock, but the city has been a hotbed for a spectrum of musical genres since the early 1900s, including blues, jazz, and, of course, rock.
In addition to the numerous fame-bound Jacksonville bands and musicians, the city hosts numerous music festivals throughout the year. Springing the Blues and the Jacksonville Jazz Festival annually attract large crowds of music lovers and artists from all over the world.
Interested in Living in Jacksonville?
Now that you've got some quick facts about Jax, it's time to start planning your move. Using our detailed week-by-week moving checklist will make a big difference in avoiding hassles and reducing stress. Then, when you're getting settled, try these 5 Projects to Make Your New Home Shine, along with other home improvement and decor ideas from the PODS Blog.
---
Sofia Rivera is a Boston-based lifestyle editor and frequent contributor to the PODS Blog. Her work has appeared in Boston magazine, Apartment Therapy, and more. You can most often find her redecorating her apartment, trying out a new recipe, or trekking all over the city.
Editor's note: For ease of reading, monthly rental prices were rounded to the nearest $25 and home values were rounded to the nearest $100.
Get a Quote
Choose the service you need
Comments
Leave a Comment
Your email address will not be published. Required fields are marked *