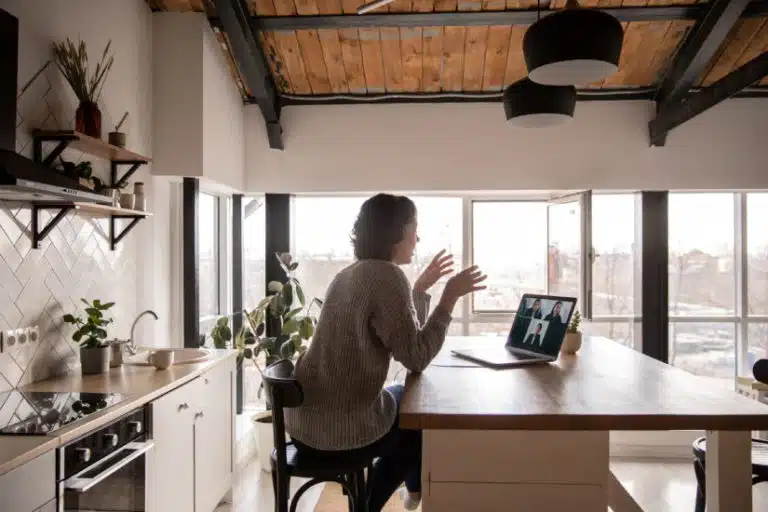 Job relocation in the works? Here's what you should ask before you pack
Like any major life change, relocating for a job has the potential to cause a lot of stress. But it really doesn't have to be awful. You just need heroic project management skills, an analytical mindset, multitasking ingenuity, and superhuman stamina. And that's just for the move; never mind the talent and energy you need for a new job. Easy right?
All jokes aside, with some patience and the right planning, a job relocation can proceed with minimal distress. Before you know it, you'll be living like a local in your new town. Take it from Lindsay Martin, who recently moved from Memphis, Tenn., to the Tampa Bay, Fla., area for her new job on the PODS Marketing Team.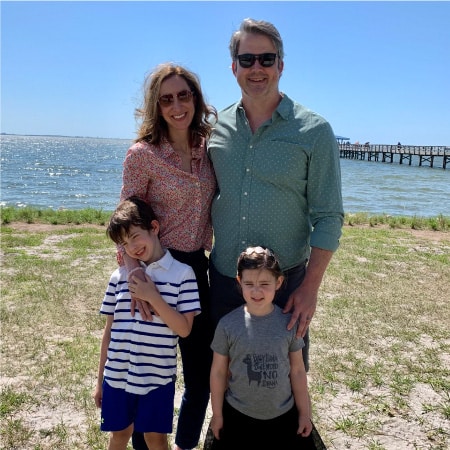 "It was a complex move," she said. "Moving in 2020 brought about its own unique challenges. And we were moving with two kids before the school year ended, so that required added logistical hurdles." But today, Lindsay and her family are happy in their new home and enjoying the Florida sunshine, the move a (nearly) fading memory.
(Image Source: Lindsay Martin)
If you're in the market for a position or promotion that involves relocating, here are some questions Lindsay recommends you consider to make your move a bit more agreeable — no superhuman skills required.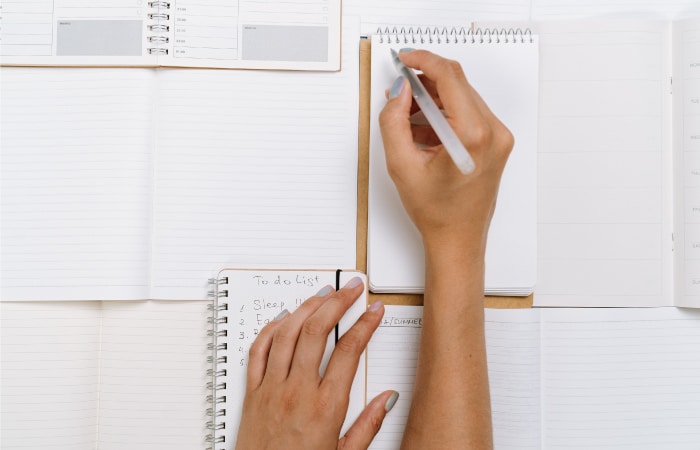 How do I prepare for a job relocation?
One of the best things you can do to ease the stress of moving prep is to ask your new boss for a job relocation package (more on that later). Knowing the financial burden (for starters) is taken care of can go a long way toward a more pleasant transition.
Other steps depend on whether you're a list-making planner or a seat-of-the-pants type — and for this life change, Lindsay recommends lists.
"I used a moving checklist," she said. "It helped me remember things I wouldn't have thought about and to keep tabs on everything. There's so much to consider, you can't process it all at once."
Here are a few things to track as you begin to prepare for the move:
Inventory the to-dos at your current house:

What furniture is going with you? Mark each piece with a color-coded sticky note (green for going, red for staying, for example).
What are you donating or selling before you leave town? Arrange for Goodwill, the Salvation Army, or another local nonprofit to pick up appropriate pieces.
What day do the utilities need to be turned off? Call the utility companies and set up your disconnect day. You might consider adding in an extra day for electricity and internet service, so you (and your moving helpers) stay comfortable and connected on your actual moving day.

Plan your movers: Set up dates for packing and loading, and go ahead and schedule movers if you're using them. Want to save lots of time and energy? Take advantage of portable moving containers, particularly if you're staying in temporary housing between homes. Think about things you might need in the interim and pack them last, at the very front of your containers. If you go with a service like PODS, you'll have the flexibility to load your moving containers at your own speed (they'll be delivered to your driveway and can stay as long as you need them), and you'll also be able to access your containers whenever you need to at a local storage facility. Warm coats, for instance, may be good to pack at the top of a container if you're moving before the weather turns wintery — an unexpected cold front without proper outerwear can definitely wreck your day.
Do the same drill in the new city: Call the local utilities and schedule services. Confirm your move-in date with any movers and your landlord or real estate broker. If you need to be home when a tech arrives — the cable guy, for example — be sure to plan according to your travel schedule.
Pack a suitcase or two with the must-haves: This will stay with you on the trip to your new city, and it's another area where a list is valuable. You'll want to make sure you keep medications, important paperwork (birth certificates, vaccination cards, Social Security cards, passports, etc.), toiletries, and other essentials with you at all times.
Keep the comfort items close by: If you have kids, make sure any loveys stay in the appropriate arms and are not thrown into a box that won't be opened for weeks. The potential stress of a move, new home, new school, and new friends makes that trusted blanket or stuffed animal even more essential than usual.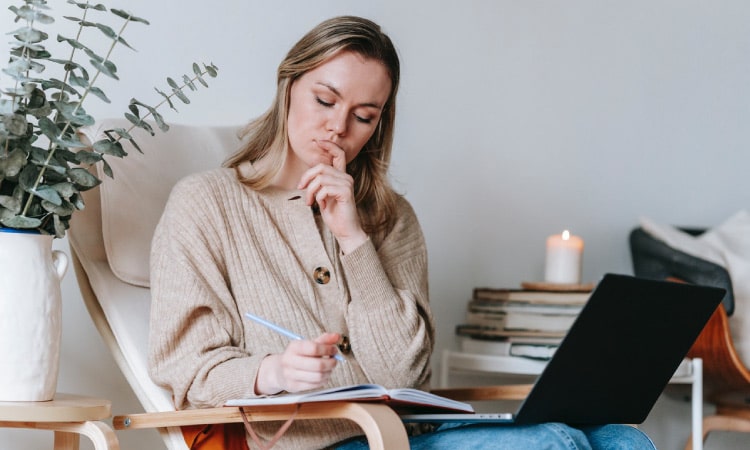 What should I ask for in a relocation package?
Depending on your specific situation, there are several relocation package options to check out — all contingent upon your new company's guidelines, of course. In some cases, employers have a flat-rate policy for relocation, so the amount and type of package aren't up for negotiation.
But if you do have the opportunity to discuss your needs, the first thing to do is identify your bottom line: the absolute minimum amount of money you need for a comfortable move. This is one of the areas where all the list-making will come in handy. You should have at least a ballpark total for utility deposits, travel costs (gas, hotels, food), moving fees, and any other expenses.
In general, there are three types of relocation packages:
Reimbursement: Your company will pay you back for your moving costs.
Direct billing: All moving-related bills are sent directly to your new company.
Lump sum: Your company gives you a one-time payment to use at your discretion for moving expenses.
Whichever package you choose (or your company chooses for you), make sure you save every receipt that has to do with your move. You'll need them. You may also consider requesting things like visits to your new city to check out homes, assistance with selling your current home, and even a mortgage buyout — usually a perk only top executives are privy to, but maybe worth a shot. The more help you have with the financial hassles of your move, the better you'll be able to focus on getting quality moving help and dealing with all the other details involved in relocating.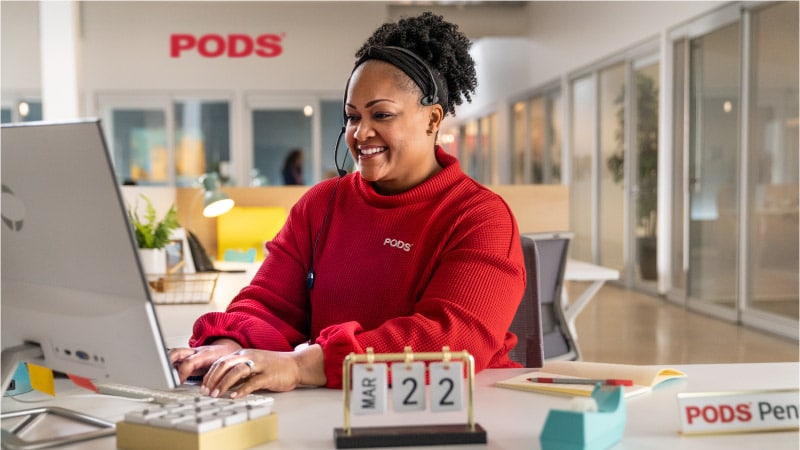 How do I pick a moving company?
Personal recommendations are a good place to start. Do you have friends or colleagues who have been through long-distance moves? Hit them up for suggestions. Google can be helpful, too, of course. Just be sure to thoroughly vet the moving companies your friends or colleagues suggest, though. You want to confirm they're legit in every way. With your precious cargo in their care, they better be trustworthy.
You'll also want to consider the logistics of your specific situation as you narrow down your selection: Do you need to keep your things in storage between homes, or can you have your furniture delivered door-to-door? The details can get complicated, but choosing a flexible moving solution like PODS can make it easier, with built-in storage options and the freedom to adjust your schedule. In fact, PODS has more than 20 years of experience managing employee relocations across the country. If your new employer is helping you plan this move, ask if they already have a partnership with PODS.
"PODS helped remove a lot of the guesswork out of my move. They were able to refer me to an excellent labor provider in my new hometown. And because I didn't want to make the drive, PODS connected me with a car shipping company," Lindsay said. "I enjoyed having my car delivered to my door — 800 miles away!"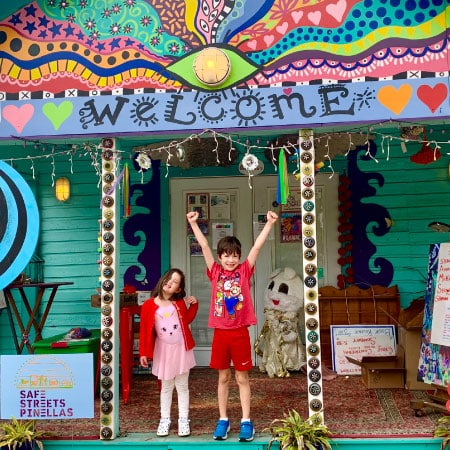 How do I find the right place to live?
A map can only do so much. To really get a feel for a new city, it's essential to take some real estate recon trips — even if you're planning to rent rather than buy. Drive around town and get a feel for different neighborhoods at different times of day, so you can narrow down your favorites when it's time to choose a new home.
Better yet, get a guide, preferably someone in-the-know about the city and about your must-haves who can help weed out areas you definitely don't want to consider and highlight neighborhoods you might not have even known about.
Lindsay got lucky with the third real estate agent she interviewed: "She was recommended by a new colleague," Lindsay said. "I wanted someone who grew up in the area instead of someone who'd just moved here, and she was also a mom, so she was knowledgeable about schools and kid-friendly neighborhoods."
A few more tips from Lindsay:
If you're negotiating a relocation package with your new boss, see about adding visits to your new city as part of your plan. A good way to position the request: The more settled you are on the homefront prior to your first day on the job, the better you'll be able to focus on work. And if you can find a home on one of those recon trips, you'll be way ahead of the game. It's a win-win.
If you have kids in public school, you'll want to do your due diligence to make sure the neighborhoods you're exploring align with schools you like.
In each area you like, consider the commute to your new office, nearby parks, dog-walking or bike paths, grocery stores, restaurants, walkability — any features you value — and rate your chosen neighborhoods based on how many boxes they check on your wishlist. "As much as I had memorized the map, actually trying out the drive and timing it from certain areas was worthwhile," Lindsay said. "I needed to stay within my commute comfort zone."
Check out some open houses in a few neighborhoods you like. They're a good way to get a feel for home styles and neighborhood vibes.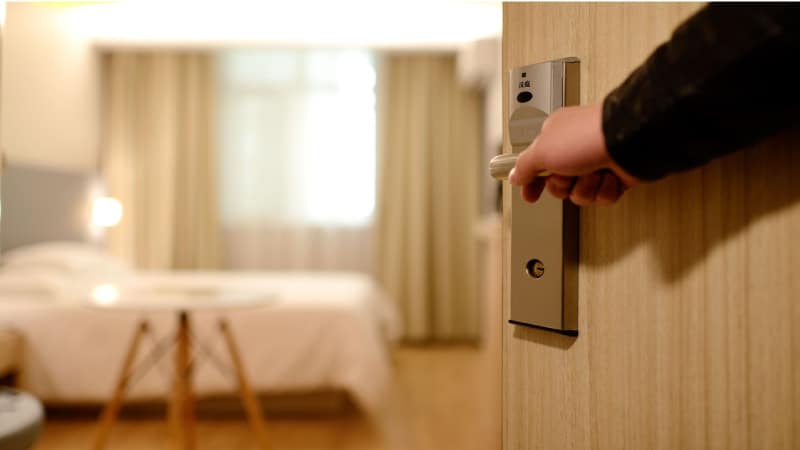 What if I need a temporary place to stay until my new house is ready?
Thanks to the mobility of today's workforce, there's an entire industry that caters to the needs of people in your exact situation. And there are plenty of options for customizing your interim digs.
Lindsay stayed in temporary housing for four months, and as she needed items, she was able to access her PODS moving and storage container several times. "I just called ahead to arrange for PODS to pull my container," Lindsay said. "It was easy."
As you make your decision on temporary housing, don't forget to ask about policies on parking and pet fees — often overlooked in the bustle of a relocation. At a high level, here are the five basic categories of temporary housing:
Extended-stay hotels: Designed for business travelers and relocators
Corporate housing: Good for families
Airbnbs: Also good for families, especially if you're testing out a new neighborhood
Sublets: For longer short-term stays
Hotels: Pricey, but come with plenty of perks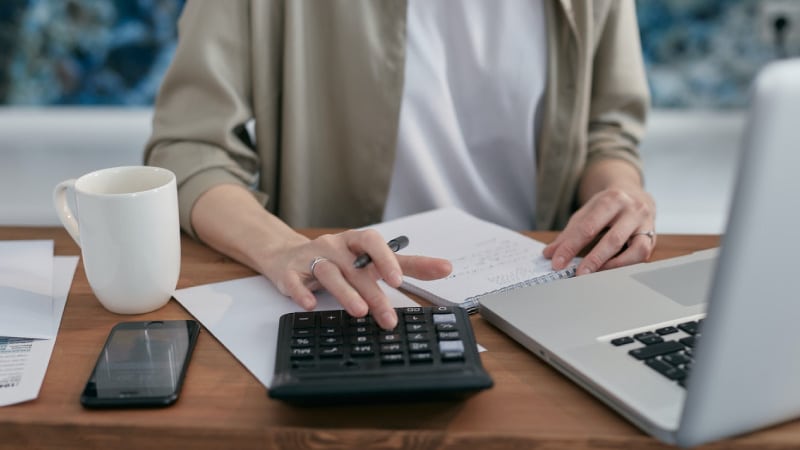 How can I stay on a budget — with my finances and time?
We may sound like a broken record, but it's true: Lists are your friends when you're on a schedule. A moving checklist, in particular, provides a timeline of tasks to consider leading up to moving day. From finishing up goodies in your fridge and freezer (That ice cream definitely should not go to waste!) to getting referrals for healthcare providers in your new town (ask your HR rep and new coworkers for guidance), a good list leaves no stone unturned.
And since there's so much to do to prepare, take Lindsay's advice: "Break down your tasks into less-intimidating weekly chunks." You'll make meaningful progress on a weekly basis, and you'll get the added satisfaction of multiple items marked "Done!"
As for finances: Just like you (should) do with money matters in non-moving times, set a budget — and stick to it. Easier said than done, of course, especially dealing with something as complicated and pricey as relocating. But here are a few suggestions that may be useful:
Keep all of your receipts: You'll need them for reimbursement, if that's the option your employer has provided for your relocation package. Receipts are also essential for budgeting purposes — for this journey and to help plan realistically for the next time you make a move.
Use a spreadsheet to stay on top of all spending: "I leaned on my husband for this task," Lindsay said. "It was essential for tracking everything."
Build in a bit of a buffer to accommodate surprise expenses: An extra night's hotel stay, a spike in gas prices, a leaking fuel pump in your car. There will always be deviations from your best-laid plans, so it's a good idea to add those possibilities to your budget at the outset of your trip.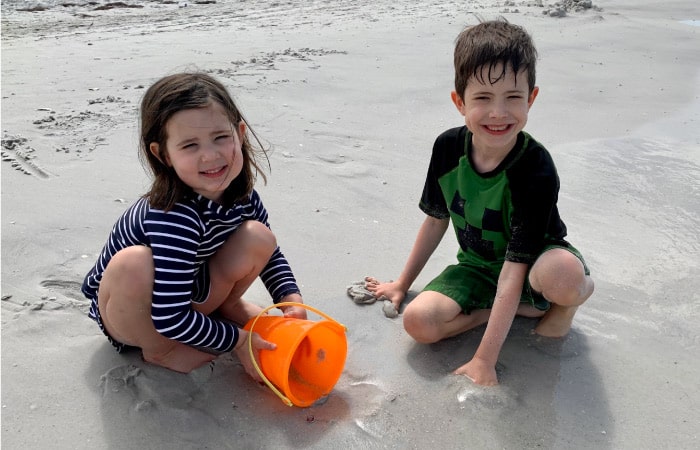 Is relocating for a job worth it?
Absolutely! Yes, you'll need to acknowledge the process has the potential to be stressful. Any big life change runs that risk, though, right? And if you own a home in your current city, there will be added complications. But in the end, a new job means a fresh start — and if it's a promotion, it also means better compensation and, possibly, improved benefits. And what a confidence-booster, to know your new employer believes in your talents and skills so much they're willing to pay for you to relocate!
Moving your family brings its own set of challenges completely separate from your career, of course. Young kids are likely entrenched with their friends, schools, and extracurricular activities, and the transition can be bumpy. On the other hand, children are resilient — if the adults around them are happy, they're generally okay.
Lindsay said she and her husband worried for weeks about the move's effect on their kids. "My son had only a couple months left in kindergarten when we moved," she said. "We spent a lot of time worrying about how he would adjust."
To help with the transition, she scheduled the family's move over spring break, so they all had a few days off to travel together and get to know their new city. "We had a fun week doing activities around Tampa, and it was so nice to have that time together," Lindsay reported. "When school started, I was impressed with how quickly they both jumped in. They miss their old friends, but we haven't had any crying. The kids are loving their new city."
Results may vary, of course. But with proper planning and diligence, it's a good bet your family will do just fine with the transition — especially if the new job makes you happy!
Want more tips for a successful relocation? Visit the PODS blog to get the inside scoop on all things moving. From getting an accurate moving cost estimate to shipping a car, PODS is here to help make your transition as smooth as possible.
---
Shannon Jacobs is a Tampa-based freelance writer and frequent contributor to the PODS blog. She has lived in Atlanta, the Berkshires, and Nashville, but always returns to the warmth of Florida's Gulf Coast.
(Source for photo featured at top: Ekaterina Bolovtsova via Pexels)
Get a Quote
Choose the service you need
Comments
Leave a Comment
Your email address will not be published. Required fields are marked *