Take advantage of our limited time offer. Enter promo code HOLIDAY25 to save up to 25%.
See offer details
.
Soak Up the Sun in One of the 10 Best Cities Near Jacksonville, FL
The city of Jacksonville — also commonly referred to as "Jax" — has one of the richest cultural and historical heritages you can find throughout the entire state of Florida. And with a bustling business district yet plenty of laid-back spots to enjoy, too, Jacksonville caters to a lot of different people. In fact, the city's population grew 5 percent during the period between 2019 and 2021, making it one of the top five "Boomtowns" during the pandemic.
So, sure, living in Jacksonville may seem like the ultimate dream — especially if you add in the fabulous weather and breathtaking beaches — but the big-city life may not be the perfect situation for you. Factors like its popularity, the competitive real estate market, and limited public transportation options can make Jacksonville a pretty expensive place to live.
Instead, consider moving to a city nearby, where you could live a bit more comfortably and still get all the Jax benefits you want! Here are 10 of our favorite cities near Jacksonville, FL, that we think you should check out.
But first, a little Q and A…
Cities Near Jacksonville, FL - FAQ
Q: What towns are around Jacksonville?
A: Popular areas within about a 45-minute drive to Jacksonville include:
Orange Park
Atlantic Beach
Lakeside
Jacksonville Beach
Palm Valley
Yulee
Fernandina Beach
Fleming Island
Nocatee
Fruit Cove
Q: What cities are 50 miles from Jacksonville?
A: Cities that are around 50 miles from Jacksonville include:
Woodbine, GA: 47 miles
Folkston, GA: 42 miles
Saint Augustine, FL: 41 miles
Starke, FL: 46 miles
Q: What is the best suburb of Jacksonville, FL?
A: Nocatee, Palm Valley, and Fleming Island top the list of best suburbs to live in the Jacksonville area.
Best Cities to Live Near Jacksonville, FL
Now, without further ado, here are 10 of our favorite cities near Jacksonville, FL, that are certainly worth looking into.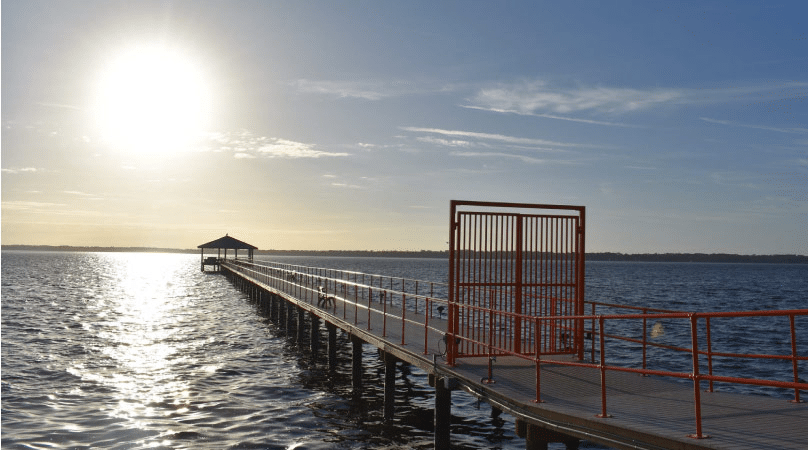 1. Orange Park, FL
Offering big-city access with a small-town feel, the city of Orange Park is located less than 30 minutes away from Jacksonville in Clay County, Florida. It has a population of about 8,700 and is one of its best places to raise a family, with top-notch schools and an affordable cost of living. Its residents enjoy a suburban feel, with both young professionals and retirees being able to thrive, as well. 
2. Atlantic Beach, FL
The Atlantic Beach area is surrounded by water, so naturally it offers a variety of water activities, such as fishing, swimming, and boating. The lack of parking makes the beaches quiet, and there are plenty of parks nearby that are perfect for walking, hiking, and animal watching.
One of the most prominent parks in the area is Hanna Park. This park features over 400 acres of coastal hammock, which is an unusual find along the Atlantic coast. Numerous trails lead through the park, and it also has a lake for kayaking and fishing. To top it off, there are miles of white sand beaches and areas such as "The Poles," a well-known surfing area.
Despite the high prices in Atlantic Beach's southern section, which is often associated with its nightlife, homes in the northern and central portions of the beach can still be found for a reasonable price. The cost of housing also tends to be lower in areas away from Atlantic Boulevard's more congested areas.
3. Lakeside, FL
The suburb of Lakeside is one of the most desirable places to live in the state, with the area's residents enjoying its rural setting and top-notch qualities. In fact, it's so desirable that Niche ranks it the #1 best suburb to buy a house in the Jacksonville area. Young professionals make up a large portion of the community's population, but It's also a great place to raise a family, with highly regarded public schools.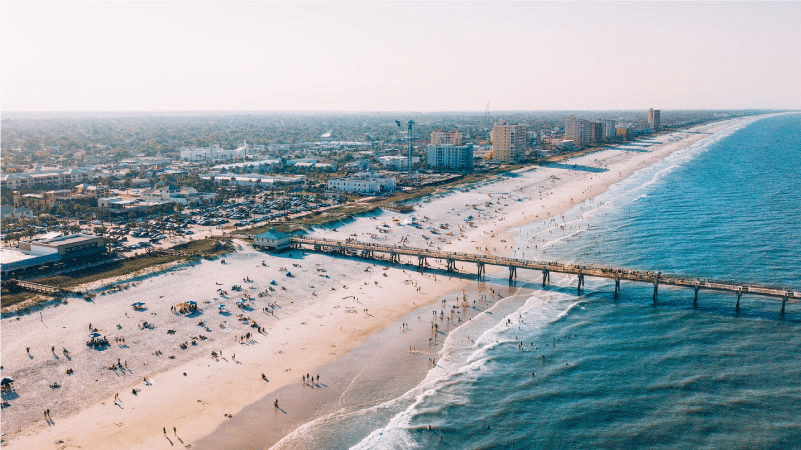 4. Jacksonville Beach, FL
More than 23,000 people live on this barrier island, which is about 17 miles from downtown Jacksonville. Jacksonville Beach has a variety of attractions, such as its hard-packed white beaches, eclectic shopping, and a dining scene that's ever-evolving. One of the area's most popular fishing spots is the North First Street Fishing Pier, where you can catch a wide variety of fish, like bass, pike, and salmon.
This neighborhood is also known for its surfers, who like to hang out and catch a wave in the area. There are several parks and recreation facilities, as well, including the Sunshine Playground at South Beach Park.
Fun fact: Instead of going to the mall, locals in Jacksonville Beach prefer to shop at local strip centers and boutique shops. Rosenblum's, which is a family-owned business, is a favorite for clothing for men and women. Also, the Beaches Town Center is close to Neptune Beach and the Beaches. There, you'll find unique home goods retailers such as Red Daisy and Bali Cargo Company.
5. Palm Valley, FL
The suburb of Palm Valley, which is located in St. Johns County, has a population of about 22,000. It offers a laid-back suburban feel to its residents, and the area's public schools are highly regarded. 
Something Palm Valley is known for in particular? Food options! In Palm Valley, FL, dessert shops, such as PVUMC Kitchen, Flo's Premium Ice Cream, and Christy's Dream are great places to satisfy your sweet tooth. Other local restaurant favorites include Aqua Grill, Trasca & Co, and Nineteen.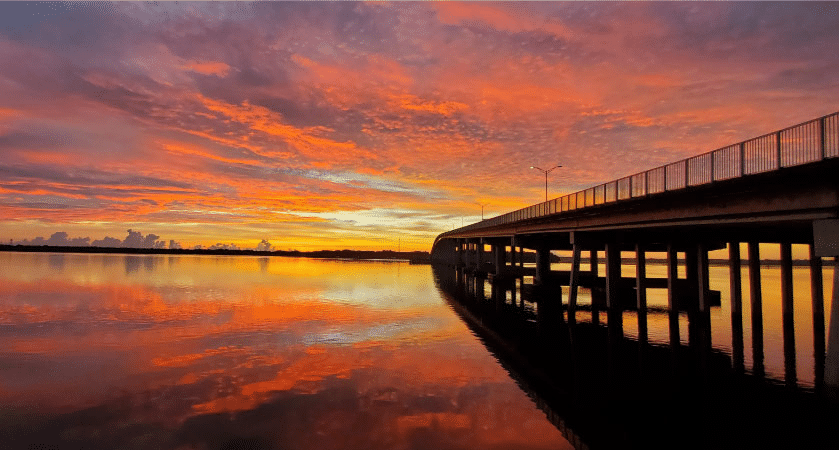 6. Yulee, FL
The town of Yulee is located in the Jacksonville Metro Area and enjoys a small-town feel. It has a variety of recreational facilities and a vibrant downtown.
Although it's commonly referred to as a bedroom community for people who commute to nearby areas such as Amelia Island and Jacksonville, Yulee is actually a great place to live and raise a family!
This small town is known for its residents' love of animals and the efforts to protect and preserve them. The White Oak Conservation is a great place to visit, as it features natural habitats where various animals can be viewed.
The John Muir Ecological Park is also a place where visitors can learn about one of the most influential individuals in American history, which was established to commemorate his thousand-mile journey across Florida.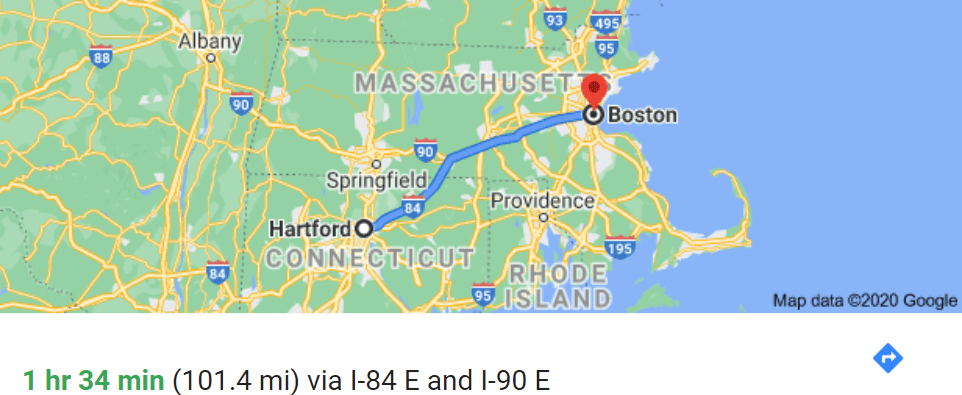 7. Fernandina Beach, FL
The Fernandina Beach suburb of Jacksonville is situated on the northeast corner of Florida, bordering Georgia. Fernandina Beach has a population of around 13,000 and is only about 12 square miles in size.
Although Fernandina Beach is generally open to everyone, there are a large number of seniors in the area, making it one of the best places to retire near Jacksonville. The median age of residents in the area is 55 years old, with the largest age group composed of individuals aged 65 and older.
The various inlets and rivers surrounding Fernandina Beach provide numerous fishing opportunities for sea trout, redfish, and flounders. You can also visit the Fort Clinch State Park's jetties for some surf fishing.
8. Fleming Island, FL
The suburb of Fleming Island has a population of about 30,000 and is one of the most desirable places to live in the state. And when we say desirable, we mean it. According to Niche,  Fleming Island ranks #1 as the best place to live, raise a family, and go to public schools in Clay County, among other accolades. Residents can easily enjoy its suburban feel along with lots of parks and restaurants. 
9. Nocatee, FL
One of the most desirable communities in the U.S. is Nocatee, which features a variety of high-end amenities and beautiful natural settings. More than 22,500 families call Nocatee home, and it's growing even more with the addition of more empty nesters and young families. Needless to say, this coastal community offers a wide variety of living options for everyone. 
Although you can look at beaches all across the country, you won't find many more beautiful than those in St. Johns County and Nocatee. The area's beaches are crystal clear, and they have incredible waves and white sand.
One of the main reasons why Nocatee is regarded as the best place to live in Florida? Its excellent public school system. St. Johns County certainly knows how to provide quality education!
And there are numerous parks and trails and a variety of kayaking and paddle sports facilities that are all within easy reach of Nocatee residents.
10. Fruit Cove, FL
When it comes to best places to raise a family in the Jacksonville area and in the state, Fruit Cove ranks among the top. This community features a variety of parks and waterfront homes, not to mention the area is also surrounded by Old Bull Bay and the St. Johns River — known for some pretty incredible fishing spots. Its low crime rate makes it an ideal place to live for many families and retirees. And the public schools? They're among the best in the state. No wonder Niche gives Fruit Cove an A+ rating!
Let PODS Help You Move to a City Near Jacksonville
Once you've chosen your city close to the city, have a PODS portable moving container delivered to your driveway, where you can pack and load at your own pace. When you're ready, PODS will pick it up and deliver it to your new home. And if you need storage, it's built into every move! Easy peasy!
---
Editor's note: Monthly rental prices were rounded to the nearest $25 and home values were rounded to the nearest $100 for ease of reading.
Get a Quote
Choose the service you need
Comments
Leave a Comment
Your email address will not be published. Required fields are marked *