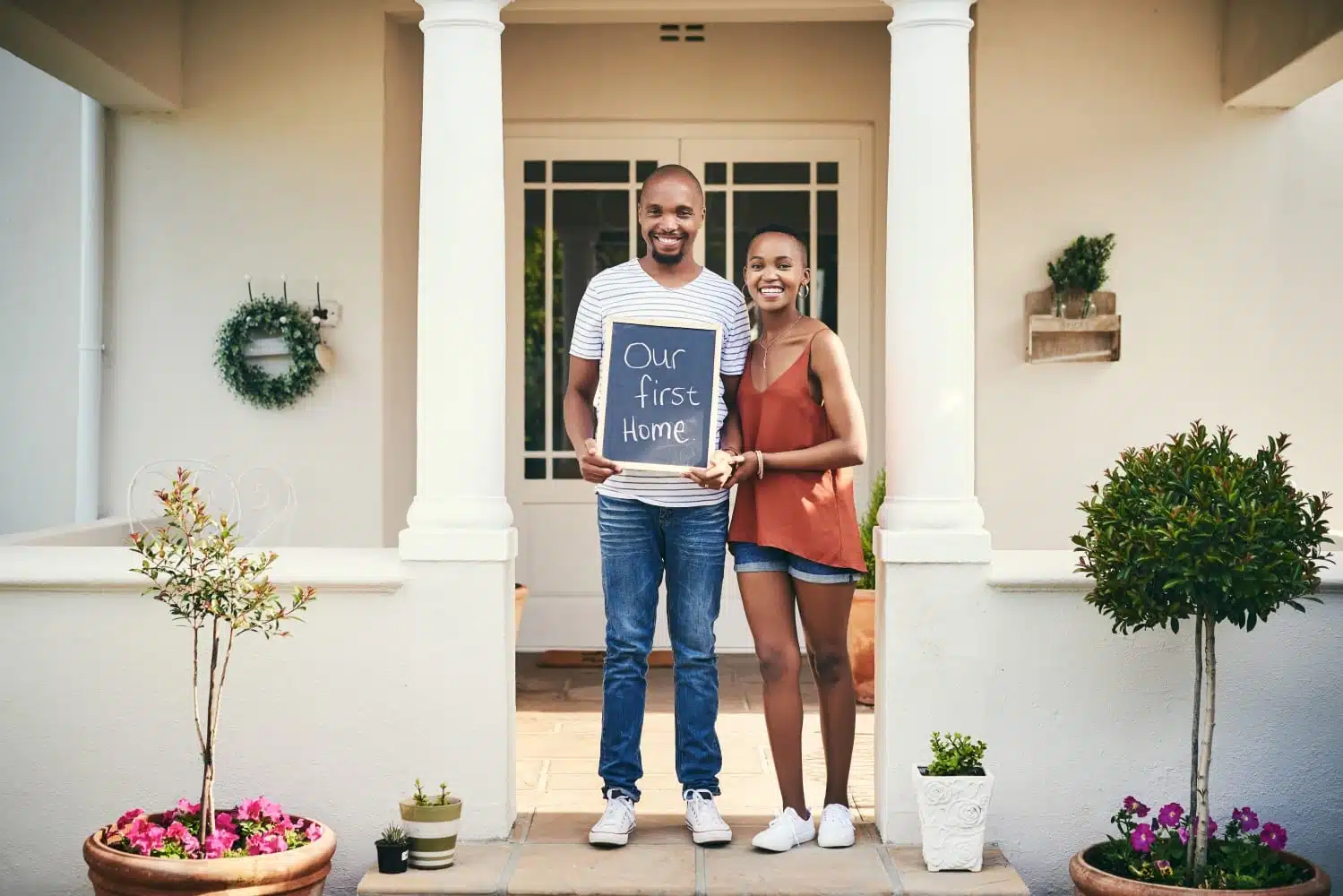 12 Must-Know Tips for First-Time Home Buyers: How To Save Headaches, Heartaches, and Hard-Earned Cash
As thrilling as buying your first place can be, there's a lot more to it than touring homes and choosing paint colors. Expect plenty of highs, lows, and sharp curves ahead -- especially with our crazy housing market. But don't let that scare you off. As with anything else, knowledge and preparation can go a long way in building confidence. So take a deep breath and get ready to make your big move with these tips for first-time home buyers.
Read on or jump ahead using the list below.
1. Before you do anything, get prequalified for a mortgage
Before falling for your dream home, you need to make sure you're looking in the right price range. Do some homework and contact mortgage lenders at the get-go to learn more about the process and how much you can realistically spend on a home. There are two ways to do that: Prequalification and pre-approval, and they each play a role. For first-time home buyers especially, taking these steps before kicking off your home search will save you time, avoid unrealistic expectations, and help position you for success in a competitive home buying market.
Mortgage prequalification: A helpful starting point, getting prequalified gives you a quick idea of how much house you can afford. It's fast and easy to do by phone or online by answering a few financial questions. Since prequalification is just a "nonbinding estimate" that doesn't involve the lender verifying your self-reported information, you should be able to get an answer in an hour, or even minutes.

You can use NerdWallet's free Mortgage Prequalification Calculator to help get a quick sense of your mortgage limit, in addition to budgeting estimates for your monthly mortgage payment, homeowners insurance, and property taxes. This is a great way to get fast answers and explore how much you can and want to spend without having to give your name, email address, or phone to a lender.

Mortgage pre-approval: If you want to be ready to make an offer as soon as you find the right home, the best way to be prepared and prove you're a serious buyer is to get a letter of pre-approval from a mortgage lender. To do that, you'll need to provide verified financial details and documentation and authorize the lender to conduct a credit check.

If your finances and documents are in order, you should be able to get the pre-approval letter within a day. However, if you have credit issues, the process could take longer. Although the letter isn't a guarantee you'll get the mortgage, it sends a strong signal to sellers that you're a qualified buyer.
Here's a list of the basics you'll need to apply for mortgage pre-approval:
Proof of employment: Copies of pay stubs that show your income for the most recent 30 days
Proof of any additional income
Approval to conduct a credit check
Bank account numbers or two most recent bank statements
Down payment amount and desired mortgage amount
W-2 statements and signed personal and business tax returns from the past two years
Last quarterly statements for asset accounts, including your 401(k), IRA, stock accounts, and mutual funds.
2. Check with multiple lenders
While instinct may tell you to use your trusted bank as your mortgage lender, it pays to shop around for the lowest possible interest rate. According to Nerdwallet, U.S. home buyers could be saving a collective $776 million per year -- or $430 in interest in the first year of a typical 30-year, fixed-rate mortgage -- if they compared lenders and mortgage rates before picking one.
Once you find a good match, you'll want to consider the term of your mortgage as another area to potentially save over time. A 15-year loan, for example, tends to have a lower interest rate than a 30-year loan, though you'll have to dish out larger monthly payments -- typically about 50% more. While you can save thousands in interest over the long term, you should consider the tradeoffs carefully before committing to a 15-year mortgage and a substantially higher monthly payment. The difference in interest rate is usually only about half a percent, and you'd only realize significant savings if you plan to be in the house for several years. As a first-time home buyer, it may be better for you to focus on putting money aside for an emergency fund. In addition, you have the option to make additional payments over the course of the mortgage, which will translate into savings without the risks of committing to a higher payment.
3. Accept that location really is everything
Like those real estate TV experts always say: It's all about location, location, location. You can change almost everything about your new house except where it is, so before you even start filtering for listings on Zillow, make sure you know where you're looking. Start with your must-haves. For instance, if you really want a walkable neighborhood with plenty of shops and cafes nearby, don't settle for an isolated suburb. When looking in an area, ask yourself these questions:
Does it work for your maximum commute time?
Do you need to be close to public transit?
How heavy is the traffic in the area?
Is it on a busy street or adjacent to commercial property?
Is it a walkable area?
What are the local schools like?
Are there job opportunities nearby?
Do you feel safe there?
Is there ongoing development or a lot of construction in the area?
Have home values gone up in recent years?
Does the neighborhood have a homeowners association?
What do real estate agents and locals have to say about the neighborhood?
Do you know anyone living there who you can talk to?
4. Choose an experienced real estate agent
It might feel good, but this is not the time to help that friend or relative who just got their real estate license. First-time home buyers need an experienced Realtor they can trust to give them the best advice and guide them through this journey. Asking friends and family for agents they've had a good experience with is a great place to start, but that's just the beginning when it comes to choosing the right Realtor for you.
Attend open houses to see them in action and ask how many transactions they've closed in the past year. What's their knowledge of the area and the neighborhoods you're most interested in? Do they have the patience to work with first-time home buyers who may need more hand-holding than other clients?
Narrow your choices to two or three agents and interview the final contenders. Make sure you feel comfortable asking questions and that the agent doesn't talk down to you. They should give clear, upfront advice and opinions, but without telling you what to do. Look for someone who is well organized and responds quickly, as these are essential qualities when it comes to getting an offer turned in, negotiating, and seeing the purchase through to a successful closing.
5. Consider the future
Time has a way of changing our outlook and needs, especially compared to when we're just starting out. Having an idea of how long you hope to stay in a home can help you make choices and set priorities. Do you plan to just be here for two to five years? Then you may be ok with spending less, and then upgrading to another home later. On the other hand, you could be a couple of young professionals now, but what if a baby enters the picture? Think through various scenarios to determine if the home will suit your needs for the time you plan to be there. Here are some questions to consider:
Is there enough counter space for all of the cooking you love to do?
Is there a home office, or a space where you could efficiently work remotely?
Is there room for children?
Does the home have a backyard that would be safe for kids to play in?
If you're buying the home with two incomes, could you still afford it as a single-income household?
Is the guest room workable for your relatives and friends when they visit?
If an elderly family member were to move in with you, is there an in-law suite or ground-floor accommodation for them?
Can you see yourself raising a family here, or retiring here?
6. Do some detective work
Don't shy away from asking questions and speaking your mind. Sharing your hesitations and objections freely will only help your Realtor find the right place for you. Ask what the monthly utility bills are like -- you don't want to be stuck with super high AC or heating bills. Notice a strange smell or weird stain on the wall? Ask for more information. See a light fixture you love? Check if the seller plans on leaving it with the home. In answering your questions, if the seller or their agent makes any promises, make sure your agent gets it in writing.
Take a walk around your potential new neighborhood and take notice of your surroundings as you tour the area. Are the homes and lawns well kept, or are there neglected houses and overgrown yards? Are there sidewalks and streetlights or wooded roads with virtually no shoulder?
If you're concerned about safety, you can check out the neighborhood online at AreaVibes, City Data, and CommunityCrimeMap. Strike up conversations with the neighbors. Ask if there are any concerns about crime. What do they like about living there? What do they not like? Are people friendly? You might learn about how neighbors hold potlucks and watch out for each other. Or they might just dish about the drainage problems or sinkholes that have been causing pricey damage, or the flight path overhead that keeps them up at night. If the home you're considering was vacant for more than a year, or used as a rental, ask the neighbors if there's anything you should know. You'd be surprised by what you might hear. Listen and learn.
7. Don't buy a fixer-upper unless you want to fix it up
Do you want to spend your precious weekends ripping up carpet and stripping wallpaper? As fun as DIY projects can be, you don't want your brand "new" home to be a constant source of work and stress. Unless, of course, you thrive on the home improvement process. Fixer-uppers can be incredibly rewarding opportunities to discover a hidden gem, buy it on the cheap, and make it completely your own. (And, by the way, if you're wondering what you'll do with all your stuff during construction, you can use a portable container to store it right on the spot.) But if you're not up for all that elbow grease (not to mention money spent making home repairs), make sure you're not buying a place that demands more time, effort, and money than you're prepared to give.
8. Avoid rushing into a big decision
It can be easy to feel like you have to run through the walk-through and rush to make an offer, especially if you live in a hot real estate market. As a first-time home buyer, you may even feel more apt to move quickly, only to think of questions you wished you'd asked later.
It's ok to slow down. Stop and think for more than a moment about one of the biggest and most meaningful purchases you'll ever make! When you tour a home, take your time and really visualize yourself living there. It may help if your real estate agent steps outside. This can be particularly useful when you're trying to decide between two potential places so you can suss out deal-breakers or solidify the feeling that one of the houses is your new home.
9. Learn everything you can from the home inspection
Getting a home inspection (yes, even for a brand new build) isn't just another box to tick on the path to homeownership. It's a vital part of being an informed buyer and has the potential to save you some serious trouble (and a few bucks) down the road. An inspection typically costs in the neighborhood of $200-$600 and takes a few hours, depending on the size of the home.
The inspector will canvas the building inside and out looking for signs of structural damage or extensive wear, such as cracks in the foundation, pest destruction, or dysfunctional plumbing. If possible, follow along for the inspection -- you'll likely learn a thing or two about how to take care of your soon-to-be home. Doing so also allows you to ask questions. For example, say you plan on deciding to add a bathroom at some point. You could ask if the current setup could handle that remodel or if it would require a major modification (Super helpful to know!).
The report you receive after the home inspection detailing the findings can help you negotiate with the seller on either making some repairs prior to closing or knocking some money off the sale price. If the inspector finds that the roof is a couple of years away from needing to be replaced, for example, you could ask for a slightly discounted price to offset that cost. Should the inspection uncover any major issues, however, you should be prepared to walk away from the home altogether. In this case, most contract offers will include an inspection clause that would allow you to get your earnest money deposit back.
10. Remember that you can negotiate
When it comes to negotiations, ask and you may receive. Particularly if you're purchasing in a buyer's market or working with a motivated seller, you have power to request some add-ons. The worst they can say is no. However, if it's more a seller's market, you could risk having your offer turned down, so be reasonable and tread carefully. Many sellers are willing to cover the closing costs, which can add up to several thousand dollars, while some may throw in a piece of furniture that really goes with the place. Even the move-in day is up for negotiation. For example, if the seller needs more time in the home, you can use that as a bargaining chip for a slightly discounted price.
11. Don't forget to plan your move
Amid all the home buying excitement, you still need to be ready to make your move when you close. If your budget has been stretched beyond its limit, you probably want to minimize your moving costs as much as possible. That starts with not paying any extra rent at your old place. Yet it can be hard to get your moving dates to line up, especially when there's a delay in closing. One way to help bridge the gap is using a portable container that can also serve as storage if you need A place to stash your things for a few weeks or months. With Self-Moving 101, you can learn how to save money and avoid stress.
12. Save your money and start an emergency fund
The good news: Buying your first home means no more paying rent each month to live in an apartment you'll never own. The good-to-know news: Home ownership comes with plenty of unique costs of its own. From insurance to homeowners association fees, to a new heating and air conditioning system, all of the recurring and one-time costs can certainly add up.
So beyond setting aside savings for the big down payment, you'll want to amass a nest egg for other expenses. For instance, closing costs that include home inspection, appraisal, and mortgage fees are owed at the closing of the sale and usually run at 2% to 5% of the total home price. Once the home is yours, you'll still want a substantial lump sum set aside for the unexpected yet inevitable repair costs that come up, from roof leaks to clogged plumbing.
Now that you're in the know, enjoy the process. You may only buy a home a handful of times, and you only buy your first home once. Ultimately, the most important tip for first-time home buyers is to find a house you feel at home in, in an area you love, at a price you can comfortably afford.
---
Sofia Rivera is a Boston-based lifestyle editor and frequent contributor to the PODS Blog. Her work has appeared in Boston magazine, Apartment Therapy, and more. You can most often find her redecorating her apartment, trying out a new recipe, or trekking all over the city. 
Get a Quote
Choose the service you need
Comments
Leave a Comment
Your email address will not be published. Required fields are marked *