Take advantage of our limited time offer. Enter promo code HOLIDAY25 to save up to 25%.
See offer details
.
Here are the 20 Best Places to Retire in South Carolina in 2024
Sure, there are many great states in the South to spend those golden years of retirement, but there are a number of reasons why the Palmetto State of South Carolina truly stands out from the rest. The pleasant weather, abundant outdoor activities, and irresistable southern charm are just a few perks. And, oh, those gorgeous beaches! Who could get tired of those? Needless to say, it's easy to see why you may be interested in the best places to retire in South Carolina. So, lucky for you, here are details about 20 that make the top of our list.

Planning a move to South Carolina? Start by getting a quote from PODS.
20 Best Cities, Towns, and Suburbs To Retire in South Carolina
From beautiful beach views to fun outdoor recreational activities to museums, art galleries, and festivals, the perks of living in these 20 best places in South Carolina are plentiful. And regardless of lifestyles, there's a place for everyone — especially retirees looking for a fresh start!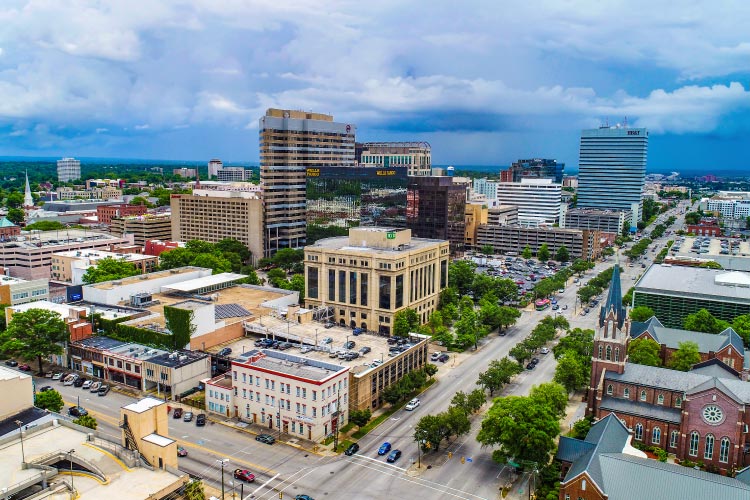 Columbia, South Carolina
1. Columbia, SC
The college town of Columbia has a vibrant atmosphere. Its downtown district is full of bars and restaurants, and it also hosts various live music events throughout the year. Basically, it's a great place to live if you love being surrounded by energy.
Not surprisingly, South Carolina's capital city of Columbia has plenty of interesting places to visit, as well, such as the Riverbanks Zoo and Gardens — perfect for an outing with your grandchildren! It also has the largest indoor sports arena in the state, the Colonial Life Arena.

Q: Where is the most affordable place to retire in South Carolina?
A: With among the lowest home values and rent prices on this list, it's no surprise that Columbia is one of the most affordable places to retire in SC.
2. Garden City, SC
Coming in at #2 on Niche's list of "Best Places to Retire in South Carolina" is Garden City. Located on the northeastern coast, this mellow community is only eight miles south of Myrtle Beach.
There are a variety of seafood restaurants in Garden City, and the local Pier at Garden City is known as one the best piers in the entire state. It features live music, a full arcade, and several places to get food and drinks. Garden City is also known for the golf cart parade that takes place every July 4th.
The area's housing is mostly composed of single-family homes, ranch ramblers, and high-rise condominiums.
3. Sullivan's Island, SC
As one of Charleston's three Barrier Islands, Sullivan's Island is known for its laid-back lifestyle and welcoming atmosphere. One of the most sought-after beach towns in the country, it's also very popular among retirees due to its
vast history
.
There are a variety of recreational facilities and fun activities to enjoy on Sullivan's Island. J. Marshall Stith Park, for instance, is the perfect place to work on that tennis swing. And you definitely don't want to miss out on strolling through the Sullivan's Island Nature Trail. When you're done? Take a walk down Middle Street, the main road of the island, and grab a bite to eat at
Atlanticville
or
High Thyme Cuisine
.
Q: Is South Carolina a good state for retirees?
A:
Absolutely! In addition to the beautiful sunny beaches, rich history, scenic trails, and fantastic art scene, the
cost of living in South Carolina
is lower than the national average. There's
no tax on social security benefits
, and other types of retirement income are always eligible for deductions.
4. Folly Beach, SC
Situated near Charleston in Folly Island, the town of Folly Beach is known for its fishermen and surfers — and as (you guessed it) one of the best places to retire in South Carolina near the beach! There are a variety of restaurants and bars in the area, with a downtown area that is quite charming.
The local theater is the Actors' Theatre of South Carolina, a great place to catch a show every once in a while. Folly Beach is also home to a great art scene, thanks to the Folly Beach Arts and Crafts Guild.
5. Little River, SC
The small town of Little River is one of the best places to retire in South Carolina near the waters of the Atlantic Ocean.
Located along the Grand Strand, Little River is one of the oldest towns in the area. It's known for its floating casinos and seafood restaurants, and local shrimpers and fishermen have been working the waters for a long time.
There are a variety of fun activities to partake in, as lots of festivals take place in the area each year. Some of these include the Blue Crab Festival, the Christmas Market, and the Shrimp Fest.
You can find various types of homes in Little River, such as simple bungalows, ranch ramblers, and mansions.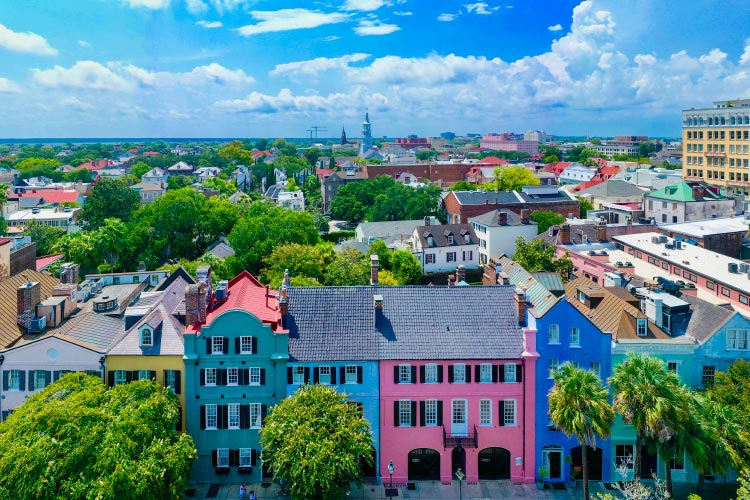 Charleston, South Carolina
6. Charleston, SC
Over the years, Charleston has experienced a growth in the population of senior citizens. The city's economy is designed to accommodate this demographic, and it offers various recreational activities and healthcare services for individuals of retirement age. There are also many opportunities for socializing and making new friends.
Charleston is known for its beautiful cobbled streets and colonial-style homes. And one of the area's most prominent landmarks is Fort Sumter, which served as the site of the initial shots fired during the American Civil War. Other notable structures that can be found in this area include the Drayton Hall mansion and the Magnolia Cemetery.
7. Socastee, SC
If you're wondering where to retire in South Carolina, consider the unincorporated community of Socastee, located west of the Intracoastal Waterway near Myrtle Beach. It has a long history of being an agricultural hub and mill town, and during the 1800s, it was a major lumber producer.
Socastee Boulevard and Dick Pond Road are where most of the action takes place in the area, as they are the two major roads in the community with gas stations, convenience stores, strip malls, and other amenities.
A local foundation called The Socastee Heritage Foundation also holds an annual festival and a series of ice cream socials near the old Socastee Swing Bridge.
8. Murrells Inlet, SC
Located in South Carolina's coastal region only 12 miles from Myrtle Beach, the town of Murrells Inlet — referred to as the state's "seafood capital" — is ranked #1 on Niche's list for the Best Places to Retire in South Carolina.
The area is known for its numerous attractions, such as a zoo, state park, and garden center. Festivals also help boost the area's popularity. One of these is the Atalaya Arts & Crafts Festival, which takes place every year.
9. Pendleton, SC
Pendleton is a small town in South Carolina ideal for enjoying peace and quiet. Outdoor activities are very popular in the area, including visiting several community parks and walking or hiking trails with access to beautiful nature. The best trails in the area include the Green Trail from Seed Orchard Road Trailhead and the Red, Gray, and Green Trails Loop from Butch Kennedy Trailhead.
Fun local annual events include the Spring Jubilee, Fall Harvest Festival, and Christmas Tree Lighting the Friday after Thanksgiving.
10. Isle of Palms, SC
Located close to Charleston, the Isle of Palms is an area known for its breathtaking beaches, vibrant restaurants, and beautiful homes.
The Isle of Palms Parks and Recreation Department provides a wide range of activities for both locals and tourists to get active, such as yoga and aerobics. Residents of the Isle of Palms are also only a short drive away from the area's most prominent shopping center, The Towne Centre, which is located in Mount Pleasant.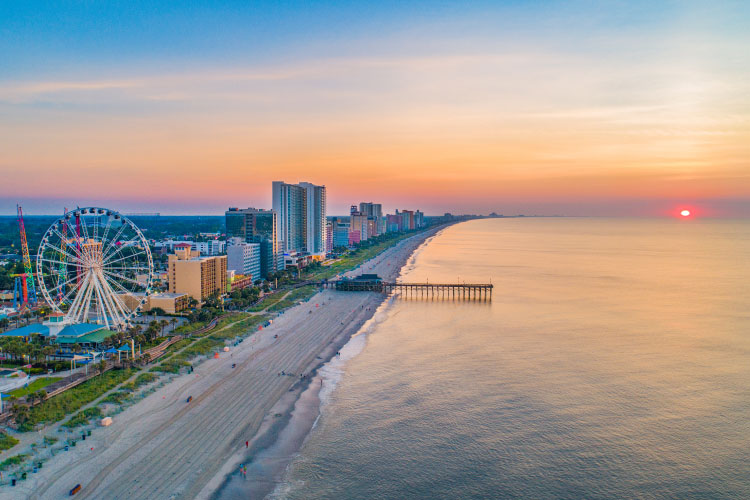 Myrtle Beach, South Carolina
11. Myrtle Beach, SC
The city of Myrtle Beach is located in the Grand Strand region, which is a beautiful area with white sandy beaches and numerous attractions. It's also affordable compared to other popular retirement places like Florida, especially if you want to be near the ocean.
The area is known for its flavorful seafood and South Carolina cuisine. Some of the local favorites include the Hot Fish Club, Sea Captain's House, and the Wicked Tuna.

Q: Where do most retirees live in South Carolina?
A: With all of the fun attractions, great places to eat, and affordable housing, many retirees flock to Myrtle Beach.
12. Mount Pleasant, SC
In 1680, the British arrived in present-day Mount Pleasant, which is located across from the Cooper River near Charleston. The town was originally built for wealthy residents and consisted of beautiful grand homes, which still exist today.
One of the town's most prominent landmarks is the Memorial Waterfront Park, which is a lovely area where people can picnic or watch the boats go by. The annual Blessing of the Fleet & Seafood Festival is also held here.
Some of the other prominent highlights in the area include the Patriots Point Naval & Maritime Museum, the Boone Hall Plantation, and the Palmetto Island State Park. Isle of Palms and Sullivan's Island are also both within a 20-minute drive.
13. Tega Cay, SC
Tega Cay is a safe, private community that's situated on a peninsula near Lake Wylie and only around 20 miles from Charlotte, North Carolina.
There has been an increasing number of new housing units (including single-family houses, apartments, and townhomes) in the golfing town of Tega Cay over the past few years, and it makes perfect sense. The word is out: Niche ranks Tega Cay as the #1 Best Place to live in South Carolina.

Q: Where is the safest place to retire in South Carolina?
A: With a violent crime rate of 1 in 1,897 compared to 1 in 192 in the entire state of South Carolina, Tega Cay is, by far, one of the safest places to retire in South Carolina.
14. Bluffton, SC
The charming coastal town of Bluffton was first established on a bluff overlooking the May River in South Carolina. Eventually, it became a bustling steamboat port, but it struggled after the Civil War. Things started to improve in the 1990s with the help of various preservation efforts and the proximity of Hilton Head Island to the area.
Old Town Bluffton is now full of charming galleries, historic churches, and award-winning eateries. It's also home to the May River Theatre, which features local talent, as well as The Society of Bluffton Artists, which holds both exhibitions and classes.
15. Northlake, SC
The Northlake community is in the Upstate region of South Carolina, about 30 miles from Greenville. It's located on the northern portion of Lake Hartwell, which is known for its many recreational activities, such as water skiing and fishing.
In Northlake, there are various neighborhoods that feature affordable, well-designed homes in many different styles. The area's waterfront homes also feature boat docks.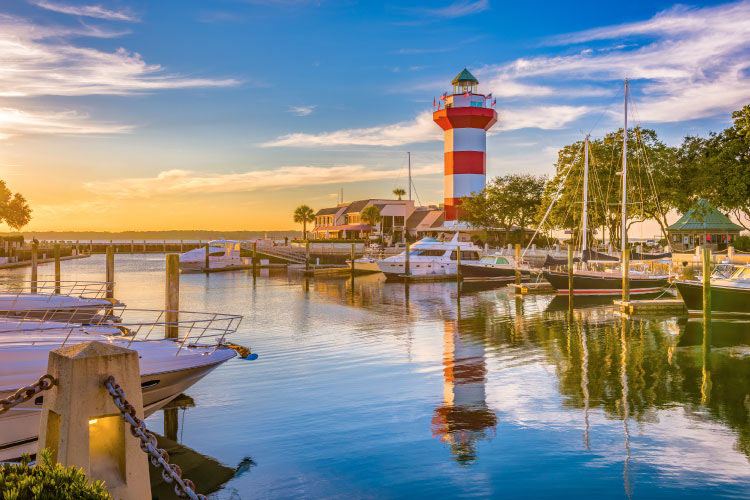 Hilton Head Island, South Carolina
16. Hilton Head Island, SC
Known for its world-renowned beach and top-notch golf courses, Hilton Head is a city that offers a variety of recreational activities. These include art classes, tours, and hiking. The area also has numerous museums, music venues, art galleries, and more.
The median age of individuals living in Hilton Head is around 59 years old. This makes it an ideal area for people who are looking to retire. In fact, Niche ranks it #3 on the list of Best Places to Retire in South Carolina. However, since it's a resort town, home prices can be quite expensive.
17. Forest Acres, SC
Situated near downtown Columbia, Forest Acres is a "city within a city." It features an eclectic mix of great neighborhoods that are ideal for retirees looking for a more upbeat and vibrant location in South Carolina to call home.

The main road through Forest Acres is Forest Drive. It's the center of the area's dining and shopping district, and the busy road is home to various popular stores at Trenholm Plaza. Residents of Forest Acres also enjoy great dining at local establishments such as Tazza Kitchen and Tombo Grill.
18. Rock Hill, SC
There are plenty of museums and events happening in Rock Hill, as it is a place full of fascinating history that any history buff can enjoy. The area was heavily impacted by significant events in American history, such as the Civil War and the civil rights struggle.
One of the most prominent landmarks in downtown Rock Hill is The White Home, which is a three-part structure that was constructed in 1838.
The Museum of York County is also a very interesting place to visit in the area that features a variety of exhibits that highlight the area's native wildlife and the region's Native American history.
Winthrop University is located in Rock Hill, as well, and its Old Town district is quite popular among both locals and students due to its various bars, restaurants, and cultural events.
19. Aiken, SC
Located in South Carolina's western region, the city of Aiken was first established in 1835. This charming city is surrounded by horse farms and only a 30-minute drive from Augusta, Georgia.

Aiken has interesting festivals that take place yearly, such as the Aiken's Makin' local crafts festival. However, the equestrian culture in Aiken is the city's true gem, with a plethora of horse-related events. The Aiken Steeplechase Association holds events in the spring and fall, while the Aiken Polo Club hosts matches every Sunday afternoon.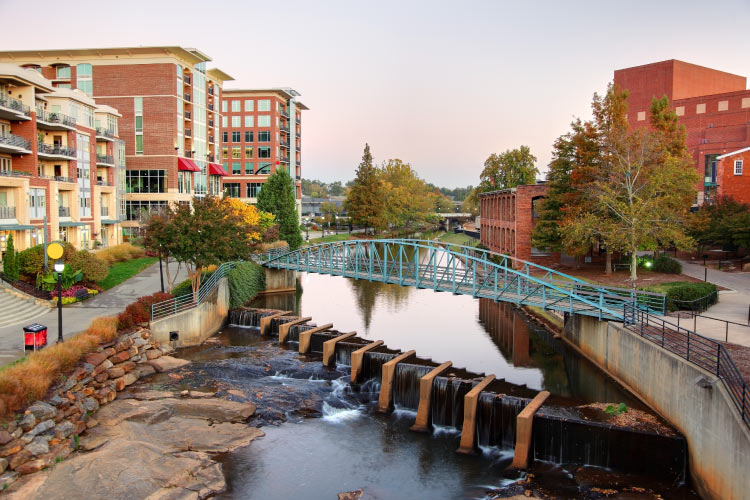 Greenville, South Carolina
20. Greenville, SC
The
city of Greenville
is a great place to retire, if you are looking for ways to stay active and get involved with the community. Along with a variety of cultural activities and entertainment, the city has a low cost of living, making it a budget-friendly option for retirees.
Residents who live in Greenville can also enjoy a variety of ways to explore different kinds of cultures and art. The city's
Museum of Art
has a huge collection of Southern art pieces, and the
Upcountry History Museum
is an ideal place for anyone interested in learning more about the area's history.
No Matter Where You Retire in South Carolina, PODS Will Help You Get There
If you're planning on relocating to South Carolina to spend your golden years, consider renting a portable storage container from PODS. You can pack and load your belongings at your own pace, and the container will be taken to your new South Carolina residence whenever you're ready. One month's storage is included with every move, as well, so there's no need to rush the unpacking process.

Editor's note: For ease of reading, monthly rental prices were rounded to the nearest $25 and home values were rounded to the nearest $100.
Get a Quote
Choose the service you need
Comments
Leave a Comment
Your email address will not be published. Required fields are marked *