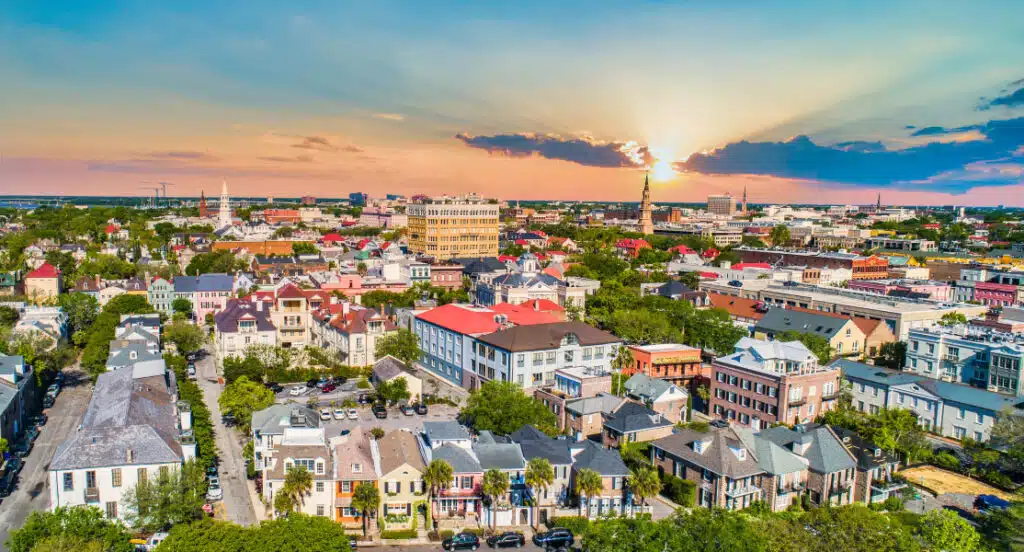 Moving to Charleston, SC? Here's What It's Like
Few cities can match the charm of Charleston: a mix of rich history that flavors the streets, shops, and people, and a vibrant influx of growth and innovation that keeps this Lowcountry city fresh and lively.
For the tourists that flock to the seaside destination each year, that means a vacation with nearly endless sightseeing and recreational options, from the French Quarter to Fort Sumter. And for the average of nearly 15,000 people moving to the Charleston region every year over the past decade, it means choosing a culturally abundant city with award-winning dining, a thriving arts community, and plenty of choices when it comes to neighborhoods. 
If you're considering moving to Charleston, SC, read on for details to consider — including neighborhoods to check out, the cost of relocating, and where to find that storied southern hospitality. 
About Charleston, SC
From a bustling vibe in the historic district to the less-touristy but still busy 'burbs, Charleston can sometimes feel like a few cities in one. Cobblestone streets snake through downtown, where King Street galleries and upscale shops share real estate with boutique hotels and some of the best dining in the Southeast. Architectural gems appear on nearly every corner, along with colorful residences and the historic treasures that draw visitors from around the world. Near Charleston Harbor, in the neighborhood known as the Battery, elegant mansions sit high along the waterfront, with South Carolina's signature palms lining the boulevards like stately sentries.
Did You Know? Charleston is nicknamed "The Holy City" because of the many steeples that stretch atop the skyline in every direction — a visual representation of the city's history as a place of religious tolerance and diversity.
What Drives the Economy in Charleston?
Tourism is the biggest moneymaker, but a dedicated effort to diversify the economy has also been largely successful. In 2023, Charleston's labor force is projected to grow by 2.1%, according to the Charleston Metro Chamber of Commerce, with employment growing at a 4% clip in 2022 and 1.8% through 2023. 
Aerospace, automotive, defense, and technology continue to reign as top industries in the region, with the busy Port of Charleston serving as a key driver for the economic engine of the state. Several colleges and universities also call Charleston home, bolstering innovation and research opportunities.
How's the Weather in Charleston?
Mild winters and hot, humid summers characterize Charleston, South Carolina, weather — with the occasional threat of a tropical disturbance barreling into town. Reminders of 1989's monster Hurricane Hugo remain. But the damages and danger are easy to forget on a breezy summer day on one of the area's half-dozen nearby barrier islands, with historic lighthouses dotting the shore and beachy villages offering a laid-back vacation atmosphere year-round.
Like most Southeastern U.S. destinations, Charleston measures the most rain during late summer, with thunderstorms rolling in like clockwork on most afternoons, for a total of about 50 inches a year. Temps can get downright toasty in the summer, reaching into the high 80s and low 90s. But all is forgiven in spring, when fragrant magnolias and jasmine scent the air and azaleas light up the city's downtown courtyards and boulevards with their bright blooms.
What's Fun About Charleston?
Living in Charleston, South Carolina, you'll never lack interesting things to do, whether you prefer history, wildlife, shopping, or the arts.
Family attractions include the Charleston Aquarium (or specifically, the South Carolina Aquarium), home to 5,000 creatures — from loggerhead sea turtles, the state's official reptile, to flocks of coastal birds and a dizzying collection of sharks and other sea critters. History buffs will want to explore Fort Sumter, the site of the first shots of the Civil War, and the Charleston Museum's impressive masterworks collection for a deep dive into Lowcountry history. At the must-see Charleston City Market, you'll find the usual touristy tchotchkes but also handmade treasures like Charleston's signature sweetgrass baskets woven by Gullah artisans, descendants of West African slaves brought to the region in the 1500s.
Are There Nice Beaches Near Charleston?
The Charleston area boasts some of the most beautiful beaches and parks you'll find just about anywhere in the U.S. The city is dotted with greenspaces, including White Point Garden, which occupies about six lush harborside acres near the Battery neighborhood. 
Another beauty, the Joe Riley Waterfront Park, welcomes visitors to a covered pier, swings, and an esplanade along the Cooper River. Behind the park's famous "Pineapple" fountain, you'll find the entrance to the City Gallery, a contemporary art haven featuring the works of local, regional, and international artists.
Charleston's beaches are legendary — not just for their place in history books as sites of Civil War battles, but for their soft sand, gorgeous surf-ready waves, and bounty of family recreation. Kiawah Island, site of world-class golfing and a top choice for retirees, is among the area's preferred destinations, along with Isle of Palms, SC, and Sullivan's Island. 
Folly Beach, SC, just under a half-hour from downtown, is another favorite barrier island playground for out-of-state visitors and locals alike. Folly fits the bill as a true beach town, with charming independent eateries, shops, and open-air bars that create a celebratory atmosphere year-round. And annual festivals add to the fun — the Bill Murray Polar Bear Plunge, in honor of one of Charleston's most famous residents, is a can't-miss New Year's Day tradition.
Is There a Creative Community in Charleston?
A lively local arts scene features local galleries, museums, and independent theater companies. Major music venues include the Gaillard Center, home to the Charleston Symphony Orchestra and Broadway tours. The Charleston Music Hall and smaller clubs and bars like the Pour House are popular spots for national bands and local favorites. The world-famous Spoleto Festival draws the international arts community every year for visual exhibitions, theater, music, and more in a 17-day, city-wide event. In fact, since 1977, visitors have come from around the globe for the celebration, which is patterned after the Festival of Two Worlds in Spoleto, Italy. Guests through the years have included hundreds of performers, from Yo-Yo Ma to Renee Fleming, Nathaniel Raitliff and the Nightsweats to Brandi Carlile.
Why Do People Move to Charleston, South Carolina?
For starters, a rich history, beautiful landscape, and a thriving dining scene are the attractions that draw new residents to move to Charleston. Travel + Leisure magazine readers agree, naming it the Top City in the U.S. for nine consecutive years and, in 2022, No. 23 on the Best Cities in the World list — the only American city voted by readers as among the top 25. 
Here are a few more specific points to ponder if moving to Charleston is in your future:
Is Charleston, SC, an Expensive Place to Live?
The cost of living in Charleston, SC, is 1.8% higher than the national average, according to Salary.com, and up 1.5 percent from a year ago. Housing drives that differential, at about 15 percent more than the national average, with energy and food costs at about 13 and 14 percent, respectively, below the norm. And typical home values are skyrocketing, as well, nearing $484,000 in April 2023 (an annual increase of around 11%). 
What is a Good Salary to Live in Charleston, SC?
The answer depends, of course, on your definition of "good," which can have dozens of variables. As of March 2023, $56,307 is the average salary in the Holy City. Of course, different occupations have widely varying salaries — a hospitality associate in Charleston will make a lot less than a psychiatrist, for instance. Add to that all the different lifestyle choices and standards of living each individual and family brings to the equation. But we've found that researching is the answer: Find the area where you want to live, take a look at average salaries in your field, and do some budgeting around how you spend your money. 
Is Traffic Bad in Charleston?
Like any touristy favorite, Charleston can be a traffic nightmare near busy destinations. Rush hours get super congested downtown, where the streets are narrow and not designed for today's volume of traffic. Bridges and routes to the beaches are equally clogged at certain times. But the average commuter in Charleston is looking at a 26.6-minute drive each way, compared to 27.6 for the national average. 
Insider Tip: Slow down! Horse-and-carriage rides are popular in downtown Charleston, and the city's cobblestone streets aren't made for multiple lanes of traffic, so keep your eyes where they should be. And if you must drive, share the road. But better yet, hoof it.
What Are the Schools Like in Charleston?
Around 48,000 students attend public schools in the Charleston 01 School District, which is rated in the top 20% of South Carolina districts. The student-teacher ratio is 14:1, and consistently considered among the best public schools in Charleston is downtown's Buist Academy, a K-8 magnet school specializing in the language arts — ranked in the top 1% nationwide for testing scores. For older kids, Wando High School in Mount Pleasant, about 10 miles from downtown Charleston, is ranked the No. 3 high school in the Charleston County district for 2022 by U.S. News & World Report. 
Is Moving to Charleston, SC, a Good Idea?
If you enjoy history, the arts, and an active outdoor lifestyle, a move to Charleston is absolutely a good idea. And as we've detailed here, experts agree. But if hot weather isn't your thing, you might want to consider a destination a bit farther north. Charleston summers can be brutal and they're only getting worse. Still, that nice sea breeze off the Atlantic can be a lifesaver if you can spend time at Charleston's beautiful beaches.
What Is the Best Area to Live in Charleston, SC?
In a city as culturally and geographically diverse as Charleston, picking a "best area" is difficult but not impossible — it just depends on your specific needs and wants in a neighborhood. Like most cities in the U.S., home prices have surged in the past couple of years. But folks looking to relocate to Charleston have plenty of areas to explore, with a range of costs and amenities — and all with a generous serving of Lowcountry flavor.
Here are a few highlights:
Downtown Charleston
Yes, downtown is touristy and crowded. It's also 20 minutes from the Charleston airport — ideal for business travelers. And just as importantly, downtown is architecturally exquisite, with historic churches, upscale shopping, and world-class dining on practically every corner. Young professionals have discovered renovated (and pricey) condos and apartments in the historic district, but working families have been largely priced out of downtown real estate, with the notable exception of affluent neighborhoods near the Battery.
Mt. Pleasant, SC
As its name implies, this Charleston suburb hits all the right notes. A small but charming downtown area is within a stone's throw from cozy neighborhoods of tree-lined streets and a variety of architectural styles. The usual suburban sprawl of chains and traffic has cropped up around the edges of Mount Pleasant, but overall, the town is a picture-perfect haven for families.
Daniel Island
If you favor contemporary master-planned community living, Daniel Island is a good option. Situated on 4,000 acres about a half-hour north of downtown Charleston are nine distinctive neighborhoods, centered around a lively recreational lifestyle with miles of trails, tennis courts, golf, and swimming pools.
Summerville, SC
Founded as a seasonal getaway destination for city residents, Summerville is about a half-hour northwest of downtown Charleston. Today, its walkable downtown, terrific dining scene, and relatively affordable housing makes it a top choice for families year-round.
Did You Know? Summerville, known as Flowertown in honor of its wealth of beautiful gardens, is the birthplace of sweet tea — a southern staple. 
West Ashley
Charleston's first bedroom community was built in the mid-century heyday of suburban flight, and it still retains the architectural styles of the era in many of its neighborhoods. Today, many West Ashley homes overlook the Intracoastal Waterway, with the 10-mile West Ashley Greenway snaking through the area and into Avondale, where restaurants, bars, and shops are the main attraction.
How Much Does it Cost to Move to Charleston?
Moving Route
Miles
PODS
(includes transport & 1-month storage) 
Full-Service Movers
(includes transport & loading/unloading)
Rental Truck
(plus fuel costs)
Boston to Charleston
921
$3,594-$4,983
$2,567-$6,163
$923-$1,424
D.C. to
Charleston
532
$2,858-$4,231
$2,083-$5,375
$630-$972
New York, NY to Charleston
766
$4,270-$5,761
$2,083-$6,163
$914-$1,411
*Based on estimates from PODS and MoveBuddha for a 2-3 bedroom household (800-1,200 sf); costs don't include insurance or taxes. Prices will vary based on specific locations, dates, size of household to be moved, and available discounts. For a detailed quote, call PODS at 877-350-7637.
Let's face it: The process of moving, even to a coveted destination like Charleston, can be trying. But with careful planning, you can make it less tedious — so you can focus on your new home rather than worrying about how to get there.
Here are a few options:
PODS Moving and Storage Containers
Whether you're moving to Charleston from across the country or just one town over, you may need flexibility regarding dates — and hiring professional movers or lugging it all yourself might not be the best option to get the job done. PODS makes moving easy with portable moving and storage containers delivered right to your driveway. Pack and load at your own pace. And when you're ready, PODS will pick up your containers and deliver them right to your new Charleston home — they do all the driving! And if you need assistance packing, unpacking, loading, or unloading, they can refer you to local professional movers, too. 
Full-Service Movers
This is the way to go if you can't bear the thought of moving a mountain of belongings on your own. Full-service movers are also a good option for people unable to perform physical tasks, because moving is most definitely strenuous. Many agencies provide packing services, as well, which makes the process exponentially less stressful. As with any service that involves valuables, do your due diligence. Read online reviews, ask for references, and make sure you get everything in writing — including the cost estimate, arrival and departure times, insurance coverage, any extra fees or charges, and policies concerning inclement weather or other unforeseen events. Once you've got all the details hammered out, you can relax and start designing the decor in your new Charleston home.
Rental Trucks
DIY is a convenient budget-saving option for people who don't mind doing some heavy lifting — or have good friends willing to work (for pizza, maybe?). Be sure to ask the rental agency professionals for guidance on the right size truck, though, because there's nothing like realizing you're out of space when you've still got a piano and six boxes of books that need to go in the truck. Ask lots of questions and read the fine print. You'll want to know at the outset whether you'll be charged by the mile or by the day, whether you need to fill up the gas tank before you return the truck, what kind of insurance coverage you'll need, whether the company provides a dolly and blankets for your use, and more.
Have your heart set on moving to the South but not exactly sure which city to call home? The PODS Blog explores the best neighborhoods in places like Intown Atlanta and Charlotte, NC, with the inside scoop about what it's really like to live there. 
---
Shannon Jacobs is a Tampa-based freelance writer and frequent contributor to the PODS Blog. She has lived in Atlanta, the Berkshires, and Nashville, but always returns to the warmth of Florida's Gulf Coast.
Editor's note: Monthly rental prices were rounded to the nearest $25 and home values were rounded to the nearest $100 for ease of reading.
Get a Quote
Choose the service you need
Comments
Leave a Comment
Your email address will not be published. Required fields are marked *