Take advantage of our limited time offer. Enter promo code HOLIDAY25 to save up to 25%.
See offer details
.

PODS Moving & Storage Greenville-Spartanburg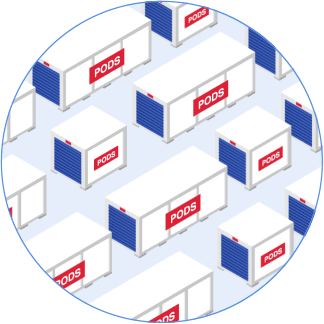 This may take up to 30 seconds.
We're searching over 200,000 containers to find you the best price.
Greenville-Spartanburg Moving Solutions
When making a move to or around the Greenville-Spartanburg area, a PODS
portable container
can help. Select the container size you need, and have it delivered to you. Take your time loading before arranging for PODS to drive it to your new home. You can also store your container at one of our
storage facilities
if you prefer off-site storage. PODS is the right move for your move.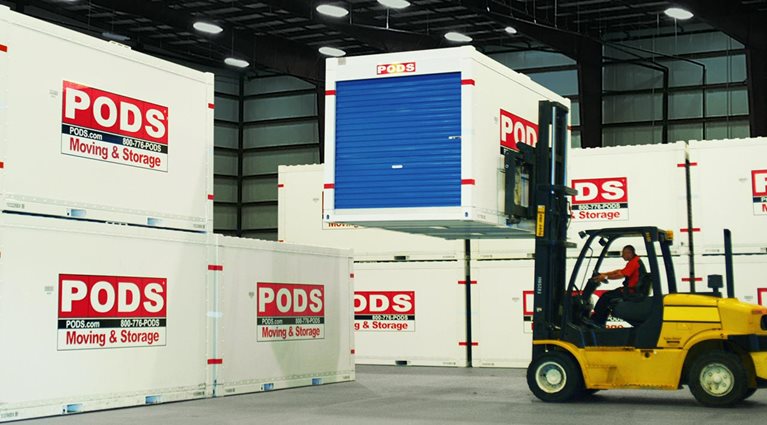 Greenville-Spartanburg Storage Solutions
PODS
storage solutions
are great for short- or long-term storage between moves or to clear out space for a home remodel or renovation. Simply choose the portable container size you need, and PODS brings the storage to you. Our ground-level design reduces the hassle of loading and unloading. You can keep it in your driveway, or we'll store it in our secure PODS Storage Center. It's storage that fits your needs.
More about Greenville-Spartanburg@Model.Title.HeadingType>
Greenville-Spartanburg is located in the northwestern part of South Carolina known as "The Upstate." The two cities are known for their natural beauty, featuring many parks, small lakes, and streams. The area is great for history and art buffs, as well, thanks to several nearby museums. If you're looking to move to Greenville-Spartanburg, PODS offers moving and storage the way you need it done.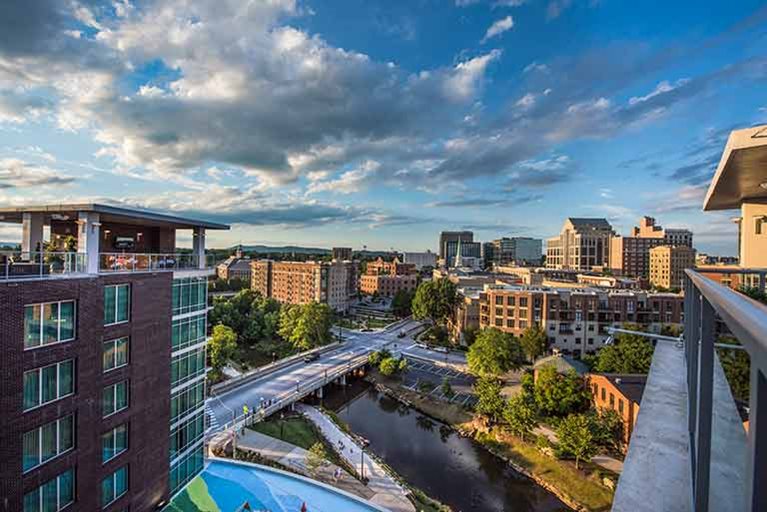 Moving to Greenville-Spartanburg
The Greenville-Spartanburg area has a combined population of more than 1.4 million. The cities have a tight community and a focus on building the downtown areas, where residents can enjoy an active culture with plenty of outdoor activities. Many top brands, such as BMW and AFL, have their corporate headquarters in the area. This has helped draw workers there, and new residents find that affordable housing and good schools make finding where to live in Greenville-Spartanburg easy.
This part of South Carolina also has a diverse lineup of neighborhoods. If you reside in downtown Greenville, you'll be near popular attractions such as the Greenville Zoo and the Pettigru Historic District. If you live south in Pleasant Valley, you're near two country clubs and golf courses. You'll find similar options in Spartanburg, which has neighborhoods such as Hillcrest and Fernwood near retailers and quality outdoor spots.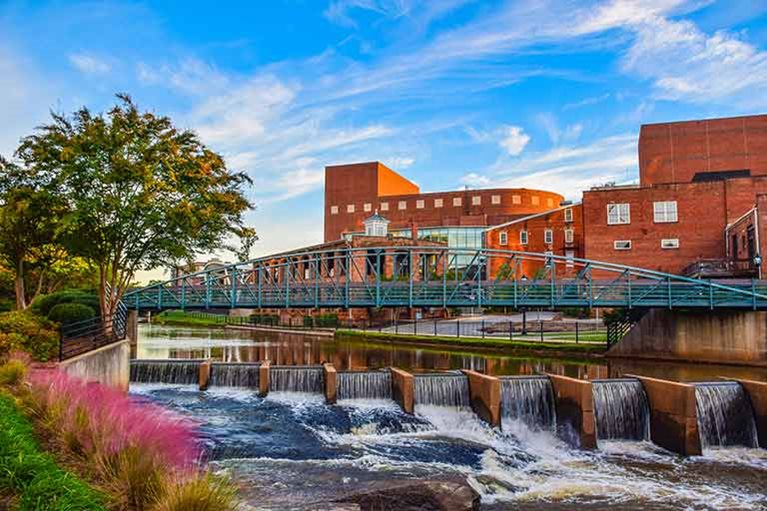 Things to Do and See in Greenville-Spartanburg
You'll find plenty to keep you busy in Greenville-Spartanburg, especially if you enjoy the outdoors. These are some of the top attractions and things to do in the area:
• Croft State Park: Located in Spartanburg County, Croft State Park is a huge green space surrounding Lake Craig, Lake Edwin Johnson, and Lake Johnson. The park encompasses 7,000 acres and has trails for hiking and horseback riding.
• Edwin M. Griffin Nature Preserve: Though considerably smaller than Croft State Park at only 115 acres, this nature preserve near the center of Spartanburg features miles of hiking trails along a wetlands area.
• Falls Park on the Reedy: Located in downtown Greenville, Falls Park offers a place to relax in the city. The park is home to 20 acres of gardens and the Liberty Bridge overlooking the Reedy River.
• Glendale Shoals Preserve & Waterfalls: For a mix of local culture, history, and nature, go to this 13-acre preserve, which features a former mill, a dam, and a bridge constructed in 1928.
• Greenville Zoo: Home to a variety of animals, the Greenville Zoo is a 14-acre facility established in 1960.
• Hub City Railroad Museum: For a look at a niche part of Spartanburg history, visit Hub City Railroad Museum, which features a restored caboose in an historic train depot.
• Spartanburg Regional Museum of History: Interested in learning about the area's history? Check out this history museum, which documents Spartanburg's roots back to the first Spanish explorers.
• Eat at local restaurants: From A Caribbean Sweetness to Willy Taco, Monsoon Noodle House and Wade's Restaurant, Greenville-Spartanburg welcomes an array of palates and cultures.
Greenville-Spartanburg is an incredible area with a thriving community and culture. Use PODS' moving and storage services to simplify your move, renovation, or remodel so you can spend more time enjoying the beauty of this part of South Carolina.
Serving the greater Greenville - Spartanburg area
Abbeville | Anderson | Arcadia | Belton | Blacksburg | Boiling Springs | Buffalo | Calhoun Falls | Campobello | Cateechee | Central | Cherokee Falls | Chesnee | Clemson | Cleveland | Clifton | Clinton | Conestee | Converse | Cowpens | Cross Anchor | Cross Hill | Donalds | Drayton | Due West | Duncan | Easley | Enoree | Fair Play | Fairforest | Fingerville | Fountain Inn | Gaffney | Glendale | Glenn Springs | Gramling | Gray Court | Greenville | Greenwood | Greer | Honea Path | Inman | Iva | Joanna | Jonesville | Kelton | Kings Creek | La France | Landrum | Laurens | Liberty | Lockhart | Long Creek | Lyman | Madison | Marietta | Mauldin | Mayo | Moore | Mountain Rest | Mountville | Newry | Norris | Pacolet | Pacolet Mills | Pauline | Pelzer | Pendleton | Pickens | Piedmont | Reidville | Richland | Roebuck | Salem | Sandy Springs | Seneca | Shoals Junction | Simpsonville | Six Mile | Slater | Spartanburg | Starr | Startex | Sunset | Tamassee | Taylors | Tigerville | Townville | Travelers Rest | Una | Union | Walhalla | Ware Shoals | Waterloo | Wellford | West Union | Westminster | White Stone | Williamston | Woodruff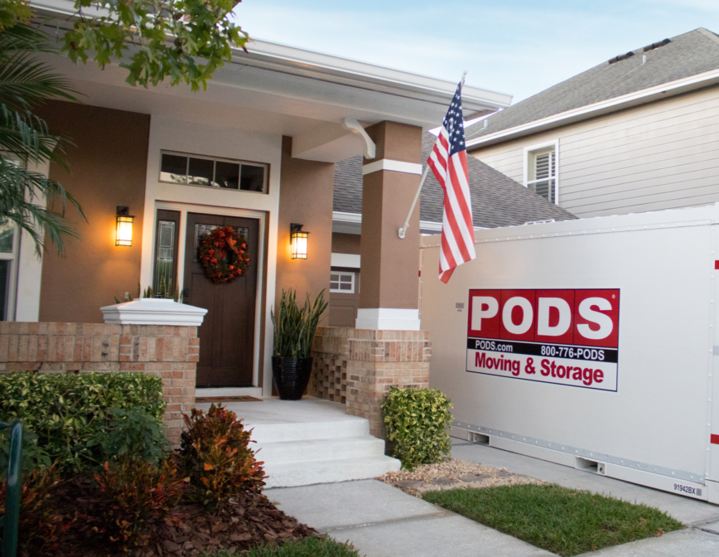 Greenville-Spartanburg Moving & Storage
Storage Facilities Near Me
Greenville Four, SC
129 Michelin Ct
Piedmont, SC 29673
*Limited service areas may apply. Please call PODS for service availability.