Take advantage of our limited time offer. Enter promo code HOLIDAY25 to save up to 25%.
See offer details
.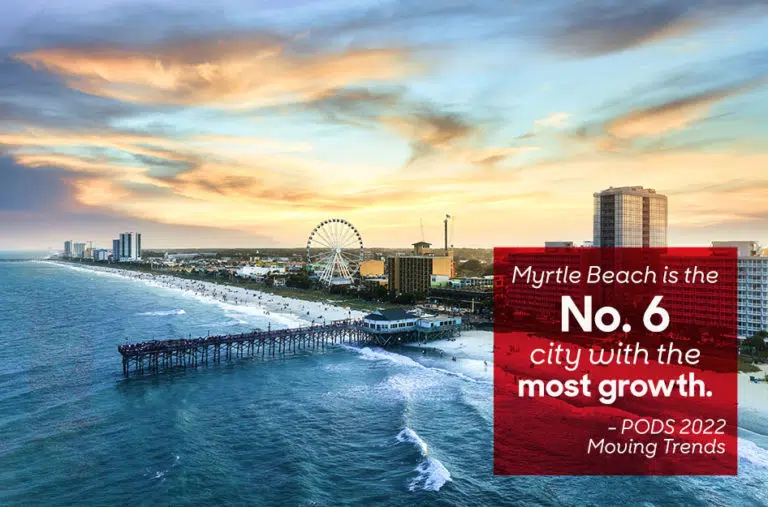 Your Essential Guide to Living in Myrtle Beach in 2022
Beach living has always been a common, if not far-fetched, dream for plenty of Americans, but work life and unaffordability usually put the brakes on packing up and moving to the coast. Recently, however, thousands of inlanders starred in their own reality show and moved to Myrtle Beach, South Carolina. In fact, the city has emerged as one of the best seaside communities in the U.S. (and not just for retirees).
Of course, near-perfect beach weather and low cost of living is always bound to draw newcomers, but Myrtle Beach has plenty more to offer — especially if you're down with the tourism economy. But before you pack the SPF and learn to boogie board, take a peek at what everyday life in the area really looks like, and see what else you can expect to find with this essential guide to living in Myrtle Beach.
1. Before you go, there are a few stats you may want to know
If wanderlust has you thinking about living in Myrtle Beach, SC, you'll join a large group of newcomers, including young professionals, families, and retirees. The word is definitely out: Myrtle Beach is one of the nation's fastest growing and most desirable beach communities. But to give you the best idea of what you're walking into, here's a snapshot of the specifics:
Myrtle Beach is home to about 37,000 people, according to 2021 estimates, but the larger metropolitan area — locally known as the Grand Strand — includes around 325,000 residents along 60 miles of gorgeous shoreline.
South Carolina's state capital, Columbia, is about a three hour drive away and is the largest city near Myrtle Beach. Florence, SC, and Wilmington, NC, are each about an hour and a half away.
Tourism and hospitality are the economic lifelines of Myrtle Beach. There are approximately 425 hotels and nearly 100,000 vacation rentals in the Myrtle Beach area, including resorts, motels, and B&Bs.
Visitors spent $145 million in state and local tax revenue in 2019. That's a lot of airbrushed t-shirts and fried shrimp baskets!
Expansive apartment complexes and high-rise communities house about half of the more than 14,000 total households in Myrtle Beach.
Myrtle Beach has a thriving retirement community, thanks to easy access to healthcare and the fact that South Carolina doesn't tax Social Security benefits. The state also offers a significant retirement income deduction.
Seniors qualify for a homestead exemption and state taxes are based on 4-6 percent of the home's market value.
Insider Tip: Curious where Myrtle Beach ranks among other popular cities? Check out our 2022 moving trends on the PODS Blog. (Spoiler alert: Myrtle Beach ranks in the top 10 on our list of cities with the most growth.)
2. Myrtle Beach is one of the best places to plant your roots
The best way to show this? By answering a few frequently asked questions. Take a look:
Q: Is Myrtle Beach, SC, a good place to live?
A: Well, more than 37,000 current residents think so. And it's hard to argue with them. In fact, U.S. News & World Report recently gave Myrtle Beach the following rankings:
#1 Fastest-Growing Places
#1 Best Places to Live in South Carolina
#25 Best Places to Retire
#37 Best Places to Live
Q: What is the best part of Myrtle Beach to live?
A: According to bestneighborhood.org, the northeast parts of the city tend to be the most desirable, but homes in the west regions are usually more affordable. As always, it depends on your preference.
Ask a resident from each part of the city, and they'll likely tell you that their area is the best location. But, of course, it's all about how much you want to spend on housing and why you're moving to Myrtle Beach to begin with. Starting a family? Retiring? Single professional? You'll want to pick a neighborhood according to your season of life.
When you start your house hunt, you should know that master-planned communities and dense apartment complexes dominate the real estate landscape in Myrtle Beach. If you're looking for a property with "personality," give yourself extra time because you'll find plenty of similar coastal architecture and design in newer Myrtle Beach housing.

Incoming residents often prefer these master-planned communities and dense complexes because they have a mix of housing options, amenities, and coastal landscaping, including the palm tree's cousin, the Palmetto tree. And most neighborhoods have room for every type of family, from newlyweds and young families to empty nesters.
Here are a few of of the top neighborhoods in Myrtle Beach:
The Market Common
The Market Common is a master-planned community converted from the closed Air Force base. The community has a charming dining and shopping district, and you'll find active neighbors and a wide range of price points for townhouses, condos, executive homes, and homes with coastal vibes.
Carolina Forest
You're bound to find your dream home among one of the many neighborhoods that make up the master-planned community of Carolina Forest. You won't be the only one on a house hunt, however. This community is one of the most sought after, thanks to a variety of upscale amenities like a dedicated post office and school. Home shoppers also like that there are home prices to suit most incomes.
Grand Dunes and Dunes Club
If you're searching for luxury digs, you'll want to tour the Grand Dunes and Dunes Club communities. Homes start at around $350,000 and quickly increase. Three of the communities, in particular, are for active residents who are 55 or older, and the amenities available for retirees are unmatched.

Q: Is Myrtle Beach an expensive place to live?
A: Compared to similar beach city metros, the cost of living in Myrtle Beach is lower than average. However, Myrtle Beach remains a prime destination for newly mobile out-of-towners, thanks to remote work. The draw for the oceanside lifestyle now costs renters on average $1,540 for an apartment of less than 1,000 square feet, according to RentCafe in July 2022.
If you're hoping to buy a house, your budget will feel the effects of deep-pocketed vacation home buyers in addition to primary residence house hunters. Both groups have significantly changed Myrtle Beach's housing affordability. In fact, Zillow reported a whopping 36.8% increase over the year between August 2021 and August 2022. And as a result of the rush to purchase, buyers are now looking at a typical home value of $321,909.
If you want an overall picture of Myrtle Beach's cost of living, Niche grades it as a B-. It's no surprise that daily costs reflect the typical lifestyle of a year-round tourist epicenter. Residents pay high prices on everything from gas to dining out. Niche also ranks Myrtle Beach's job market as C+, partly due to the median household income of about $43,000 — lower than the national average.
Q: What is it like to live in Myrtle Beach year-round?
A: Myrtle Beach is the quintessential beach vacation destination. As a resident, you'll become part of a community that welcomes over 19 million visitors annually. You'll have all the entertainment and dining experiences you could hope for, including national retail chains and homegrown small businesses, plus access to enviable beaches, parks, and amenable weather most days of the year.
Tourism is a lucrative way of life in Myrtle Beach, and locals learn to adjust to the headaches stemming from mega conventions, family reunions, wedding parties, and a list of rowdy behavior from tourists who come to play hard. And easy access to the coastal lifestyle could easily outweigh the inconveniences of vacationers, especially during the slower tourist months.
Insider Tip: Before moving to South Carolina, it's best to accept early on that you'll see the unofficial state insect, the Palmetto Bug, occasionally scurrying across your floors and everywhere outside. Southerners gave this cockroach a charming name to make it less gross, but they're ubiquitous in the area, and residents make their peace with their existence.
Q: What is Myrtle Beach's weather like?
A: Myrtle Beach's weather is one of the best perks of moving to the area. The sunshine is plentiful, snow is rare, and the temperatures are mild most of the year — think mid-70s in the spring and fall. The temps peak in the summer, of course, when the days are sizzling and humid with a threat of thunderstorms each afternoon. However, ocean breezes keep the highs lower than in nearby inland cities. Tropical storms and hurricanes are possible, so you'll need to learn how to prepare and protect your home and navigate local evacuation routes.
Q: Does Myrtle Beach have good schools?
A: Public School Review reports that for the 2022 school year, there are 27 public schools serving 22,575 students in Myrtle Beach. An additional nine private schools educate 1,300 more students. Public School Review also ranked Myrtle Beach #10 of the Top 10 Best Cities for Public Schools in South Carolina in 2022.
3. "The Beach" culture abounds in Myrtle Beach…
If you're curious about the area and want to dive into the Myrtle Beach way of life, give yourself some time to play tourist. It's the fastest way to become a local.
South Carolinians — especially those vacationing from nearby Columbia or Florence — know Myrtle Beach is a one-of-a-kind gem and refer to spending time there as going to "The Beach." There's no need for more descriptors — Myrtle Beach and The Beach are one and the same. Generations of faithful Myrtle Beach goers know exactly what The Beach means. It means delicious seafood Calabash-style, hours playing on golden beaches and in the warm surf, family amusement parks, and a bit of local shopping and golf.
Another part of Myrtle Beach's beach culture is local beach music and the creation of the iconic state dance, the Shag. It dates back to the 1940s and the graceful, fun, and Jitterbug-like Shag dance has been handed down from family to family through weddings, nights on the boardwalk, and most definitely through annual Shag contests. It's the thing to do in North Myrtle Beach. Stop by Fat Harold's Beach Club or Duck's Night Life for a free lesson.
4. … and so does beach traffic
There's a Myrtle Beach phenomenon known as beach traffic. During the high tourist season, guests from up and down the East Coast use I-95 and I-20 to reach routes US 501, US 378, SC 22, and SC 544. Beach traffic accounts for the extra time you'll spend navigating the area, usually starting where I-95 and I-20 hit the central Myrtle Beach arteries. Locals learn to adjust their timing and use cut-throughs and connectors to avoid heavy tourist traffic.

5. There are plenty of things to do in Myrtle Beach with kids
You know that the beachside activities are some of the top things to do in Myrtle Beach for families large and small. So don't hesitate to spend your precious family time swimming, snorkeling, paddle boarding, wakeboarding, boating, parasailing, and deep sea fishing. If your family loves to camp, take advantage of nearby Myrtle Beach State Park or Huntington Beach State Park, as well.
Once you've reached your capacity for sun-drenched beach fun, you can turn to one of the many nearby attractions to recover from your sunburn. Here are some of the most popular things to do with the kids.
If you need an easy one-and-done destination that everyone will love, choose the family-friendly and walkable Broadway at the Beach for an all-inclusive destination for dining, shopping, and entertainment. Time your visit to stay late and catch the seasonal firework show.
6. And there are equally as many things to do in Myrtle Beach for couples
It's easy to let Myrtle Beach's hustle and bustle vibe take over (there's so much to do!), but if you and your better half need quality time to take it slow and enjoy each other's company, there are plenty of one-of-a-kind opportunities in Myrtle Beach.
If you can't decide, start with a sunset cruise and enjoy cocktails and dinner under a multi-colored evening sky that you can only find off the coast of South Carolina. And later, try one of these activities to reconnect.
7. You can easily take day trips to nearby hotspots
One of Myrtle Beach's best features is its proximity to several other coastal destinations, all close enough to drive in early and spend the day. Charleston is a two and half hour drive and well worth your time. You'll step back in time and enjoy genuine southern hospitality. But if you want to stay closer, you should check out the rest of the Grand Strand and nearby coastal towns, including:
Little River, SC
Murrells Inlet, SC
Calabash, NC
Carolina Beach, NC
Pawleys Island, SC
Georgetown, SC
Wilmington, NC
8. Myrtle Beach has its own slew of annual events
If the annual Shag contests aren't your thing, several well-known events call Myrtle Beach home. If one (or more) piques your interest, you'll need to plan early. Each event draws thousands of people yearly.
9. Yes, there are pros and cons of living in Myrtle Beach, SC
To wrap up, Myrtle Beach is a hugely popular destination for dozens of good reasons, but before deciding to make the Grand Strand your new home, it's wise to know not just about the common pros but the cons, too.
Pros
Myrtle Beach is more affordable than most East Coast beach towns.
You can look forward to beautiful weather most days of the year.
There's always something to do on the Grand Strand.
Public services like transportation and hospitals are plentiful.
The city has a small-town feel with big-city amenities.
Cons
Millions of tourists visit each year, all year long.
Local job opportunities are mostly limited to tourism, hospitality, and healthcare.
The increase of remote workers and vacation home buyers has inflated home prices.
You'll have to consider flood insurance and stay vigilant during hurricane season if you buy a beach house.
10. Moving to Myrtle Beach is easy with PODS
If the Palmetto Bugs haven't scared you off and you're ready to Shag (ahem, Myrtle Beach style), consider using a PODS portable moving container for a flexible move that works with your schedule. PODS will deliver a container to your driveway, and you can pack and load at your own pace.
When you're ready, PODS will pick it up and deliver it to your new home with coastal flair in Myrtle Beach. If something comes up and you need more time to make the move, you can keep your container at a secure PODS Storage Center for as long as you need. PODS will deliver it when you're ready. Yes, it's that flexible!
---
Dawn M. Smith writes about most home topics, including relocation, real estate, and home improvement. As a military spouse, she knows all too well the ups and downs of creating a new home after each move. From scouting the best neighborhoods and packing last-minute to choosing the perfect paint color, she gets it all done (usually in a hurry) with her family and Golden Retriever in tow. Dawn shares her lessons learned with the PODS Blog and other outlets like Angi, HomeAdvisor, and MilitaryByOwner.
Get a Quote
Choose the service you need
Comments
Leave a Comment
Your email address will not be published. Required fields are marked *