Take advantage of our limited time offer. Enter promo code HOLIDAY25 to save up to 25%.
See offer details
.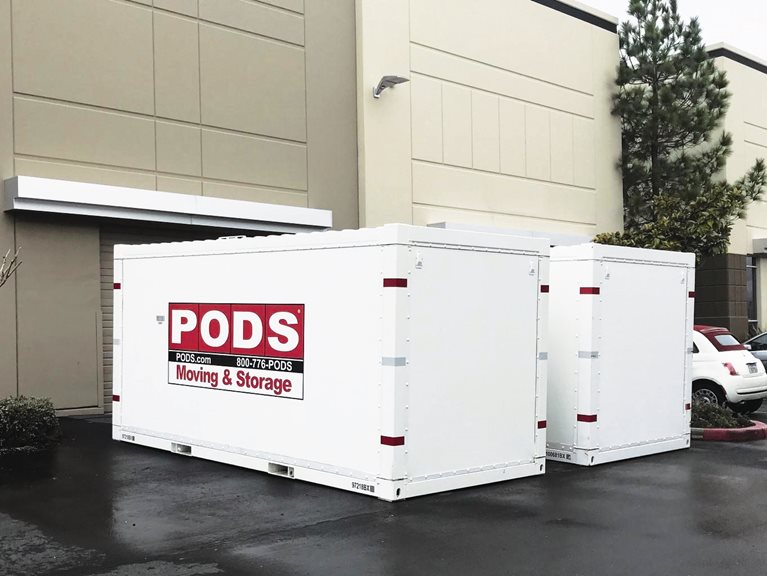 What to Look For in a Commercial Shipping Container Rental
If your business or organization has decided to rent a shipping container, there are plenty of things to consider. Containers are typically used for storing and moving valuable goods, so choosing which storage unit is going to protect your items is not a decision to be taken lightly.
Knowing where to start, however, is almost always challenging — especially if you have never used one before.
There are seemingly endless options out there for those who want to rent a storage container. To get the container that will fit your needs and is worth investing in, it's worth understanding the factors of what makes a good portable storage unit. At PODS, we are experts in storage and here to help you through the process. Continue reading below to learn exactly what and what not to look for choosing a shipping container for rent.
High-Security Features
Any shipping container should be designed to provide maximum security against theft and outdoor elements for the items that it protects. The majority of businesses and organizations use storage units to hold important assets.
Here's a list of the types of items that are often stored inside shipping containers:
Construction equipment tools, and materials
Office files and classified documents
Appliances and electronic devices
Retail inventory, fixtures, and seasonal merchandise
Collectible art, antiques, and furniture
Pharmaceuticals and medical supplies
If you can truly feel comfortable storing any of the items listed inside a container you are considering, then you know you found a contender. A secure container should include features such as steel framing, mechanisms for a user's preferred lock and key, and walls made of high-grade materials that cannot be penetrated.
Better yet, there are shipping containers that have multiple locking options to provide extra layers of protection from theft, tampering, animals, extreme temperatures, and inclement weather outside.
These security features are especially important if you plan to operate a business from your shipping container.
Be mindful, though, that security does not only apply to safeguarding stored cargo from threats on the outside. A quality shipping container will protect items from the inside too, such as from water damage and mildew. Look for storage containers with anti-condensation features to keep your stored goods from being affected or ruined from the environment inside.
Flexible and Portable Design
While you may think that all shipping containers may be "one and the same" when it comes to design, not all shipping containers are as portable as others. Size options for portable storage units from suppliers can range from as small as 8' all the way to 40' in length.
While larger shipping containers can work well for substantial loads and intermodal freight, smaller shipping containers are able to accommodate both modest and massive freight demands with more flexibility since they are easier to load and unload, and because they need less clearance area for placement.
By ordering multiple smaller units rather than one large container for all of your items, you can create modular storage or divide goods among storage units to keep things better organized before and after delivery.
Storage unit size and design can also determine where a container can be delivered. On-site, near a project site, or inside a warehouse are usually where storage units are placed.
However, while large shipping containers are difficult to place on-site, smaller shipping containers can fit inside areas with limited space — such as construction sites, parking lots, or right on the property of where your business is located. If you need your stored goods on-site or nearby, portability is key in any storage container that you rent.
The Ability to Adapt
A shipping container rental is a financial commitment, so your cargo storage container rental should offer value at all times. Whether it is for scheduling or the way you use it, your storage unit rental is ideally ready to adapt to any situation so it is worth every dollar.
For starters, see if your shipping container can be customized since some storage unit providers allow renters to outfit the outside of the container and insert internal add-on features so they can be modified.
Here are a few examples of popular configurations that can be added to many shipping container rentals:
Locking mechanisms
Shelving
E-track accessories
Ramps
Container Wraps
Partitions
Shipping containers, however, are not only useful for storing goods and equipment. Portable storage units can also be helpful solutions in other ways, such as distributing supplies during natural disaster recovery efforts and as a structure for pop-up stores or eateries. Regardless of what you use your shipping container for, your rental must accommodate your timeline.
Monthly billing cycles, instead of long-term contract agreements, for a rented storage unit gives your business the freedom to make decisions and changes as necessary without worry of being tied to a shipping container. Costs can vary for storage container rentals based on your provider, but monthly billing is usually the most economical choice.
Still Considering a Commercial Shipping Container Rental?
You are sure to be satisfied with whatever unit you decide to rent by searching for a shipping container rental with the above ideas in mind. A shipping container provides unparalleled strength and durability, unlike other commercial shipping vessels — like wood crates.
But to make the process easier, filter your options by only seeking storage container providers with a solid reputation for delivering quality products and solutions. PODS has over 20 years of experience providing moving and storage solutions with top-notch service, which is clearly evidenced by our #1 customer service ranking in the moving industry by Newsweek.
Our commercial all-steel storage container reliably performs since it has a 5-star customer satisfaction rating (CSAT), which is the highest rating earned from our entire container fleet. Secure, portable, and adaptable, our all-steel commercial container safely and conveniently stores cargo with maximum security on-site or wherever it is placed.
Each unit is made with a corrugated steel frame and walls, features three high-security locks, and has double doors for easy ground accessibility. And with our month-to-month billing cycle, you can rent the container for just 30 days or several years if needed. You can always find answers to questions about pricing here.
Shipping container rentals from PODS are ideal for creating a temporary storage space or even a long-term solution for holding your goods. Plus, if you need to move your items, our commercial storage units can be transported in one of our trucks across town or even the country. Check out the video below to see what containers from PODS for Business can do for you.
Curious to learn more? Take a look at the shipping containers and storage solutions we offer.
[maxbutton id="1"]
RELATED ARTICLE: Renting vs Buying a Shipping Container: A Comparison Guide
Get a Quote
Choose the service you need
Comments
Leave a Comment
Your email address will not be published. Required fields are marked *