Take advantage of our limited time offer. Enter promo code HOLIDAY25 to save up to 25%.
See offer details
.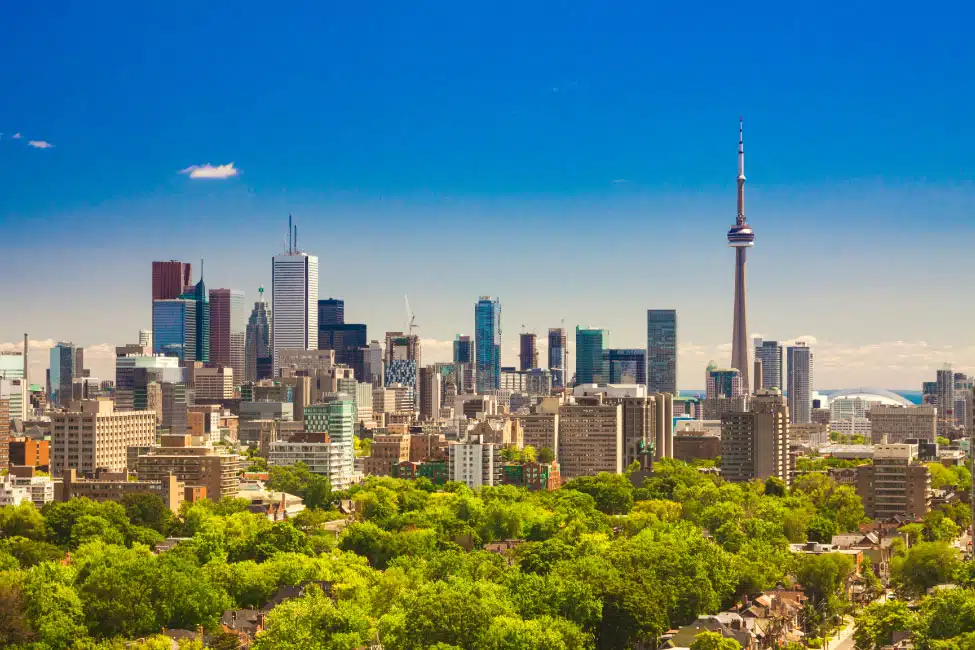 Beyond Yonge & Bloor: Discover the Best Toronto Neighbourhoods
by
PODS
Posted on December 21, 2021
Ask Torontonians about the city and you'll likely hear any or all of the following endorsements: vibrant energy, all four seasons, multicultural food scene, museums and theatres, picturesque waterfront, buzzing nightlife, and friendly locals. Ask the same people about the best Toronto neighbourhoods, and you may get some mixed answers. Sure, we all love Yonge and Bloor, but what about the rest of the neighbourhoods?
Let's take a closer look at some of our favorite Toronto neighbourhoods that make up this famous cosmopolitan hub and its unique attributes, such as stunning Victorian architecture, generational businesses, and proud cultural heritage. Who knows? One of these neighbourhoods may be calling your name.
Map of Toronto Neighbourhoods, Districts, and Streets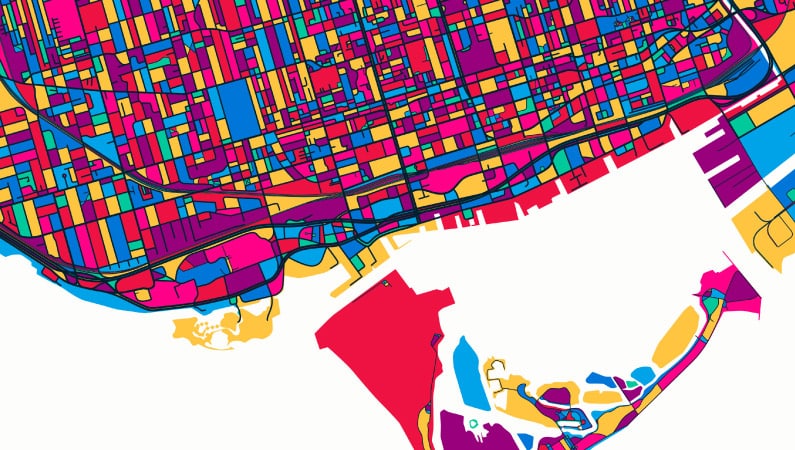 What are the different neighbourhoods of Toronto?
Trinity Bellwoods, The Beaches, Cabbagetown, and Little Italy are just a few of the many diverse and culturally rich neighbourhoods in Toronto. In fact, the city map has been divided into its current 140 neighbourhoods since the late 1990s, but recently there have been plans to increase that number to 158 (though we're not sure when the new map will go into effect).
Trinity Bellwoods
Laid back with a hipster vibe, Trinity Bellwoods will bring out your creative side with many artistic events. At the heart of this area is Trinity Bellwoods Park — a sprawling green space ideal for picnics, lunch breaks, sunbathing, and dog walking. As for residences, you'll find a mix of Victorian houses, modern condos, heritage lofts, and apartments. Some of the city's best dining options are in the area, which also happens to be close to the Ossington strip, packed with restaurants and bars. It's a little slice of nightlife with a more eclectic feel than the Entertainment District. Added bonus? Easy public transportation — the streetcar line runs right through here.
Cabbagetown
Rich in history, Cabbagetown, Toronto, has an impressive collection of Victorian homes. Aside from the stunning tree-lined streets, families and nature lovers alike will appreciate the proximity to Riverdale Park and Riverdale Farm, the latter of which is a working farm, complete with livestock and animals. The shopping district of Cabbagetown includes many one-of-a-kind stores and an array of restaurants, plus you'll be perfectly situated for bus and streetcar service that connects to the subway line. This area is also host to annual festivals, from the Forsythia Festival to the annual Cabbagetown Art and Crafts Sale.
The Beaches
What could be better than having a gorgeous boardwalk at your doorstep? Anyone would be lucky to move to the Toronto Beaches area, whether eyeing a house, condo, or trendy loft. Not surprisingly, you can expect a laid-back vibe in this family-friendly community, making it a definite choice on our list of best Toronto neighbourhoods. It's also home to Kew Gardens — a 6.5-hectare park, complete with a seasonal flower garden. Hit Queen Street East and take your pick of countless shops, bars, and restaurants — most of them independently owned. And in the winter, you'll also have plenty of indoor recreation options, from yoga to dance studios. Locals would agree, this beachy haven is an idyllic escape in the city.
Little Italy
One of the most colourful Toronto neighbourhoods, Little Italy is celebrated for its international restaurants, bars, nightlife, and — no surprise here — classic pizzerias. Local fixtures include spots like Bitondo Pizzeria and Café Diplomatico, both established over 50 years ago. Many exciting food and wine festivals are held here annually, like the famous Taste of Little Italy. Of course, housing is always in high demand. With peaceful residential streets lined with trees, it's an ideal pocket in which to raise a family while enjoying city life. And speaking of, families, take note: Clinton Street Junior Public School, one of the city's oldest schools, is in the Little Italy neighbourhood.
The Junction
This trendy area was once the heart of the Canadian Pacific Railway. Now a mix of young professionals and families, The New York Times declared it a "hip neighbourhood" when it was still up-and-coming over a decade ago. The main strip of Dundas West is lined with restaurants, bars, and boutiques, while St. Clair West offers the convenience of big-box retail. Hop on the streetcar or subway to visit High Park and revel in Toronto's largest green space. And just an 11-minute bike ride away is the Museum of Contemporary Art (MOCA). If you're ready to settle here, you'll find a mix of heritage homes and a growing number of condos.
Insider Tip: Moving to or within a busy city like Toronto has its own set of challenges, so it's best to plan ahead. If you're moving into a high-rise downtown, PODS City Service has you covered. It's designed for the crowded streets of Toronto, with the added bonus of storage services if you need them while you get settled. PODS will deliver a container right to your doorstep — just load it up with your stuff using our lift system (no ramps!) and it'll be on its way to your next home, or to a secure storage center if you need some extra time.
The Danforth
Popular with everyone from new arrivals to young urbanites, Toronto's Greektown still maintains its Greek heritage. And as one of the most family-friendly Toronto neighbourhoods, it's home to the famous Danforth strip, lined with all the necessary amenities, along with many restaurants and bars that contribute to a vibrant but more low-key nightlife compared to the Entertainment District. If you're looking for a cozy community, The Danforth should be near the top of your list. You may even enjoy an easy commute, thanks to its location on the Bloor-Danforth Subway line and its three local stations: Chester, Pape, and Donlands.
Liberty Village
Close to the action, this former industrial district turned thriving community spans over 40 acres. Naturally, it tends to attract young professionals who work in the downtown core. Leisure options are abundant, whether you want to take in the trendy furniture shops, art galleries, hip cafés, or restaurants. Plus, the nearby waterfront trail is ideal for running or cycling. Just minutes away are sporting venues, such as Scotiabank Arena and Rogers Centre, and the bustling nightlife of Toronto's Entertainment District. As for homes, you'll find different styles, including townhouses, lofts, and condos.
King West Village
Known as the SoHo of Toronto, King West Village is one of the most vibrant neighbourhoods in the city. Filled with urbanites, young families, and empty-nesters, it offers the action of downtown living but preserves a distinct community feel. If green space is a must, you'll be happy to hear that it's just 5 minutes from Trinity Bellwoods Park and the popular dog park Stanley Park. It's also home to some of the city's best restaurants, covering a wide variety of tastes and budgets. If nightlife is top of mind, then you'll enjoy plenty of lounges and nightclubs, too. Housing options include single-family homes, townhouses, and condos.
What is the best neighbourhood to live in Toronto?
Looking for a family-friendly neighbourhood? Try The Danforth. A hip neighbourhood with bars, boutiques, art, and more? The Junction may be your jam. And for those foodies out there, we recommend Trinity Bellwoods, home to some of the city's best dining options.
Roncesvalles
Take a stroll through "RoncyVillage" and you'll notice its Eastern European influence and small-town feel. Popular with young families who love living just west of Downtown Toronto, it's filled with independent shops and restaurants and is close to the city's waterfront. High Park is just a short walk away and will be appreciated by kids, thanks to its playground and zoo. And well-preserved Victorian and Edwardian homes with stunning gardens line the residential streets, plus there's a small selection of condos to choose from. Lots of green space and trees make this area a picture-perfect place to call home.
The Distillery District
Ideal for escaping the city — without straying far — this quaint historic district is paved with brick-lined streets. Once home to whisky distilleries, it offers beautifully preserved industrial architecture and a modern focus on arts, culture, and entertainment. Some of your outings may include a stop at the specialty coffee shop, chocolate maker, brew pub, or oyster house. Many streets are reserved only for cyclists and pedestrians, while public transit is easily accessible with three bus stops on Mill Street, as well as streetcars on King and Queen Streets. Filled with young professionals, housing here includes lofts, apartments, townhouses, and condos.
Toronto is a diverse and exciting city. If you decide to make it home, there are so many great neighbourhoods, it may be difficult to choose — and we think that's a good problem to have. Whether you're looking for a family-friendly place, fabulous restaurants and nightlife, greenspace for outdoor recreation, or all of the above, there is something for everyone in Ontario's capital.
For those of us looking to make the move to "The Six", as Drake so affectionately called it, the PODS Blog has you covered. Check out our best tips on packing for long distance moves, and how to make the move while working from home. And if you're considering a few other cities, we have you covered with neighbourhood guides on Vancouver, Edmonton, and more!
---
Talar Sakarya is a freelance writer based in Toronto. Eternally curious and restless, she loves to travel and ranks Italy, Ireland, and Indonesia as her top three favourite destinations
Get a Quote
Choose the service you need
Comments
Leave a Comment
Your email address will not be published. Required fields are marked *