Take advantage of our limited time offer. Enter promo code HOLIDAY25 to save up to 25%.
See offer details
.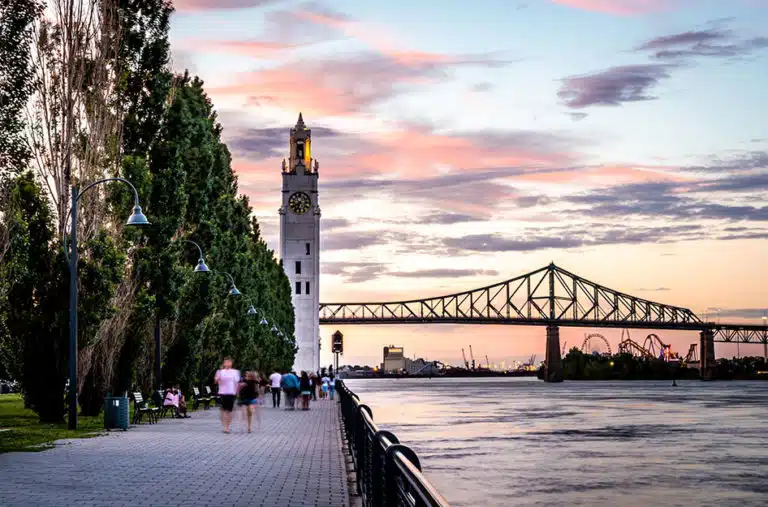 Moving to Montreal: City-Living in English and French
Montreal, Canada's second-largest city, is geographically an island in the southeast. With festivals year-round, a low cost of living, and a solid reputation among the most livable cities, it is widely regarded as one of the best places to live. The city is also a popular destination for those seeking employment in Canada, with 45,000 immigrants choosing Montreal annually. Enjoying life in Montreal is easy because it's full of opportunities, fun, and wonderful people.
About the City of Montreal
Montreal is ranked as the most happening city in Canada. Montreal is a true party city known for its nightlife, cheap rent, and art scene, but it doesn't have that go-go-go like in other major cities.
The people of Montreal are joyous and friendly. The residents include families, elderly individuals, students, immigrants, and young professionals. And don't worry if you cannot speak French - most people here speak English or a mix of both (Franglish), allowing you to pick it up fast. Montreal words, like depanneur (convenience store), metro (subway), and casse-croûte (snack bar), are going to be a part of your vernacular in no time!
Montrealers are a laid-back population who love to have fun. It's common for people to head to happy hour right after work for "5 à 7," which translates to 5-7 p.m., but a true happy hour usually lasts much longer than that. Bars here are open later than anywhere else in the country.
In addition to the Montreal Jazz Festival, Cirque de Soleil, and Just for Laughs, Montreal is also home to some of the world's largest and most happening festivals, such as Montreal en Lumiere.
As a cultural and artistic hub, this city features a variety of world-renowned art galleries and exhibitions. Montreal's Museum of Fine Arts is a must-see, but don't miss some smaller art galleries, like La Guilde. Montreal is always buzzing with activity!
Living in Montreal
So sure, Montreal sounds like a blast, but you're probably wondering, "How much do you need to live comfortably in Montreal?"
If you're moving from Toronto to Montreal, you'll find that rent alone is 35-40% less than in Toronto. It's not just rent, however. Transportation, dining out, and groceries are considerably less expensive than Torontonians. Nevertheless, Montrealers earn 37% less than Torontonians.
Montreal is a great place to settle down when considering moving to a new city. The cost of living is manageable, and there is so much to see and do:
Exceptional public art and culture scene
The city's vibrant arts scene and cheap rent have attracted many artists, poets, and writers. As a result, Montreal is an excellent place to meet like-minded people. The bars remain open until 3 a.m. due to the numerous events at night.
Shop for beer at the famous Montreal corner stores
You can buy beer in corner stores called dépanneurs if you don't enjoy the nightlife but still want a cold one. A few of these even introduced craft beer rooms, sushi bars, and snack shops. Nothing beats a cold beer on a humid day, only steps from your home.
Montreal's food scene is like a trip around the world
In Montreal, you'll find countless restaurants influenced by cuisines around the globe. Getting a taste of the real thing never disappoints, but you don't need a passport.
Montreal offers a wide variety of culinary options, whether you're craving Mediterranean, Asian, or African cuisine. Save yourself the hassle of the airport, and indulge at Noren for Japanese fare, Café Chez Teta for the best Lebanese food, or La Rôtisserie Panama for to-die-for Mediterranean cuisine. It is impossible to list all our favourite restaurants here, but we are sure you will enjoy discovering new restaurants throughout Montreal!
Attend a festival (Montreal has many!)
Due to this city's cultural importance, Montreal hosts plenty of festivals. One of the reasons people come here from all over the world is because of the comedy festival Just for Laughs.
Fans of martial arts and horror movies love the Fantasia Film Festival, and the International Jazz Festival is the place to go if you're into jazz. At the same time, Osheaga Music and Arts Festival features alternative rock.
In addition, there's Igloofest in January, First People's Festival in August, and Montreal en Lumiere, one of the largest winter festivals in the world. There's always something happening in Montreal!
What should I know before moving to Montreal?
Moving to Montreal is different than moving to most other Canadian cities. Here are some things to keep in mind:
Q: Do I have to know French to live in Montreal?
A: The answer is no. Most Montrealers speak both languages, so ordering food or shopping shouldn't be challenging. If you are planning to move to Montreal, you should consider taking French language lessons since many Montrealers prefer speaking French, and some won't even speak English with you.
Francophone vs. Anglophone neighbourhoods
If you live in or near the downtown core, the Plateau, Mile End, or Westmount, you can get by with only knowing English. Make sure you research, as some neighbourhoods are more Francophone than others, such as the borough of Ville-Marie and Quartier Latin.
Public transportation in Montreal
Public transportation isn't the best in Montreal, so find a home near a metro station or popular bus routes. Cycling is another way to get around, but the winter can be tricky. Montreal weather can be beautifully hot during summer, while winter can be freezing due to snow, wind, and rain.
Renting or buying an apartment in Montreal
For all you Anglophone readers, if you see a sign saying 'a vendre,' it means apartments are for sale. 'A louer,' refers to apartments for rent. Also, a "3 ½ a louer" includes all the rooms: living room, kitchen, one bedroom, and the ½ is a bathroom. 
Montreal is a great place to make new friends
Montrealers are incredibly friendly and welcoming, which makes it easy to become a part of the community without any issues. So if you don't know anyone here, don't worry; you'll have a solid group of friends in a couple of weeks.
Driving in Montreal
Last but not least, if you are a driver, please be aware of the many one-way streets and aggressive cyclists on the road. Be sure to look before opening your car door and be hypervigilant about signs. Driving in Montreal may seem challenging, but you'll get the hang of it!
Montreal Neighbourhoods Map
Montreal Neighbourhoods
When exploring Montreal, you'll quickly realize that most residents speak both French and English. Despite being a bilingual city, it is also a melting pot of Anglophones, Francophones, and immigrants. Then you will want to know which neighbourhoods are more favoured by English speakers and which are more preferred by French speakers if you are looking for a place to live. Here is a quick glimpse into Montreal's neighbourhoods. Then, check out our article on Montreal's Best Neighbourhoods for a more in-depth look.
Q: What are the most English-speaking neighbourhoods in Montréal?
A: Montréal is home to a distinct minority of unilingual Anglophones. However, there are some neighbourhoods where English is spoken more frequently. If you're moving to the city and don't speak French, we recommend taking French classes to adjust more seamlessly. There are many language schools in the Montreal area — and they double as a great place to meet new people!
Montreal Neighbourhoods for English Speakers
If you're looking for a mostly English-speaking neighbourhood, start your search here:
Notre-Dame-de-Grâce: Great for families
Nearly 70,000 people live in NDG, which is bordered by Montreal West and Westmount. There is a lot of diversity within that population and communities within communities. Most of the residents of NDG are anglophones and upper-middle-class Canadians. Visible minorities make up about one-third.
In this area are 40 primary and 17 secondary schools operated by the English Montreal School Board (ESMB), which serves anglophones. In addition, families can walk to most things they need in NDG.
Montreal West: Another family-oriented place west of NDG
Nearly two-thirds of the 5,000 residents speak English as their first language, and three-quarters do at home. This primarily residential suburb to the southwest of the city center has a high Anglophone population. It is a relatively affluent neighbourhood that offers excellent educational opportunities for English speakers. The Royal West Academy is Quebec's top anglophone high school.
Westmount: Perfect for active, young professionals
In addition to having some of Montreal's most attractive parks and gardens, this English-speaking enclave rivals Vancouver and Toronto for having some of the most expensive neighbourhoods in the country.
In Westmount, many public and private schools serve its anglophone population, with about 55% describing themselves as native English speakers.
The Suburbs: Family-friendly
You might find English more prevalent outside of Montreal city centre. There is a clear Anglophone majority in neighbourhoods like Kirkland, Pointe-Claire, and Sainte-Anne-de-Bellevue, all located on the island's west end, beyond Montreal West and the airport. 
Although not in Montreal proper, Île-Perrot is an excellent area to find a more affordable home with a backyard. The median price for a home here is $267,000.
Meanwhile, Brossard, located east of the Saint Lawrence River, has nearly four times more native English speakers than native French speakers. In almost half of these households, a language other than English or French is spoken.
Q: What are the most French-speaking neighbourhoods in Montréal?
A: When you get outside the West End suburbs listed above, Montréal has an even higher concentration of French speakers. 
Montreal Neighbourhoods for French Speakers
The French influence is even more significant in some neighbourhoods:
Rosemont–La Petite-Patrie: Fabulous for everyone!
There are many ethnic quarters in this 125,000-person borough in Montreal, including Little Italy, which is located east of the city. Due to this, about 12% of Montréal's residents speak another language at home besides French or English. Despite this, only 5% of the borough's population is anglophone, while 83% speak French. While there is some nightlife here, this "jack-of-all-trades" neighbourhood is fantastic for all ages with its friendly atmosphere and tree-lined streets.
Many notable landmarks and attractions, including Olympic Village (where you can rent a unique apartment!), Jean-Talon Market, Botanical Garden of Montreal, and Insectarium, can be found in Rosemont–La Petite-Patrie.
Ville-Marie: A good mix of retirement living, students, and families
Ville-Marie includes downtown Montréal, Old Town, and several Francophone neighbourhoods, most notably Centre-Sud and Quartier Latin. Transportation in this area makes it easy to get around, which is great for students and seniors. Several French universities and post-secondary institutions are located here, as well as Montréal's burgeoning entertainment district, Quartier des Spectacles.
Plateau-Mont-Royal: Students and young professionals cycling haven
There are just over 100,000 residents in this borough, which sits north of downtown and is the most populated neighbourhood in Canada. This eight square kilometre area has long been characterized by a mix of French and Québécois heritage. The eastern portion of the Plateau remains home to Québécois, while the remainder has become increasingly popular with Parisian ex-pats and hipsters. This neighbourhood has cafes, charming townhouses, trails, and parks. 
Mercier-Hochelaga-Maisonneuve: Senior housing for lower incomes
There are plenty of residential zones and a strong industrial presence in this large borough on the island's east end, which has a very urban character. The heavily working-class neighbourhood is not considered one of Montréal's nicer areas, especially on the west side. Over 85% of its residents speak French at home, whereas only 5% speak English. Since the rents are lower in this area, a high number of older adults and seniors live here.
The Suburbs: French family-friendly
There are also francophone suburbs outside Montreal. Just east of the Saint Lawrence River, next to Brossard, Longueuil has 79 percent of its residents speaking French natively. The French language is nearly as dominant in Deux-Montagnes, a town north of Montreal Island, with about 75 percent of its population speaking it as their mother tongue.
Is Moving to Montreal a Good Idea?
Montreal is the perfect place for you if you're a fan of art, affordable housing, and nightlife (or love life), period. There's always something happening in Montreal, and you'll never be bored. Just be sure to grab the proper winter gear for the freezing winters here and enroll yourself in French classes to acclimate quickly.
Feeling Montreal vibes in your future? Now let's talk about how you can get there. Yes, moving can be difficult and will likely involve some stress. However, there are ways to reduce this stress. Moving safely and efficiently to your new home is possible if you give yourself enough time, get organized, and plan well.
Full-Service Montreal Movers
You can hire a full-service mover if money is no issue and you wish to limit your time and effort. Depending on how much you want to pay, full-service movers can provide as little or as much service as you like. In addition to packing and unpacking your house, a full-service mover will transport your things to your next home and can even help put everything in place. 
The downside is that you're tied to the movers' scheduled once book. If plans change, expect additional charges, and potentially delays that you leave you scrambling.
Montreal Rental Trucks
You can always rent a truck and do all the work when moving on a budget if you have a strong back and a few helping hands. However, you will spend more than you bargained for if you take on all the additional expenses along the way, including fuel, insurance, food, and lodging. Here's a solid side-by-side comparison of PODS services and rental trucks.
Portable Moving Containers
With PODS portable moving and storage containers, you'll be able to move to Montreal in a more flexible way. There are three container sizes to personalize your move, which PODS delivers to your driveway. The beauty of this option is you can pack at your own pace and load at your own pace. When you're done loading, give PODS a call, and they'll pick up the container and deliver it directly to your new Montreal home. The PODS Storage Centre is nearby if things change and you need the container stored for a while.
If Montreal sounds like a place you might like to call home, consider reading the PODS Blog for more about moving to Montreal and other parts of Canada and other moving tips.
---
Karen Bodkin is a Canadian freelance writer who is a frequent contributor to the PODS Blog. When she's not writing, you can find her exploring the great outdoors.
Get a Quote
Choose the service you need
Comments
Leave a Comment
Your email address will not be published. Required fields are marked *