Take advantage of our limited time offer. Enter promo code HOLIDAY25 to save up to 25%.
See offer details
.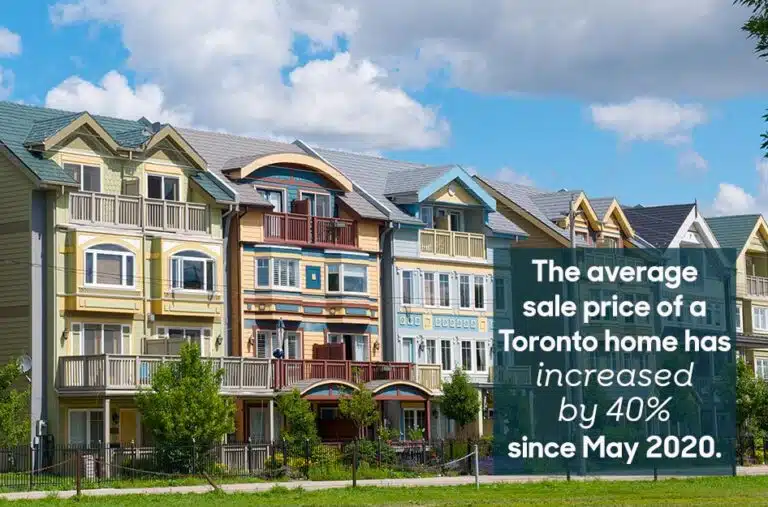 What You Need To Know About the Toronto Housing Market
Ah, Toronto. A homeowner's dream. Despite a brief pause in the midst of the 2008 financial crisis, the Toronto housing market, buoyed by a combination of low mortgage rates, low inventory, strong immigration, and suspected foreign speculation, has continued a long run of precipitous growth. For perspective, if you bought a home in the city of Toronto in 2010, the value of that same home today has increased by at least 150%! A big part of this long-term gain? That's actually come fairly recently, as the average sale price of a home in Toronto has increased by a staggering 40% since May 2020.
Over the years, civic leaders associated with the city of Toronto have either openly, or through their actions, expressed a desire for their burgh to be considered a world-class city. And, well, it may not yet be spoken of in the same breath as New York, London, Paris, or Hong Kong. But in the areas of diversity, high-end amenities, cost of living, and — especially nowadays — a red-hot housing market, it can be argued that it's getting there.
Have you been thinking about moving to the Big Smoke? Or buying or selling a home there? Here's an overview of what the Toronto housing market looks like right now and what you can likely expect in the near future. But first, a brief rundown of the city itself for those who may be new to town.
About Toronto
According to the most recent census, the Toronto population grew by 4.6% from 2016 to 2022. This makes the city of Toronto the most populous in Canada and the fifth largest city in North America. There's a discernible younger vibe in the city, as Millennials — with a major assist from recent immigration — have now overtaken baby boomers as the dominant cohort. But with a population density of only 1,050 residents per square kilometre, it rarely feels congested or "overrun" with people.
There are landmarks aplenty throughout the city of Toronto, including Casa Loma, City Hall, the Royal Ontario Museum, and St. Lawrence Market. But when you first encounter Toronto's rapidly expanding skyline, you will notice two imposing physical structures: the CN Tower and the Rogers Centre. The CN Tower was, for many years, the world's tallest freestanding structure, and the Rogers Centre — home of MLB's Toronto Blue Jays — is renowned for its retractable concrete roof.
Downtown T.O. is also home to the prestigious University of Toronto. The most notable university rankings peg U of T, as it's known locally, as the highest ranked in the country and anywhere between 18th and 26th in the world.
If you arrive in the city of Toronto by rail, you'll be greeted by two historical and architectural gems: the Beaux Arts and Neo-Classical style architecture of Toronto's Union Station and the Fairmount Royal York hotel, which has been greeting visitors to the city since 1929.
And we'd be remiss if we didn't mention Toronto's beautiful landscape. From High Park in the west end to Riverdale Park in the east, the city of Toronto is dotted with parks, gardens, ravines, and recreational areas. Fan of sun and sand? You can also head a little southeast from downtown and enjoy the beauty of The Beaches area along the shores of Lake Ontario.
Why do people like living in Toronto so much?
The Toronto real estate wouldn't be on fire if people didn't like it there. Here's a look into some of what makes this city so special.
Culture
If you were to try and find one word to describe the city of Toronto, it would likely be diverse. Toronto's diversity is supported by the fact that 51% of its residents were not born in Canada, with an incredible 250 ethnicities and 170 languages represented — many of which can be heard while taking a short stroll around the city.
Food
Toronto's multiculturalism also makes itself evident in the quantity, variety, and quality of food offerings throughout the city. When hunger hits, you can find virtually anything you crave, as more and more new restaurants continue to open (pandemic be damned). If you prefer an old-style steakhouse with tuxedo-clad waiters and eye-popping wine lists, there are plenty in the downtown core. And there's, of course, the requisite Chinatown (actually a few of them), Little Italy, Little India and Greektown, to name only a few. If you're interested in newer and more adventurous fare, head to the Ossington or Dundas West area to sample the creations of young chefs who are consistently making their marks in the city.
Neighbourhoods
There are 158 official Toronto neighbourhoods, but most Torontonians would likely direct you to ten primary areas. For the most well-heeled among us, the places to be are the Bridle Path, Forest Hill, and Rosedale. If your household income is slightly south of $1 million, you may want to consider the Kingsway or the Moore Park/Leaside areas. For a bit more value, head east and south and check out Riverdale, Leslieville, The Beaches, or the funky Cabbagetown community. This is, of course, just scratching the surface, as there are plenty of other areas to consider, particularly if you are looking for something other than detached or semi-detached abodes. Condominiums have been going up at a frantic pace over the past ten to fifteen years, so if you are okay with a smaller footprint, you can live in a great, safe area with world-class amenities at a more reasonable price.
Jobs
The Toronto job market is economically diverse and continues to grow, as close to 40% of Canadian head offices are located within the city. The city also boasts the most educated workforce within the 38 member OECD. So with the combination of a young and highly educated workforce, it's no surprise that the city of Toronto is now considered the third-largest tech hub in North America.
Transportation
The city's transit system is often spoken in same high regard as New York City as among the best in North America. Whether using the recently expanded subway, streetcars, ground routes, or even the GO trains that can quickly take you to all parts of the greater Toronto area, getting around the city is a snap.
And now, onto the good stuff…
How's the Toronto housing market?
In a word: pricey. The Toronto housing market has been one of the hottest in the world over the last decade, with bidding wars expected on virtually every listing. It's the fourth most expensive place to buy a home in North America behind only New York, San Francisco, and Vancouver. And in April 2022, the average price of a home in the city of Toronto was $1,254,436, representing an increase of 15% year over year.
Q: Is the housing market going up or down in Toronto?
A: Economists have been warning of the "bubble bursting" for many years, as household debt levels in Toronto continued to grow, but with low inventories and even lower mortgage rates, average house prices have continued to rise.
Q: Is the Toronto housing market cooling?
A: Consecutive interest rate increases by the Bank of Canada in March and April were intended to cool soaring inflation. And, indeed, following those hikes, the number of home sale transactions declined by 26.2%, and the average price dipped by 6.4% month over month. Moreover, the sales to new listings ratio dropped by 22% in April 2022.
Q: Will housing prices drop in Toronto?
A: The last few months of lower prices are a small sample size, but with more rate hikes promised, it does seem like home buyers may be taking a little breather to see how things shake out over the next few months.
Moving versus renovating in Toronto: Which is better?
Given the state of the Toronto housing market, if you are a current homeowner, you may be contemplating making a change. Let's take a look at two common scenarios: the "empty-nesters" who have too much space and the growing family who may have too little. In both cases, the home may also be in dire need of updating. As we go through these scenarios, take these considerations into account — as they may apply to your specific situation, as well.
Consider Using Your Space Differently
If you are "empty-nesters," you might contemplate "cashing in" to help fund your retirement. The question is where do you live after the sale? Your choices largely come down to either renting or buying a smaller home or condo. If you still love your home and neighbourhood and don't want the hassle and cost of a move, one option may be to create a rental unit within your home. With the increase in rental costs in the city rivalling the pace of home prices, you may be surprised at the income you could secure by renting out a unit within your home.
Consider Additional Fees You Would Pay
The growing family's needs are far different. They may require a home with an extra bedroom and bathroom and perhaps a finished basement. In either case, aside from the heavy competition for those few properties currently available in the city, the one major downside to selling your home and purchasing another within the city of Toronto is having to pay the dreaded "land transfer taxes." Yes, you read that correctly. There are two land transfer taxes when you purchase a property in Toronto: a provincial and a municipal LTT. To get a sense of what you will pay on top of your purchase price, let's use the current average home selling price in Toronto — $1,254,436. The provincial LTT on that price would be $21,563.72 and the municipal LTT would equal that amount. So you are looking at $43,127.44 tacked on to the price of your new home. Ouch! So let's consider that renovation route, shall we?
Consider the Current Economy
The pandemic and the resulting supply issues inflated the cost of just about everything related to the building industry, but primary items like lumber are slowly coming back to earth. Given the current demand, there is also a general lack of qualified tradespeople in the city. So even greater patience is required if you decide to go in this direction. One way to alleviate the stress associated with a large renovation is to store your stuff in a PODS portable storage container. You can keep the container on your own property or at your local Toronto-area Storage Centre.
Consider How Much You Have to Spend
The days of estimating a home renovation using $100-$200 per square foot are long gone. While this may still be a good guideline for very basic upgrades, if you want to reduce your sticker shock at the end of your renovation, it is suggested by most home renovation companies to use $300-$450 per square foot. It's obviously not an exact science — it all depends on your individual requirements. The best part of a renovation (not including when it's finally done) is that you have likely increased the value of your home beyond the actual cost of the work. And if you're adding a rental unit? The cost of the renovation can be a tax deduction against your first year of rental income!
How do I move to Toronto?
If you're not a resident yet, but you've been thinking about moving to Toronto, let's discuss the various ways to get there. Yes, moving can be a complicated process and always includes an element of stress. But there are ways to avoid the hassles. If you just give yourself enough time, get properly organised, and plan well, chances are you can safely transfer your life and belongings to your new home safely and efficiently.
Full-Service Movers
When money is no object and you want to limit your time and effort, a full-service mover is your best bet. They can provide as little or as much service as you want to pay for. A mover can even pack and unpack your house for you. It's definitely your priciest option, but if you have the financial means, it will also be your path of least resistance. The key is to do plenty of research first and make sure all important details are documented between you and the mover, so there are no loose ends or surprises along the way.
Rental Trucks
If you decide to do the move as inexpensively as possible, you can always rent a truck and do the heavy lifting on your own. It can work if you have a strong back and a few helping hands. But when you consider all the additional expenses you will incur, like fuel costs, insurance, food, and lodging along the way, this approach could end up being more than you bargained for. Here is a side-by-side comparison of how a rental truck stacks up against PODS services.
Portable Moving Containers
If you're looking for a more flexible and less stressful way to make your move to Toronto, consider moving with PODS portable moving and storage containers. There are three different container sizes to choose from, and they are delivered straight to your driveway. The beauty of this is that you can take your time packing and loading at your own pace. When you are all loaded up, give them a call, and PODS will pick up the container and take it directly to your new home in Toronto. If things change and you need the container to be stored for any length of time, there's a secure and convenient PODS Storage Centre nearby.
If the City of Toronto sounds like a place you would like to call home, check out the PODS Blog for more on moving to Canada, as well as other great tips on planning for any move.
---
Tony Caradonna is a freelance writer who lives with his wife in Toronto, ON. A more recent PODS Blog contributor, Tony loves exploring the world and immersing himself in exciting locales with his travel guitar and Michelin guide in hand. When not travelling, he is either golfing or writing about this most addictive pastime on his blog, TheGolfingLife.ca.
Sources:
Toronto population & demographics – Statscan.ca
Average home prices in Toronto – TRREB.com
Toronto Companies (including Fortune 500) – torontoglobal.ca
Toronto population density – canadianpopulation.org
Average rent in Toronto - toronto.ca
Toronto transit ranking - walkscore.com
Toronto workforce education ranking - OECD.org
University of Toronto ranking - timeshighereducation.com / topuniversities.com
Get a Quote
Choose the service you need
Comments
Leave a Comment
Your email address will not be published. Required fields are marked *