Take advantage of our limited time offer. Enter promo code HOLIDAY25 to save up to 25%.
See offer details
.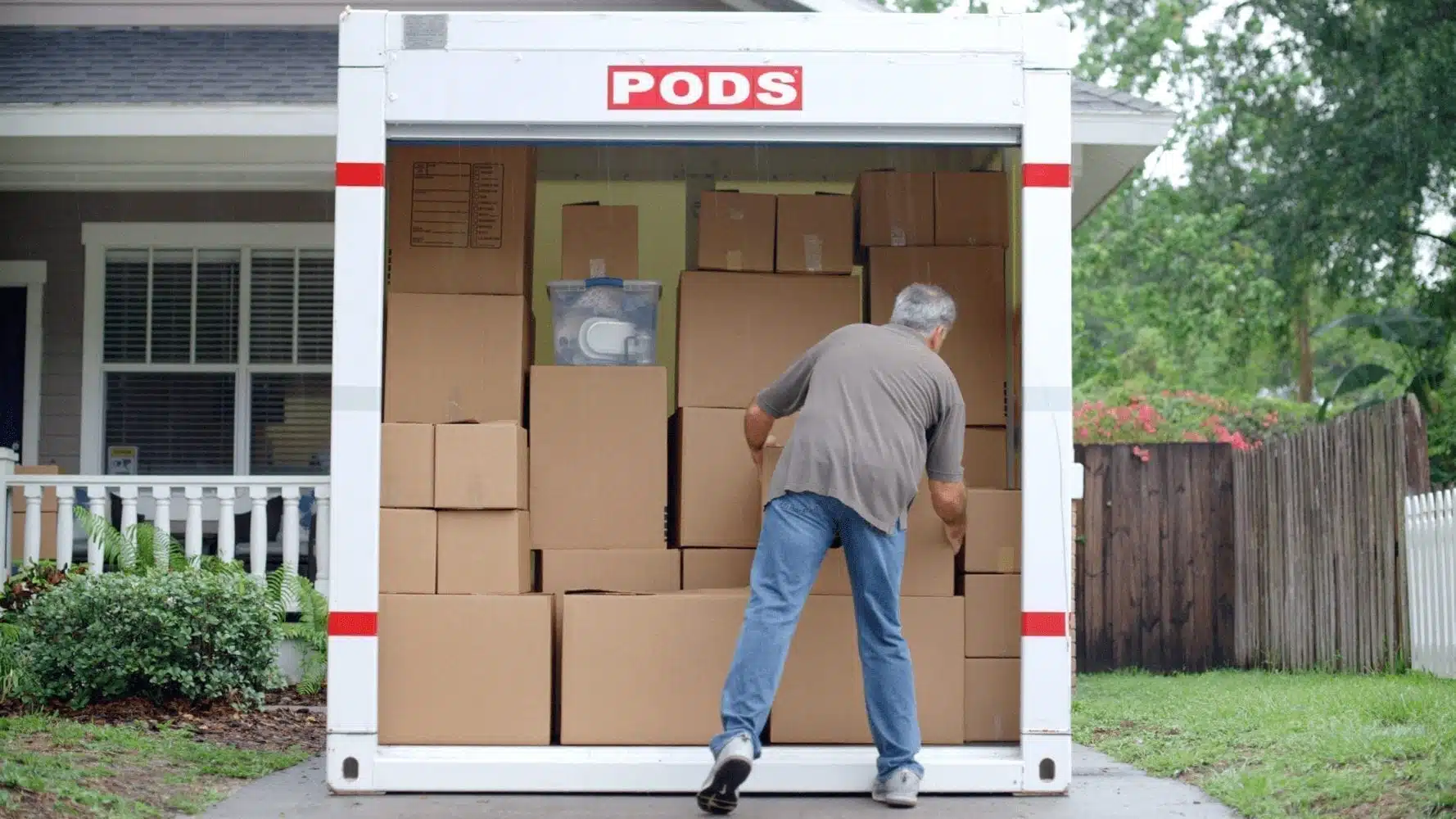 Are You Overpaying? How to Get the Right Storage Unit Size for the Right Price
Choosing the right portable container or storage unit size is all about finding the sweet spot: paying a reasonable amount and making sure you don't run out of room for your stuff. How do you manage that? Read on for tips, tools, and a handy chart to help you figure it out.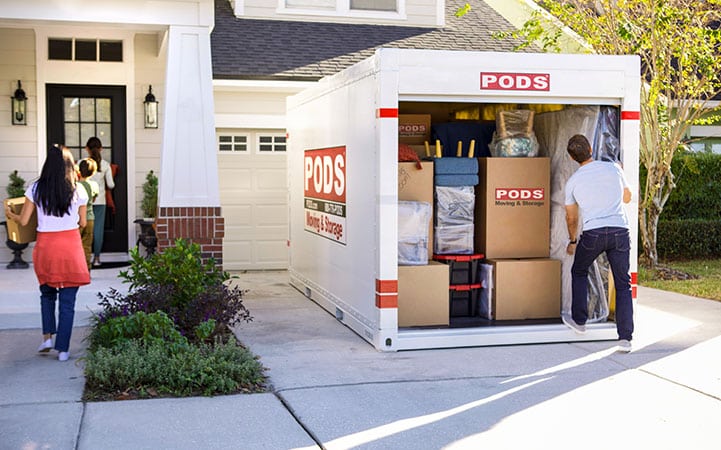 What Size Storage Unit Do I Need?
While it might be hard to visualize how much space you'll need, most people are pleasantly surprised at the amount of stuff they can pack into a self-storage unit or portable storage container. That's because most storage units can be loaded from the bottom-up. That means you can cover the entire floor and stack your things up to the full 8-foot height. You also arrange the contents differently than you would a typical room or closet — piling boxes on top of your couch, for instance, and tucking smaller pieces underneath the dining table.
Here are a few questions to help you figure out the storage unit size that's right for you and your move:
What Do I Plan to Store?
Start by taking an inventory. Use a measuring tape to note dimensions of your larger items, estimate the number of boxes you have, and consider items that don't have a regular shape and can't be stacked, like floor lamps and lawn equipment.
How Much Access Will I Need?
In addition to the size and volume of stuff you want to store, factor in how you'll be using the storage space and how much access you'll need. For example, if the storage is part of a move and you won't need access to your stuff between homes, then you can load your storage unit to the max. But if you'll need to periodically get things out of storage, then you may want to create a bit of an aisle through the middle of your space. That way, you won't have to unload half your stuff just to find what you need. On the other hand, if you only need access to a few things, plan your loading strategically. Save the items you expect to need and load them last, so you'll have easy access.
How Much Driveway or Outdoor Space Do I Have?
If you're considering using a portable storage container, it's important to determine how much room you have for placement. If you choose PODS, for example, you will need to clear a space that's 12 feet wide, 15 feet high, and 40 feet tall. If your driveway isn't that long, a PODS driver can park your container on the street, too. Just be sure that the spot you have in mind is flat, level, and clear of obstructions.
What if I'm Not Sure What Storage Unit Size I Need?
No matter how many times you measure your belongings and count your boxes, it's natural to feel a bit stressed about running out of space. To ease your mind, find out the cost of the next-largest storage size. You want to avoid paying for more space than you need, but the dollar difference between storage unit sizes is often so small that it may be worth the extra peace of mind. Another strategy is to use portable containers, especially if you think there's a good chance you'll need more than the largest size available. Depending on the container company, you can arrange delivery so you only pay for what you use. For example, with PODS, you can reserve multiple containers but stagger the deliveries, so you load one container before you have the next unit delivered. If you end up not needing the extra containers, PODS allows you to cancel them at no cost. (they're super flexible like that).
For more information on PODS' Reschedule and Cancel policy, visit pods.com/cancel.
Q: What Is the Ideal Size for a Storage Room?
A: That depends on what you mean by "ideal" — and why you need the space. Say you're stashing musical instruments, for instance, because you don't have room in your home, and you'll be accessing them regularly. You'll need to have enough breathing space in the unit to move around comfortably as you go in and out to get your instruments and put them back. So, in that case, tack on a few extra square feet to accommodate. But if you're packing away furniture and belongings in advance of a move or because you're in between homes, our storage unit size guide can help you determine the best approach.
What Size Do You Need? Comparing Containers, Storage Units, and Rental Trucks
Check out this chart to estimate the size of the portable container, storage unit size, or rental truck you need based on your home's square footage. (We've included rental trucks because you'll need a way to haul your stuff if you're not using a portable container.) When considering square footage, don't forget to include all areas of your house that have things you'll be loading into the unit, such as your garage, attic, basement, and patio. Also keep in mind that these are estimates; how much you can fit in a space will vary depending on the size of your furniture, how densely your home is furnished, how many fragile items you may have, and your packing and loading technique.
Storage Unit Size Chart*
Home Size /
Square Feet
PODS Container
Self-Storage Unit
Rental Truck or Van
Small Studio Apt
Less than 400 SF
8' **
5' x 10'
Cargo Van or 10' Truck
Studio/1 BR Apt
600 SF
8' or 12'
5' x 10' or
10' x 10'
10', 15', or 16'
1 to 2 BR Apt
800 SF
16'
10' x 15'
15' or 16'
2 BR Apt/Home
1,000 SF
Single 16' or 16' + 8'
10' x 15' or
10' x 20'
15' or 16'
2-3 BR Apt/Home
1,200 SF
Single 16' or 16' + 8'
10' x 15' or
10' x 20'
15', 16', or 18'
3 BR Apt/Home
1,600 SF
16' + 8' or two 16'
10' x 20' or
10' x 25'
20', 22', or 26'
4 BR Home
2,000 SF
Two 16'
10' x 30'
26'
(May take multiple trips)
4-5 BR Home
2,500 SF
Two 16' + 8' or three 16'
10' x 30'
(May need more)
Multiple trips or
other options
5-6 BR Home
3,000 SF
Three 16'
10' x 30' plus
Multiple trips or
other options
More than 3,000 SF
One 16' per 1,000 SF
10' x 30' plus
Multiple trips or
other options
*Suggested sizes are for guidance only. Larger items and how efficiently containers/units/trucks are loaded can significantly impact the size and quantity of containers, storage units, and rental trucks you'll need. **PODS is constantly upgrading its container fleet and container sizes may vary slightly from one model to another.
Q: Is a 10' x 10' Storage Unit Enough?
A: If you're moving out of a studio apartment or a small one-bedroom or studio apartment, a 10' x 10' space should be good. Going the PODS route, the equivalent would be a 12-foot container. And remember the convenience of PODS: You can move on your schedule and have easy access to your belongings.
PODS Container Sizes: A Closer Look
If you're in the process of deciding whether to use a moving and storage container or a self-storage unit, you'd probably like to know more details about the three sizes PODS offers. Here's a summary of what you can expect to fit in each container size, plus how they compare to self-storage units and rental trucks. (Again, remember that you may be able to fit more or less in your container, as the size of your items and your packing and loading technique will have a significant impact.)
What Fits in a 16-Foot PODS Container?
Comparable to: 10' x 15' self-storage unit or 20' rental truck
The 16-foot container is PODS' largest and most popular size for local and long-distance moves and for storage, holding the contents for a space up to 1,200 square feet.
Container dimensions: 16' x 8' x 8'
Fits contents from a 1- to 2-bedroom apartment or small home (3 to 4 rooms).
A practical solution for moves requiring temporary storage.
Here's an example of what typical household items fit in a PODS 16-foot container:

King-size bed
2 twin beds
2 dressers
2 bookshelves
Dining table with 6 chairs
Sofa
Coffee table
2 end tables
Entertainment center
TV
Desk with chair
Several lamps
Several pictures and mirrors
Washer and dryer
2 bicycles
Up to 60 moving boxes in various sizes
What Fits in a 12-Foot PODS Container?
Comparable to: 10' x 10' self-storage unit or 15' rental truck
This mid-size container will handle local moves and storage for a space up to 800 square feet.
Container dimensions: 12' x 8' x 8'
Fits contents from 2 to 3 rooms.
Available for local moves or storage only.
Handy for keeping items close by in on-site storage during remodeling projects.
Here's an example of what typical household items fit into a PODS 12-foot container:

King-size bed
Twin bed
2 dressers and/or bookshelves
Dining table with 4 chairs
Small sofa
Arm chair
Coffee table
Entertainment center
TV
Small desk and chair
A few lamps
Pictures and mirrors
Bicycle
Multiple moving boxes
What Fits in an 8-Foot PODS Container?
Comparable to: 5' x 10' self-storage unit or 10' rental truck
PODS' 8-foot container is the smallest one available. It will store items from a space up to 500 square feet.
Container dimensions: 8' x 7' x 8'
Practical for college students, apartment residents, or people looking to downsize.
Here's an example of what typical household items fit into a PODS 8-foot container:

King-size bed
Dresser
Bookshelf
Dining table with 4 chairs
Small sofa
A few lamps
Pictures and mirrors
TV
Bicycle
Multiple moving boxes
Use a Moving and Storage Calculator to Estimate What Storage Unit Size You Need
If you like working with online tools, drill down even further by using this moving and storage calculator. It'll give you a more detailed estimate for the size PODS container or combination of containers you should choose based on your specific stuff. Like a virtual loading machine, the calculator allows you to select furniture pieces room by room, the number of boxes by size, and other common household and recreational items that you plan to store or move. As you add items, the tool shows the container filling up by percentage, so you get a sense of when you might have space to spare or if you're maxing out and need a second or third container.
How to Pack and Load to Maximize Storage Space
As you use this guide, remember that the sizes of your specific belongings and how you pack and load will make a big impact on how much you can fit in a space. But no worries — we've got plenty of advice on that, too. To learn how to pack and load like a pro, see our packing and loading tips and video and check out this PODS Blog article on Zen and the Art of Packing. Visit our storage solutions page, as well, for an online estimate or to learn more about PODS storage containers that can be kept on your property or at a secure indoor storage facility.
Why is PODS the Right Way to Go?
Taking the traditional self-storage route may be your preference if you have a long-term storage need. But for house-to-house moves, choosing PODS provides a degree of flexibility you won't have with any other storage method. With your storage unit literally parked outside your house, you have the freedom to take the time you need for packing or unpacking — and for unfettered access to your belongings for the duration. But the biggest plus of PODS? Not having to hire a moving truck to get you to your new home. Simply schedule a driver to come back for the container when you're ready to go — no need for you to hassle with rental companies, extra fees, or any of the other details that often arise in those situations. A PODS professional will meet you at your new house on your schedule. And when the PODS container is empty? They'll simply come back and pick it up. Easy as that!
---
Shannon Jacobs is a Tampa-based freelance writer and frequent contributor to the PODS Blog. She has lived in Atlanta, the Berkshires, NYC, and Nashville, but always returns to the warmth of Florida's Gulf Coast.
Special Notes on PODS Container Sizes:
Suggested container sizes are for guidance only. Larger items and how efficiently containers are loaded can significantly impact the size and quantity of containers you'll need.
Dimensions are based on exterior measurements. Container sizes may vary slightly. Some earlier 8 ft models in PODS' fleet are 7'2" x 7'3" x 8'4"
Get a Quote
Choose the service you need
Comments
Leave a Comment
Your email address will not be published. Required fields are marked *