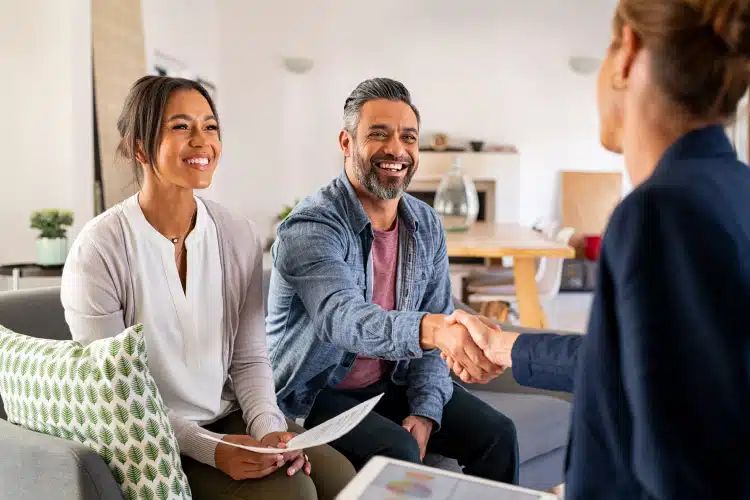 Negotiating house offers: How to get that winning bid to contract
Selling a house is like an online auction — if you like the back-and-forth drama of haggling with people over price, you'll find the process of negotiating house offers not only exciting but also potentially financially rewarding. Or think of it another way: negotiating house offers with skill and intention can result in the most money you'll likely ever make in a single transaction. Regardless of how you put it, selling a house is a big deal.
So how do you handle working with buyers, getting multiple offers, and settling on a house price that makes sense? It all comes down to a mix of negotiation tricks, smart real estate advice, and your own willingness to remain open-minded during the process.
"You want to invite multiple bids," says Neyshika Tellis, a real estate agent with Florida-based Charles Rutenberg Realty. But when the bids start rolling in, it can quickly become overwhelming.
Let's take a look at some negotiation tricks to navigate house offers like a pro — and get that winning bid to contract sooner rather than later.
For starters, how do you get multiple house offers?
According to Tellis, it starts with how you price the home. She recommends sellers be smart about the pricing, meaning thoroughly research how much their home is worth with their real estate agent, make any suggested improvements (such as painting rooms with neutral wall colors), and set a price that brings in as many potential buyers as possible.
"You don't want to be too high, because then you sit on the market. If you price too low, you're going to end up giving up too much," Tellis says."That price point is something you can use to your advantage. If you price at $275,000, for example, you'll get [showings] with people who look at houses priced from $250,000 to $275,000 as well as people who are looking from $275,000 to $300,000. The more eyes you have on your property, the more offers you may get."
Can you negotiate an offer on a house?
Tellis and other real estate agents agree: It's rare when a seller takes the first offer they get from a buyer and ends up with that same dollar amount on the contract. Typically, buyers will start with house offers that are lower than the list prices of houses when they go up for sale. That first offer? Think of it as a starting point for negotiations. For example, an item on eBay is listed in an auction at a certain price and, from there, buyers start to bid more and more. A house sale happens in a similar way: You set the price, the buyers offer what they think it is worth, and the two parties communicate between their real estate agents to settle on something fair to both of them.
Pro Tip: When you're ready to tackle house offers, get ready to also dive into closing costs, home inspections, counter offers, and — best of all — bidding wars. A lot can happen in a short amount of time.
What is a reasonable lower offer on a house?
This depends on what's happening in the real estate market at the time when you put your house up for sale. If it's a buyer's market, buyers may feel like they can give you an offer that is lower than what you have priced your home initially — and you may need to take that offer if you want to sell fast. But in a seller's market, you can come back with a counter offer and see if you can negotiate a higher price from the buyer. This is especially important if your home has special features, like a pool or a finished basement, that add to the overall value beyond what the rest of your neighbors have.
What is considered a lowball offer?
There are times when a low offer is just too low. Many people call these "lowball offers." They're when a buyer comes in with an offer that is several thousand dollars lower than your initial listing price. Real estate agents like Tellis can tell stories of when buyers just throw numbers out there to see if the sellers are "motivated." Unfortunately, more often than not, that just ends up in an awkward moment with the seller's agent coming back to the buyer's agent to tell them that their lowball offer actually insulted the seller — and that if that buyer wants the home, they'll have to come up in price. In other words, lowball offers rarely get the deal done. Stick to your guns, and don't feel like your house is worth any less if you receive any lowball offers.
How much should I counter offer on a house?
This is a question many first-time home buyers may ask themselves — and something that you, as the seller, should definitely consider before negotiations begin. When an offer comes in, you may be eager to sell and willing to take any price that comes your way. If that's the case and you need to move, then by all means, accept the first number that comes your way. But many buyers expect you to come back with a counter offer, and their real estate agents may already have a price in mind that they believe the two parties will ultimately settle on. Think of it this way: Don't be afraid to come back with a counter offer and ask for a little more money if the house merits it. As for how much? That depends on how much the buyer initially offered.
What else should you consider when reviewing house offers?
This is the key moment in the selling process — you need to carefully analyze the buyer's offer with a fine-toothed comb. It starts with the financial offer. Look at what you have listed the house at and what the offer says in dollars. Ask yourself these questions:
Are the numbers far apart? Then the offer may be too low and you'll want to ask for more money — especially if the house has many attributes that other buyers are interested in.
Are the numbers close together? Ok, you're getting there. But you may want to see if the buyer might cover your real estate agent costs or other fees to sweeten the deal a little more.
What if the number is higher than your listing? Well, then you've hit the real estate jackpot. That's when you move to the next parts of the offer and pat yourself on the back.
Now, consider the following:
What closing date does it offer? Does that work with your timeline, or does it put you in a bind?
Does the buyer have contingencies? Those key aspects of the offer — like additional inspections or selling their house first, for example — affect you significantly, so you'll want to think deeply about them, as well.
Insider Tip: You may start thinking about your upcoming move as you're ironing out the details on your home offer. With as many moving parts as a move takes, a flexible solution like PODS portable moving and storage containers may be your best option. They're delivered straight to your driveway so you can take as long as you need to load all your stuff, and then they're picked up and delivered to your final destination, reducing your hassle. And if you need temporary storage until your next home is ready, PODS has local Storage Centers that can securely house your belongings.
What is a bidding war?
In a seller's market, this is the golden moment: You have a house that's in demand, and there are several buyers coming forward around the same time — likely within a few days of when you list your house on the market.
This is when you might want to have a great spreadsheet system, a top-notch negotiation conversation with your real estate agent, and some serious time to think about your end goal. If you're looking to make as much money on the sale as you can, the offer with the highest price and decent additional factors like closing date should be top and center. If you need additional closing time, such as a 90-day closure, then you'll want to put the offers that are willing to give you that time at the top of the pile. In the end, you should feel good about the offer you've selected and the end result of the negotiations. Know what you want from the beginning, and don't ever put yourself in a situation where you feel like you're just "settling."
What's next?
Once you've successfully negotiated the offer on your home and tweaked the finer details, you can breathe a sigh of relief. Well, for a minute, that is. Then it's time to officially begin the moving process! Start checking things off your moving list and visit the PODS blog to get expert tips on organizing, decluttering, and more along the way.
Good luck!
Special thanks to Neyshika Tellis — Tampa Bay, Florida real estate agent with Charles Rutenberg Realty — for providing her professional insight for this article!
---
Karen Dybis is a freelance journalist and a frequent contributor to the PODS blog. Her work has appeared in Time magazine, U.S. News & World Report, The Detroit News, and more.
Get a Quote
Choose the service you need
Comments
Leave a Comment
Your email address will not be published. Required fields are marked *