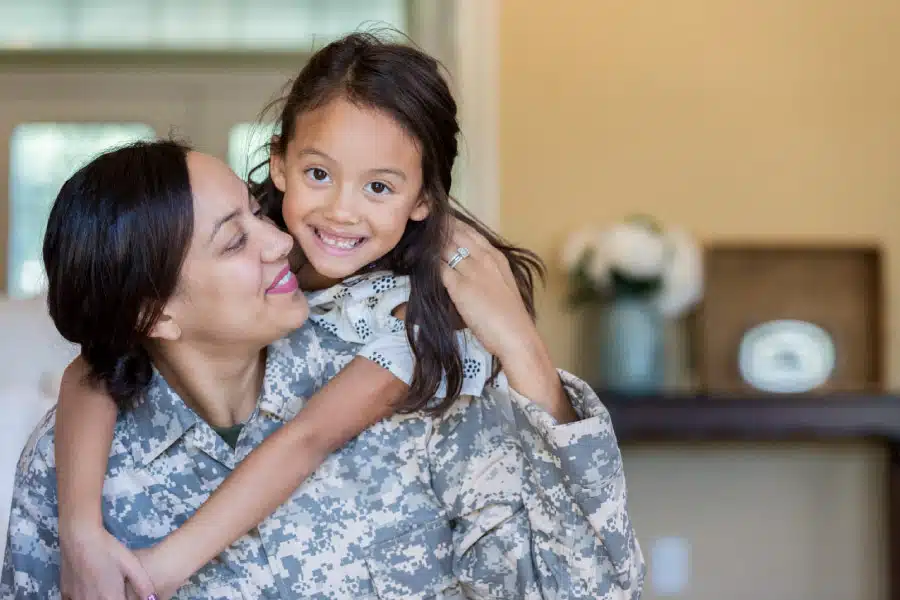 L.A. Bound? Make the most of your military moving experience
PODS is proud to serve the men and women who serve our country. Active, Retired, and Veteran members of the military receive a 10% PODS military discount. For PPM/DITY moves or storage during deployments, call 866-556-9574.
We all know it as the City of Angels. Home to the Clippers basketball team. Center for all things celebrity — outside of Hollywood itself. But Los Angeles is also home to military bases. And, if you're reading this, it looks like it may become the next place for you to call home, too.
Before you start thinking about the recreational aspect of your move — living your military life near beaches, mountains, deserts, and even the Hollywood stars — you will need to know a few things about relocating to Los Angeles. Yes, the weather's great and the lifestyle is laid back. But L.A. is also one of the nation's largest metropolitan areas, so there are certainly some additional logistical aspects you'll need to consider when diving into this military moving experience. Here are a few of our top tips.
Q: What military bases are in Los Angeles?
A: According to the Los Angeles Almanac, of the 16 installations throughout the county since 1847, only four Los Angeles military bases are currently operating: Fort MacArthur (U.S. Army/Air Force), San Clemente Island Naval Test Site (U.S. Navy), Edwards AFB (U.S. Air Force), and Los Angeles AFB (U.S. Air Force).
Asking for relocation assistance
When you're PCSing to another state, naturally, you'll want to get relocation assistance as soon as possible. How much does the military give you to move? That depends on different factors. And, fortunately, there are programs and services that will assist you and your family in this process.
For starters, look for a Relocation Assistance Program at your new base. You can also use online planning tools, but you'll want to check in with your individual base to ensure you're getting the most up-to-date information. Housing prices have increased dramatically in the past few years in the Los Angeles area, so you'll want to have a good understanding of what you're going to need to spend when you make your military move — sooner rather than later.
Deciding if you want to live on base or commute
Living the L.A. life is glamorous — and expensive. There are a variety of apartments, condos, duplexes, and single-family homes for rent or purchase around Los Angeles for military families. However, you will find the costs for these abodes are higher than most places in the U.S. For example, according to RentCafe, the average monthly rent for an apartment in L.A. in August 2021 was $2,518. What's most important to you? A shorter commute? A family-friendly neighborhood? Needless to say, you'll want to get advice from your other military base members and find a good realtor to work with on this large expense. 
Getting Fido on board
When it comes to bringing your fur baby with you to your L.A. base, you'll first need to confirm the base does not have any restrictions against your type of pet or breed (if you decide to live on base). When that's established, chances are, the pet will then need to be transported by car or plane (regardless of where you decide to live in the Los Angeles area). That means you'll need to research airline requirements and figure out quarantine basics. There will likely be laws in your new location regarding getting a pet to your new home, so be sure to ask the airline for regulations in terms of pet weight, how many animals you're bringing, documentation, and seasonal restrictions. You may also encounter fees around pet travel. Coming to L.A. from overseas? Add researching international restrictions to your military moving checklist, as well, because your pet's quarantine could be longer — making your overall moving timeline longer, too.
Getting your car set up
Speaking of laws, California requires you have liability insurance as well as a valid driver's license to operate a vehicle within the state. That vehicle could be a van, car, motorcycle, or even a trailer. You also need to register your vehicle with the state. As a military family, you're expected to register your vehicles and get a license within a reasonable amount of time after you've settled into your new base. That's why it's important to investigate what you need to do early on in the process.
Getting your stuff to L.A.
And most important on your to-do list? Physically getting all of your belongings to Los Angeles. Let's back it up a little. When you find out you're going to be stationed in the area, that's actually when the process of moving to Los Angeles begins. Eventually getting your stuff to L.A. starts with organizing everything you own and purging things you really don't need. It's during that decluttering and downsizing stage that you'll want to vet different moving companies to see what your best option is and which military moving company you feel the most comfortable using.
What's the secret to success for many active, retired, and veteran military moves? PODS portable moving and storage containers. These containers let you pack and load at your own speed (at your own home!), and they can be delivered directly to your new home when you're ready to settle in. Need to keep some stuff in storage? No problem! Local PODS Storage Centers offer a secure, yet accessible way to store items for longer periods of time. And as a bonus, we proudly offer a 10% discount for military members. After all, you take care of us — it's only right that we help take care of you.
Insider Tip: When you're packing, keep your important documents together in a folder or something portable so you'll know exactly where they are when you're travelling.
Ready to dig a little deeper? Check out some of our other military moving advice on the PODS Blog. From choosing the best long-term storage option to getting settled in after all the initial excitement has passed, we're here for you every step of the way.
---
Karen Dybis is a freelance journalist and a frequent contributor to the PODS blog. Her work has appeared in Time magazine, U.S. News and World Report, The Detroit News, and more.
Get a Quote
Choose the service you need
Comments
Leave a Comment
Your email address will not be published. Required fields are marked *