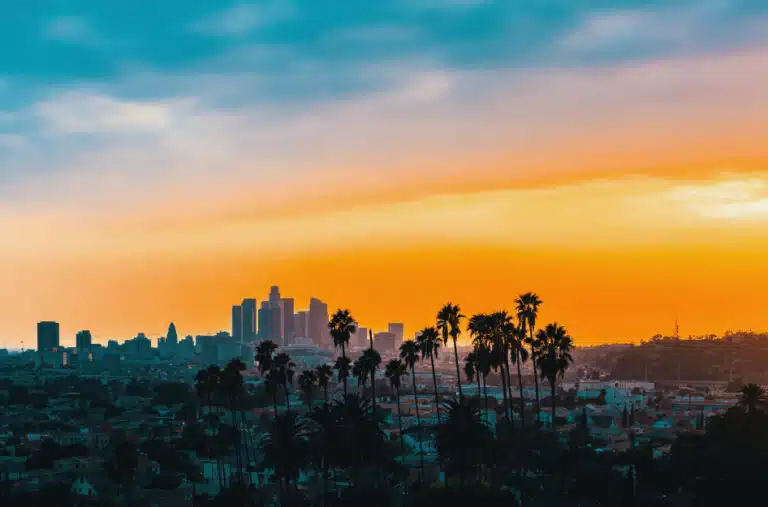 L.A. Moving Guide: The Ultimate Guide to Los Angeles Neighborhoods
Whether you've locked down a new job in La La Land or you're just ready for a more relaxed lifestyle, you'll find a neighborhood in Los Angeles suited to your taste. As one of the nation's largest and most diverse metropolitan areas, Los Angeles is so much more than the Hollywood and Beverly Hills you see on TV. It's full of culture, great dining, unique Los Angeles neighborhoods, outdoor recreation, and hidden gems around every corner.
Moving to Los Angeles?
If you've started your research, you've probably discovered that Los Angeles is like a small country — figuring out where in this huge city to start apartment or house hunting can be daunting. Los Angeles County includes 88 cities, and over 400 neighborhoods! But if you're wondering where to live in L.A., you've come to the right place. In this guide, we'll take a close look at some of the best Los Angeles neighborhoods so you can find your perfect place to put down roots as a new Angeleno.
Best Los Angeles Neighborhoods
First things first, it's important to keep in mind that the best neighborhoods in Los Angeles are honestly determined by your own tastes! Everyone wants something different out of their community, so as you start your search, consider why you're moving to Los Angeles. Are you hoping to live by the beach, or do you want a short commute to work? Are you hoping to bump into celebrities in your day-to-day, or would you prefer easy access to hiking trails? Do you want a big-city feel, or would you be happier with tree-lined streets and the convenience of nearby strip malls? (You'd be surprised by the creative cuisine and character you can find in L.A. strip mall restaurants, by the way.)
If you're moving to Los Angeles from out of town and haven't had the chance to explore the city in person, it'll help to first get familiar with the different Los Angeles neighborhoods. So, what are the neighborhoods of L.A.? Well, there are a lot of them — over 400, if we're looking at all of L.A. County. For the sake of this article, we're just going to cover our favorites. If you want to get a feel for where everything is, start with this comprehensive Los Angeles neighborhood map, prepared by Eric Brightwell of Pendersleigh & Sons Cartography, featuring all 472 neighborhoods. Or, for a more general look at the city, check out this map organized by region, from the Los Angeles Times.
Now, let's dive into the best neighborhoods in Los Angeles. We're going to look at the average rent (for a one-bedroom), typical home value, transportation, and more, so you can find the perfect place for you in the City of Angels.
Hip L.A. Neighborhoods
LOS FELIZ
As neighborhoods go, Los Feliz is pretty hard to beat. Nestled just south of Griffith Park (arguably one of the city's greatest treasures), it manages to hit the balance of being cool and interesting without trying too hard or being over the top. In Los Feliz, you'll find all kinds of eclectic shops and cafes, diners and more, mainly on Hillhurst and Vermont Avenues. Home to Thai Town and a whole mess of delicious hidden gems, Los Feliz is a diner's paradise. It's worth exploring Los Feliz on foot: take in the old homes, shady streets, the old Hollywood-glamour Los Feliz Theater, and more.
Nearby neighborhoods to consider: Atwater Village, Silver Lake
WEST HOLLYWOOD
Looking for a quiet, suburban existence? West Hollywood (WeHo) is not for you. Trendy and bustling, LA's LGBTQ+ capital boasts some of the liveliest nightlife the city has to offer. Home to L.A.'s famous Sunset Strip and the fabled Chateau Marmont, the entire city (yes, West Hollywood is technically a city all its own) only covers about two square miles and is worth exploring on foot. Neighboring Central Hollywood, you're just a short distance from some of the city's most recognizable landmarks: Grauman's Chinese Theater (now called TCL Chinese Theatre), the Capitol Records Building, etc. Touristy? Absolutely. But still worth seeing.
Nearby neighborhoods to consider: Hollywood, Mid-City
SILVER LAKE
Silver Lake earns its reputation as a haven for hipsters. But is that so bad? It depends on your point of view. Trendsetting and yet somehow fairly calm, Silver Lake is home to boho-chic bars, artisanal coffee shops, and delicious eateries. The neighborhood is centered around Silver Lake itself — which is, in fact, a reservoir built in the early 1900s. The partially paved 2.2 mile trail around the lake is a popular spot for locals to walk, jog, hike, or run.
Nearby neighborhoods to consider: East Hollywood, Echo Park
ECHO PARK
Head southeast from Silver Lake, cross under the 2, and you'll find yourself in Echo Park. Mid-century apartments, Spanish-style homes, and craftsman houses line the streets of this trendy neighborhood. Here you'll find Dodger Stadium and the expansive Elysian Park area (technically its own very small neighborhood). And living up to its name, Echo Park has a lovely green space surrounding a lake (Elysian Reservoir), with biking and walking paths — all part of a recent renovation. With such close proximity to essential L.A. hangouts, from Chinatown to DTLA, this is an ideal place to set up your home base. Echo Park has a bit of a scruffy feel in places and is still somewhat affordable, which makes us love it even more.
Nearby neighborhoods to consider: Silver Lake, Los Feliz
Beachy L.A. Neighborhoods
SANTA MONICA
Moving to Los Angeles so you can hit the beach after you get off work? You need to head west to either Santa Monica or Venice. With great shopping, the iconic Santa Monica Pier, restaurants galore, and lovely (expensive) neighborhoods, Santa Monica is a picturesque spot to call home. With proximity to the Pacific, you can count on cooler temperatures and clearer air. To top it off, the school district in Santa Monica is one of L.A.'s best.
Nearby neighborhoods to consider: Pacific Palisades, Venice, Brentwood
VENICE
Venice is like the younger, bohemian sibling of Santa Monica, who studied abroad and came back really "into art" and pour-over coffee. A little much sometimes? Sure, but dang — they're having fun with it! Move here and your friends will definitely want to visit. With colorful murals and staircases around every corner, Venice is a walkable blast with so much to discover. Great shopping, great food, beachfront…need we say more?
Nearby neighborhoods to consider: Mar Vista, Marina Del Rey, Santa Monica
Relaxed Suburban Areas in L.A.
PASADENA
Technically its own city, Pasadena sits northeast of Los Angeles and is a popular L.A. suburb. This area is charming, low-key, and family-oriented, making it a great place to settle if you prefer a relaxed vibe to the hum of the big city. Not only was Pasadena rated one of the top 10 healthiest cities in America, it's also one of the most diverse, and one of the best for young professionals, according to Niche. With great shopping and eating options — and only 20 minutes from DTLA — this urban-suburban locale is an awesome place to live.
Nearby neighborhoods to consider: Northeast L.A., Glendale
THE VALLEY
Encompassing a number of neighborhoods and incorporated cities (including Glendale, Burbank, Hidden Hills, and Calabasas), the San Fernando Valley is still in L.A. but feels a little removed from the big city with more of a relaxed feel. Beware — without those coastal breezes, temperatures can elevate more than 10 degrees compared to other western parts of Los Angeles. While strip malls are prevalent throughout L.A., they're truly everywhere in the Valley…and hiding some of the best restaurants (sushi, especially) in the city.
Neighborhoods in The Valley: Sherman Oaks, Burbank, Calabasas, Studio City, and more
WESTWOOD AND BRENTWOOD
Divided by the 405, Westwood and Brentwood (north of Santa Monica) are two of the city's more affluent neighborhoods, boasting great shopping, beautiful residential areas, and lovely cultural centers like The Getty. Westwood is home to UCLA, so don't be surprised if your coffee-shop neighbors are students and professors.
Nearby neighborhoods to consider: Bel Air, Pacific Palisades, Beverly Hills
Q: What is the safest area in L.A.?
A: According to Neighborhood Scout, Brentwood is one of the safest neighborhoods in Los Angeles. Other neighborhoods on their list include Bell Canyon, Deer Lake Highlands, and Fern Ann Falls — all located northwest of Downtown L.A.
Urban L.A. Neighborhoods
DTLA / DOWNTOWN
Downtown L.A. has undergone a significant renaissance in the last decade or so. Formerly an area with stagnation, Downtown is now a place where Things. Are. Happening. With a flourishing arts and design community and people everywhere you look, Downtown now features incredible restaurants and cultural landmarks such as the Walt Disney Concert Hall. Here you'll also find Little Tokyo, Angels Flight Railway, and the Fashion District. If you're moving from SF or NYC and want to maintain the feeling of living in a bustling downtown, DTLA might be the perfect place for you.
Nearby neighborhoods to consider: Echo Park, Historic Cultural District
Q: What is the nicest neighborhood in Los Angeles?
A: It may not come as a surprise to you, but Beverly Hills is one of the nicest neighborhoods in Los Angeles. From the palm-lined neighborhood streets to the opulent mansions and the uncannily clean parks and roadways, this is definitely one of the nicest places to live in L.A..
Lavish L.A. Neighborhoods
BEVERLY HILLS
When you think of movie stars and famous people living it up in Los Angeles, you probably think of Beverly Hills. Wealthy, extravagant, and (somehow) clean, Beverly Hills features the legendary Rodeo Drive, stuffed with designer boutiques, and somewhere you might spot a celebrity having lunch. Beautiful, wide, palm-lined streets are made for cruising in a new convertible, scarf tied in your hair. If you've got the cash, why not? With fantastic schools and a peaceful vibe, it's not hard to see what the other half sees in Beverly Hills.
Nearby neighborhoods to consider: Bel Air, Westwood, WeHo
MALIBU
Technically, Malibu isn't in L.A. … but it might as well be. Long a destination for a beautiful beach-day escape or — for the more wealthy or famous among us — the ideal place for a beachfront dream home away from prying eyes, Malibu really is heavenly. With gorgeous beaches, tons of great hiking trails, and fabulous restaurants, Malibu is worth the 40-minute drive to spend a day, or the investment to buy property.
Nearby neighborhoods to consider: Santa Monica, Hidden Valley
What is the most affordable area in Los Angeles?
If you're moving to L.A. and your budget is your only concern, then Vermont Vista and Vermont Knolls are two of the most affordable neighborhoods in L.A. Roughly 20 minutes south of Downtown, both neighborhoods boast a surprisingly low average rent (just $1,522 a month). However, if you're looking for an affordable rental and an awesome neighborhood, we recommend checking out Northeast L.A., sometimes called NELA. With generally lower rents than many other areas of the city, there's still so much in NELA to love — all while not being too far from the action. Here are a few of our favorite neighborhoods in Northeast L.A.
Highland Park
One of the oldest neighborhoods in L.A., Highland Park offers up a rich mix of old and new, and has an average rent of $1,926.
Eagle Rock
Between Glendale and Pasadena and home to Occidental College, the laid-back neighborhood of Eagle Rock will quickly feel like home. The average rent here is $2,083.
Glassell Park
Nestled beside Mount Washington and the Los Angeles River, Glassell Park has an average rent of $2,075. Unpretentious but lovely, you'll also find the Rio de Los Angeles State Park here.
Transportation in Northeast L.A.: The neighborhoods are small, so getting from one to the next is just a quick drive. You're also between a few major freeways, so the rest of the city is still within reach.
Making the Move to Your New Los Angeles Neighborhood
Once you've found the perfect L.A. neighborhood to call your own, it's time to make the move. PODS can help you get there with flexible moving and storage options for local and long-distance moves. PODS even has moving services specifically designed for big city moves, so you don't have to stress about navigating busy L.A. streets with a rental truck.
---
Heather Magness is a member of the PODS Blog creative team. When she's not formatting images and blog layouts, you can find her writing a song, watching a movie, or enjoying the great outdoors.
Get a Quote
Choose the service you need
Comments
Leave a Comment
Your email address will not be published. Required fields are marked *