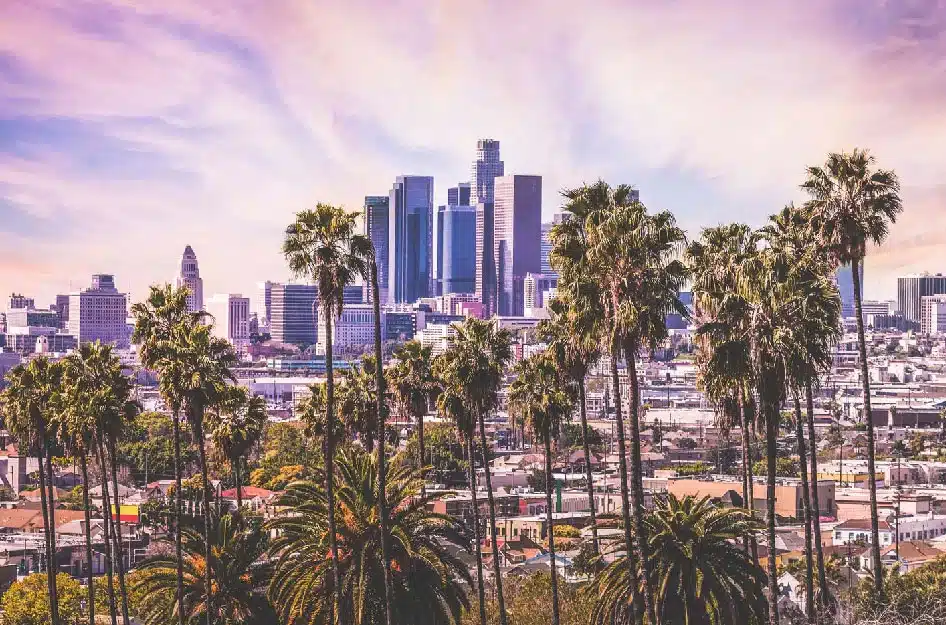 L.A. Moving Guide: How to Find an Apartment in Los Angeles
Thinking about making the jump to the West Coast? People move to Los Angeles for all kinds of reasons: a more relaxed lifestyle, the allure of living near Hollywood or the ocean, a new job, or just the fantastic weather! If you're moving from another city, you may be wondering — where are the best places to live in Los Angeles?
PODS City Service makes moving into your Los Angeles apartment a breeze. See how it works.
And now that you're thinking about it, what's the average rent in Los Angeles? As you begin your search for the perfect neighborhood and start apartment hunting, work through our easy guide and quick tips, and you'll be settling into your new Angeleno lifestyle in no time. But first, we'll cover two burning questions about where to live in Los Angeles:
What's the Average Rent in Los Angeles?
Like New York or other large metropolises, rent varies widely throughout the city and depends on the neighborhood. Average rent for an apartment in Los Angeles is $2,786 (think, 1-bedroom). If you're looking to live in Venice or another oceanfront community, expect to pay quite a bit more (over $3,800). If you're willing to explore more inland and eclectic areas, it's certainly possible to find more manageable rents.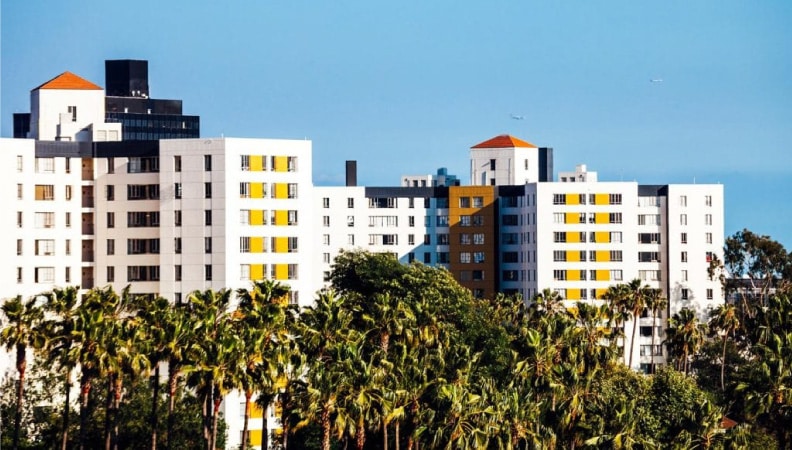 Can You Find Cheap Apartments in Los Angeles?
Yes, it's possible! While certain parts of Los Angeles will never be cheap (we're looking at you, Santa Monica and Beverly Hills), if you're flexible on location and proximity to amenities like the beach, you can score rents closer to what you may have experienced in a smaller city (think in the mid-$1000s). For more affordable digs, try neighborhoods in Northeast L.A. and South Central. For the lowdown on the best neighborhoods in L.A., check out our Los Angeles Neighborhood Guide.
How to Find the Best Places to Live in Los Angeles
Finding the best places to live in L.A. begins with knowing what you're looking for in a home. What are your personal priorities for housing and lifestyle? Follow these steps to help you figure out where to live in Los Angeles, how to find an apartment in L.A., and how to seal the deal.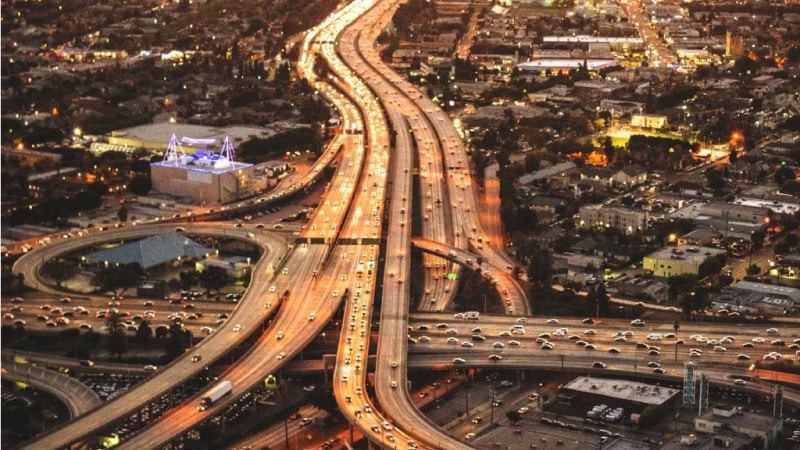 Step 1: Create your own definition of what makes the "best place to live in Los Angeles"
Everyone has their own idea of what makes a place feel like "home." Before you get into apartment hunting in Los Angeles, sit down with a cup of coffee and ask yourself what's really important to you in a neighborhood or home.
Define your priorities.
What's important to you in a home? Are you set on an ocean view, or access to great nightlife? Do you care more about being able to walk everywhere you need to go, or having more square footage? Or is it all about the dollars? Make a list of what's a "must-have," "nice-to-have," and "not-important" to you.
Consider your commute!
With some of the worst traffic on Earth, Los Angeles natives would tell you straight up, live close to where you work. While L.A. does have a large public-transit system, Los Angeles is mainly a driving city, with highways that are frequently jammed. If you know where you'll be working, consider what commuting time you're willing to endure. If you're not sure where you'll be working yet, do some research on where your industry's main companies are located.
Zero in on your budget for rent and cost of living.
While it would be nice to think you can find something in your budget in any area, the fact is that some areas simply cost far more to live in, while others are still relatively affordable. Be realistic about what would be comfortable for you. Salaries and wages are typically higher in LA than other places in the U.S., but cost of living is higher to match.
Step 2: Find an Apartment in Los Angeles Based on Your Top Neighborhood Choices
Once you know which neighborhoods you're interested in, how do you take the next step and find an apartment that's right for you?
Armed with your priorities, home in on a few great Los Angeles Neighborhoods.
Use our Los Angeles Neighborhood Guide to explore average rent in Los Angeles by neighborhood, what to expect in different areas of town, and to get an idea of what part of Los Angeles might be right for you. Once you have a few 'hoods you're interested in, go explore! Check out different areas in both day and nighttime to get a feel for the vibe and access that area has to offer.
Search on your feet.
Los Angeles is a hot rental market, which means desirable apartments don't last long. We recommend exploring some of the neighborhoods you're interested in on foot. Not only will you get a unique sense of what the neighborhood is like, you can spot "for rent" signs outside homes and apartment complexes. Sometimes openings are snapped up so quickly, they don't make it to the internet!
Use a Los Angeles Apartment Finder app or site.
As in other cities, the internet is a great source for aggregated listings from management companies as well as hidden gems across the city's neighborhoods. Here are some of our favorite apps and online resources for Los Angeles:

Once you've found a listing you like, see it in person.
Seriously — this is a must! Apartment hunting in Los Angeles is a tricky business right now, and it's essential that you're able to see a place in person to view the neighborhood and building, and also to see how closely the apartment matches the photos. You'll want to make sure you're getting what you're paying for. Never rent blind.
Step 3: Close the Deal
You've found the perfect place. How do you lock it in?
Do your research.
When apartment hunting in L.A., it's important to do your due diligence on those you'll be doing business with. Take the time to search Yelp and other review sites for your potential apartment complex. Then, go a step deeper and research their management or ownership company. This will give you a feel for others' experiences dealing with them, how easy or difficult it might be to get issues fixed, and the overall helpfulness of the management team.
Have all your documents ready, and move fast!
With LA's low vacancy rate, lower-cost rentals can get very competitive. If you've scheduled a viewing, bring all your relevant documents and references so you can apply on-site if you love it. You'd hate to lose out on a place you're qualified for just because you had to run home to grab proof of income!
Know your rights.
With the high cost of real estate, more than half of Los Angeles residents are renters. Los Angeles has renters' rights you should be aware of as you move into a new place, including the right to a clean and habitable home, 24 hours' notice before a landlord visit, and in some areas, interest on the deposit paid. Be prepared with this comprehensive list of Los Angeles Renter's Rights.
FAQ - Finding an Apartment in Los Angeles
Q: Where in LA has the cheapest rent?
A: The average rent for an apartment in Los Angeles is around $2,786 according to RentCafe with an average apartment size 789 square feet. This data tends to refer to a one-bedroom apartment, so prices can be higher or lower depending on the apartment size. With that price, it is clear that it can be expensive to live in Los Angeles. According to RentCafe, there are neighborhoods around Los Angeles that offer rents that are as much as $1,000 less than the average. For example, you could look at Vermont Knolls, where RentCafe says the average rent is $1,522. Vermont Vista has an average rent of $1,522. Winnetka has an average rent of $1,697. You'll have money leftover to travel, eat out, and even save if you choose to live in these neighborhoods. Compare that to the most expensive Los Angeles neighborhood of Historic South-Central at $4,472 according to RentCafe, and you'll feel pretty good about how well you did if you go with the more affordable options to get the best apartment in Los Angeles. 
Q: Is LA rent cheaper than NYC?
A: Granted, all major U.S. cities are expensive to live in even if you rent an apartment. But New York City, specifically in Manhattan, is much more expensive than Los Angeles. While a one-bedroom apartment in Los Angeles costs around $2,786, you are going to pay nearly double that in Manhattan. According to RentCafe, the average rent for a Manhattan apartment is $4,501 and the average apartment size is around 704 square feet. So, in other words, you're paying much more in New York for a smaller place to live than you would in Los Angeles. And don't forget that New York City is going to have long, cold winters to boot. Some Manhattan neighborhoods are even more expensive — consider that rent costs around $5,941 in Battery Park City, $5,800 in Little Italy, and $5,800 in TriBeCa, some of New York's most well-known neighborhoods. It makes Los Angeles look like a good deal when you think about West Coast prices versus those on the East Coast in one of the largest cities in New York state. 
Q: What credit score do you need to rent in LA?
A: A credit score, according to the Consumer Financial Protection Bureau, is "a prediction of how likely you are to pay a loan back on time based on information from your credit reports," the website said. Companies, including those that own apartments, use a credit score to make a decision on whether to let you become a tenant in their building. According to RentCafe, the average credit score of U.S. renters is 638 in 2020, the most recent data available. But even adding a few points by making sure your credit history is up to date and accurate can increase the chances that you will be able to rent an apartment in Los Angeles in a neighborhood you like. RentCafe says that Los Angeles has one of the highest credit scores in the nation with an average of 682, so that means if you want to rent in this city you may want to clean up your credit score by paying bills on time and ensuring you don't have too much on your credit cards. Every step you take to increasing your credit score and getting a better number ensures you can live where you want in Los Angeles. 
Q: What salary do you need to live comfortably in Los Angeles?
A: This is a truly personal decision in some ways — some people are better at living on less and budgeting every purchase while others may want to have more discretionary income because they have a sizable salary for Los Angeles. But overall, people living in major metro areas likely need an income of at least $57,013, according to SmartAsset, to feel like they are living comfortably. By the way, the average income within the United States is around that same amount, according to the U.S. Bureau of Labor Statistics. If you want to be perfectly honest, a resource such as Reddit offers another input that is based on reality — its users say that you need about $65,000 annually based on 2022 numbers to feel comfortable in Los Angeles. This leaves you enough money to cover the rent on a studio or a one-bedroom apartment in Los Angeles as well as money to own a car, pay your bills, and go out to dinner from time to time. Websites such as Apartment List say you should spend about 30% or less of your gross monthly income on rent. As a result, Apartment List recommends you earn at least $66,400 a year or $5,533 a month to "comfortably afford a one-bedroom apartment in Los Angeles." 
Bonus Tip: If you live in Santa Monica, Beverly Hills, the city of Los Angeles, or West Hollywood, your home may be subject to rent stabilization, which prevents unexpected and high rent spikes. While not all home types are covered by these regulations, those that are can reap the benefit of savings over time! This primer will help you learn more about rent stabilization in Los Angeles and how to check if a specific apartment is rent-controlled.
If You've Found Your Own Best Place to Live In Los Angeles…
CELEBRATE!
Apartment hunting in Los Angeles is a challenge — and you've conquered it! Take a weekend to celebrate by exploring your new neighborhood or city, meeting new friends, and treating yourself to both rest and celebration. Go forth and find your favorite taco truck!
---
Karen Dybis is a freelance journalist and a frequent contributor to the PODS Blog. Her work has appeared in Time magazine, U.S. News & World Report, The Detroit News, and more.
Sources: All average rent numbers are from RENTCafé.
Get a Quote
Choose the service you need
Comments
Leave a Comment
Your email address will not be published. Required fields are marked *