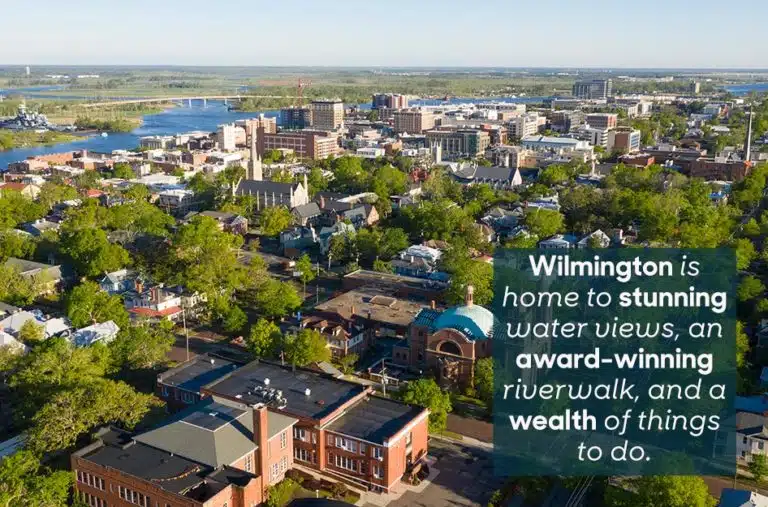 What's Life Like in Beachy Wilmington? 15 Things To Know About Living in Wilmington, NC
You likely know of North Carolina's capital, Raleigh, and you may be familiar with its largest city, Charlotte. But if you haven't heard of Wilmington, you're in for a treat. Living in Wilmington, NC, means dwelling in a place that is unbelievably quaint, brimming with beaches and friendly people, and relatively affordable to boot. Whether this is the first you're hearing of this
North Carolina
port city, or you're keenly interested in moving to Wilmington already, here's a glimpse of all the best things to do in Wilmington, NC, and a peek into what life there is like.
Q: Is Wilmington, NC, a good place to live?
A: Locals will tell you Wilmington is a wonderful place to live. If you like long, hot summers, frequent beach trips, al fresco dining along the river, and a small-city feel with lots of friendly people,
moving to Wilmington
may be your next step!
Fast Facts
Cost of living: The Wilmington, NC, cost of living is about 4 percent below the national average.
Average rent: The average rent for a typical (863-square-foot) apartment in Wilmington is about $1,575 per month.
Average home value: The average value of a Wilmington home is about $390,000, which is up nearly 25 percent since September of 2021.
Pros and Cons of Living in Wilmington, NC
Pro: Affordable Lifestyle
The cost of living in Wilmington, NC, is not only 4 percent below the national average, but it's also about 6 percent lower than the cost of living in Raleigh, North Carolina's capital city.
Con: Low Minimum Wage
The minimum wage in Wilmington is $7.25. Though that's the federal minimum, which many states follow, many other states require a higher hourly wage, like Washington with $15.74 or California with $15.50.
Pro: Easy Water Access
Between the Atlantic Ocean on the east and Cape Fear River on the west, Wilmington enjoys water vistas along both borders. Take to one of the many beaches for an afternoon of sunshine or hop on a sunset cruise for an after-dinner view of the river.
Con: Hot, Humid Summers
Though its humid subtropical climate is excellent for jumping in the water to cool off, those who aren't partial to high temps or humidity may see Wilmington's hot summers as a drawback.
Pro: Plenty to Do
Whether you're going to the beach, strolling along the riverwalk, dining outside, or seeing a concert or comedy show, you can always find something fun to do when living in Wilmington, NC.
Con: Subpar Traffic
It's hardly uncommon to complain about traffic when living in a city of any size, but locals bemoan the traffic in Wilmington. You'll want a car to get around, but you'll also want a healthy dose of patience.

Q: Is it expensive to live in Wilmington, NC?
A: Relatively speaking, no — the cost of living in Wilmington, NC, is actually 4 percent below the national average. It's also about 6 percent less expensive to live in Wilmington than the state capital of Raleigh. However, compared to all of North Carolina, Wilmington is a bit more expensive overall. If you love near-instant access to the beach, though, slightly elevated prices may be worth it.
1. There's a wealth of covetable neighborhoods to live in.
From the historic downtown to the family-friendly RiverLights development or the beach community of the Cape, the 53-square-mile city packs in many unique areas to call home.
"Although I love downtown Wilmington and our historic riverfront, I tend to gravitate toward the coastal side of New Hanover County," admits Joel Sheesley, a real estate agent with Coldwell Banker Sea Coast Advantage and 28-year resident of Wilmington. "I'm a beach guy, and I love the many 'loops' that provide access to the tidal creeks branching in from the Intracoastal Waterway." He says some of his favorite areas are:

Landfall
Anchors Bend
Demarest
Providence
Bayshore
Marsh Oaks
Many of the Porters Neck communities
In particular, he notes, "Waterstone, Porters Neck plantation, and especially Bald Eagle Lane, a high bluff of established properties, almost all enjoy water access of some sort. Figure Eight and Wrightsville Beach may be my favorite beaches in all of the southeast, but not surprisingly, these happen to come with the highest price tags in this area."

Q: How much do you need to live comfortably in Wilmington, NC?
A: The average salary in Wilmington, according to Zip Recruiter, is $49,586 annually or $24 per hour. MIT's Living Wage Calculator says the living wage for one adult without children is $34,194 (before taxes) or $16.44 per hour. For a single adult with three children, that number goes up to $128,197 or $61.63 per hour, while for a working couple with three children, the living wage is $127,920 or $30.75 per hour. It's important to note, however, that Wilmington's minimum wage is only $7.25 an hour.
2. It's the perfect blend of a small town and a big city.
"For me, it's the perfect combination of small town and big town," says Sheesley. "Over the past 25 years, I've watched as our opportunities in the area have grown tremendously." But as the eighth-largest city in North Carolina, its population sits around a relatively modest 120,000. The result? A community that feels familiar and easy to settle into, but with plenty of ways to fill up your weekends.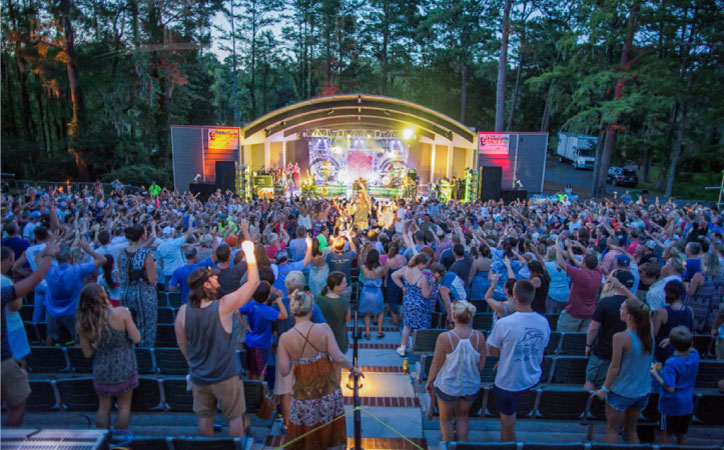 A live show at Greenfield Lake Amphitheater
(Source: Greenfield Lake Amphitheater via Facebook)
3. There are ample opportunities for live entertainment.
Speaking of things to do in Wilmington, North Carolina, why not go see a show? The arts scene has grown dramatically over the years and now offers plenty of chances to see live concerts and comedy shows. "When in college, I used to go to any one of only a few small bars to enjoy a live show. Now, I'm seeing great regional acts grace the stage at the most scenic setting, Greenfield Lake, all summer long," Sheesley says. "The acoustics are great, and there's simply not a bad seat in the house. With the additions of Cape Fear Community College's Wilson Center and now Live Oak Bank Pavilion at Riverfront Park, I've got opportunities to see national acts, whether musicians, magicians, comedians, or whatever, that I used to have to travel to Raleigh or Charlotte to see."
4. You're never far from the water.
Not only is Wilmington bordered on the east by the Atlantic Ocean (and all the beaches that brings), but the Cape Fear River defines its western perimeter. The result? You never have to travel far to reap the benefits of being by the water. The psychological benefits of living near water are too many to count, but think: lower stress, more physical activity, better social interactions, and generally better moods. Not to mention, the gorgeous azure views all along the riverwalk and beyond.

Q: Why are so many people moving to Wilmington, NC?
A: There's been a notable number of people moving to Wilmington, NC, in recent years, and it's not hard to see why. With the increase in remote work opportunities encouraging many to seek warmer pastures, coastal cities have become even more popular. And Wilmington, with its many beaches, growing job market, friendly community, and a lower cost of living than many other coastal options, offers a lot to draw new residents in.
5. Living in Wilmington, NC, makes for friendly neighbors.
Maybe it's all the vitamin D, that famous southern hospitality, or the residual benefits of living by the water, but locals tout the friendliness of people who live in Wilmington. "People are happy to live in a place that is essentially a paradise," Sheesley says. "Happy people — which equates to nice and fun people — in a beautiful setting! What more could you ask for?" Lynne Boney, a broker and real estate agent with Intracoastal Realty Corporation who was born in Wilmington and has sold real estate there for over 22 years, agrees. Her favorite part of living in Wilmington, NC, hands down? "The friendliness of the people," she says.
6. The University of North Carolina - Wilmington injects energy into the city.
Speaking of the people, living in Wilmington, NC, you're bound to come across plenty of college students. Considering close to 18,000 students enroll at the University of North Carolina - Wilmington, the student body makes up a pretty considerable portion of the city's 120,000-person population. Living in a college town (which also includes Cape Fear Community College and Miller-Motte College of Wilmington) certainly comes with its perks, from a reenergized downtown to a sports scene to cheer on (go Seahawks!) to the community college's performing arts center, which brings in Broadway shows, concerts, and comedy for everyone in town to enjoy.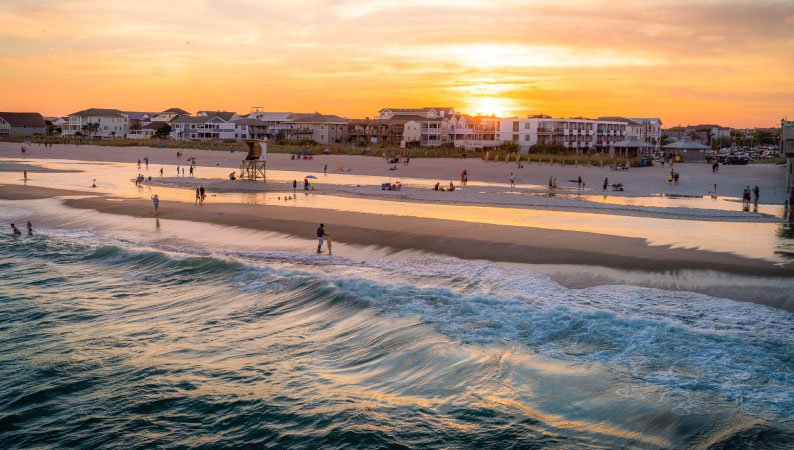 Wrightsville Beach
(Source: Visit Wrightsville Beach, NC via Facebook)
7. You can go to the beach anytime you want.
No need to plan a whole day trip to go to the beach, if you don't want to. Given Wilmington's proximity to several beautiful beaches, including Wrightsville Beach (a mere 15-minute drive), Carolina Beach, and Kure Beach, you can soak up some sun in the morning and head downtown to grab a bite to eat in the afternoon. Just get used to shaking sand out of your shoes and carrying a tube of SPF in your bag.
8. It's not all about the beach, though — there are so many other things to do in Wilmington, NC.
Sure, there are beautiful water views, chill people, and sandy shores all around, but Wilmington is so much more than just a beach town. If she were describing the city to someone who's never been there, Boney says she would have to point out its various personalities and features. "Wilmington has many 'faces,'" she says. "Beautiful beaches; a variety of areas to live, from large, new well-planned neighborhoods to one of the largest Historic Districts in the state of North Carolina (about 230 blocks!); an array of fine restaurants; a major medical center with a Level II Trauma Center; an unbelievable arts community; an airport with non-stop jet service to major U.S. cities; and a university that is veteran-friendly and known for its affordability and academic quality." In other words, there's a lot to love and something for everyone in Wilmington.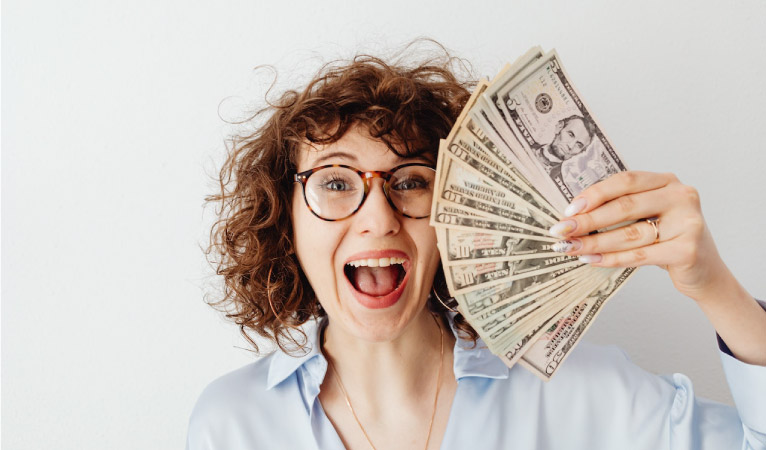 (Source: Karolina Grabowska via Pexels)
9. The cost of living in Wilmington, NC, is below the national average.
As mentioned, though you wouldn't think it, given its location right by the ocean, the cost of living in Wilmington, North Carolina, is actually a sweet 4 percent below the national average. Lower average prices in categories like housing and groceries help residents save some cash. Utilities and transportation costs, however, tend to cost more than the national average. Compared to all of North Carolina, Wilmington is a bit more expensive overall, though in relation to the state capital of Raleigh, the cost of living in Wilmington, NC, is actually about 6 percent lower.

Q: Is it worth moving to Wilmington, NC?
A: If riverwalk dining, easy beach access, and friendly locals in a mid-size city sounds like what you're looking for, living in Wilmington, NC, is a perfect fit. Plus, with a lower cost of living and more affordable housing market than Raleigh, it's easily worth it.
10. The housing market in Wilmington, NC, is more affordable than in Raleigh.
If you're set on moving to North Carolina but are looking for the housing market with the best deals — or if you're living in Raleigh and hoping to upsize to a bigger home without breaking the bank — the housing market in Wilmington, NC, is more affordable than the state capital. While the average home value in Ralegh is around $434,500, the average in Wilmington is just under $390,000. However, you're better off moving sooner rather than later: Wilmington's housing prices have been steadily rising for the past several years, with an accelerated increase in home values since 2020. And houses don't linger long on the market — the average number of days before a listing goes pending is seven. For another comparison point, you can look to Charlotte, NC, where the average home value is pretty similar to Wilmington, at around $387,000. Coastal beaches are not included, though.
11. The Wilmington job market is still evolving.
Around 20,000 jobs were added to the Wilmington job market between 2020 and 2021. Banking company Live Oak Bank and financial software company nCino have done well in recent years, while the small business and tourism industry have taken more of a back seat, particularly due to the COVID-19 pandemic. In 2023, however, Wilmington ranked number seven (up from number 37 in 2021) in a report of "best performing cities" for economic success, owing to its significant job growth in multiple industries, including health care and hospitality.
Beyond the numbers, it's a shift locals have noticed. "For years, our hospital was the largest employer in our area. I'm not sure that's not still true, but there has been tremendous growth in other industries, such as banking and pharmaceutical research. Film is coming back after losing many projects to Atlanta and other areas over the past five to 10 years. GE is a big employer here, and there are several others," Sheesley explains. "Historically, I've always felt there was a lot of money in this area, but much of it was not made here. We were an area filled with small businesses and old money passed down for generations. With increased wages in some of these industries and companies, things continue to get brighter in Southeastern North Carolina."
12. You may have to wait in traffic.
It's hardly an uncommon gripe for city living, but it's worth noting that you'll likely want to have a car and a good amount of patience for getting where you need to go. "It's still a car town," explains
one Quora contributor
. "Don't kid yourself into thinking you can live a normal life without one." Boney, who has lived in Wilmington since she was born, attests that: "The traffic is bad. We're playing catch-up, unfortunately, and it's going too slowly." Luckily, you're bound to have a nice view while driving around and can roll down the windows to take in a balmy breeze.
13. Wilmington has a humid subtropical climate.
A
humid subtropical climate
translates to hot summers and cool but mild winters. In December and January, temperatures tend to linger around the 40s and 50s. It can creep above 100 degrees Farenheit in the depths of summer, though average temps are in the 80s (which can feel a lot hotter when you add in the muggy air). Warm weather lovers, this is your time to shine!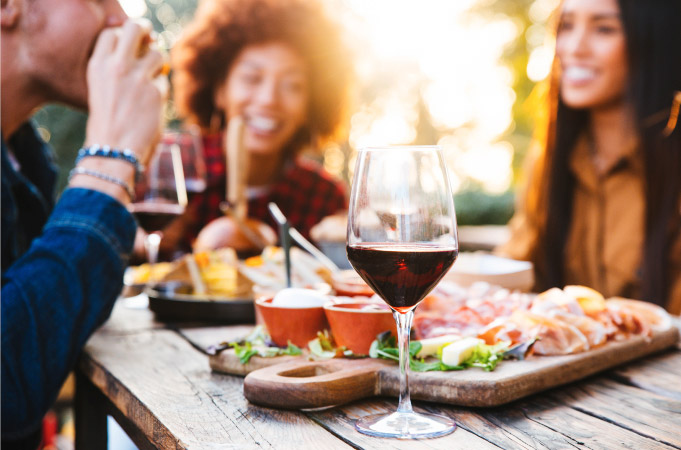 14. There's a delicious food scene and plenty of al fresco dining opportunities.
It's no surprise Wilmington was once named one of the top 10 places for al fresco dining by USA Today — the gorgeous weather and buzzy riverwalk are perfectly suited for it. If you're looking for a nice place to take your date or a cozy spot for a family meal, check out Eater Carolinas' list of essential Wilmington, NC, restaurants. From oyster pie and swordfish schnitzel at Seabird, to BLT arepas and other Latin-inspired dishes at Savorez, the city is home to a mouth-watering range of dining-out options. "For a really memorable meal, I'd head downtown to the many wonderful restaurants there," Boney shares. "My favorite restaurant is Caprice Bistro in the very first block of Market Street. The food is delicious, the service is wonderful, and afterward, you can get an ice cream cone at Kilwin's next door before strolling along the riverwalk and see the USS North Carolina, our WWII battleship, berthed just across the Cape Fear River."
15. The riverwalk — and life along the river — simply can't be beat.
It's not hard to imagine why Wilmington once topped USA Today's chart of the best riverfronts in America. Take a stroll along the riverwalk and you'll see. The two-mile boardwalk hugs the Cape Fear River and boasts more than 200 nearby shops, restaurants, galleries, boutiques, and other attractions. Particularly in the warmest months, you'll see the walkway burst into life with tourists and locals alike dining, drinking, and cruising along the river. Sheesley says his favorite way to spend a weekend day in Wilmington is this: "Take in a show or get some good eats. Get close to the water with the ones I love." Then, he says, top it all off with a sunset cruise along Cape Fear.
Pro Tip: If these facts about living in Wilmington, NC, have convinced you that it's your place, PODS can help you get started on your move to Wilmington right away. Whether you're moving from within North Carolina or making a cross-country change, make your move a flexible one by having a PODS portable moving container delivered right to your driveway. Pack and load on your own schedule and, when you're ready, PODS will pick it up and deliver it to your new home in Wilmington, NC. Need storage? No problem! With PODS, one month of storage is built into every move.

Sofia Rivera is a Brooklyn-based lifestyle editor and frequent contributor to the PODS Blog. Her work has appeared in Boston magazine, Apartment Therapy, and more. You can most often find her redecorating her apartment, trying out a new recipe, or trekking all over the city.
Get a Quote
Choose the service you need
Comments
Leave a Comment
Your email address will not be published. Required fields are marked *