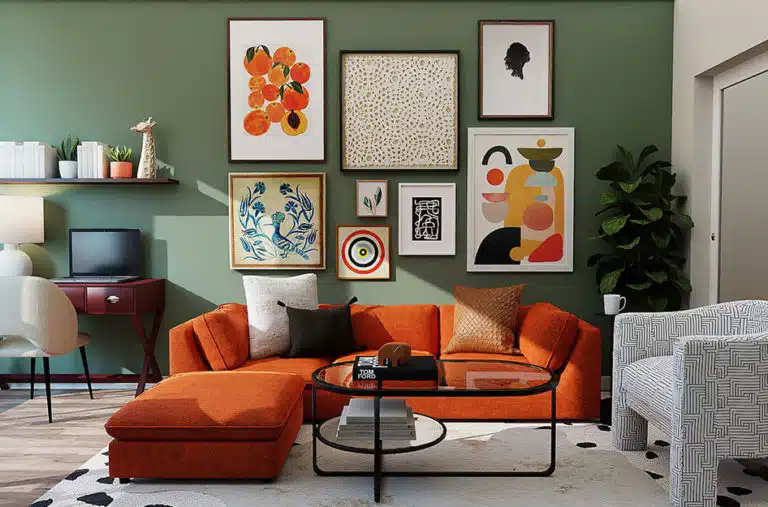 Home Trends and Design Ideas: What's In for 2023?
The start of a new year always sparks the desire to refresh and rejuvenate. Fitness centers fill up. Salon calendars crowd with new clients. And designers — professional and amateur alike — ponder home trends and design ideas for the coming months. What's in? What's out? We've got the 2023 style scoop from experts in outdoor and indoor decor, must-haves for the stylish home, and how to make it all come together.
But, first, let's start with what's best to leave behind.
What 2022 design trends are fizzling out?
Although 2022 felt markedly different from the first two pandemic years, trend-setters 12 months ago were ready for creative home designs that signaled a hearty goodbye to remote work and isolated recreation. Now, decor experts are opting to go even further in the "get busy" direction, saying so long to the minimalist and monochromatic looks that are finished serving their purpose as much-needed soothing oases. So, as we watch 2022 fade away, let's bid adieu to some outdated home design trends, too. Here are our top three:
All-White Kitchens 
Ditch this look. Go for pops of color and even some tasteful clutter to liven up the heart of your home. All-white cabinets are so 2022; today's look is warm and bold. Try deep, earthy tones accented with shiny brass or gold fixtures. To add some extra sparkle, show off your cookbook collection on a brightly painted floating shelf (out of head-bump reach, of course), tousle patterned tea towels in a vintage basket on the counter, or find a bright and sassy throw rug to revive a tired floor. 
Open Floor Plans 
We gave you the news flash last year in our roundup of home design trends, 2022 style: Boundary-less living was on its way out. This year, it's a goner for sure. Walls were invented for a reason — so take advantage of them. Sure, the occasional kitchen homework session will never go out of style, and who can say no to curling up under the covers for some late-night TV? But the pandemic days of one-big-room living are over. For good, we hope.
Matchy-Matchy Motifs
Order and alignment have gone rogue. This year, cheerful chaos — within reason, of course — is the rule, so say goodbye to color-coordinated bookshelves, one-tone wall and window treatments, and anything else that's matched just right. A jumble of patterned throw pillows is the way to go in 2023, or a wall of mixed-up artwork — say, an early-American portrait alongside a Surrealist landscape and some black-and-white photos. Frame a few pre-school masterpieces you've got stored in the garage and you're all set. It's all about eclecticism. Variety. Energy.  
Q: Is farmhouse out in 2023?
A: This ubiquitous trend, in both classic and modern takes, is still in. And why not? Nostalgia is always in style. Not necessarily in design books and experts' predictions but in everyday living — particularly as the pandemic upended everything familiar over the past few years. But as the bold looks and intense colors of 2023 begin to appear more universally in home trends, farmhouse style is starting to wane. Still, from cozy practicality to kitschy-chic (think milk jugs as art pieces and repurposed barn doors in the bedroom), farmhouse style will likely be with us for generations to come.
What trends from 2022 are still in?
Not all 2022 trends in home design need to go out the window. A few styles should stick around — and some are even timeless. Our top four keepers:
Au Natural
We brought the outdoors in last year, opting for all the feels of sky, earth, and sea in our homes. Bathrooms became personal spas with organic marble counters, fragrant soaps, and a plant or two. Bedrooms helped us exhale at day's end, with cozy, cloud-soft quilts and soothing artwork. And in the kitchen, natural textures and tones contrasted with sunny accents. In 2023, we'd like more of all this, please.   
Modern Artisan
Along the same lines as the all-things-nature trend, modern artisan design was big last year — and should stay that way. Originality is the name of the game. This style has the potential to surprise and delight, pairing otherwise disparate materials, furniture pieces, or collectibles to create a distinctive look and feel that's all about craftsmanship and flair. 
Bold
Primary colors made a comeback in 2022, and we're happy to report that 2023 color trends are sticking with the same family. Consider a deep blue accent wall, a pop of yellow in a living room throw rug, or an overstuffed forest-green pillow on the sofa. Jewel-toned accent pieces — a vase, framed photograph, or even a painted bookshelf — also add style to any room. 
Outdoor Living 
During the era of living and working at home, a lot of families decided it was time to spruce up the deck, the patio, or the lanai — the terminology depends on where you live, of course. But no matter what you call it, enjoying the great outdoors has been the safest way to socialize with friends and family. Outside is definitely in. Among the home exterior trends that are still in style, we love elegant simplicity. Clean lines, natural colors and textures, and a no-fuss vibe are key to enjoying the outdoors. Because what more do you need than the sun, blue skies, and a soft breeze? 
What interior design style is in for 2023?
Now that we've covered last year's ins and outs, let's turn to the present. How are designers envisioning unique home designs for this year and beyond? Here are our three favorite 2023 trends:
Color
We've already said it, but it bears repeating: Color is essential this year. Bright highlights and shimmering jewel tones are perfect contrasts for rich, earthy notes — how about pillows, rugs, and artwork to offset wood floors or a deep accent wall? 
Entertaining
It's definitely time to welcome friends and family back into our homes — and that includes outdoor spaces, of course. This year's entertaining must-haves are all about stylish comfort: soft cushions to sink into, candles to create a warm evening glow, and natural textures and materials. In home exterior trends, 2022 sticks around (again!) for party time with cork or travertine flooring on the patio and a colorful throw rug in the seating area. Although cottage chic has been a bit passé for a while, unique home designs can include a few boho elements and still be stylish. Try mixing accent pieces from different eras — a vintage vase on a side table and a contemporary planter in a prominent corner — to build your own creative home designs. 
Sustainability
If you're a thrift store devotee, this trend is right up your alley. It's good for the planet, too. Going green in home trends means repurposing and upcycling everything from furniture to accessories. Second-hand and antique shops are great places to find gently used items — and even pieces that need a little TLC. Refashion a love seat with fresh fabric, for instance, or tidy up a slightly nicked distressed wood coffee table with some sandpaper and paint. Plus, shopping locally has a wealth of benefits: supporting your community, for starters. And with no need for shipping, you eliminate wasteful packing materials and reduce your contribution to harmful carbon emissions that fuel climate change. Sourcing items made from natural materials cuts down on manufacturing byproducts and has the added bonus of creating a healthier living space.
What's new in home decor for 2023?
In a word: drama. Whether you're adding a flash of color here and there or creating a whole new look, a cinematic approach to home design is definitely in for this year. And you can shape this style on a reasonable budget, as well — no need to break the bank. Find one statement piece and build a look and mood around it. A deep brown leather couch, for example, sets the tone for your family room. Or try a bold work of art — maybe an elegant dreamcatcher in the bedroom or a giant vintage ceramic rooster atop the fridge. The year is all about home trends in design that surprise and delight. Do something unexpected.
What is the color trend for 2023?
Red, red, red. All shades of red — from crimson to ruby to terracotta. The Pantone Color Institute experts agree: Their always-anticipated color of the year for 2023 is Viva Magenta, described as "a new animated red that revels in pure joy, encouraging experimentation and self-expression without restraint." We concur. Reddish tones and highlights signal energy and fire, either in a well-placed pop or more prevalent in your furniture, flooring, or artwork.
Looking toward spring, sky blue is showing up in 2023 color trends for the home, as well. A deeply saturated blue is a breath of fresh air in any room in the house. We love sky blue for an accent wall or even a bookcase or coffee table. The shade's calming vibe provides a soothing antidote to the vigor and verve of magenta — and there's no reason you can't have both in equal measure throughout your home.
What's the best process for large redecorating projects?
Small-ish redesign initiatives might not require a plan for moving furniture and making way for new items. But for more extensive home decor projects, consider having a PODS portable container delivered to your driveway for use as temporary on-site storage. Use it to keep furniture, decor, tools, and all your supplies out of the way but close at hand.
Ready to redesign but want to start with one room and go from there? Check out the PODS Blog for some creative guidance and inspiration for your bathroom, laundry room, and kitchen — and then let your imagination set the trends for your home in 2023.
---
Shannon Jacobs is a Tampa-based freelance writer and frequent contributor to the PODS Blog. She has lived in Atlanta, the Berkshires, and Nashville, but always returns to the warmth of Florida's Gulf Coast.

(Source for image featured at top: Spacejoy via Unsplash)
Get a Quote
Choose the service you need
Comments
Leave a Comment
Your email address will not be published. Required fields are marked *