Take advantage of our limited time offer. Enter promo code HOLIDAY25 to save up to 25%.
See offer details
.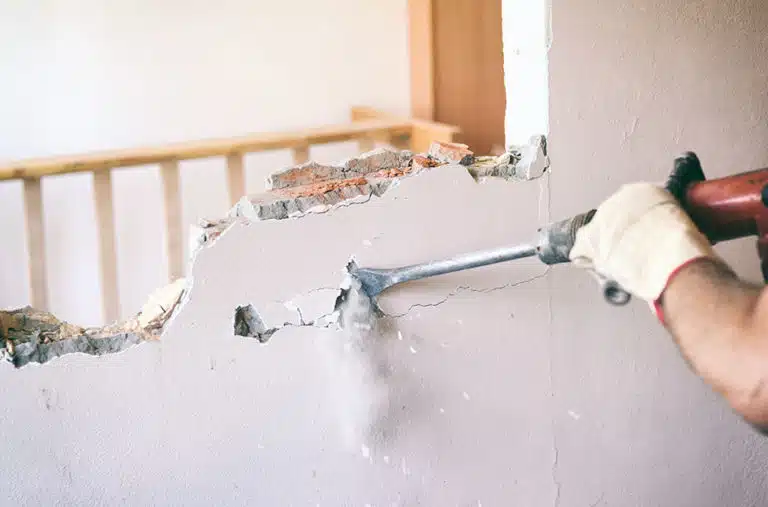 Time to Buy a New House or Renovate? See What the Trends are Telling Us
When you spend most of your time within the same few walls, it's natural to start daydreaming about a change of scenery. Whether it's a bigger kitchen or a separate office for your job that's now permanently remote, moving can be tempting to find everything you want or need — but is it worth it? Would a renovation be a better choice?
There are reasons to consider both, and the answer is going to be different for every homeowner (no surprise there, huh?). This decision is an emotional one to make, but budget and potential trends can also have a huge impact.
While we can't answer this question for you, we can help you through the decision-making process — starting with some current data. We've pulled the numbers for the top 10 renovation cities in the country right now based on customers who booked onsite PODS storage containers without moving addresses. We've, therefore, inferred they may be renovating their homes, staging their homes, or using the containers for extra storage space. Homeowners in these places may also be looking to capitalize on the still-hot housing market with a quick flip, have found themselves priced out of purchasing a new home and decided to make their current space "like-new," or may be seeing a strong future ROI to justify the expense.
Taking all of this into consideration, here's a closer look at the country's renovation hotspots, a few of the most popular places people are moving to, and some insight to help you decide whether you should buy a new house or renovate.
Where are people renovating? Cities with the highest renovation numbers
So where are people renovating the most? Surprisingly, if you've read our analysis on 2022 moving trends, it's the two states that people left the most through 2021 and 2022 — California and New York. Between skyrocketing costs of living and high COVID infection rates, it's no surprise that people are choosing to renovate instead of buying a new home.
The third most-popular state for renovations? That's Florida (namely South Florida and Tampa Bay). Both areas have been among the most popular moving destinations over the past two years and have the surface-of-the-sun-hot housing markets to match. Wealthy transplants have been fueling the boom, buying up property and driving the price up. As a response to the astronomical prices, residents are opting to improve what they already have rather than up and move.
Overall, we're seeing the most renovations in major metro areas along the East and West Coasts, including Northern California and South Florida. Dallas and The Big Easy also find themselves on our list.
Here's how the top 10 renovation cities and regions in the country rank right now:
Rank
(Most Renos)
City/Region
1
Los Angeles, CA
2
Northern California (San Francisco area)
3
Long Island, NY
4
South Florida
5
New Orleans/Baton Rouge, LA
6
Dallas, TX
7
Boston, MA
8
Philadelphia, PA
9
Tampa Bay, FL
10
Hartford, CT
Q: What renovations are the most popular right now?
A: As for what rooms families are renovating the most, spaces for a work-from-home life are still at the top of the list. Whether it's for work or school, a lot of families want to create separate spaces for both. And since everyone is spending so much more time at home, there's also an emphasis on renovating bathrooms and kitchens.
Why are people choosing these cities to renovate?
So why are people choosing to renovate their homes here rather than move? Would it even be worth it to move out of these cities or regions? Let's look at some potential reasons with a couple of our top-10 cities.
Did you know? Renting a PODS container makes it a lot easier to get renovations done around the house. And the fact that you can keep it for as long as you need means it's simple for you to take your time making your space perfect.
Tampa Bay, FL
As of June 2022, the median listing home price in Tampa was $435,000. Tampa isn't the only city in the Sunshine State that relocators are loving, though. In fact, Sarasota (about an hour south of Tampa) has been the number one city for people to move to in 2022, and the state overall is leading the nation for cities with the fastest growth.
Homeowners are finding that they'll experience less volatile seasonal changes in this state, and a lot more time on the water. As the pandemic has slowed things down, it's made it easier for families to find time to get outside and explore their states. And Florida? It's the perfect place to do exactly that.
But while all the newcomers are driving home prices up, that doesn't mean residents want to leave. Florida doesn't have a state income tax, making it a safe haven for business owners and anyone looking to start one in the near future.
The state is known for being popular for retirees, but it also boasts several state universities, sunny beaches, and plenty of space for new families to spread out, too. Basically, Florida is a melting pot, making it great for a lot of different people to call home.
The Tampa Bay Area, in particular — encompassing Tampa, Clearwater, and St. Petersburg — is a great space for all of these reasons. Inflation has hit these cities hard, but that hasn't necessarily caused homeowners to leave. In fact, if they have the means, a lot are choosing to stay in place and renovate the space they already have.
Los Angeles, CA
As the median listing home price in Los Angeles rose to $1 million in June 2022, people continued choosing to leave the city. In fact, it's the number one city that people are relocating from so far this year. Those inflated home prices and high tax rates have pushed plenty of families out of the area and into other parts of the country.
But the people who are choosing to stay? A lot are opting for renovation. Since most homes in Los Angeles are still fairly newer, they're not as likely to face structural or other unseen damages that many older homes have. And that means more room in budgets for add-ons and kitchen expansions.
The most popular renos in the city right now include kitchens and bathrooms, followed by living room updates for anyone on a budget — since dry room renovations are typically cheaper than wet room ones or complete overhauls.
Similar to Florida, LA is a city with thriving neighborhoods and plenty of different people to meet. There's also a vibrant food scene with plenty of options for everyone to choose from. The nature is a bit more diverse than Florida's, with mountains and brisker nights than the Sunshine State. And it's easy for everyone to get out of the house and go exploring in LA.
Got renovation questions? We've got answers
Why are people renovating instead of buying?
There are a few key reasons people are choosing to renovate their homes rather than buy new ones at the moment.
For one, while the cost of living is going up, homeowners never quite know when the housing market could take a turn and drive the prices down. In the same vein, even if you sell your house for a decent price, you can't ever be sure you're going to find something comparable (or better) for a reasonable price.
The housing market is also very volatile right now. The number of cash purchases has been going up in some markets, as a result, and it's difficult to be sure that you'll find something good for you and your family. At some point, it's best to sit down and ask yourself, "Would renovating make more sense right now?"
When you're answering this question, you should also consider the areas of your home that need to be redone. If you're likely to get a high return on investment (ROI), then it's probably better to make your renovations and then sell at a later date — even if the market cools down a bit in the meantime.
What renovations increase home value the most?
If you're wanting to up your curb appeal, look no further than a deck, new siding, and a new garage door. You can recover up to 63% of your original investment with a composite deck and up to 66% with a new wood deck. Siding is likely to have an ROI of almost 70%, and your new garage door can get you a nearly 94% ROI.
If you're looking for an indoor renovation, replacing your windows is a great way to start. Replacing your old drafty windows with ones that are double- or even triple-paned can not only bring an almost 69% ROI, but they can also help you to save on energy bills and keep the temperature in your home regulated.
Indoor wet spaces are also a great option. A minor kitchen renovation (replacing cabinet doors, drawer fronts, or even refacing your existing cabinet base) can bring back a 72% ROI, while a mid range bathroom renovation (replacing fixtures, adding a new tub and flooring, replacing your countertops) can bring a 60% ROI.
Is it better to renovate a house or buy a new one?
It depends. For some, renovating will just make more sense. You might like your community and neighbors, your kids might be in a great school district, or you might even live near all the best restaurants in town. Whatever the reason is, staying put might just be the better option for you. If you choose to work on your home alone, you'll also be able to enjoy your hard work.
On the other side of that, though, living in a home you're renovating is tough. Between readjusting your life and learning to deal with supply chain issues, the entire process can be a difficult one. This is especially true if you start running into unforeseen issues, like structural problems or health hazards.
Weighing each of these against each other is an important part of the entire process, and it's necessary for the overall success of your living situation. While renovations can be successful, you might find that it's simply easier to just pack up and move.
Is it good to buy renovated homes?
The advantages of buying an already renovated home are clear. You don't have to worry about finding contractors, vetting them, and hiring them, nor do you have to think about design choices. All you have to do is unpack your boxes and settle in.
If you take this route, it's important to vet the process, though. If extensive renovations were done within a short period of time, that might be a red flag. Make sure you have a professional thoroughly inspect the home, inside and out, before signing on any dotted lines.
Is renovating a house worth it?
With the proper prep and planning, renovating your house is absolutely worth it. Your family isn't uprooted, and you don't have to worry about packing and moving everything to a new location. Living in a fixer-upper while you're renovating also isn't as difficult as you might think (when you know how to make it work).
For instance, did you know you can rent a PODS storage container and keep it right in your driveway to help make room for home remodeling and renovations? Conveniently store your tools, equipment, and anything else you need on hand (but out of the way) right in your secure PODS container. Keep it as long as you need and, when you're done, PODS will pick it up.
It's your turn: Are you going to buy a new house or renovate?
Now that you know a bit more about the entire process and the numbers behind it, are you more confident? Renovating your home is no small decision. Neither is uprooting your family, switching jobs, or even switching school zones. Each route is one that needs to be thought out and planned for before you start packing your bags or hiring contractors.
Whether you choose to stay and renovate or sell and skedaddle, though, PODS has flexible moving and storage options to make it work. The best part? We also have plenty of resources to help you prepare for both over on the PODS Blog.
---
Katlynn Mullins is a St. Petersburg-based freelance writer whose only roommate is their cat. A frequent PODS blog contributor, Katlynn loves finding ways to make moving into new spaces simple and stress-free. Between yearly apartment hopping, you can find them on the waterfront or experimenting with new ways to make coffee.
Get a Quote
Choose the service you need
Comments
Leave a Comment
Your email address will not be published. Required fields are marked *