Take advantage of our limited time offer. Enter promo code HOLIDAY25 to save up to 25%.
See offer details
.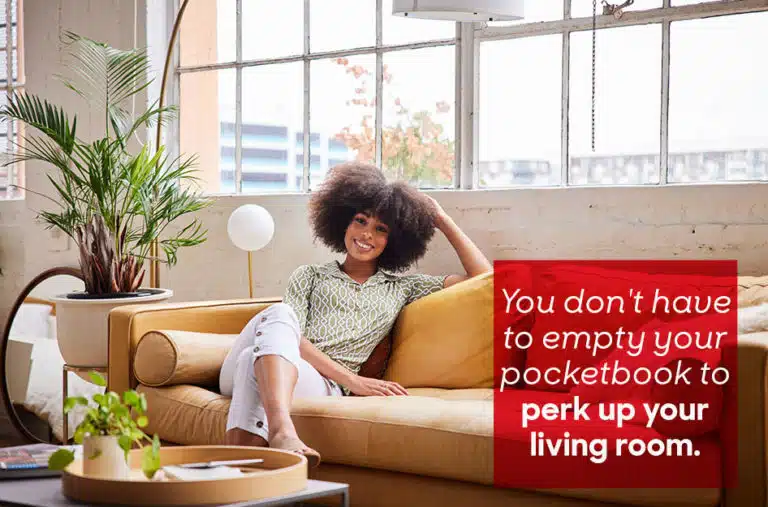 Freshen up your space with these living room remodeling ideas
Longing for a change of scenery? Refreshing your living room decor may be just the ticket. And an updated look doesn't have to mean a full-scale living room remodeling project. Sometimes just a new signature piece, a paint job, or even rearranged furniture can do the trick.
Whether you're upgrading a few key elements or going all-in, we've got some tips, tricks, and living room remodeling ideas to make your refresh a breeze. Let's jump right in.
What is the first thing to do when remodeling a living room?
Always start with a plan. And that means thinking about what you want to accomplish with the remodel. Are you hoping to modernize the room? Make it roomier or more comfy for more people? Or do you want to completely change the look of your home?
Then, do some research: Check out design magazines for some living room remodeling before and after photos — (these are also terrific places to find ideas for decorating yourthe living room). Once you're fully clear on your objectives, there are a couple things you can do right out of the gate to make the process less arduous.
Get a second opinion. Design is subjective. What may look great to you may raise alarms for somebody else. Whether you ask your mom or best friend, it's always a good idea to get another set of eyeballs on what you're thinking. And of course, if your head is full of grand and marvelous ideas that would need the expert touch of a designer, architect, or contractor, it's never a bad idea to enlist a pro — particularly when you're working on a room as important as your living room. Run your home remodeling ideas by them to make sure what you have in mind is doable and within your budget. And make sure you get everything in writing if you hire someone to help you.
Be prepared for a mess. Clutter often accompanies home remodeling, but you don't have to suffer through it. Get a PODS portable storage container delivered conveniently to your driveway. Use it to store furniture, tools, materials, and anything else you need to be out of the way (but within reach). Keep it as long as you need and when you're all done, we'll pick it up. Easy!
How can I change my living room around?
Rearranging your living room furniture is likely the easiest, lowest-maintenance way to make a change in your overall living room decor. But "rearranging" isn't just moving the couch to a different spot. If you want to do it right, it's a process.
First, empty the room — move all the furniture out into a hallway or different spot in your house. Then take a look at the room in its empty state, and make your design decisions from there. (It's likely the room will need some dustbunny clean-up, too.)
If you want to make a real change in your space, consider exploring the art of feng shui. Practitioners believe that balancing the energy of everything in your life, including seemingly inanimate objects, can create harmony. There are several principles that guide feng shui design — among them, a bed should face south and a TV should not hang above a fireplace. But the core belief is around the five elements of earth, water, fire, metal, and wood working in concert for good or ill. Good is preferable unless you're into that kind of thing.
How can I improve my living room simply?
The options are nearly endless. Sure, you can knock down a few walls and start with a blank slate. But you know what? Even simple touches like adding new artwork can go a long way. In fact, here are five of our favorite ways to make an impact without a lot of effort:

Change your throw pillows. A tried and true tactic! Fresh pillow covers can work wonders for living room designs, changing the entire look of the space with just a few pops of color. Go with seasonal patterns and change them up often: bright yellows and whites for spring, warmer hues for fall, and even some winter motifs when the holidays roll around.
Paint an accent wall. Another seemingly simple move that can uplift the room — for just the cost of a few cans of paint. Dark tones make the room feel warm and cozy and can really make your decor pop, while light tones open up the space and make it brighter. Try some samples on your walls and see what you like!
Get an area rug. This is a great way to spruce up the look of your living room without having to install all new flooring. A pretty area rug can also define the space, which is an effective strategy if you have an open floor plan.
Hang artwork. You don't have to break the bank on a masterpiece to make an art statement. Find a fun poster and take it to a local craft store to pick up a frame — or have their framing department make one for you. There are also several online framing services that work with digitally delivered (or old-school snail mail) artwork. Pick your size, color, style, matting — and voilà: Art!
Bring in some greenery. This is probably the healthiest option for an easy living room refresher! Add a plant or two to your coffee table, atop a bookshelf, or in a big floor pot for a splash of green and an oxygen boost.
Pro Tip: Fake plants look super natural these days, and they're unkillable. The only downside? Faux greenery means no extra O2.
How can I renovate my living room cheaply?
Whether you do something "cheaply" depends on your definition of "expensive." Because one person's mansion is another's cozy starter home. But in general, when you're talking about a full-on living room remodel cost, be prepared to shell out some bucks. It can be worthwhile, however, if you plan properly and are willing to wait for the return on your investment when you sell the house.
In general, a living room remodel runs from an average of $7,000 for a 200-square-foot space to $14,000 for 400 square feet, according to HomeAdvisor.com. Knocking out a wall to install a window or built-in fireplace will add a few bills to your bill, of course. But fancy upgrades also boost your ROI in the long run.
To do a remodel without breaking the bank, here are a few tips:
Invest in one high-quality, high-dollar element, and focus on less expensive options for everything else. Have your eye on travertine flooring for your living room? Make the purchase, and for the rest of your reno, go with easy, less-pricey design options like new throw pillows or some fresh potted plants. Small, thoughtful touches can truly change a room.
Take a DIY approach as much as possible — but don't scrimp on safety. Good lighting can make a room feel like a new space. But one wrong move with electric wiring can make your house burn down. So pick out your lighting and then find a licensed electrician to do the installation. Some ideas: Recessed lighting in the right spot can turn a framed $10 poster into a work of art. Strategically place some spot-lighting to brighten up a bookshelf and highlight your cherished collection — a work of art in itself. And a floor lamp in a dark corner adds depth and drama to your living room.
Go thrifting. You never know what kinds of treasures you'll find in your local thrift store — a wonderland for home renovation ideas. How about an antique-y table lamp? Or maybe a comfy quilt to drape over your sofa. And don't be afraid to mix things up. Look for a style that isn't in your normal design playbook. If you've always had a modern living room, try a dash of old-school boho-chic in a vase or floor lamp.
Tis the season for refreshing your space! Check out the PODS Blog for more fantastic ideas for renovations and decorating, including a spring remodeling guide, ideas to spice up your kitchen, and, for the wanderlusting among us, how to renovate your RV.
---
Shannon Jacobs is a Tampa-based freelance writer and frequent contributor to the PODS Blog. She has lived in Atlanta, the Berkshires, and Nashville, but always returns to the warmth of Florida's Gulf Coast.
Get a Quote
Choose the service you need
Comments
Leave a Comment
Your email address will not be published. Required fields are marked *