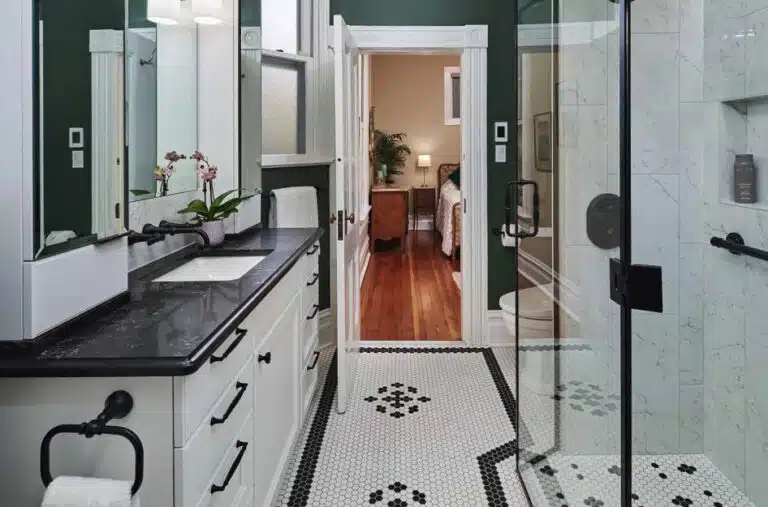 Award-Winning Home Remodeling Ideas You'll Want to Steal
When it comes to remodeling your home, you don't want to settle for less. You want something that complements your home's style but is still fresh and in step with the latest (and hopefully also timeless) décor trends. To find truly awe-inspiring home remodeling ideas, it's always great to check out those that designers and builders have labored over — the ones that have won awards and risen to the top. La crème de la crème.
This list is a great place to start, featuring remodeling ideas for kitchens, bathrooms, and pretty much the entire house, while also giving you tips and tricks to keep in mind when making your own remodeling decisions, so you'll invest your money smartly.
What is the first thing you should remodel in a home?
It's a safe bet to start with the kitchen, the bathroom(s), or the floors.
Refinishing or replacing your hardwood floors is a relatively simple project that immediately transforms the look and feel of your place and can work wonders, whether you want to make your home nicer for yourself or to entice potential buyers in the future. It's low risk and can be completed quickly when compared with more involved remodels.
That said, if you're ready to tackle a bigger challenge, the kitchen or bathrooms (depending on what needs more help) are the top items on the priority list. They make the biggest impact in your daily life and are also the best investments to future-proof your house for renting or selling, should you be interested in doing that in the future.
Insider Tip: Not sure what you'll do with all your stuff during construction? Consider getting an on-site storage container delivered to your driveway to keep your belongings safe and close at hand.
What remodel adds the most value?
Your best bet for getting the most bang for your buck is the kitchen, as it adds the most significant amount of value to your home in the event of a future sale, and it also helps attract potential buyers. Even minor kitchen remodels that are mostly cosmetic fixes can recoup up to 71.2% of their cost, while major kitchen remodels typically only get you back around 53% to 57% of the invested amount.
If your kitchen is already in good shape (lucky you!), it may be worth looking into updating your bathroom(s) instead.
As previously mentioned, new floors are also a good investment because they're a relatively simple upgrade and, according to the Remodeling 2022 Cost vs. Value Report, you can recover anything from 118% to 147% of your investment on hardwood floors (depending on whether you're refinishing or replacing them).
A great kitchen remodel adds quality of life for your family and resell value to your property
Upgrading or improving your kitchen is one of the best things you can do for yourself and your home. And depending on how much work is needed, it doesn't even have to be a huge project to be impactful!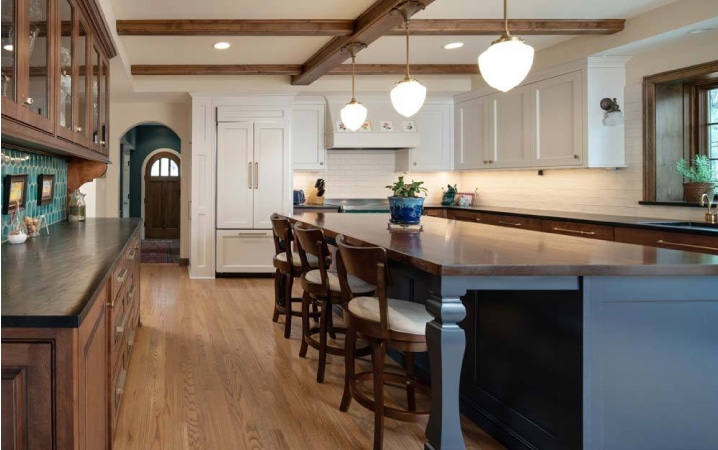 Recognition: 2021 Remy Award Gold & All-Star, Historical Renovation/Restoration $250,000 and Over
When it comes to great remodeling ideas, look no further than this project by Architectural Craftsmen & Team Member Orion Design Inc., which highlights the importance of making sure you preserve the character of the house to keep the look and feel harmonious as a whole.
You wouldn't want a historic house with a super modern kitchen, as it would lose most of its charm and look out of place (and it could also be jarring for future buyers!).
This remodel restored an old kitchen, making sure to keep the charm and character of the space. It accomplished this by keeping naturally dark wood tones in some of the storage cabinets while contrasting them with some white cabinetry on the opposite side of the space to make the kitchen look bigger and brighter.
The designers also kept original ceiling details, such as beams, that add warmth and personality. Additionally, they used a mix of different types of lights to add dimension and bring modern touches into the room.
Recognition: 2021 Remy Award Gold, Kitchen $60,001 to $100,000
In the same vein, this remodeling project by Schloegel Design Remodel combines a deep blue color with natural walnut wood beams and cabinets and features a mix of metal finishes (in case you still thought they had to match, they don't!) to bring about a stunning mid-century style kitchen.
This project hits a home run when you put together the contrasting quartz tabletop and tile backsplash that, combined, bring brightness and take advantage of all the natural light that comes into this space.
The remodel included updating the layout, which isn't always necessary or economically convenient, but in this case, it made space for an island that is perfect for entertaining (adding more functionality to the room!).
Recognition: 2022 National CotY Award Residential Kitchen under $30,000
We said before that even a small remodel can be great for your home value, and this project by Time 2 Remodel is a great example of that.
Here, the designers replaced an ill-fitting peninsula with an island for better flow and functionality and installed extra cabinets for added storage, which, in turn, freed up much-needed counter space.
Finally, they matched the original details, such as the oak floor and the textured drywall, to keep the personality of the space and make all the modern changes feel like they belong and were always there.
This particular remodel was in a small space and came with a smaller price tag, but the final result is undeniably impactful.
Main takeaways from these award-winning kitchens:
• Keep original details to maintain the original charm and make a space more cohesive.
• Consider the construction style when designing your space.
• You can make a big impact, even with a small budget.
• Make functionality a top priority.
Remodel your bathroom to add functionality and resell appeal to your home
Recognition: 2022 National/Regional CotY Award, Residential Bath over $100,000
This project by Neil Kelly Design/Build honors the history of this old house (built in 1890!) while adding contemporary touches. The designers accomplished the no-easy feat of making a space look like it belongs in a historic house but also in a modern time.
One of the reasons the owners wanted to remodel this space was to add functionality. For instance, they asked for the traditional clawfoot tub to be replaced with a more practical walk-in shower, and they also needed extra storage.
The designers married industrial and vintage styles in this not-quite-monochromatic space that has enough details to let you know it was carefully planned and executed — down to the last tile.
Recognition: 2022 National/Regional CotY Award Winner, Residential Bath $25,000 to $50,000
In contrast, this very different remodel project by Remodel Boutique shows how the right details can turn a bathroom into your very own sanctuary in a very cost-efficient way, so you can have your small luxuries without losing money when it comes to reselling value.
This primary bathroom helps take advantage of every last inch of footage in the home because it's located in a converted attic. While this detail could have been a nightmare in itself, due to the particularities of the space, the designers took advantage of the unique architectural shapes of the room to turn it into a spectacular home spa.
Not only were they able to add a double vanity, a soaking tub, and a very elegant and comfortable shower, but they also separated and enclosed the toilet area and added a relaxing reading corner, to give off full spa retreat vibes to this space.
Recognition: 2022 National/Regional CotY Award Winner, Residential Bath Under $25,000
This next project by Alair Homes shows how smart use of space and pretty simple (and often underrated) details like wallpaper can make all the difference.
A bland, all-cream bathroom was expanded to add a bathtub, warm wood cabinetry was installed to bring some coziness into the space, ugly fluorescent lights were replaced with cute lamps, and, finally, the centerpiece: a fun and colorful wallpaper was installed to make this the perfect bathroom for both children and adults.
A very depressing space was brought back to life without spending a ton, while adding functionality for its current inhabitants and value for a potential future sale.
Main takeaways from these award-winning bathrooms:
• Challenging shapes and spaces are opportunities for unique details that add charm and appeal to your home.
• Furniture in unexpected spaces can turn a simple bathroom into a multifunctional space.
• Small but fun details like wallpaper can make all the difference in an otherwise simple bathroom.
Reclaim square footage by taking full advantage of your basement with a remodel
Recognition: 2021 Remy Awards Gold, Basement Under $100,000
When you live in a home for decades, basements frequently become forgotten tombs for things no longer used. Home renovation ideas for basements abound, but this design by Martanne Construction is unique in proving once and for all how luminous a basement can truly be.
With this renovation alone, this homeowner added 1,500 sq. ft. to the living space of his home. Not bad for a project that didn't involve any additions, right?
This is now a full entertaining space with a kitchen, living room space, and bathroom. It can be used to host guests staying over or for gatherings organized by the whole family. With only a couple of small windows, what made this remodel a success is the choice of colors and materials that maximize light, so you don't feel trapped in a basement.
Recognition: 2022 National/Regional CotY Award Winner, Basement Under $100,000
For a home remodel idea that serves perfectly as a media room without losing usability for other activities, check out this project by Dave Osmond Builders that has all the charm of an old movie set — but also includes a dry bar, a wine cellar, and a small dining area you can use for food or games. The space almost feels like a hotel inside your own home, and that's hard to beat for cheap and fun staycations.
This basement accomplishes its uniqueness by incorporating industrial elements like exposed brick and a dark ceiling, and the old Hollywood hotel atmosphere is reinforced by the black and white pictures on the walls and the vintage-style popcorn machine.
Recognition: 2022 National/Regional CotY Award Winner, Basement $100,000 to $250,000
For a middle point compromise between lightness and personality, you need to take a look at this remodel by Innovative Construction. This space offers coziness and personality, without feeling like a themed room.
This basement has amenities that include a kitchen and bathroom, making it great for entertaining and spending family time, but it's also host to guests with all the necessary privacy. In fact, the owners here prioritized being able to comfortably live with their parents during extended visits, so they'll want to visit them more often.
Main takeaways from these award-winning basements:
• A basement doesn't have to feel like a basement.
• Basements can be moody without being dark.
• A good basement will be multi-functional.
What should you NOT do when remodeling a house?
Some of the things you should avoid when remodeling your house include:
Starting without a solid plan and budget.
Things can escalate and get out of hand very easily, so you should plan for unexpected issues and expenses.

Being too trendy when it comes to your design.
Trends come and go quickly and you don't want to regret a big and expensive choice in just a few short months.

Overspending on specialty rooms and amenities if you plan on selling soon.
Consider that a buyer's taste or lifestyle may be different from yours, so only spend on expensive add-ons like pools and home theaters if you plan on enjoying these new spaces for a while.

Over upgrading or adding unnecessary luxuries.
As with specialty rooms, these mostly pay off if you're going to use them for an extended period. However, they don't add to resale value, so don't go overboard, and always factor in how long you plan to live in your current house.
Want some lower effort and cost home remodeling ideas that pay off?
No problem! These are other small fixes and remodels you can do, that don't cost too much, but make all the difference when it comes to living in or selling a house:
Fixing the siding of your house will usually recoup between 67% and 68.3% of your cost.
Adding a small deck will not only give you some extra outdoor space, but you'll usually get back over 60% of your cost when you sell your home.
Replacing your garage door is quick, easy, and inexpensive and it's an enhanced curb appeal that will make you most of your money back in a potential sale.
How to move from remodeling ideas to making it happen
So what's your goal? Whether you want to start with a kitchen or bathroom makeover, or are renovating your entire home, our Ultimate Home Remodeling Checklist gives you a clear roadmap to planning, prepping, and getting it done.
For more tips, like how to hire a remodeling contractor, visit the PODS Blog.
---
Ivonne Spinoza is a freelance writer and a frequent contributor to the PODS blog. Her work has appeared in Matador Network, PBS' Independent Lens, and The Chicago Tribune, among others. When she's not snuggling her cats, she's either Kondo-ing someone's life or fighting jet lag at some airport.
(Source for image featured at top: Neil Kelly Inc)
Get a Quote
Choose the service you need
Comments
Leave a Comment
Your email address will not be published. Required fields are marked *