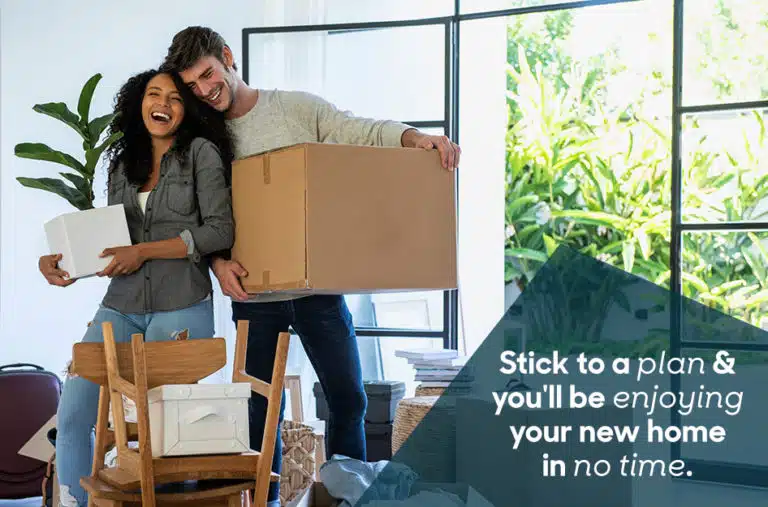 Moving In Together: How To Make the Transition (and Keep Your Relationship Intact!)
Ready to take the next step with your significant other by moving in together? Finally get the chance to move out of Mom and Dad's or your college dorm and into a cool, new place with your bestie? Congratulations! This is a big moment in your life!
Realistically, however, regardless of your particular situation, moving in with someone you've never lived with before can be tough. The logistics alone require trust, communication, and a healthy heap of patience, not to mention the emotional aspects involved.
Yes, it will be a new — albeit challenging — experience, but there's no need to fret. By implementing a few tried-and-true suggestions, the excitement you're feeling now can stay front and center and outshine any small frustrations or bouts of impatience along the way.
So let's get right to our tips on moving in together.
Making the move 
Before you start gathering your moving supplies, take some time to develop a plan of action. After all, the last thing you want is to start off your new life together with a frustrating, fly-by-the-seat-of-your-pants moving ordeal.
By adding these specific considerations to your moving plans — and sticking with them — you'll be unpacked and enjoying a movie night together before you know it!
Okay, this can probably go without saying, but just in case: Time is your friend. Keep it on your side by not leaving things until the last minute. Start planning and getting things ready as soon as you make the decision to move in together.
2. Make a budget and plan your expenses
Moving can be costly, so it's important to plan ahead to make sure you're not surprised by unexpected expenses you didn't account for. From getting boxes to buying a new coffee maker to renting a portable storage unit, you should try to consider and prepare for all possible scenarios that may pop up.
To get started, decide if you need to buy any big-ticket items or hire any extra help for the move. Establish priorities and non-negotiables with your partner, and make a plan regarding how these will be financially covered. Having clear communication on needs, expectations, and money will save your relationship during a stressful move and beyond.
Beyond the move, plan for how you will share your weekly and monthly bills. Will you split the rent down the middle or by room size? Or will someone take care of all the rent while the other pays for food and utilities? There's no one-size-fits-all here, communicate with each other and work out a solution that's good for both of you, then stick to it.
3. Be ready to compromise from the start
Remember that both of you will need to feel at home in the new place and make it your own, so when deciding on those things you need to make a space work for you, consider also what your new roomie needs. Learn to pick your battles and realize there are more important things to this process (and to life!) than fighting over a pillow you don't like but that may hold sentimental value for the other person.
Some of the things you do want to have a frank discussion over? Splitting the chores and your lifestyles.
For example, you might like to let the dishes pile up in the sink and then do them all at one time. That might drive your partner up the wall. If you like to go to bed early, your partner might keep you awake watching reruns of The Office and then wake you up again when they finally get ready for bed. 
To make your situation as amicable and seamless as possible, set expectations up front. This is not the time to sugarcoat things — be totally honest with each other and go from there. If there's a chore that you don't mind doing that the other hates, take it on as part of your weekly duties and pass on a chore that you would rather not do. Similarly, if you both dread laundry day, perhaps take turns doing it each week (and decide on a day of the week to do it). By creating a list of responsibilities, nobody will be shorted or have too much on their plate.
And finally, be open-minded. We all have different definitions of "normal", and often don't know what really is normal to somebody until we've lived in their home. Some traits you may find quirky and fun — maybe they love to feed the birds every morning like Snow White. And some, not so much (hello, unmade beds). Respect each other's space and lifestyle and keep the communication flowing.
Q: Do things change when you move in together?
A: Inevitably, yes. But to make the transition as smooth as possible, you need some good communication. For example, make sure you agree on how you will share your appliances, the big items each of you will bring into the new space, and the items that are non-negotiable. If you make sure the expectations are clear for both parties from the get-go, you're likely to avoid arguments (and resentment later).
4. Determine what's not necessary
Speaking of sentimental value, don't even think about combining your things with someone else's before applying the whole Marie Kondo method to your belongings — unless you're a fan of packing things twice, that is (once to move and once more to get rid of). Get rid of everything that doesn't serve a purpose, is in bad shape, or just doesn't "spark joy" anymore.
Be sure to only bring things you still love and use into this already complicated situation so, when you need to negotiate with your new housemate, it will be worth it. The last thing you need in this equation is extra clutter!
5. Make a decor and design plan
This is essential so you can mix both of your styles in a purposeful way. You don't want your new home to look like the equivalent of a random donation bin somewhere. Sit down and make a plan detailing how you want to integrate your things and what makes the most sense when it comes to deciding whose couch or desk stays (unless you have a place for both).
If one of you is moving into the other's home, you'll want to come to an agreement on how you would update decorations, if at all. That space will be home to both of you moving forward, so you'll need to be sure both of your personal styles are expressed and you are comfortable living there.
Pro Tip: Don't forget to check and confirm furniture measurements to make sure whatever you plan to bring into the new place will actually fit!
6. Create a moving organization system
Keeping track of things is already complicated with a move, especially one that combines two households. As with any move (but even more so here!), make sure you clearly label and organize your things so unpacking is a breeze. Create a moving inventory list of things you and your new roommate will be bringing and make like Santa Claus by checking it once, then checking it twice. This will keep things as neat as can be on moving day and also save you from asking where your favorite skillet is a week after moving in.
While you're packing up, make sure to read our packing hacks for your upcoming move and all the other useful tips we have on the PODS Blog.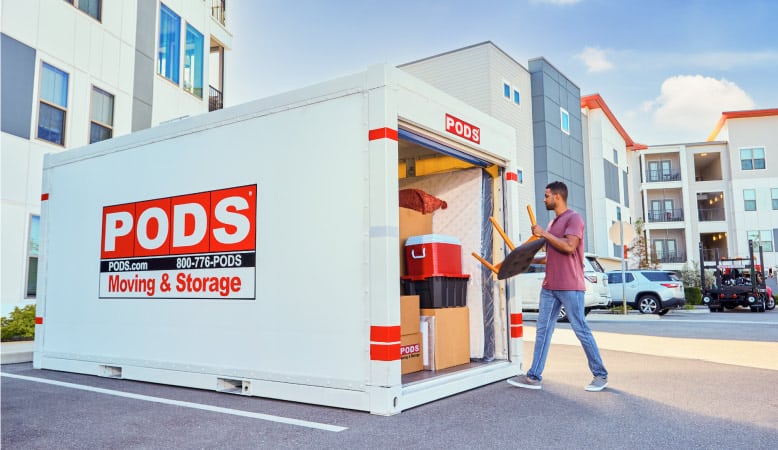 7. Consider using a portable storage container
A portable moving and storage unit can be a lifesaver before, during, and after a move. Unlike a regular truck (or asking a friend to help you put stuff in their car), you can use a mobile moving and storage container for as long as you need it. It can also act as a sorting station while you go through your boxes, since you don't have to cram everything inside your new space all at once.
Moving can be complicated enough without the addition of combining two households. But luckily, complex moves are a PODS specialty. Take advantage of the flexibility of PODS portable moving containers by combining your and your partner's things into one moving container and having everything delivered to your new home at once.
It's easy — schedule your PODS container to be delivered to the first person's home and load it up on your own time. Then, have the half-full container delivered to the second person's home and do the same thing. Finally, have the now-full container sent to your new home together, and voila! Move complete, all in one convenient package.
See you in your new place!
---
Ivonne Spinoza is a freelance writer and a frequent contributor to the PODS Blog. Her work has appeared in Matador Network, PBS' Independent Lens, and The Chicago Tribune, among others. When she's not snuggling her cats, she's either Kondo-ing someone's life or fighting jet lag at some airport.
Get a Quote
Choose the service you need
Comments
Leave a Comment
Your email address will not be published. Required fields are marked *