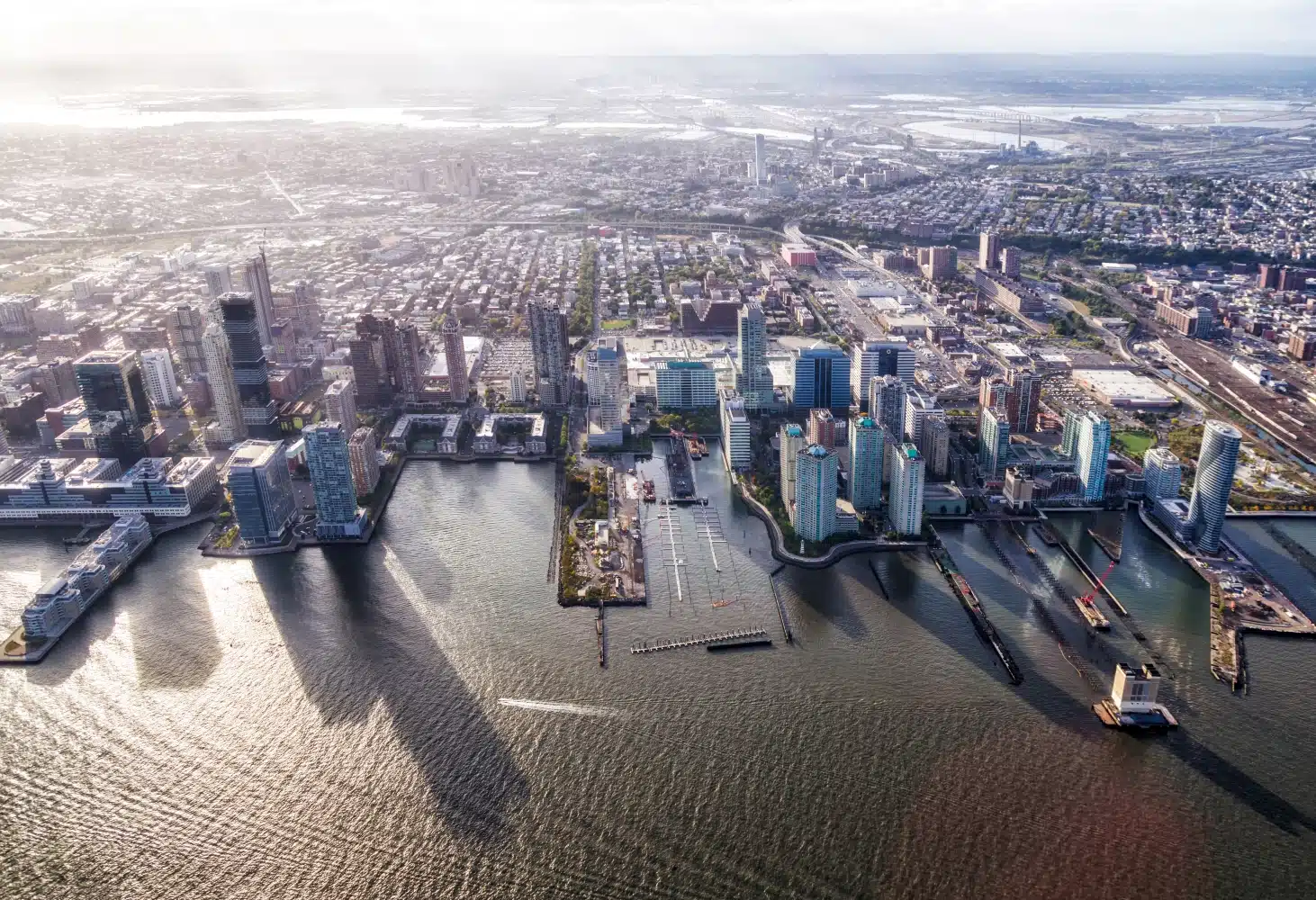 We Found the 9 Best Places to Live in New Jersey
If you're thinking about moving to New Jersey, and therefore the best places to live in New Jersey, living in the shadow of what many consider the world's greatest city can prove to be a good thing.
With an increased interest in telecommuting, remote work, and getting more square footage for less money, many city dwellers are now looking for the amenities that come with a suburban setting. With New Jersey, you can get those benefits while still keeping the bustling excitement of the Big Apple or Philadelphia within reach.
Good schools are another major draw for families thinking about living in New Jersey. In 2023, New Jersey's public school system was named the best in the country for its pre-K through high school education by U.S. News and World Report. It doesn't get any better than that.
But if you only know the state by what you see along the turnpike or I-95, it's hard to figure out where to start looking for the best places to live in New Jersey. Fortunately, the state is only 150 miles long and 50 miles wide, so it's not unrealistic to plan a weekend driving tour to get a good feel for the Garden State. To help with your planning, we've gathered a list of cities and small towns organized by New Jersey's main regions, and we've included median home prices and other basics you need to know.
Best Places to Live in New Jersey Q&A
Q: What is the best area to live in New Jersey?
A: Elizabeth, Franklin, and Jersey City are among the best places to live in New Jersey. They all are wonderful cities in their own right as well as being great commuter hubs if you work in New York.
Q: Where is the best and safest place to live in New Jersey?
A: Manalapan Township is one of the safest places to live in New Jersey, and one of the best. With easy access to the Jersey Shore, it's hard to beat.
Q: What is the prettiest town in NJ?
A: This is all subjective, but we'll throw Perth Amboy's hat into the ring here. The city is full of waterfront views and marinas that are sure to dazzle, especially at sunset.
Q: Is New Jersey worth moving to?
A: New Jersey is unique. It's a small state that offers a ton to its residents, including easy commuting access to New York and Philly, as well as a lower cost of living than those big cities. It also has a culture all its own, so it is absolutely worth moving to.
Q: What part of New Jersey is affordable?
A: It depends on your definition of affordable. If you're making it work in either New York or Philadelphia, you'll find New Jersey to be a breath of fresh air, financially speaking. As for the cities on this list, we will mention Trenton as affordable, with its average home value being around $250,000, lower than most other cities listed
Best places to live in North Jersey: Elizabeth, Franklin, and Jersey City
Home to many New York City commuters, North Jersey's specific regional boundaries are loosely defined, and the area is greatly influenced by the Big Apple.
With its close proximity to the city, people are moving to North Jersey to find the best of city and country life. Some of the most beautiful cityscape views in the country provide a spectacular backdrop for those who call this part of the state home. North Jersey is also a significant cultural hub and is home to the New Jersey State Opera, the New Jersey Symphony Orchestra, and the New Jersey Ballet Company.
The North Jersey swamps Bruce sang about now make a great place for nature lovers to explore. Many organizations have helped clean up the pollution that plagued the area for years, and now it's a perfect place for excursions and eco cruises.
Elizabeth, NJ
Popular for city commuters due to its two train stations and proximity to the Garden State Parkway and the New Jersey Turnpike, Elizabeth is the fourth largest city in the state with a population of 128,000.
Residents here are extremely diverse, representing 50 countries and 37 languages. The median age is 34.9 years, and a full 75% of Elizabeth's residents are renters. The median home value is $443,436, a 6.8% increase between March 2022 and March 2023, according to Zillow.
With an exceptionally diverse population representing 50 countries, Elizabeth offers you the opportunity to taste cuisines from just about anywhere around the world. In the mood for Columbian fare? Try Parador Rojo. Looking for a fusion of Asian flavors? Head over to Noodle Fan. You may be tempted to move to Elizabeth just for the food.
Franklin, NJ
Average home value: $295,057
Average rent: $2,189
Great for: Outdoorsy feel, small population, access to farmland
If you're looking for a more rural, outdoorsy feel, plan a home-shopping stop in the borough of Franklin, where there are lots of parks and green areas.
With a population of just 5,000, Franklin is known as the "Fluorescent Mineral Capital of the World" for its mining history, as many of its minerals have fluorescent properties. Located about 54 miles northwest of NYC, Franklin is just minutes from thousands of acres of farmland. With a median home price in the $290,000s (Zillow.com), Franklin provides a nice balance for those who prefer a quieter way of living that still gives them access to city life.
Jersey City, NJ
Average home value: $560,573
Average rent: $3,484
Great for: Satellite campuses, proximity to NYC, waterfront views
Nicknamed "Wall Street West," Jersey City is home to several additional second offices of companies headquartered in NYC and is one of the top U.S. cities for commuters. The second most populous city in the Garden State after Newark, Jersey City's population is about 262,000.
Many New Yorkers have moved to Jersey City to find a lower cost of living. However, the median home value is $560,573 (a 1% jump from March 2022 and March 2023), which is well above New Jersey's overall median value of $451,704. But it's still a good $150K less than NYC's median home value of $629,516.
Jersey City is about as close as you can get to NYC and still remain outside the city limits. With an eastern waterfront that faces the Hudson River, it offers glorious waterfront views. This bustling city is home to Liberty State Park, which is as large as Central Park and provides panoramic views of the Manhattan skyline, the Statue of Liberty, and Ellis Island.
Named the second-most ethnically diverse city in the U.S. by Wallethub in 2023, Jersey City prides itself on being every bit as inclusive and culturally fascinating as NYC. A popular culinary destination with tastes from around the world, it's home to Razza, which makes the best New York pizza according to The New York TImes. You'll also find the largest planetarium in the Western Hemisphere at Jersey City's Liberty Science Center.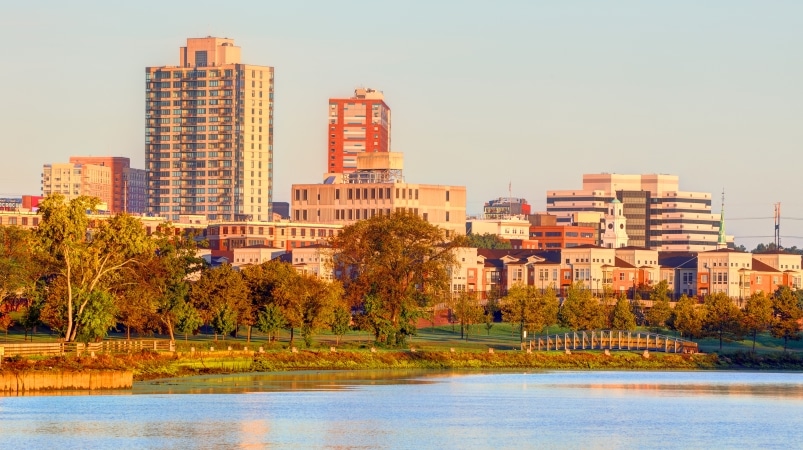 Best Places to Live in Central Jersey: Trenton, New Brunswick, and Perth Amboy
Home to the state capital of Trenton, Central Jersey covers the area from Bridgewater to Toms River. Like North Jersey, it's a popular place to live because of its close proximity to New York and other cities. Central Jersey is literally the crossroads of the Garden State, where the New Jersey Turnpike and Golden State Parkway meet.
If you're thinking about relocating to Central Jersey, there are a variety of cities and towns here with diverse offerings for housing, dining, entertainment, and recreation. Central Jersey is known for its gorgeous county parks that provide its inhabitants with many locations for outdoor fun and relaxation.
Trenton, NJ
Average home value: $262,825
Average rent: $1,663
Great for: Proximity to Philadelphia, Revolutionary War history
Located on the Delaware River across from Pennsylvania, Trenton is the capital city of New Jersey. Its metro area's population is around 400,000, with a median age of 34. An affordable city with a median home price of $262,825 (up 9.7% from March 2022 to March 2023), Trenton is just 28 miles northeast of Philadelphia and 55 miles southwest of NYC.
An ethnically diverse and lively city with a rich Revolutionary war history, Trenton also offers access to water sports and wildlife. Home to the Taylor roll (a scrumptious ham, egg, and cheese concoction) and tomato pie, Trenton is also considered to be the "Crossroads of the Revolution." George Washington and his troops made their famous Delaware River crossing here in 1776.
New Brunswick, NJ
Average home value: $337,700
Average rent: $2,298
Great for: Quality hospitals, J&J employees, higher education
With a population of 56,000 and a median home price of $337,700 (an increase of 4.2% from March 2022 to March 2023), New Brunswick is the home of Rutgers University. This medium sized city is located on the banks of the Raritan River.
With two train stations and many bus lines, the Big Apple is only an hour from New Brunswick, which is 40 miles southwest of Times Square. Johnson & Johnson is headquartered here, as well as the Robert Wood Johnson Medical Center.
Perth Amboy, NJ
Average home value: $376,298
Average rent: $2,163
Great for: Waterfront views, marinas, varied architecture
This small city of about 51,000 restored its waterfront to capitalize on spectacular views of Raritan Bay and Staten Island with a promenade, marina, restaurants and historic landmarks. Perth Amboy is one of the more affordable NYC suburbs, just 21 miles away and offering a median home value of $376,298 (an increase of 4.9% from March 2022 to March 2023). Homes range in architectural styles, from Victorian to mid-century Ranch.
An increasing number of artists have been relocating here, and developers are hoping to attract more residents with a multimillion-dollar redevelopment of its 1920s train station.
Other popular Central Jersey towns include:
Edison
Hamilton
Middletown
Old Bridge
Piscataway
Union
Woodbridge
Best Places to Live in South Jersey and the Jersey Shore: Manalapan, Brick, and Medford
Forget what you've seen on MTV. Some would argue the Jersey Shore and South Jersey are the Garden State's best assets.
With over a hundred miles of coastline, the state's Atlantic coast has long been a popular beach vacation getaway, but more and more people have decided to move to the Jersey Shore to live year round. Its small town access to live music, boardwalks, and amusement parks make the region a fun place to live for people of all ages and backgrounds.
Manalapan Township, NJ
Average home value: $641,568
Average rent: $2,138
Great for: Beach access, low interest rates, much less crowded than NYC
Manalapan Township made it to #4 on Coldwell Banker's list of top 10 places to live in New Jersey. Now that more people have the flexibility to work from home, buyers from New York City have flocked to the area.
Just 15 minutes from the New Jersey beaches and 45 minutes from NYC, Manalapan's average home sales price leapt from up 7.3% between March 2021 to March 2022. Lower interest rates overall and New Jersey's lower tax rates relative to New York make the township even more attractive for those looking to leave the big city behind.
Brick, NJ
Average home value: $410,262
Average rent: $1,601
Great for: Young professionals, retirees, families
With a population consisting of mostly young professionals and retirees, Brick offers a family-friendly environment less than 15 miles from the beach as well as convenient access to NYC, Philadelphia, and Atlantic City. If you're looking for an area of New Jersey with peaceful streets and a slower-paced feel, then you might want to consider making your home in Brick. The median home value is $331,294, a 8.8% increase between March 2022 and March 2023. Out of its population of about 75,000, 80% are homeowners, while only 20% rent. Residents of Brick love its Mantoloking Bridge County Park, with its 70-foot-long pier, boardwalk, picnic area, and gazebo.
Medford, NJ
Average home value: $491,915
Average rent: $1,904
Great for: Smaller crowds in a business and culture hub,suburban feel, quaint Main Street
For those thinking of moving to the South Jersey region between the Jersey Shore and Philadelphia, Medford offers a bucolic setting that's a hub for culture and business. With a population of only 23,033, Medford has managed to avoid overcrowding.
There's even land still available for you to build your dream home in Medford, if you find a suburban setting with an historic Main Street full of quaint shops and restaurants appealing. The median home value is $491,915, a rise of 9.2% between March 2022 and March 2023.
Other notable South Jersey options include:
While you've gotten a good start, you may want to expand your research with these guides to NYC suburbs and Hoboken, NJ.
Planning your move
If you're leaving a dense urban area, you can help yourself avoid major hassles with these tips for moving out of NYC. Not sure if you'll find your ideal home before you need to move out? Find out how to use the flexibility of moving and storage containers to give yourself some breathing room and peace of mind. Good luck with your relocation!
---
LB Gabriel is a freelance writer who lives with her husband, daughter, and Golden Retriever in Memphis, TN. A frequent PODS Blog contributor, she's a sucker for any tip she can find on downsizing, cutting clutter, or minimalist living. When she's not on a deadline, you can find her on a tennis court or golf course.
Get a Quote
Choose the service you need
Comments
Leave a Comment
Your email address will not be published. Required fields are marked *