The Business Storage Solution Reaching 86% of the U.S.
In the complex world of business logistics and supply chain management, the need for reliable and flexible storage solutions has never been more critical. That's where PODS comes into the picture, offering a unique blend of convenience, flexibility, and, most importantly, trustworthiness. One statistic is a testament to PODS's commitment to serving businesses: an impressive 86% nationwide coverage. This figure isn't just a number; it's a promise of reliability and accessibility that few can match.
Significance and Benefits of 86% Nationwide Coverage
When we say that PODS covers 86% of the U.S. population, we're talking about it extends across 46 states. This extensive network is not just about numbers but the real-world impact on businesses that rely on PODS for their storage and moving needs.
Reach and Dependability
Whether your business is in a bustling city or a remote town, there's a high likelihood that PODS can serve you. This level of accessibility is especially crucial for businesses that operate in multiple locations or are looking to expand. PODS' nationwide network ensures you have a consistent and reliable storage solution. This uniformity is convenient and efficient, saving businesses time and resources that can be used elsewhere. At PODS, you're not just working with a company that claims to be reliable; you're partnering with one that has proven its reliability.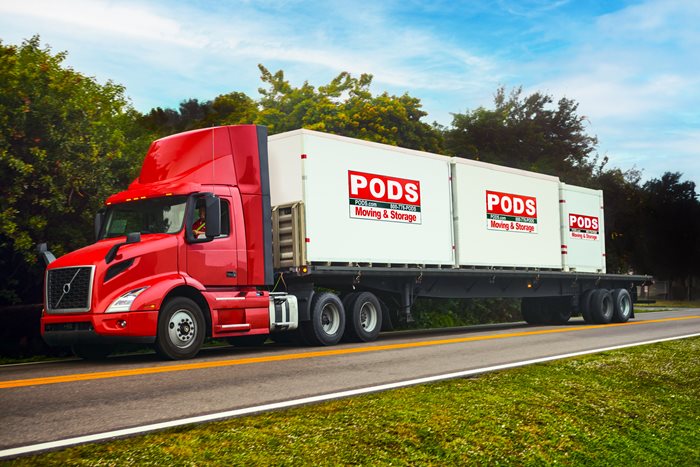 Gilman Electrical Supply faced a unique challenge when delivering fragile lighting fixtures to a major grocery store outside its standard service area. The company required a reliable and efficient method to transport these fixtures without incurring damage. PODS stepped in with a tailored solution, assigning a dedicated Business Solutions Specialist to oversee the operation. Utilizing PODZILLA®, PODS' patented lift system, the fixtures were kept safe throughout transit. This case study demonstrates PODS's ability to offer custom solutions and highlights how its extensive network can be leveraged for business expansion.

Advantages Over the Competition
When it comes to storage solutions, businesses have options. However, PODS offers a suite of features that sets us apart from the competition:
The convenience of having a storage unit delivered right to your business premises cannot be overstated. This feature eliminates the need to transport goods to and from a storage facility, saving time and money.
In the fast-paced world of business, flexibility is key. PODS understands this and offers scheduling that works around your business needs, not the other way around.
Every business is unique, and PODS recognizes this by providing a dedicated Business Solutions Specialist to tailor services to your specific needs.
PODZILLA® Lift System
PODS employs its revolutionary PODZILLA® lift system to ensure the safety of your assets. This technology keeps your container leveled during loading and unloading, minimizing item shifting. The PODZILLA® lift system can efficiently operate on and off paved surfaces while occupying minimal space.
Industry-Specific Solutions
Whether you're in retail, construction, government, or another of the many industries we serve, PODS offers solutions tailored to your industry's specific needs.
Sustainability Focus
In an age where sustainability is more than a buzzword, PODS is committed to eco-friendly practices, including smart routing, to reduce our carbon footprint and prepare for a brighter future that aligns with the forward-thinking attitude of your own business.
Ready To Get Moving?
PODS's 86% nationwide coverage is more than just a number: it's a symbol of our commitment to providing reliable, accessible, and tailored storage solutions to businesses across the U.S. and beyond. From the peace of mind that comes with knowing you have a consistent storage solution wherever your business operates to the competitive advantages that set PODS apart, it's clear why so many businesses trust PODS for their storage and moving needs.
Curious to learn more about the ways we can support your business? Check out our enterprise business solutions page.
Get a Quote
Choose the service you need
Comments
Leave a Comment
Your email address will not be published. Required fields are marked *