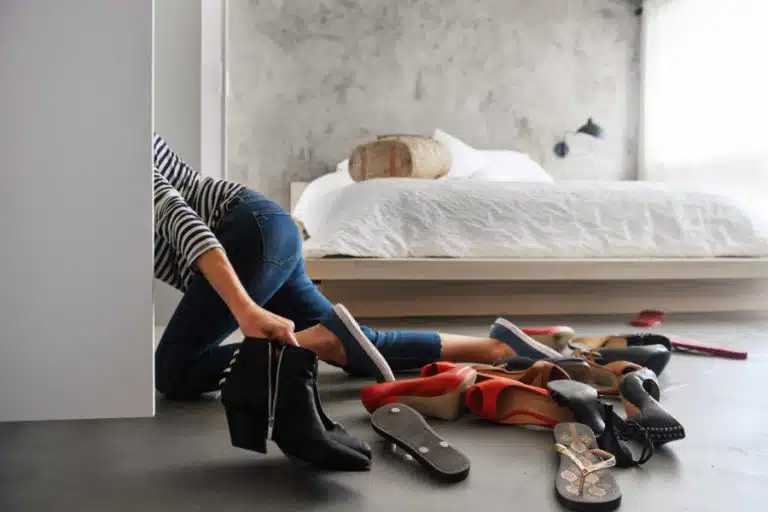 Say "No More" to the Closet Floor With These Smart Shoe Storage Ideas
Shoes. They're a permanent source of both joy and frustration in our lives. Whether they lead to a house killing your wicked witch sister or a missed opportunity with a charming prince, our relationship with footwear is one full of mixed emotions and even fantastical lore. Sure, they can transform a boring outfit into a show-stopping ensemble, but if you get too many piled on your bedroom floor, they'll quickly go from fun to hazardous — not to mention some may end up as dog toys along the way. It's time to put an end to the madness and get the shoe stash under control before it takes over your home.
We've got shoe storage ideas for every space, no matter the size, so let's get started.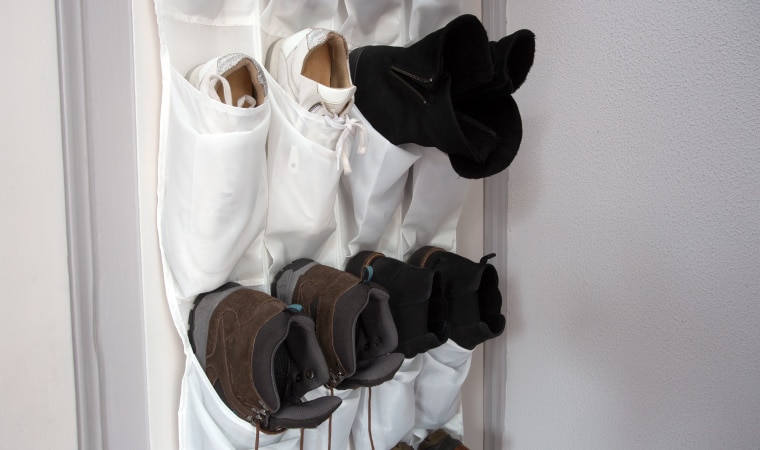 Bedroom shoe storage ideas
Tired of tripping over that lone tennis shoe on your way from the bed to the bathroom? Stumble no more. Enjoy clean floors and perfect pathways with a few simple organizational ideas perfect for bedrooms.
Use behind-the-door shoe storage
Use a hanging shoe organizer for your everyday pairs. These come in different shapes and sizes, from rows of plastic bag-like containers to wire racks, and they can be placed either on your main bedroom door or closet doors. The best part about this type of storage system? You're able to see your shoes every day, meaning you can quickly assess which pairs you grab frequently and identify those you never use anymore (hint hint: this means it's time for them to go).
Make your furniture work double duty
What is the best way to store a lot of shoes? Use what you already have! The trunk at the foot of your bed isn't just a stylish choice — it also comes in handy when you need to discreetly store accessories like shoes. The same goes for pieces like hollow ottomans or coffee tables. Take a look around your home and think of creative ways you can get additional use of your furniture. There are lots of functional furniture options for any style or aesthetic.
Take advantage of space under the bed
While it's not a great idea to cram stuff under your bed, there is an acceptable way to make the most of this space and take advantage of under-bed storage solutions. Use boxes and shelves specifically designed for storing shoes that easily slide underneath your bed. This works especially well for out-of-season shoes or special pairs that don't need to be easily accessible all the time. If you need to maximize your storage even more and are feeling crafty, consider making a DIY platform bed with small kitchen cabinets.
Shoe storage ideas for the garage
This part of your home may be a refuge for yard equipment and maybe a car or two, but your garage can do so much more when it comes to storage! If you like kicking off your muddy boots or grassy cleats before they touch the kitchen floor, here are some ways to prevent the dreaded messy shoe pile from growing by the back door:
Install some storage cabinets
Mount a few durable floor-to-ceiling vertical cabinets, and take your storage game to the next level.
Use a compartment-style shoe organizer
A cubby shoe organizer is a great way to easily stash footwear before you enter the house. Place it right by the back door so the kids — and the adults — have no excuse to leave a mess on the floor.
Try a shoe tray
If your family tends to only leave one or two pairs of shoes in the garage, a plastic shoe tray is perfect when it comes to dirty, sandy, or wet shoes.
Shoe storage ideas for the entryway
Much like the garage, it's easy for shoes to collect in a pile near the front or back door. While it's convenient to have shoes in an entryway, it doesn't necessarily make the best first impression for visitors. Don't worry — we're not going to tell you to stop keeping shoes by the main entry points of your home. There's no need to fight the inevitable if you have the right organizational system. Instead, consider these tips:
Assign a wicker basket or cute bin to each family member
That way, everyone can toss their shoes into the appropriate receptacle. Bonus points for labeling each basket with everyone's name. It's the same concept as kicking them off by the front door, just with a bit of Pinterest flair.
Repurpose a display case
If you're not dealing with soiled sneakers and soggy rain boots, consider using a tall, thin cabinet as a shoe caddy. If your pairs are showroom worthy, opt for glass-paneled doors. If they're more mudroom than showroom, maybe go with a more discreet option.
Install some mounted shoe racks
If your entryway has a small nook, install some shelving or copper piping for a makeshift shoe rack that's functional and stylish. If there's space underneath the staircase, a tiered shoe rack is a great way to use this space.
Shoe storage ideas for your closet
If you have a large master closet with shoes lining the baseboards, it's time to make some organization changes. Go big or go home, right? Oh wait, you're already home, so here are some shoe storage ideas for larger closet spaces:
Use stacking shoe bins
If you have shoes that you don't wear often and want to keep in pristine condition, store them in stackable bins to keep them dust-free.
Get a shoe cabinet
Use a shorter, open, cubby-like cabinet for shoe storage. Either stack the cabinets on top of one another to maximize the vertical space or use the cabinet top as a table for jewelry, hair accessories, perfume, and anything else you can think of. It's practical and chic!
Don't call Susan lazy
A rotating shoe rack is a great way to keep your favorite pairs front and center. These come in several sizes and are perfect for closet corners.
Install shelves
From DIY to luxury glam, there are a host of options for putting shelves in your closet. You can have a company create a customized plan for your closet or purchase some ready-made shelving at a home improvement store. Pro Tip: When you're finished with the shelves, display your pairs of shoes with one toe facing out and one heel facing out. It saves space (and looks cool).
Now, dig a little deeper
Getting clever with shoe storage can make a world of difference, but what if the real problem isn't so much "lack of storage" as it is "too much stuff"? The best way to have an organized home is to hold an overall heavy-duty decluttering session. The fewer items you're working with, the easier it is to create and maintain order, no matter what storage ideas you want to implement.
Sure, it may seem overwhelming, but there are lots of great tips out there to help you decide what stays, what goes, and what should simply be packed away and stored until you need it. Need to spread out a little while you go through everything? Consider using a portable storage container. It can stay right in your driveway for as long as you need it, and it can be a wonderful tool for helping you categorize your things. After all, tackling your shoes may only be the start of your decluttering adventures — and give you just the right amount of momentum you need to tackle everything else!
Want more organization tips? From sorting through your kitchen stuff to having a successful garage sale, we have plenty of tips and tricks to share with you on the PODS Blog.
---
LB Gabriel is a freelance writer who lives with her husband, daughter, and Golden Retriever in Memphis, TN. A frequent PODS Blog contributor, she's a sucker for any tip she can find on downsizing, cutting clutter, or minimalist living. When she's not on a deadline, you can find her on a tennis court or golf course.
Get a Quote
Choose the service you need
Comments
Leave a Comment
Your email address will not be published. Required fields are marked *