Take advantage of our limited time offer. Enter promo code HOLIDAY25 to save up to 25%.
See offer details
.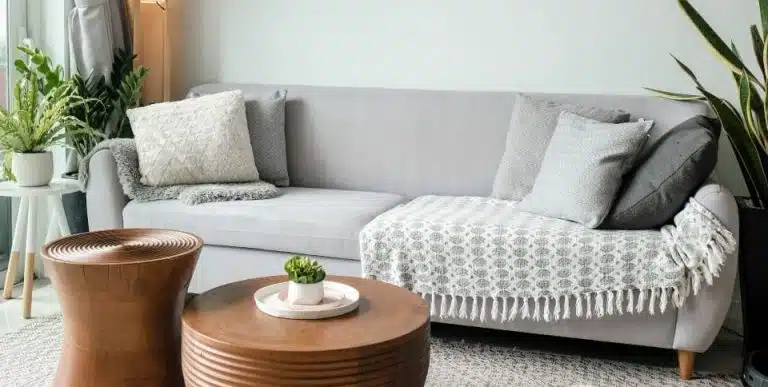 8 Insanely Clever YouTube Videos To Help You Declutter and Downsize Your Home
Most of us enjoy a clean and stress-free home environment. But we also know that maintaining said environment takes a conscious effort to declutter and downsize your "stuffiness" — be it resisting the urge to buy another fabulous throw pillow, taking time to declutter your kitchen cabinets, or just finding the Saturday motivation to (finally!) make room for your car in the garage.
Better living through minimalism isn't exactly a new concept, but it's certainly having a 21st-century moment. Ask any professional organizer, life coach, or van wanderer — a downsized living environment is all but guaranteed to be healthier, emotionally liberating, and way more relaxing to come home to than an overstuffed space.
But despite our best-laid plans for a spotless car and an Instagrammable laundry room, we can all use a little concrete guidance to make sustainable home organization a reality. So without further ado, take it from these pro tiny housers, YouTube organizers and moving experts — here are top tips and videos on how to downsize and declutter for good!
1. Set a goal or intention for your efforts
Setting a goal and visualizing your intentions is probably the most important thing you can do when you decide to revamp your home and lifestyle, according to YouTube minimalist duo Mat and Danielle from Exploring Alternatives on YouTube. For instance, if your status quo is drowning in mess, your new goal might be a more manageable chore schedule. Likewise, if your getting-and-spending behavior has gotten unwieldy, your goal may be to reduce debt or redirect your budget to nonmaterial items, such as travel, hobbies, education, and experiences.
Whatever your reasons for downsizing, it's important to visualize and record that specific reward for the efforts ahead. Write down your endgame, set kicky alerts and cute timers in your phone, print out a picture of your dream vacation purchase — anything to stay on track and remind yourself of what motivated you in the first place.
Danielle delves into this critical step and other downsizing basics in this video:
2. Choose a home organization method
If you've got as many books, useless kitchen utensils, and dog costumes as the next average American, taking the first steps to cleaning, organizing, and decluttering your living space can be trés intimidating. To help make things concrete, start by researching and choosing your favorite downsizing tactics.
One popular first-wave strategy is the "trash bag therapy" method — basically walking room to room with a bag and gathering obvious items to be thrown away. Target expired food, empty shampoo bottles, old candles — whatever your surface trash and hidden junk clutter. You can make a major stride in organizing by tackling the easy messes first.
Does the notion of "trash bag therapy" have you feeling anxious about "wasting" your excess items? That's totally normal. Get inspired with this video from organizing expert Cas of the YouTube channel ClutterBug, which features some super specific ways to combat those stressful feelings during your initial purge:
3. Map out decluttering room by room
Time- and task-blocking is effective in any work project, and especially helpful if you aim to tackle downsizing and decluttering in a concentrated timeframe. From the kitchen to bathroom to garage, each section of your house may require unique cleaning tactics and organizing ideas. If you'd like a written list to follow, this room-by-room decluttering guide will help optimize every step of the way. For visual inspiration, we love this video from Dawn Madsen, the Minimalist Mom:
4. Anticipate all the feelings (or how to downsize without panicking)
Full disclosure: the process of purging can bring up all kinds of emotions. But whatever you're experiencing -- fear, frustration, impatience, boredom, sentimentality, guilt -- just know that you are not alone in feeling anxious on your journey toward a more minimalist lifestyle. If you find yourself flustered or hesitant to let go of long-familiar household items or treasured childhood mementoes, cut yourself some emotional slack. After all, it took you years to accumulate all your stuff; parting with all that is no easy or speedy task.
This YouTube video from Allison Anderson outlines some useful tips for culling sentimental stuff, including identifying items that can be digitalized, repurposed without adding clutter, or that you truly can't let go of. Check it out!
5. Pace yourself. Organizing your home is a big project.
Feeling overwhelmed and you've only just reorganized your DVD collection? Don't stress. One of the best organizing tips is to resist the urge to tackle each and every project at once. Instead, give yourself time to "putter through your clutter," as professional home organizer, downsizing coach, and YouTuber Laura Moore of Clutter Clarity describes it. She recommends allocating only a couple of hours per week to organization and decluttering tasks. By pacing your efforts, you'll be working on your own terms, can slow down your problem-solving, and "be present" to enjoying the tasks at hand:
6. Use smart tactics to speed up the decluttering process
It may be effective to "putter through your clutter," but if you need to downsize fast to get ready for a move or a new addition to your household, there are a few simple ways to expedite your efforts. Check out this video from YouTuber Joshua Becker of Becoming Minimalist, which outlines the "clean sweep" method, the benefit of donating rather than attempting to sell unwanted items, the "leveling" tactic, and ways to hold yourself accountable to deadlines and intentions:
7. Use storage to your advantage
Many downsizing plans run in tandem with moving and storage, and this is when extra space can help you sort, stage, and redirect your items to a separate yet accessible location. For example, budgeting for an on-site storage container allows you to be flexible with your downsizing, reduce your in-process clutter, and extend workable space as you refresh and reorganize living areas. Portable containers like those from PODS can be delivered to your driveway and left for easy access on your property — no need to haul or drive to your items.
Another benefit of storage for downsizing is that you're able to set aside items whose fate is yet to be decided. For those of us especially attached to sentimental, collectible, or potentially useful items, it can be helpful to tuck that clutter away in storage, revisit it in a few months, and reassess if any items belong in your newly downsized space. This video from PODS details how to pack and load your items so they'll stay safe and secure while you're moving and storing them:
8. Create a new space for joy
No one says you have to radically reconfigure your life to live in one of those cute and oh-so-customized micro homes, camper trailers, or houseboats that you see all over social media. But you can still get a lot of motivation and inspiration from people who have taken the leap to these itty-bitty living situations. For example, Jenna Spesard's tiny home lifestyle may not be your exact cup of tea, but her organization tips for minimizing new purchases, utilizing outdoor space, and making items multipurpose can be applied to any and all downsizing projects—regardless of the actual parameters of the home you occupy. Check out the full video here:
And just as with planning and perfecting a rustic tiny home or magical treehouse apartment, any downsizing project is (ideally) intended to create a beautiful, functional, and enjoyable space for your newly streamlined lifestyle. Don't be afraid to let your personal flair and creative design ideas be part of that final result!
Set a new standard for shopping, collecting, and acquiring
Once you've sorted, organized, decluttered, donated, and purged until you've achieved your goal, it's time to lay a new blueprint for curating and managing your downsized living space. Take stock of the items you tend to over-buy and over-hoard (several generations of bath towel purchases, for example). Be present to the relief and satisfaction you deserve to be feeling; and move forward with the intention to mindfully reduce and edit items that might re-clutter your new home.
But for now, take a beat. Tackle that initial game plan. Going minimalist or semi-minimalist might seem like a daunting concept, but the lasting results can be extraordinary. What do you think? Do you have a favorite YouTube video or decluttering tip? Please share it below!
(Credit for the photo featured at top: Minh Pham via Unsplash)
---
Amelia England is a content writer and regular contributor to the PODS blog. Between college, grad school, and seasonal adventures, she has downsized and relocated over 25 times.
Get a Quote
Choose the service you need
Related Articles
Decluttering Left You With Piles Of Unwanted Stuff? Become The Master Of Junk Removal With These Easy Solutions!
Read more
Comments
Leave a Comment
Your email address will not be published. Required fields are marked *